8 Tips to Tame Frizzy Hair – Fast
Frizzy hair can happen, no matter how straight, curly, short or long your strands might be. Sometimes, it's just a section that proves harder to tame, but other times your whole style can be lost to flyaways. The good news is, you can manage frizz with the right smoothing, taming and shaping techniques to hand. All you need is a whole lot of hydration, a gentler touch, and these expert tips…
But, Wait – What Causes Frizzy Hair in the First Place?
There are so many causes of frizzy hair – from DNA, to heat damage, to humidity – but one of the most common of all is dryness and dehydration. When your strands are dry, damaged or highly porous, they absorb more of the moisture in the air, which not only disrupts your style but leads to a tell-tale halo of frizz. Split ends can also make hair look frizzy, because of the flyaways they cause. Meanwhile, vigorous brushing and towel-drying can 'rough up' the surface of hair, leading to – you guessed it – even more frizz.
Put simply, frizz is often a sign that hair needs more moisture and a gentler touch when styling. Which leads us to your next question…
How Do You Control Frizzy Hair Naturally?
1. Book in for a Good Cut
Any split ends you might have are only going to make your hair look frizzier, so make sure you're getting your hair trimmed regularly – usually every six to eight weeks. If you're trying to grow your hair out, you may be tempted to skip a cut or two, but doing so will only cause further damage and leave the ends untidy. Instead, ask your hairdresser to try a technique known as 'dusting' which sees only the very tips targeted and trimmed, so you can retain that hard-earned length.
2. Reach for Moisturizing Shampoos
As dryness is one of the key causes of frizzy hair, it makes sense to level up your care routine with moisturizing formulas – starting with your shampoo. The more hydrated your hair is, the less it's able to absorb frizz-boosting moisture from the air, so treat strands to pampering formulas, like INVIGO Nutri-Enrich Deeply Nourishing Shampoo. It's packed with minerals and peptides that enhance shine and hydration, while vitamin E keeps hair protected from further stress. NutriCurls Cleansing Conditioner is also a must if you're fighting frizz through curls, as it gently cleanses impurities while veiling strands in reparative, curl-defining moisture.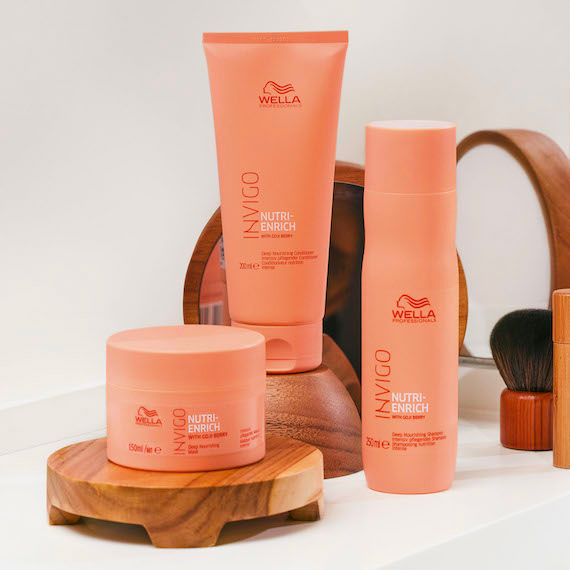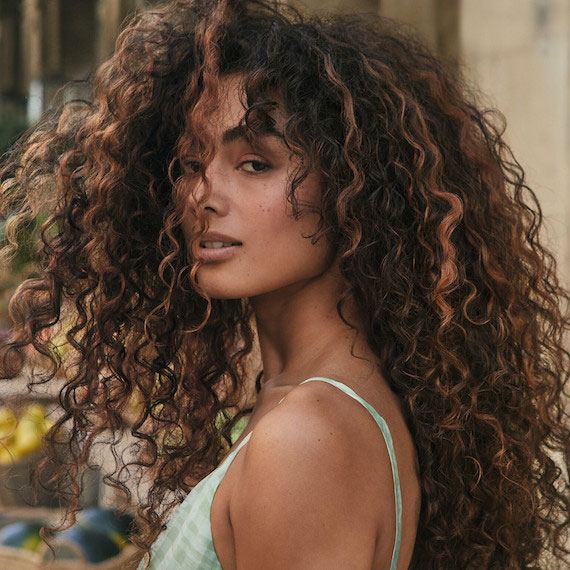 3. Maintain Hydration with Intensive Masks
Following up your hydrating shampoo with intensive conditioners and masks is key. For 'everyday' conditioning, team the Nutri-Enrich Shampoo with the Nutri-Enrich Deeply Nourishing Conditioner. Then, once per week or when locks feel especially stressed-out, apply the Nutri-Enrich Deeply Nourishing Mask or – for hair prone to breakage – the Fusion Intense Repair Mask. To boost absorption of your favourite treatments, gently squeeze excess water out of your hair first, then apply a generous layer to mid-lengths and ends, and leave for 10 minutes. Rinse thoroughly.
4. Reduce Friction When Styling and Sleeping
Too much friction can cause already-frizzy hair to become even more unruly, so switch to a softly-softly approach when styling locks. Instead of towel-drying hair after washing, blot it dry with a soft t-shirt, ensuring you squeeze out the moisture rather than rubbing. This technique is gentler on the hair cuticle, especially if strands are wavy or curly. We also recommend you switch from a cotton pillowcase to a silk one, as the smooth fabric doesn't ruffle the hair surface as much while you sleep. And, as for those stiff hair elastic you've been wearing, try swapping them for silk scrunchies, as they won't pull on your hair as much, resulting in less breakage over time.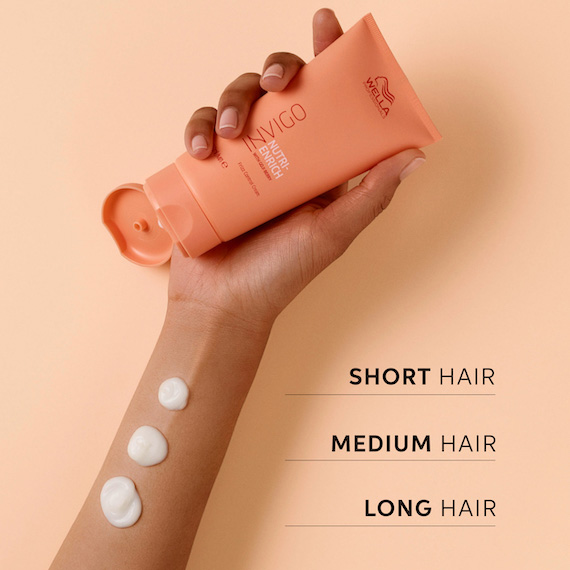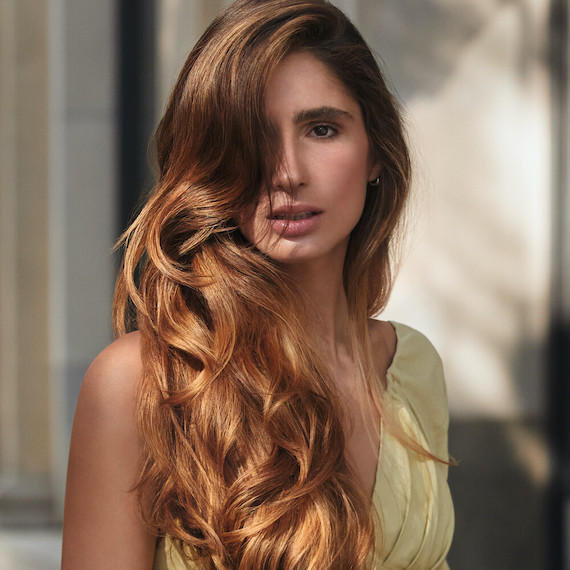 5. Apply Lightweight Leave-In Conditioners
One easy way to make your hair humidity-proof and less frizzy is to bump up moisture with a leave-in conditioner, like INVIGO Nutri-Enrich Frizz Control Cream. Unlike conditioners you rinse out, this light lotion stays with you in between washes, leaving hair soft, shiny and full of vitality no matter which way you style it. Simply apply it through the mid-lengths and ends of clean, damp hair, then comb through and style as you wish. Layer with the INVIGO Nutri-Enrich Wonder Balm if hair needs an extra boost of deep moisture.
6. Diffuse Curls for Dreamy Definition
If you have curly hair that's prone to frizz, a diffuser is your friend. This hair-dryer attachment disperses heat more evenly, so you can dry a wider area with more control over your curl pattern. It stops you from blowing curls out of shape or blasting them with too much hot air, so instead you get a more defined finish (AKA springy, bouncy, revived curls).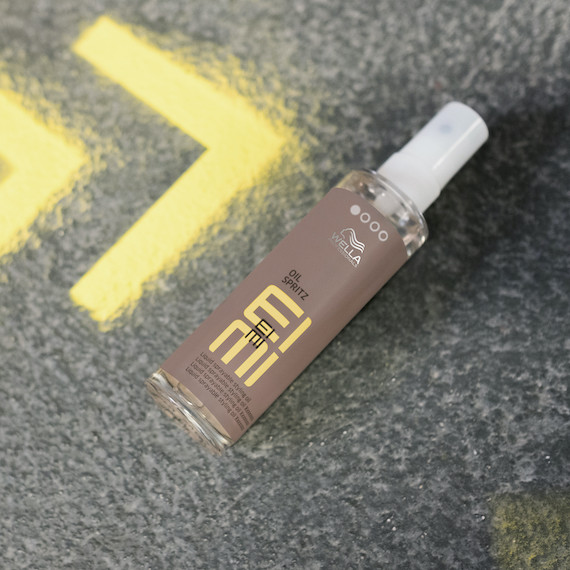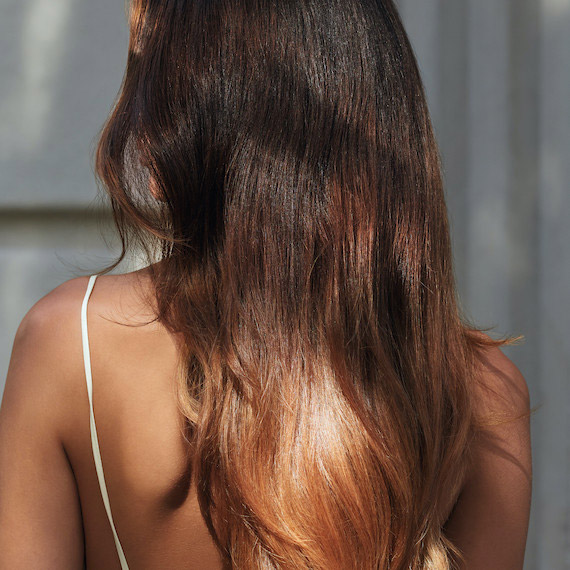 7. Finish Styling with a Gel or Oil
If your hair still feels like it needs a boost of frizz-defying moisture after styling, don't be afraid to work a light gel or oil in there to keep things silky-smooth. For waves, our pick is NutriCurls Milky Waves, which works like a facial spritz for locks, lending a veil of hydration that instantly ekes out frizz. The curves of your curls will pop with a drop of EIMI Curl Shaper, a reviving gel that offers 72 hours of hold. Meanwhile, straight, frizzy hair will gleam and glow with EIMI Oil Spritz, which you can spray into palms of hands and press through mid-lengths and ends. Each of these stylers is designed to be used on damp or dry hair when frizz starts to appear. Keep them in your bathroom cabinet or toss them in your bag for on-the-go touch-ups.
8. One Last Step to Smooth Flyaways
Flyaways still cropping up? Try this one last hair hack to tame them into place: grab a spoolie or old toothbrush, mist it with EIMI Mistify Me Light, then gently comb hair into place. This is a go-to when styling a ponytail or smoothing a parting down.
Frizz, be gone!