Cappuccino Hair Colour is Coming in Hot: 7 Formulas to Try
This season is serving up some cappuccino hair colour inspiration – so get it while it's hot. If your clients are craving fresh brown hair colour ideas, this rich and radiant hue has got them covered. Featuring a medium brown base and swirls of golden brown or even bronde (brown-blonde) balayage, this look is every bit as dimensional as the mocha brown hair trend that came before it.
Here, we reveal how you can create cappuccino brown hair for your clients, complete with a jolt of caramel that's just as delicious as your AM caffeine hit…
What Does Cappuccino Hair Look Like?
Like a cappuccino, this light to medium brunette hue features a rich brown base and strokes of golden brown or bronde. It's a brighter take on mocha brown hair, but with the same boost of dimension, courtesy of balayage. So, if you're mixing up this trend for your clients, have a freehand lightener at the ready to brighten up the mid-lengths. We use Blondor Freelights, which allows you to paint highlights exactly where you want them – no smudging in sight.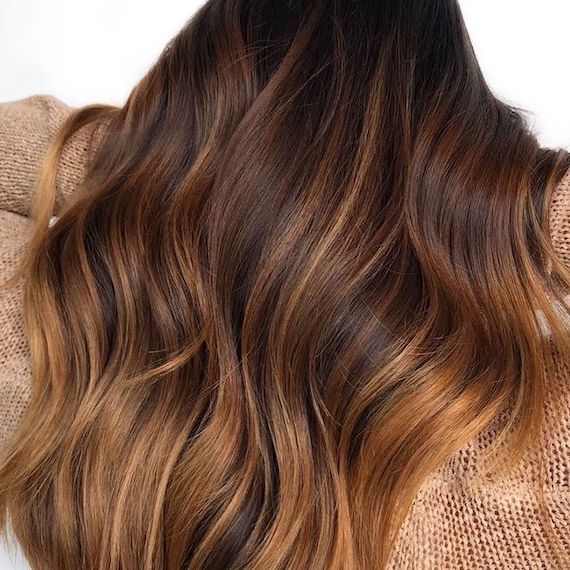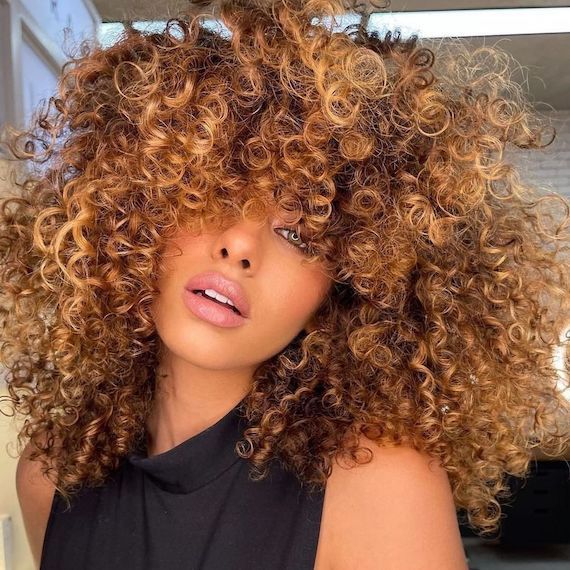 Who Suits Cappuccino Brown Hair Colour?
Like most brown shades, cappuccino brunette hair is universally flattering. On cooler skin tones, such as ivory, it creates a striking contrast, while on warmer skin tones, like an olive skin tone, it bestows the most radiant glow. Plus, because the look is multi-dimensional, you can tweak and tailor the tone to enhance your client's complexion. If they want some cooler tones in there, you could mix up an espresso base, and if they want more richness, you could add a shot of caramel blonde.
3 Tricks to Create Cappuccino Hair
1. Play with Balayage and Foilyage
While you can create cappuccino hair with highlights, balayage is our pick for this luminous trend. Freehand strokes through the mid-lengths, ends and face-framing pieces mimic the glug of milk or dose of caramel you'd add to your coffee. Use Blondor Freelights or bond-strengthening BlondorPlex to paint your client's locks, and wrap some pieces in foil (for foilyage) if you want to elevate the lift.
2. Choose Shine-Boosting Colour Products (with Grey Coverage if Desired)
When toning balayage ribbons, reach for colour products that are high on warmth and shine. For intense pigment, Koleston Perfect is a must that offers up to 100% grey coverage, so you can camouflage any grey hair strands. Illumina Color and Color Touch both level up the light reflections in your hair, while Shinefinity is a zero damage, zero life colour glaze that lends a sheer veil of pigment with added luster. With so many perfect products, and a range of browns and blondes between them, mixing up a radiant rich brown is simple.
3. Consider a Clear Glaze Topcoat
If your client wants extra gloss – no matter which colour product you've used – suggest they book in for a clear Shinefinity glaze as a 'topcoat' for locks. You can apply it after rinsing out their colour by mixing 00/00 1:1 with the Bottle Activator
7 Cappuccino Brown Hair Colour Ideas to Try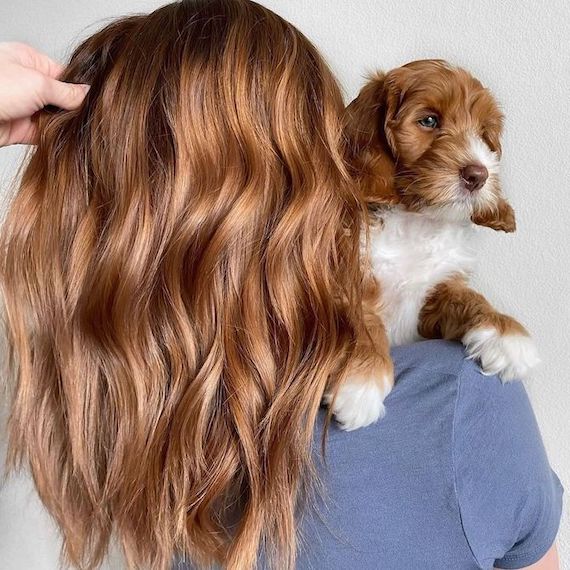 1
1. Light Golden Cappuccino Hair
Image Credit: @maeipaint
There's so much sweetness in this picture, but for now, we're focusing on the look on the left. This golden cappuccino mane is light, lifted and lustrous, thanks to strokes of Illumina Color through a chocolate brown base. Recreate the look by toning locks with 9/43; a golden copper-blonde that glimmers under the light. It's a beautifully warm hue that was virtually made for the autumn season.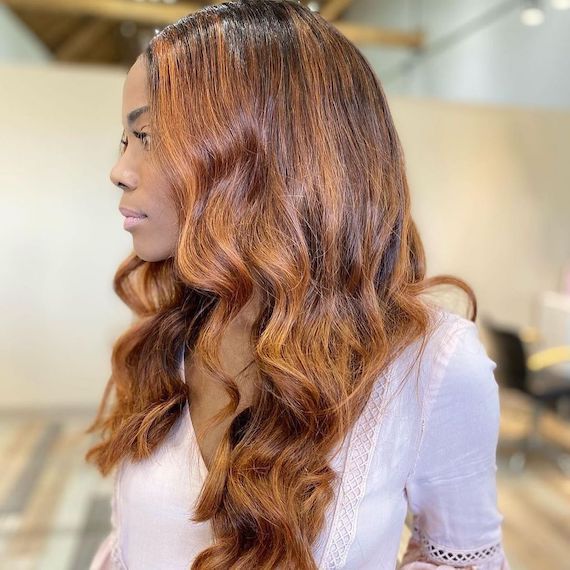 2
2. Cinnamon Cappuccino Brown Hair
Image Credit: @nicolerevish
Give locks a little cinnamon spice with this red-tinted take on cappuccino brown. These fiery highlights were applied to a natural level 3 human hair wig with two lightening formulas. You're seeing Koleston Perfect Special Blonde 12/22 + 12% in back-to-back ribbons, along with BlondorPlex + 6% painted through mid-lengths and ends for balayage. Then, to tone, Shinefinity 07/34 was mixed with 08/34 and applied to lifted locks for a richer cappuccino.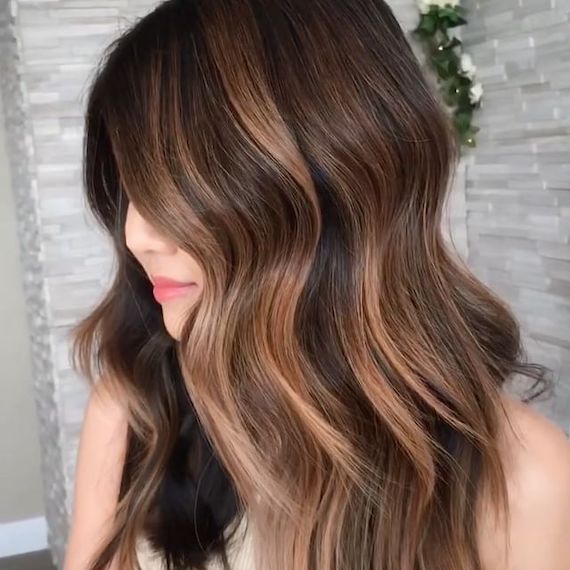 3
3. Iced Cappuccino Brown Hair
Image Credit: @paintedhair
If a cooler take on cappuccino hair is more your client's vibe, opt for a translucent-effect colour glaze with Shinefinity 07/75. With a hint of raspberry blush, it gives BlondorPlex'ed balayage a boost of fall-ready brightness. Simply mix it 1:1 with the Brush & Bowl or Bottle Activator, then apply over highlights for up to 20 minutes.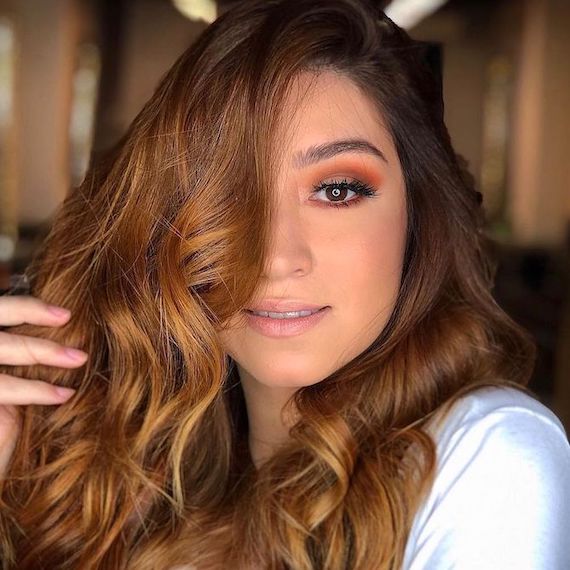 4
4. Caramel Cappuccino Brown Hair
Image Credit: @flavialippi_
Sweet dreams are made of this – a caramel cappuccino brimming with brightness. If your client has dark or medium brown hair, set their lengths aglow with Illumina Color 7/43. The gilded brown-blonde shade is guaranteed to help strands glimmer, while bringing out the radiance in warmer skin tones.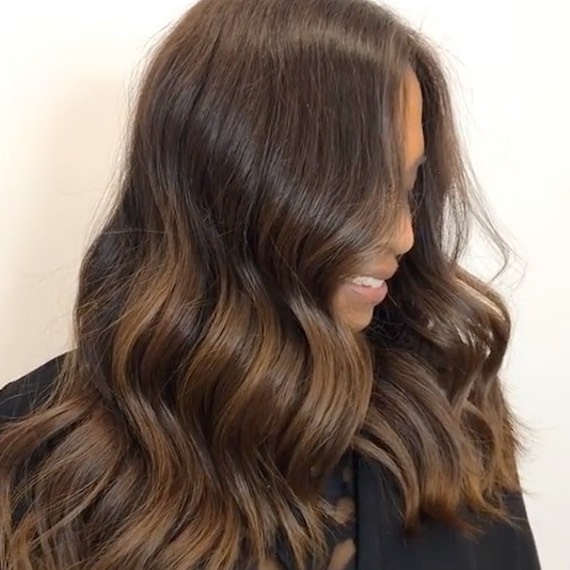 5
5. Dark Bitter Cappuccino Brown Hair
Image Credit: @laila.wella
Can we take a moment for some Color Fresh Mask magic? This dark, bitter cappuccino creation started as a faded caramel blonde, before the Color Fresh Mask in Chocolate Touch was applied over the top of grown-out balayage to darken and refine. Perfect for clients who crave a quick colour correction, it takes just 10 minutes to work. Simply apply the mask to clean, damp hair, comb it through to evenly distribute, then allow it to develop before rinsing off. They can even top up this stunning cappuccino shade themselves by taking the mask home.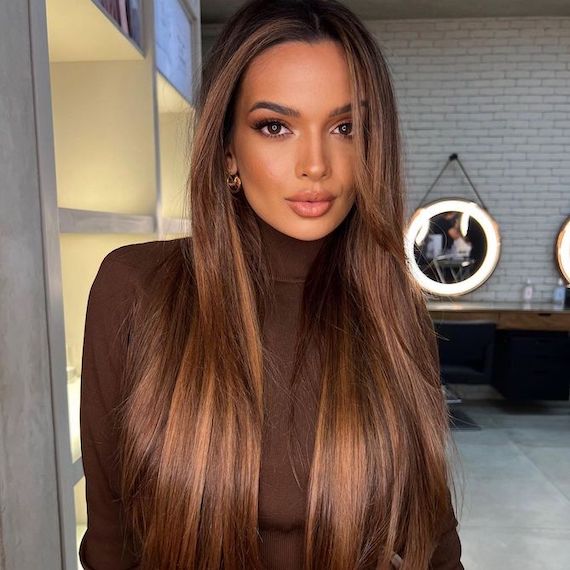 6
6. Dark Brown Hair with Cappuccino Highlights
Image Credit: @romeufelipe
It's giving bronze hair meets the perfect cappuccino. We love this high-gloss mane, which was crafted using BlondorPlex to lighten, and Color Touch to lend a luminous hint of coffee brown. The formula? 8/35 + 9/75 + 7/43 + 1.9%; a mix of brunettes and blondes and golden tones that work in flawless harmony. Finish with a little EIMI Glam Mist for added shimmer and shine.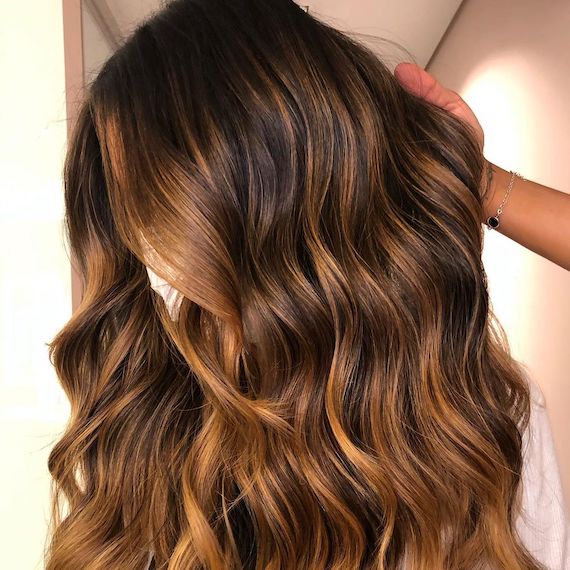 7
7. Cappuccino Brown Hair with Dark Roots
Image Credit: @evelyngoulart
Team cappuccino balayage with a root shadow for an extra dimensional finish. We love this combination of Color Touch 4/0 on the roots, with 7/3 + 0/34 through highlighted lengths and ends. With hints of toffee, caramel and chocolate brown, it's a brunette balayage to remember. Style with EIMI Sugar Lift to recreate these tumbling waves with lasting hold.
How to Maintain Cappuccino Brown Hair Colour
When your client leaves the salon with their cappuccino brown mane, make sure they have these colour maintenance tips at the ready to elevate shine at home…
1. Treat to Vibrancy-Boosting Hair Care
All brunette clients need shine-enhancing hair care in their bathroom. That's why we recommend INVIGO Brilliance Color Protection Shampoo and Vibrant Color Conditioner to lock down their shade for longer. Not only does this combination ward off fading aggressors, but it also dials up shine from root to tip, so cappuccino tones glow.
2. Refresh Cappuccino Hues with a Mask
Your client can actually refresh their balayage at home with the Color Fresh Mask. Suggest they use the Caramel Glaze or Golden Gloss formulas, and apply to clean, damp hair for 10 minutes when locks look brassy. It will keep dull hair at bay, while ensuring their cappuccino highlights look salon-fresh in between appointments.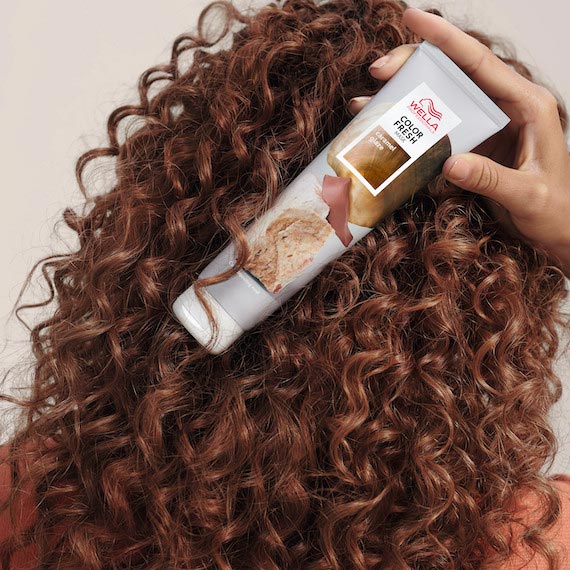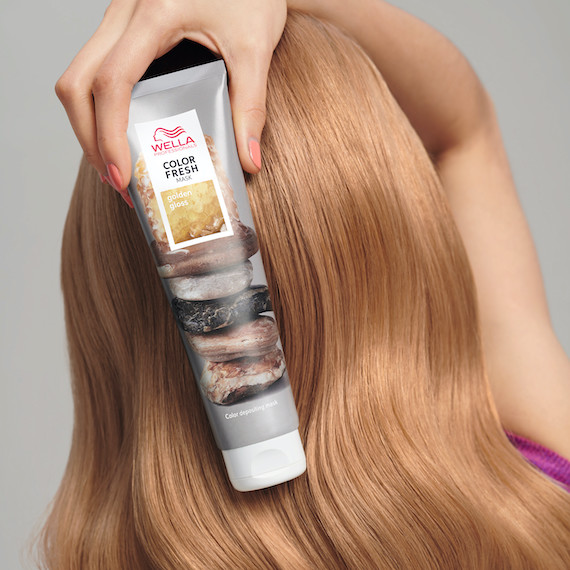 3. Bump Up Shine with Lustrous Hair Oils
Few things improve shine quite like hair oils. Clients can be wary of them in case they're too heavy, but coloured locks look their best when a drop or two of oil is smoothed through the mid-lengths and ends. That's why we recommend you introduce your clients to Oil Reflections Luminous Smoothing Oil or, if their hair is very fine, EIMI Oil Spritz. They should start with just a small amount at first and build up as and when needed to give an instant gleam.
With these tips, every cappuccino brown colour you create will stay healthy-looking from one appointment to the next. Just make sure you're sharing your masterpieces on Instagram and tagging us @WellaHairUKI.