Sandy Blonde Hair Colour Ideas & Formulas
If, like us, you can't get enough of summery hair hues, you'll be obsessed with 2020's most surfer-inspired, sun-kissed colour: sandy blonde hair. With the warmth of golden blonde and the coolness of ivory, it's the ultimate beach babe shade, loved by the likes of Hailey Bieber, Gigi Hadid and Jennifer Aniston at her blondest.
Want in? Whether you're a colourist creating the trend or you're craving some soft blonde highlights for yourself, keep scrolling to discover the full lowdown on sandy blonde hair…
How to Get Sandy Blonde Hair
The process of every sandy blonde transformation relies on the base colour you're working with, so there's no one-size-fits-all colouring technique. However, there are a few rules that always apply when going sun-kissed…
1. Pre-Lighten Darker Locks First
For sandy blonde highlights to show up, you'll need to pre-lighten hair that's any darker than a medium blonde. Our award-winning collection of hair lighteners, Blondor, has you covered, with so many ways to take locks brighter. Try Freelights for sandy balayage, Soft Blonde Cream on hair that's a little sensitive, and Multi-Blonde Powder for everything from highlights to an all-over lift.
2. Try Adding Wellaplex to the Formula
The best blonde hair partner? Wellaplex; our bond-strengthening system you can mix right into your colour formula to achieve optimal lift and stronger locks. There's also a post-lightening treatment – No3 Hair Stabilizer – that can be taken home and applied as a conditioner, pampering hair to perfection. 
3. Combine Cool and Warm Blonde Hues
Sandy blonde hair should be multi-tonal. While largely warm-toned, a few cooler ribbons ensure locks sparkle and the colour flatters all skin tones. You can up the level of coolness if you're working with a warmer complexion and dial up the warmth in highlights if skin has cool undertones. It's basically the blonde of your dreams.
Sandy Blonde Hair Ideas
Get ready to be seriously inspired by these sandy blonde hair creations. Colourists: show them to your wannabe-blonde clients, and, trend-lovers: take these photos to your next Wella appointment. (FYI, you can find your nearest Wella salon with our Salon Finder.)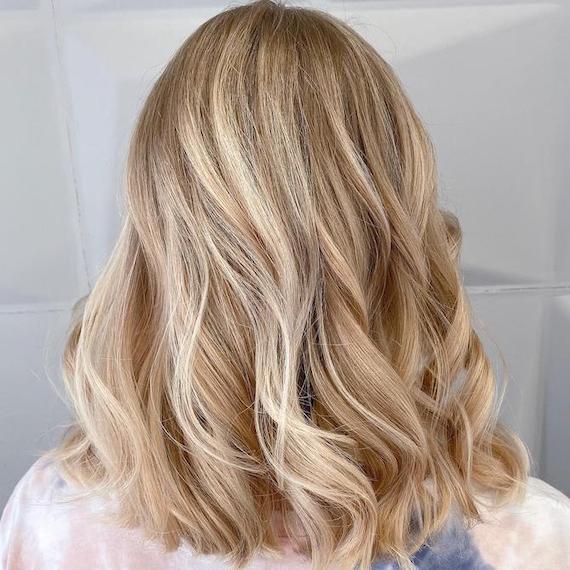 1
True Sandy Blonde Hair
Image Credit: @janina_ehrenberg
The truest sandy blonde is a soft, dusty, powdery hue that looks as idyllic and Insta-ready as the beachy vacations it's inspired by. We love permanent Illumina Color for this look, as it delivers pure pigment with a light-reflective sheen. Plus, there are so many blonde hair colours to choose from, ranging from cool and crisp to warm and rich.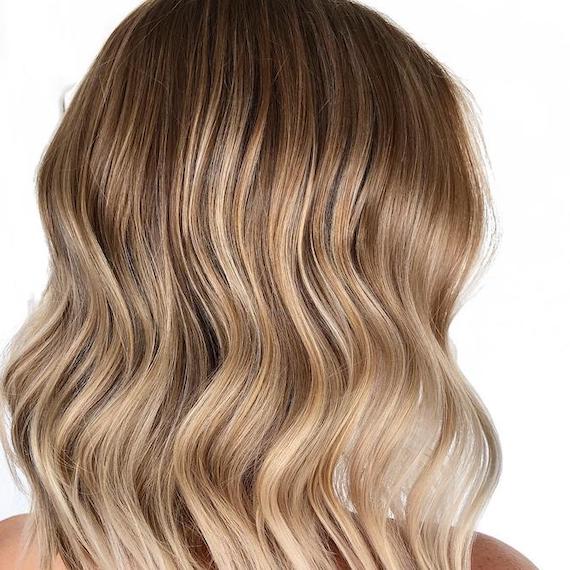 2
Sandy Blonde Ombre
Image Credit: @gretawagner_
Is there anything more flawless than a sandy blonde ombre? This one is on the warmer side, but cool, ivory highlights peek through the tips of Greta Wagner's beachy creation. The root stretch makes this an ultra-low maintenance colour, meaning highlighting appointments can be alternated with a glossing service – the latter breathing fresh life into mid-lengths and ends, ensuring the blonde tones don't go brassy.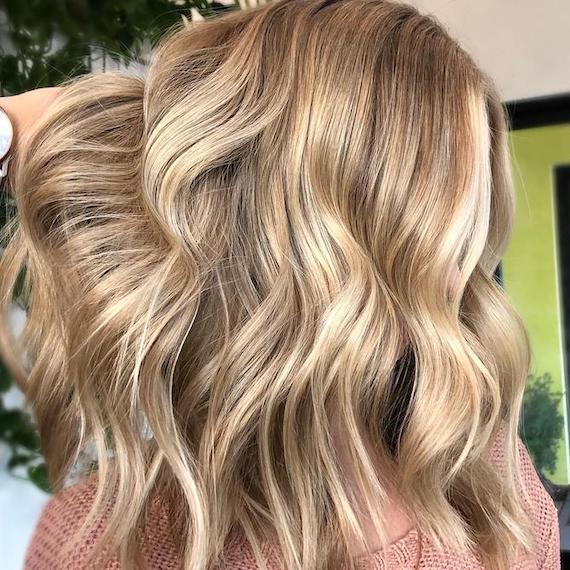 3
Dark Sandy Blonde Hair
Image Credit: @jt_hairandmakeup
At first glance, this dark sandy blonde appears to be warm toned through and through. However, look closer and you'll spot a scattering of cool 'lights giving hair maximum glow. Created by Jessica Tyransky, it has that 'California cool girl' look down to a T – especially when tousled using EIMI Ocean Spritz salt spray.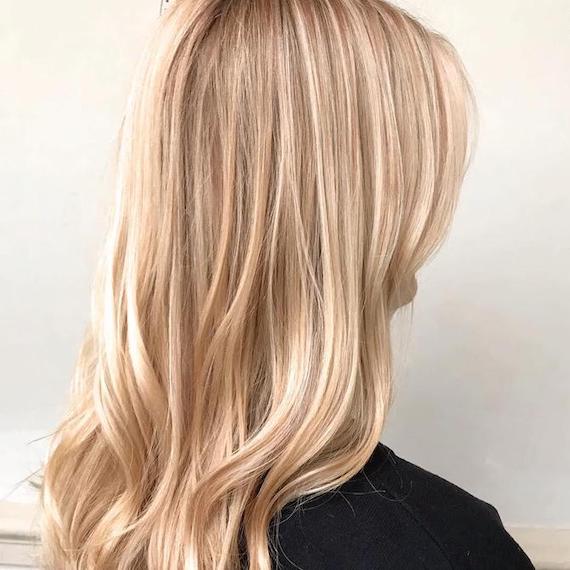 4
Sandy Blonde Highlights
Image Credit: @hairbymane
If you love blonde highlights, you'll be obsessed with these sandy blonde ribbons, created at Hair By Mane salon. This look features a mix of traditional 'lights and some cool babylights that glow against a few warmer pieces. Take the luminosity higher by smoothing EIMI Oil Spritz through dried and styled strands, misting it into palms of hands and pressing through lengths to enhance shine.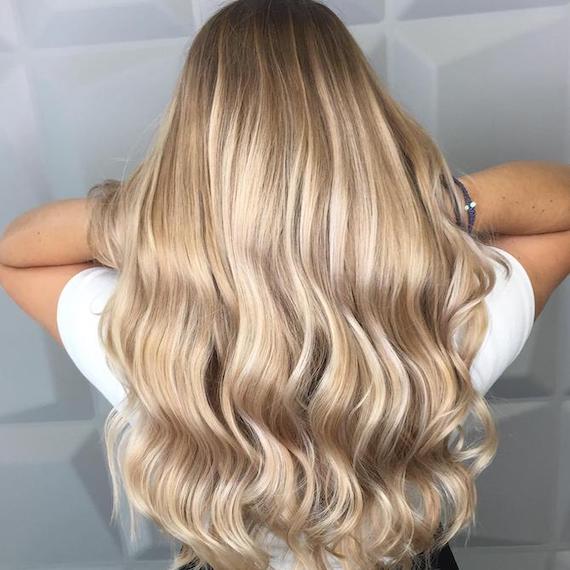 5
Sandy Blonde Balayage
Image Credit: @janina_ehrenberg
Look at this luminous mane. Graduating from light brown roots to sandy blonde ends, it features a high volume of cool highlights with hints of warmth just peeking through. Wella Passionista, Janina Ehrenberg, dosed the formula with Wellaplex, enhancing the shine of an already-shimmery balayage look.
How to Care for Sandy Blonde Hair
Once that sandy blonde look is on lockdown, it's important keep the colour looking fresh. Following these three tips for a beachy mane with zero brassiness…
1. Nail a Post-Colour Care Routine
Sandy blonde hair deserve only the best post-colour care. Ensure the shade is kept fresh with a kind-to-locks shampoo, like ColorMotion+ Color Protection Shampoo. It's infused with antioxidants that forage fading free radicals, while also preserving hair's smoothness and shine. Then, follow up with ColorMotion+ Moisturizing Color Reflection Conditioner, smoothing through mid-lengths and ends for a burst of hydration.
 2. Apply SPF for Hair
Like your skin, hair requires a hard-working SPF to ward off the sun's UV rays. That's why we created the INVIGO UV Hair Color Protection Spray. Mist over dry or damp sandy blonde hair from root to tip, then comb through. Even the most beach-ready hair color needs protection at the beach.
3. Always Use Heat Protection Spray
Few things fade hair colou25r faster than blow drying and heat styling. However, if you've got sandy blonde hair, you don't need to throw the curling tongs away just yet. Just make sure, every time locks are styled, EIMI Thermal Image heat protectant is applied. That sandy blonde hue will thank you for it…