4 Salon Hair Treatment Services For Damaged Hair
Sometimes, hair damage can go too far. Locks can look irretrievably dull or dry, and it feels like no amount of at-home hair masking can give strands the deep nourishment they need. It's in these moments when salon hair treatments for damaged hair become a must-book for your clients, enhancing their DIY routines with specialized formulas and techniques they just can't enjoy at home.
That's where you step in. By knowing which service to choose for your client's type of damage, you can give them the stronger, softer, healthier hair they're looking for. Wella Professionals has you covered with effective salon hair treatments that treat the key signs of stressed-out locks, from breakage to dullness to dehydration. Here are the top four to add to your service menu...
1. To Target Every Type of Hair Damage: Ultimate Repair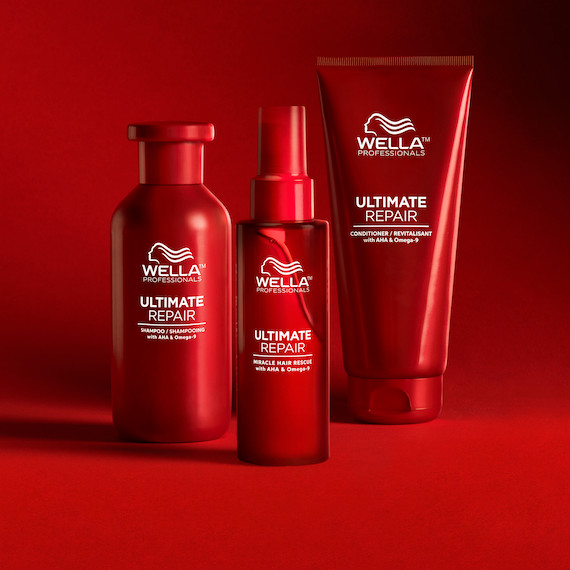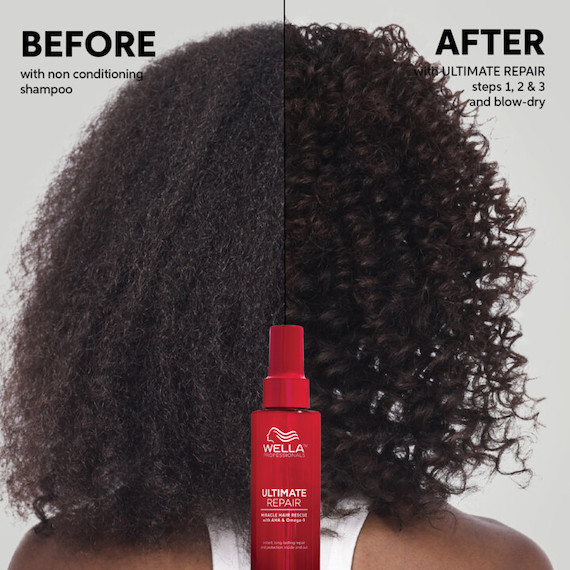 Discover the next big thing in hair repair: the Ultimate Repair ritual. Taking deep conditioning treatments to the next level, the collection of care products gives your client healthy hair from the inside out. With patent-pending technology, the range defeats damage and delivers hair like you've never seen it before. We're talking ultimate strength and ultimate shine from root to tip.
Your client can use the products on their own at home, and you can also apply them during their cut and/or color appointment for an effective hair salon treatment that targets every type of damage. In just three steps, the inner cortex and outer layers of damaged hair are renewed. No matter your client's hair texture, Ultimate Repair leaves locks soft and nourished. Here's how:
Step 1: Wash With the Ultimate Repair Shampoo
Start by cleansing hair with the Ultimate Repair Shampoo; a rich, creamy formula with a luxurious lather that removes impurities that can be harmful to locks (such as product build-up, dirt, pollution and metals in hair). Make sure to really massage it into the lengths to leave strands fresh and balanced.
Step 2: Treat Locks to the Ultimate Repair Conditioner
Next up, squeeze out excess water and smooth the Ultimate Repair Conditioner through the mid-lengths and ends of hair. It's a daily deep conditioner that gives intense inner strength without weighing the hair down. It's different to slippery conditioner formulas, as its texture is on the creamier side, and you should focus it through the areas where strands are most damaged first. Then, to boost the moisture treatment, wrap a towel around your client's head so the molecules can penetrate faster. Finish by rinsing thoroughly.
Step 3: Reverse Damage with Miracle Hair Rescue
The secret to a beautiful hair day is the Ultimate Repair Miracle Hair Rescue, which repairs hair damage in just 90 seconds. The supercharged dry hair treatment intensively strengthens and conditions locks thanks to a blend of AHA and Omega-9, giving your client 99% less breakage and 12x smoother hair*. Spray it onto your client's clean, towel-dried hair and allow it to absorb for 90 seconds. During this time, it's important you don't layer extra products or blow-dry locks. Then style as usual – straight hair will appear sleeker and wavy, curly or coily hair will look more defined.
2. To Repair Hair Breakage: Fusion Intense Repair Service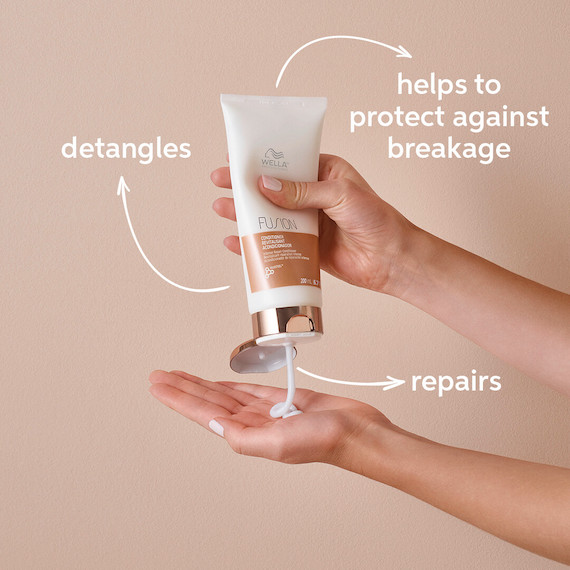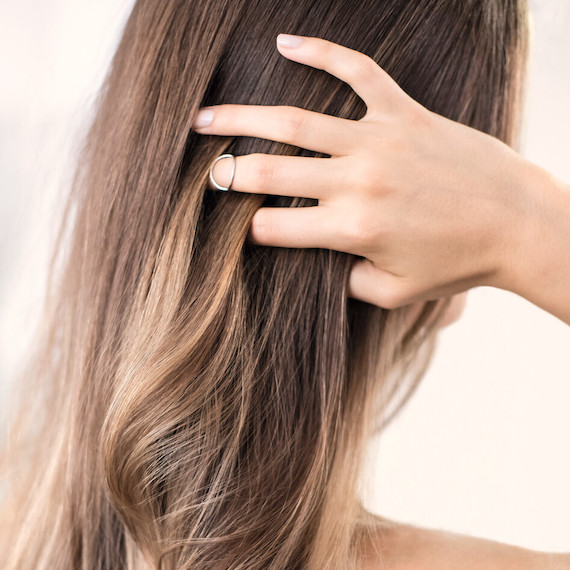 When tresses are over-processed – whether from heat or bleach or chemical treatments – they become more vulnerable to hair breakage. Some breakage through the lengths is common, but it only gets worse if it's left untreated, which is why it's important to take serious action on fragile locks.
In this case, we recommend the Fusion Intense Repair Service, which harnesses a clever care technology called SilkSteel, inspired by the strength and stretchiness of spider silk. It nourishes highly porous, frizzy hair from the inside out with a shampoo and mask combo that can be added to your client's next cut and color appointment. These are the steps to follow:
Step 1: Cleanse and Prep with Shampoo
Give your client a scalp massage with the Fusion Intense Repair Shampoo. Rinse and repeat to ensure hair is completely free of residue, then towel-dry locks and take your client back to the mirror.
Step 3: Protect and Glow
Next, apply the Fusion Intense Repair Mask for between 30 seconds and five minutes. Rinse and towel-dry hair so it's ready to be styled. Your client will notice the difference in their hair's condition instantly.
Step 4: Apply a Hair Oil
Massage Oil Reflections Luminous Smoothing Oil through mid-lengths and ends of hair before blow-drying. Just one or two pumps is enough to boost shine, leaving hair healthy-looking, soft and silky.
3. To Strengthen Bonds Through Brittle Hair: WellaPlex Strengthening Service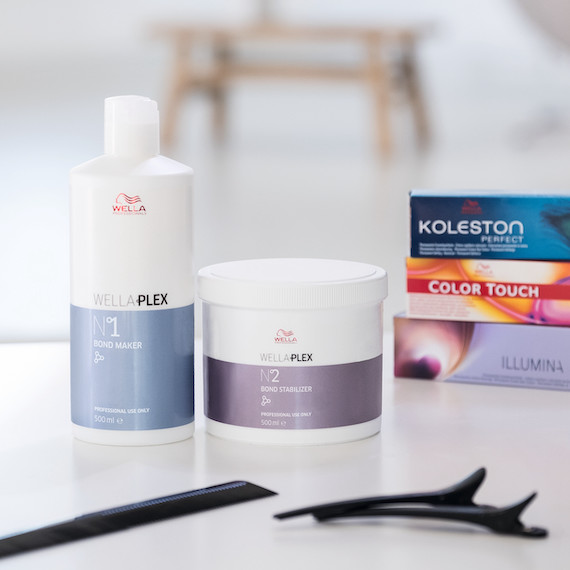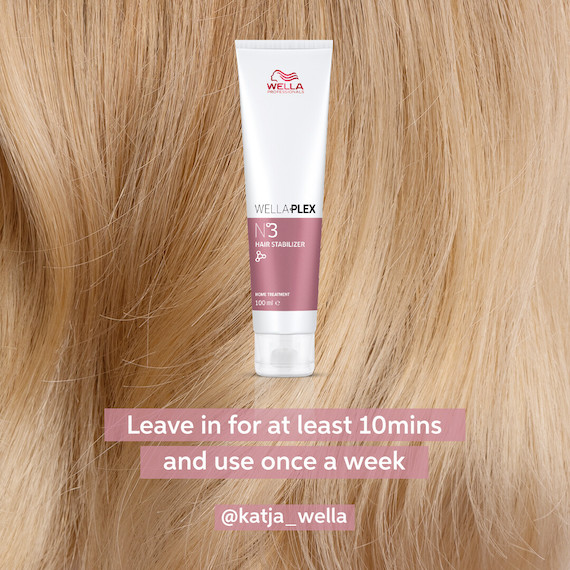 When you're dealing with brittle, dry hair strands, the internal bonds can start to break. This may happen for a whole raft of reasons, from excess heat styling to exposure to UV rays to, quite simply, genetics. To help clients achieve stronger hair, suggest they undergo a WellaPlex service; our innovative bond-strengthening program that can be applied alone or mixed in with a lightening or color formula. The PLEX ingredient can also be found built into our BlondorPlex lightener, so you don't have to do any mixing. Simply sweep through locks wherever clients want a lift. Here's how to complete a WellaPlex service to support the hair structure, whether you're applying it solo or as part of a color appointment:
Step 1: Apply the WellaPlex No1 Bond Maker
The WellaPlex program is super easy to follow as the steps are all numbered. The No1 Bond Maker is the first phase, and should be applied evenly through dry hair. If you're applying it as a standalone service, mix it 1:6 with water before massaging root to tip, and if you're adding it to lightener or color services:
Mix in 3ml for every 30g of lightener when applying full head or foil highlights.
Mix in 1.5ml for every 30g of lightener when using freehand or painting techniques.
Mix in 1ml for every 30g of oxidative color products.
Step 2: Neutralize with the WellaPlex No2 Bond Stabilizer
Every WellaPlex service should be completed with the No2 Bond Stabilizer, which further strengthens the hair structure and rebalances pH levels after coloring. Rinse your client's color out first, apply the No2 Bond Stabilizer, shampoo hair, then rinse once more and follow with conditioner if needed.
Step 3: Introduce Your Client to the No3 Hair Stabilizer
To keep hair strong in between color appointments, suggest your client takes the No3 Hair Stabilizer home with them. The deep conditioning hair treatment can be used on virgin or colored hair to continue reinforcing internal bonds. They can apply it in the same way as a traditional hair mask, smoothing it through clean, wet hair from root to tip and leaving it on for at least 10 minutes. Remind them to rinse thoroughly before styling as usual.
4. To Illuminate Dull Hair: Shinefinity Color Glaze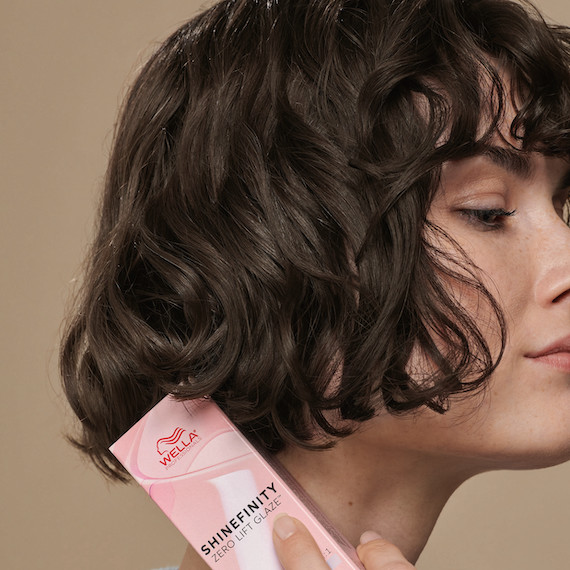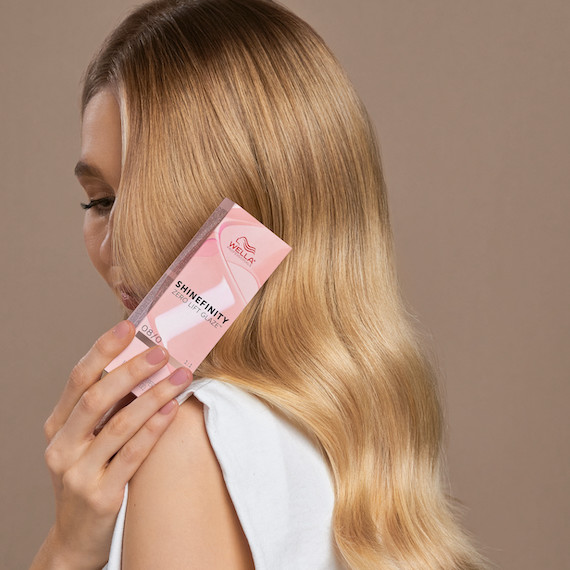 Damage can quickly lead to dullness, so if your client's hair color has lost its vitality, we recommend following up their reparative treatment with a Shinefinity Color Glaze. The zero damage, zero lift formula works on all hair types to subtly shift your client's shade. Choose the right hue from a palette of 32, and you can correct brassiness, eliminate yellow tones, or simply give locks a glow in just 20 minutes.
The finish is sheer, shiny and translucent, breathing new life into lackluster locks that crave radiance. Apply to previously colored, highlighted or virgin hair for instant shine you can feel. Here's how:
Step 1: Prep Hair for a Touch of Color
You can apply a Shinefinity Color Glaze to pre-shampooed or dry hair. If your client wants a softer result, wash locks with Elements Renewing Shampoo first, then towel-dry strands so they're ready for color.
Step 2: Mix Up the Perfect Glaze Formula
Pick a radiance-boosting Shinefinity shade to suit your client's hair goals or, if they want shine-boosting benefits without any color, reach for 00/00 Crystal Clear. Then mix it 1:1 with the Bottle Activator or Brush & Bowl Activator.
Step 3: Apply Their Glossy Shade
You can apply a Shinefinity Color Glaze with any technique your client craves, whether they want an all-over shade shift, sweeps of balayage or highlighted ribbons.
Step 4: Let the Glaze Develop Then Rinse
One of the big benefits of a Shinefinity Color Glaze is how quick it is to carry out. Let it develop for up to 20 minutes, then wash locks with the ideal shampoo for their hair type. If you want to intensify the final result, you can apply heat with a Climazon during the developing process. Your client will leave the salon chair with shinier hair than ever before.
Our Hair Repair Products and Services in Action
Explore five stunning hair repair results using products from the Wella Professionals hair care range – including Fusion, Shinefinity and more – for the ultimate hair care inspo.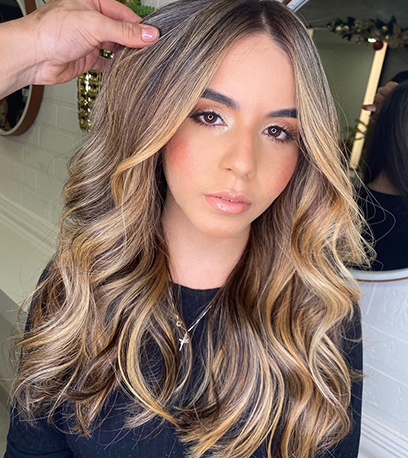 1
Wavy Hair Repair
Image Credit: @maycon.farias21
To achieve these luscious bronde (brown blonde) locks, Maycon Farias used the Wella Professionals Fusion Intense Repair Hair Mask to repair and protect hair against breakage before, during, and after coloring sessions. You can try this on clients with signs of hair damage to help repair strands before styling or coloring.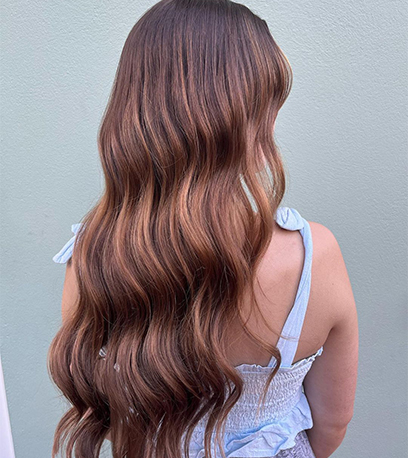 2
Nutri-Enrich Hair Repair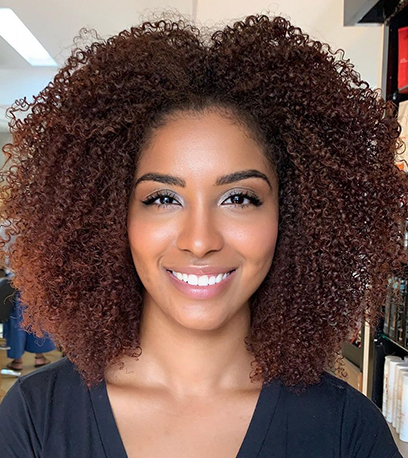 3
Curly Hair Repair
Image Credit: @davisilvahair
It's no secret that curly hair is prone to dryness and frizz. The curlier the coil, the harder it is for the hair's natural oils to travel down the hair strands. But the right products can add much-needed moisture to dehydrated tresses to keep curly hair looking radiant. These voluminous brunette curls were treated with the Wella Professionals Fusion range to repair stressed strands and boost smoothness and shine.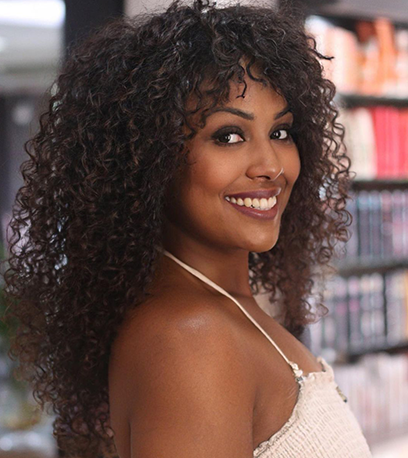 4
Fusion Intense Hair Repair
Image Credit: @davisilvahair
Just look at the bounce and smoothness on these gorgeous curly hair strands! To achieve this result, Davi Silva treated his client's hair with Fusion care products to repair, clean and care.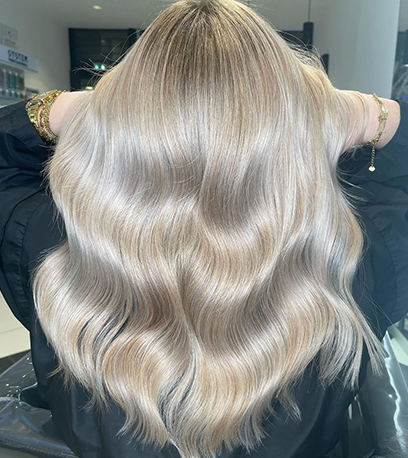 5
Glossy Hair Repair With Shinefinity
Image Credit: @byalexmk
An icy blonde 'do this glossy points to one care and color service: Shinefinity. To create this gorgeous glow, Alex Mk applied a Shinefinity Color Glaze with the formula: 09/81 + 00/00 and 09/36 + 00/89. Zero-damage, zero-lift and a high shine result - where do we sign up?  
Now, go ahead and make these professional treatments part of your hair salon service menu. With so many ways to repair, nourish and illuminate their locks, they need never have a bad hair day again.  
*When using Ultimate Repair Step 3. Instrumental test versus non conditioning shampoo.