5 Medium Blonde Hair Formulas – Perfect for Fall
We don't believe in rules when it comes to choosing hair colors. Icy blonde in summer? Sun-kissed bronde in winter? Anything goes, as long as it suits your client. However, there's a trend for taking tones deeper when the temperatures start to dip, and it's not uncommon for light blonde clients to embrace a medium blonde hair color. The perfect mid-point for blondes who want to go darker, and brunettes who want to go lighter; medium blonde is that 'sweet spot' for fans of golden, caramel and borderline-bronde tones.
But how do you create medium blonde hair for your client? We've got all the inspiration you need right here – complete with the top salon formulas you're going to be mixing up all season long.
How to Create a Medium Blonde
1. Lighten Their Locks
If your client has brunette or dark blonde locks, you'll need to start by applying a pre-lightener. Try adding balayage with Blondor Freelights; it's the ideal technique for those going blonde for the first time. Stroke through mid-lengths and ends, adding brightness that's bespoke to your client's hair length and texture. Then, finish with a bold money-piece through the front to tie their lighter look together.
For light blondes going deeper, you may still need to add a scattering of highlights. This is especially true if they have dark regrowth that requires touching up. To lend a boost of brightness, use BlondorPlex in foils starting at the roots, and blend the hair lightener through the mid-lengths and ends.
2. Choose a Mid Blonde Shade
When choosing a medium blonde toner, opt for shades on a level 7. The first digit in a Wella color number denotes the depth, so each hue should read 7/XX. Level 8 tones (which appear as 8/XX) may also lend a light to medium blonde hue – especially if you opt for soft warmth, like a gold or caramel.
You'll find a host of level 7 and 8 blondes across the full Wella Professionals portfolio, which makes it easy to track down a color that suits your client's commitment level. If they prefer a demi-permanent hue, glossy Color Touch is their go-to, while semi-permanent Color Fresh is perfect for a zero-damage tint. Meanwhile, those who prefer the long-lasting, full coverage of a permanent color should look to Koleston Perfect or, for a sheer finish, Illumina Color.
3. Rinse and Neutralize the Color
Once your client's medium blonde hue has developed, if you used BlondorPlex as their lightener – which contains our WellaPlex No1 Bond Maker – you'll need to complete the service with the No2 Bond Stabilizer. Apply the cream from root to tip, leave it on for ten minutes, then rinse out thoroughly.
After completing the color process, wash hair with a color-kind shampoo. We rate ColorMotion+ Color Protection Shampoo for cleansing that won't strip their fresh shade. Finish by applying Blondor Seal & Care to neutralize the pH in their strands. Your client's medium blonde hair color will now be ready for styling.
5 Medium Blonde Hair Color Formulas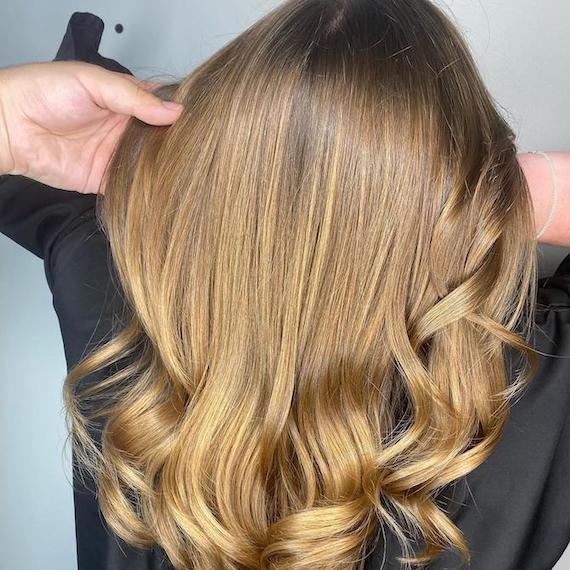 1
Medium Honey Blonde
Image Credit: @black_diamond_by_jr
Meet the single process blonde of dreams. Rather than lightening then toning their client's locks, colorists at Black Diamond Salon used a Koleston Perfect Special Blonde high lift shade to achieve this medium honey blonde. Their formula of choice? 12/03 ; a warmer tone with hints of milk chocolate brown. That's right: you're getting honey and cocoa in one with this delicious hue.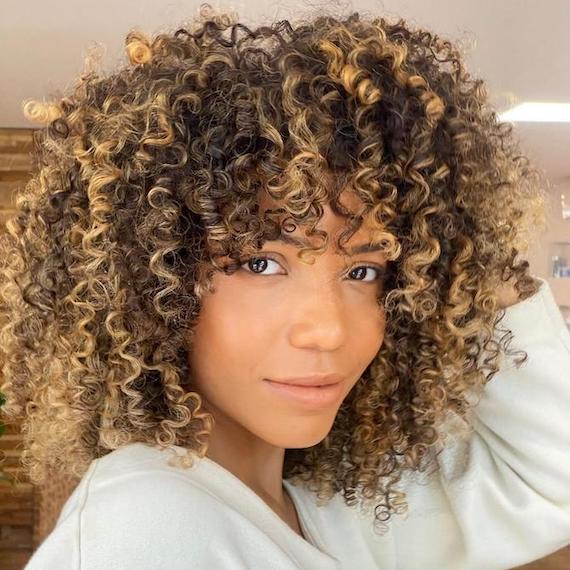 2
Medium Caramel Blonde
Image Credit: @gleitonpedrostudio
It doesn't get better than these caramel highlights, resplendent in radiance. They've got all the gloss and glow you could possibly want from a medium blonde hair color. Swept through a darker base, each ribbon adds definition and texture. Try recreating the look with BlondorPlex as your pre-lightener, followed by Color Touch 7/0 or 9/03 to tone.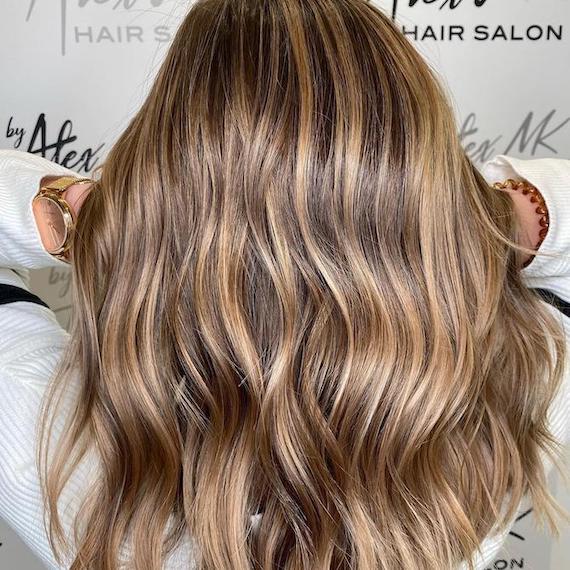 3
Medium Golden Blonde
Image Credit: @byalexmk
Glow for gold with this gilded shade of medium blonde. The chunky highlights were placed through the hair with BlondorPlex, which helps to strengthen internal hair bonds while it lifts hair to the correct level. Locks were then toned using Koleston Perfect 7/38 + 8/38 + 8/97 with 1.9% Welloxon Perfect developer.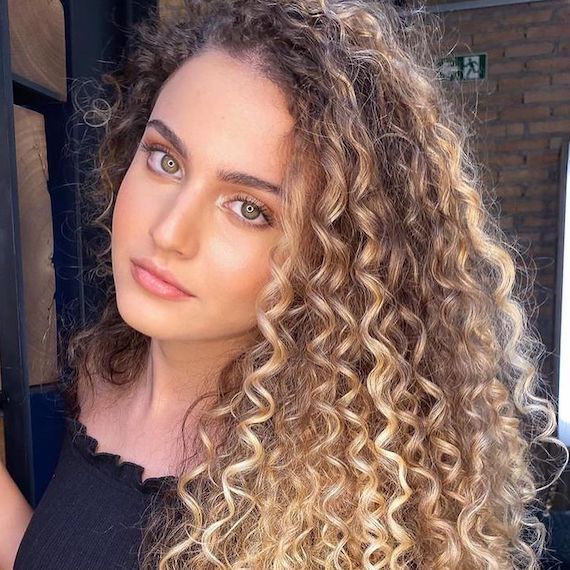 4
Medium Blonde Balayage
Image Credit: @rodrigues_ricardo
Say 'hello' to the dreamiest curly balayage, featuring golden blonde tones swept through a dark blonde base. For this look, try sweeping Blondor Freelights through mid-lengths and ends to add pops of brightness. Then, after locks have been lifted to the correct underlying tone, apply a blend of Illumina Color 8/ + 8/37 + 7/35 + 9/03 over the top.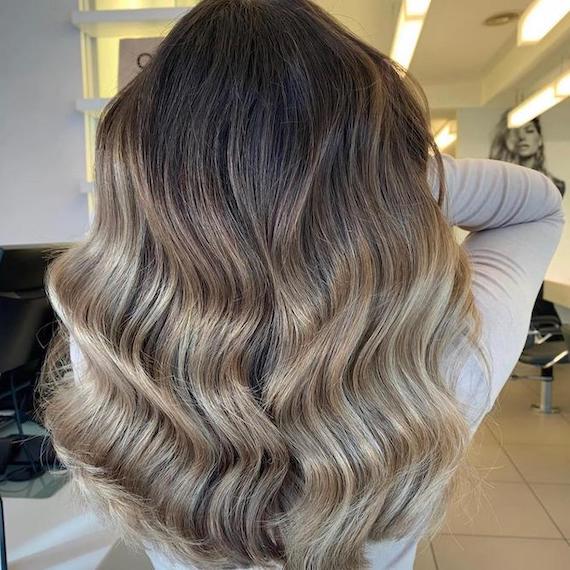 5
Medium Ash Blonde
Image Credit: @bibasouthyarra
A medium or dark ash blonde is an eminently popular shade for fall, with those crisp tones looking extra-reflective in the cooler autumn light. We love this balayaged take, which was perfected with Blondor Multi Blonde Powder, followed by Color Touch in two cool colors: 7/97 + 8/81.
How to Maintain Medium Blonde Hair
At-home maintenance isn't entirely out of your hands. Before your client leaves the salon, you can offer them tips on keeping their blonde locks looking fresh until their next appointment. The number one item they'll need in their kit is a color-protecting shampoo, and INVIGO Color Brilliance Shampoo is ideal, as it locks pigments down while amplifying shine. Then, it's all about hydration. INVIGO Color Brilliance Conditioner is a moisture-boosting must-have, which can be smoothed through towel-dried mid-lengths and ends, then left for five minutes to revive dry strands.
Clients should also add the Color Fresh Mask to their kit; a tinted treatment that tops up their tone in the shower, while keeping ends soft with a thwack of nourishing oils. All they need to do is comb it through from root to tip once per week (in place of their usual conditioner), then allow it to do its work for 10 minutes. Their shade will appear brighter and free of brassiness. Recommend your client reaches for the Golden Gloss or Caramel Glaze shades to enhance warm blondes, or the Pearl Blonde mask to instantly refresh cool-toned blondes.
SHOPWELLA STORE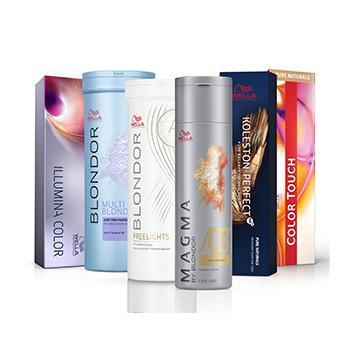 SHOP NOW
Products are only available to professionals.