5 Ginger Brown Hair Color Ideas & Formulas
This season, brunettes are getting a warm-toned, red-tinted upgrade as ginger brown hair becomes the trending shade to spice up your clients' locks. Balancing copper, auburn and chocolatey tones to pure perfection, it's the ideal option for redheads who want a darker shade or brunettes who crave a dose of fiery flawlessness.
So, how can you create your own ginger brown creations? Here, we reveal the tips, formulas and maintenance tricks you need to inject a little ginger into dark hair...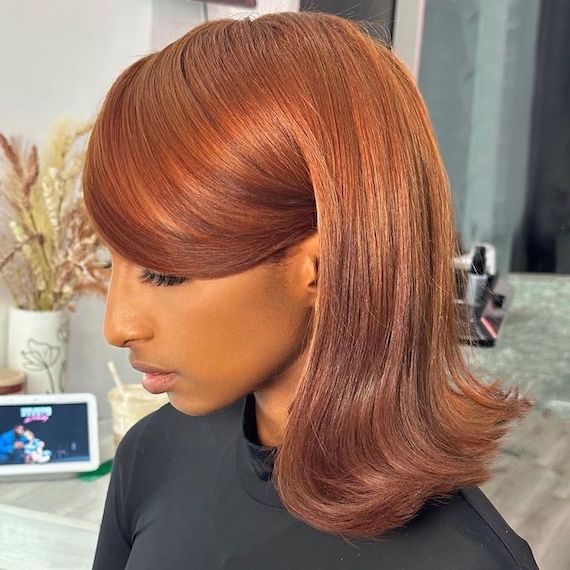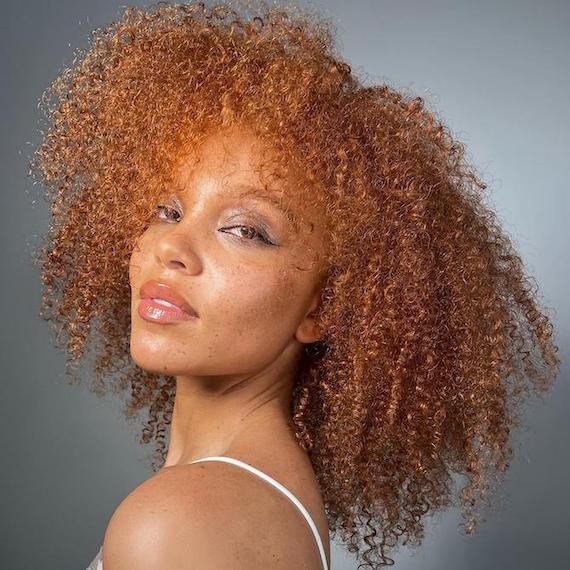 What Color is Ginger Brown Hair?
On the red-brown hair color spectrum, ginger brown is at the richer end, featuring accents of chocolate and copper that give it a beautifully blended finish. Because it fuses two hues so perfectly, it works for a wide range of skin tones. The ultra-versatile shade can steer more red or more brunette, depending on the hair goals of the client you're working with. Meanwhile, because it's brimming with warm tones, it creates a striking contrast against a cool skin tone, while working in flawless harmony with a warm-toned complexion or darker skin tones. As long as you tailor the shade of ginger to your client, there's no right or wrong way to mix up a ginger brown hair color. 
5 Ginger Brown Hair Color Formulas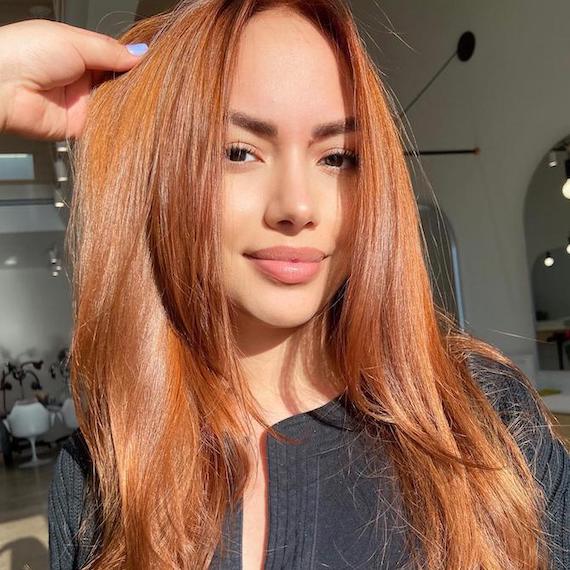 1
Rich Brown Ginger Hair Color
Image Credit: @nataliegbeauty
This rich ginger hair color features just a hint of brown to boost depth and dimension. Try it on clients who want to steer more red than brunette; it's the perfect option for a flaming, fiery mane. To create the look, virgin hair was first prepped with BlondorPlex + 3%, bringing locks up to a blonde level 8. Then, for the red, Illumina Color 6/37 + 7/43 + 1.9% was painted on the roots for 15 minutes before being melted into the lengths and left to develop for another 15 minutes under heat. Finally, after the formula was rinsed and neutralized, a five-minute gloss was applied, which you can recreate with Color Touch Relights /74 + 1.9%.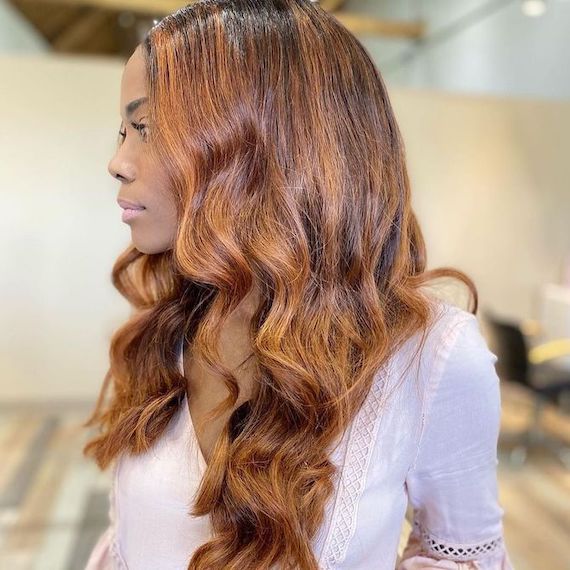 2
Ginger Brown with Golden Blonde Highlights
Image Credit: @nicolerevish
Give red-brown tones an extra hit of dimension with ginger-spiced golden highlights. Applied in a blend of babylights and chunkier pieces, these light, bright ribbons are high on drama and shine. This particular look was applied to a natural level three human hair wig, starting with back-to-back foil highlights using Koleston Perfect 12/22 + 12%. This a Special Blondes high-lift shade, meaning it lightens and tones in a single step. Once the formula had been rinsed and neutralized, locks were then treated to a Shinefinity Color Glaze in 07/34 + 08/34. We are obsessed.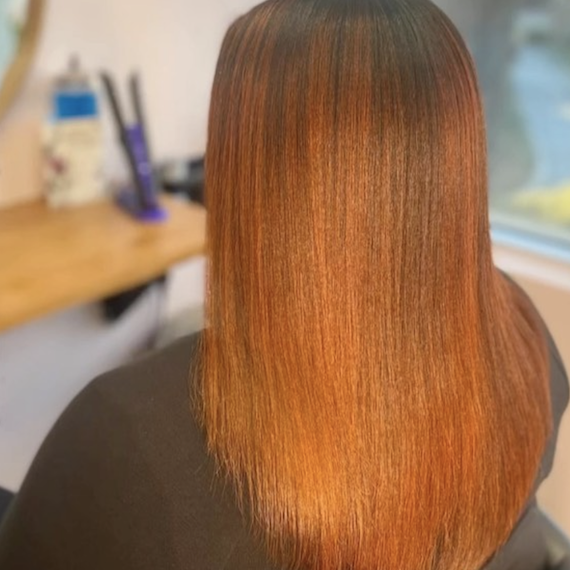 3
Dark Brown Ginger Balayage
Image Credit: @rachel_olivia_hair
Ginger brown hues collide in this blazing red balayage. With black hair as the base, the coppery ginger tones set the mid-lengths and ends aglow for a sunset effect. If you want to recreate the look on dark hair, start by sweeping BlondorPlex + 3% in a true balayage technique, then wrap in foils for brighter highlights with clear separation. After rinsing out the developed lightener, paint Shinefinity 07/34 + 07/75 through the darker root section and melt it into 08/34 on the lengths for show-stopping ginger highlights.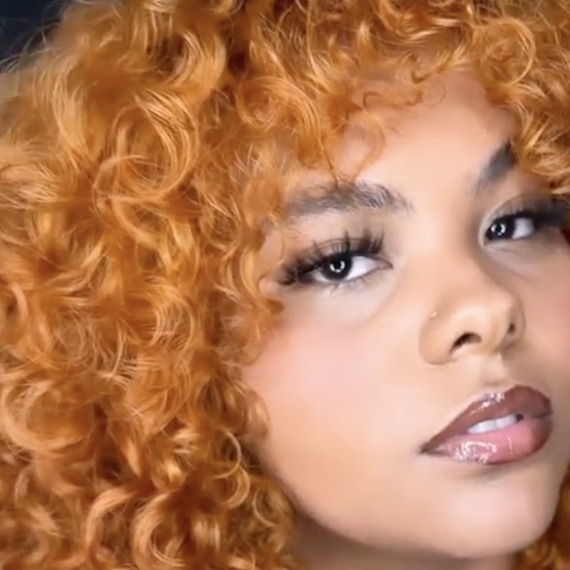 4
Bronde Hair with Ginger Spice
Image Credit: @rosicurls
This is bronde hair (AKA brown blonde hair), but not as you've ever known it before. Featuring brighter ginger highlights, the look is a statement-maker for clients who crave a light shade of red. If bold color is their vibe, recreate this hue using Koleston Perfect. Start by pre-lightening locks with BlondorPlex and tone with 8/34 + 1.9% from roots to ends. Then, give that bright color a boost of glossiness with EIMI Glam Mist; a shine mist designed to be sprayed through strands after drying and styling to perfection.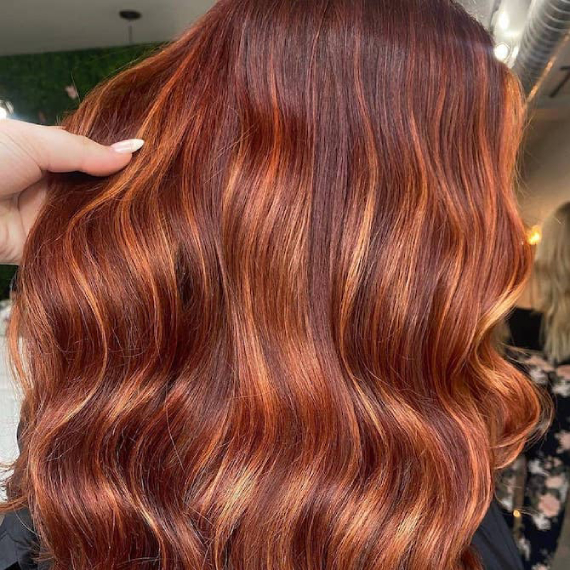 5
Dark Ginger Brown and Caramel Hair Color
Image Credit: @effortlysshair
Ginger spice with caramel tones – where do we sign up? Fusing two of the richest hues of this season, this look is a multi-tonal dream come true. There are no subtle ribbons here; the look is bold, vibrant and beyond eye-catching, thanks to the chunkiness of the ginger caramel highlights, the depth of the base and, of course, the radiance of Color Touch. Recreate the look by using BlondorPlex for blonde ribbons, then tone with three luminous formulas. On the roots apply 6/4 + 6/3 + 3%, on the mid-lengths use 7/43 + 6/3 + 1.9%, and on the ends reach for 10/34 + 1.9% for a brighter pop of color.
How to Maintain Ginger Brown Locks
Before your client leaves the salon, show them how to give their ginger hair shade a refresh with the right hair care routine. From color-kind shampoos to a tinted mask, these are the tips they need to know: 
1. Use Color-Kind Shampoos and Conditioners
Remind your client how important it is to use color-safe shampoo and conditioner. If they want to lock their vibrant color down for longer, INVIGO Brilliance Color Protection Shampoo is an excellent option. Its optimized low pH formula helps to close the cuticle after coloring to enhance shade retention, and when teamed with the Vibrant Color Conditioner, clients get up to seven weeks of radiance.
Meanwhile, if they have damaged hair, the Ultimate Repair Shampoo and Conditioner are great alternatives, designed to visibly transform stressed-out strands on all hair types. They're packed with AHA (Alpha Hydroxy Acid) to rebuild bonds inside the hair shaft, and Omega-9 to replenish the outer layer, so ginger brown locks appear instantly smoother and stronger after just one wash. 
2. Top Up the Tone with a Hair Mask
Have you tried the Color Fresh Mask yet? It's a pigmented treatment that refreshes salon color in just 10 minutes, and it comes in 13 shades to suit a range of hair hues. Copper Glow is ideal for lending a bright appearance to ginger brown hair and, best of all, the foolproof formula can be used by your clients at home. All they have to do is smooth the mask through clean, towel-dried hair, evenly distribute it with a wide tooth comb, then rinse out after 10 minutes. Their refreshed tresses will be ready to style as usual.
3. Repair Hair Damage in 90 Seconds
Give your client's gorgeous shade extra strength and shine with Ultimate Repair Miracle Hair Rescue; a supercharged spray-on treatment that reverses damage in just 90 seconds. Guaranteeing good hair days every day, all you have to do is mist it through clean, towel-dried locks, let it absorb for 90 seconds, then style as usual. Its hydrating effects and glossy shine last for four washes, so your client can enjoy healthy tresses for longer. Their ginger brown mane will positively glow – trust us.
Have you tried mixing your own ginger brown color creations yet?  Then don't forget to share them with us on Instagram by tagging @WellaHairUSA.