5 Plum Brown Hair Ideas & Formulas
Pantone has done it again. Their new Colour of the Year 2023, Viva Magenta, is influencing everything from makeup trends to new-season wardrobes, to winter's most coveted hair colours. Case in point: plum brown hair, a muted take on magenta that gives brunettes a hint of purple-pink. If your client's dark hair colour is calling out for a boost of bold, this is the trend to try. 
So, let's break down the best tips, techniques, and formulas for plum brown hair colour. Whether your client is taking it vivid or keeping it subtle, purple shades have never looked so chic...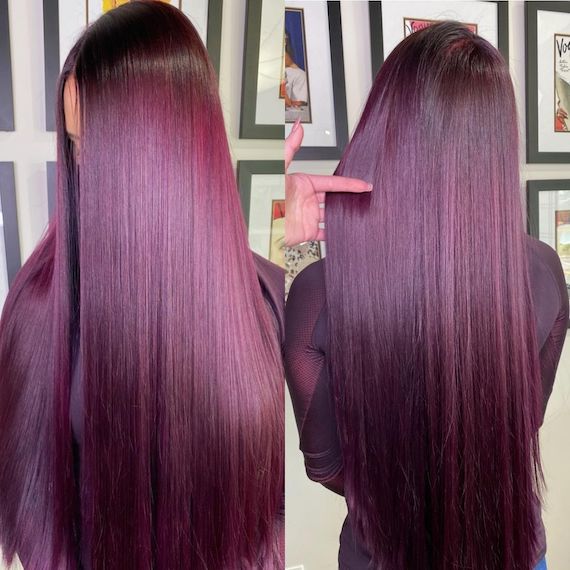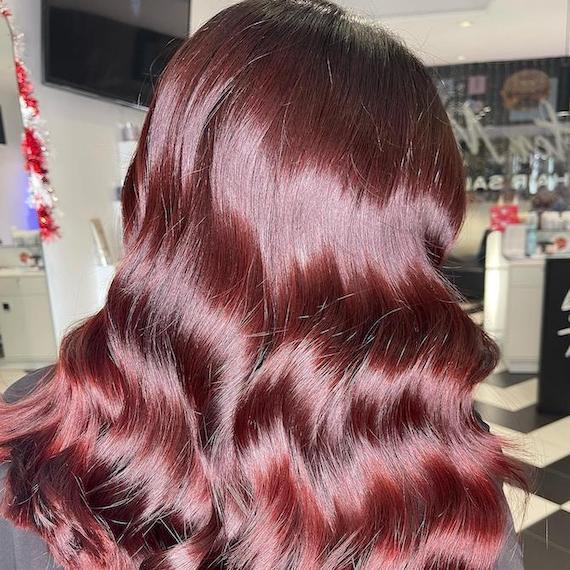 3 Tips for Creating Plum Brown Hair
1. Decide On a Technique for Painting Purple Tones
Starting with a brunette or black hair base, map out the placement of your client's plum brown colour. Do they want a purple balayage? Aubergine highlights? Or a root-to-tip, all-over head of plum tones? Depending on their existing shade, you may need to pre-lighten locks to ensure the colour pops. In this case, work with bond-strengthening BlondorPlex to create the perfect canvas for a touch of purple. 
2. Find the Perfect Shade of Plum Brown For Your Client
The great thing about plum brown hair is that it actually suits all skin tones. The trick is to tweak the purple-to-brown ratio to enhance your client's complexion. For example, if they have warm undertones or an olive skin tone, you can mix up a rich colour that's resplendent in glistening browns, with just a hint of purple-red running through to balance the warmth. Meanwhile, if they have cool undertones, lean more into the purple with a magenta or violet plum. Neutral skin tones will glow against any shade, so go as bold or rich as your client dares. 
3. Give Chocolate Plum Locks a Glossy Glaze
Complete your client's colour service and take shine to the next level with a clear Shinefinity Glaze. Like a zero damage top coat for locks, it lends a mirror-like finish from root to tip. Plus, it only takes 10 minutes to carry out, so you won't keep your client at the sink for too long. Simply mix Shinefinity 00/00 at a 1:1 ratio with the Brush & Bowl or Bottle Activator (your choice), then apply to damp hair and rinse out after 10 minutes. Once dried and styled, their colour's purple undertones will truly sparkle.
5 Plum Brown Hair Colour Ideas & Formulas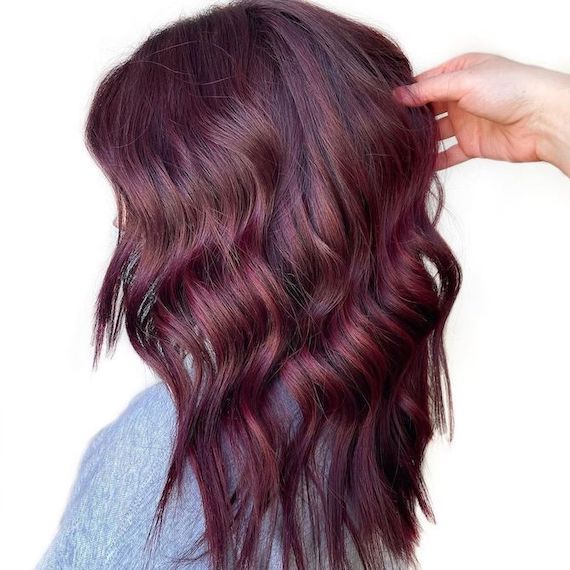 1
Burgundy Plum Hair Colour
Image Credit: @ellensmanepage
The most eye-catching depth imaginable can be found in this multi-tonal mane, which spans the full red-purple colour spectrum, from brunette to plum to burgundy. To recreate the look, try setting locks aglow with a mix of Koleston Perfect 6/45 + 55/46 + 0/66. Apply as highlights over the top of a brown base for chocolate and plum hues that melt together seamlessly.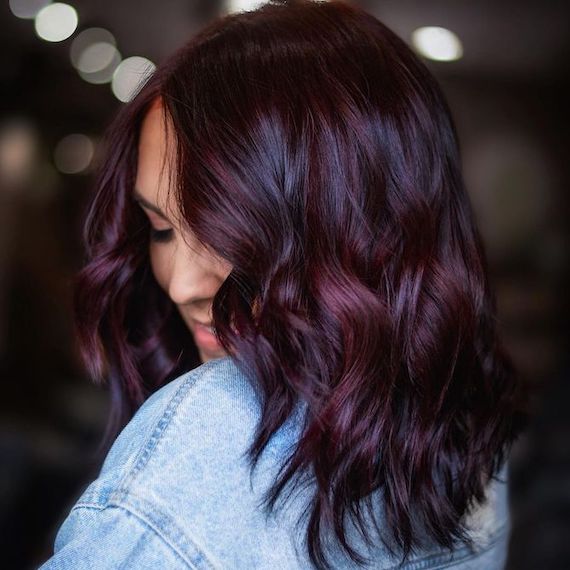 2
Black Plum Hair Colour
Image Credit: @thenewenglandstylist
This deep plum colour is giving us vampy vibes, with rich eggplant and merlot tones intertwining to lend a multi-tonal finish. Perfect for darker hair craving a new-season upgrade, you can create the look by painting Koleston Perfect 55/46 as an all-over colour. This red-meets-violet-meets-brown hue is our go-to for all manner of purple hair colour creations – and it's easy to see why.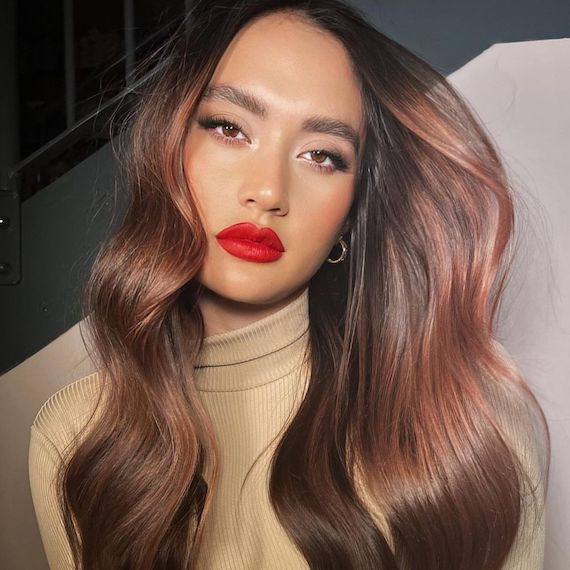 3
Subtle Plum Hair Colour
Image Credit: @jhair_stylist
Plum brown shades aren't just for darker hair. This light cocoa hair colour features delicate purple ribbons that are sweet, warm, and luxurious – all thanks to our Shinefinity colour glaze. The shade at play here is 07/75 Raspberry Latte; a deliciously soft and luminous hue. It can be swept over your client's natural colour or a pre-lightened base to enhance dimension for the most multi-tonal hair creation. This blend of plum sits on the subtler end of the pink-purple spectrum, with just enough pastel to make it winter, spring and summer ready.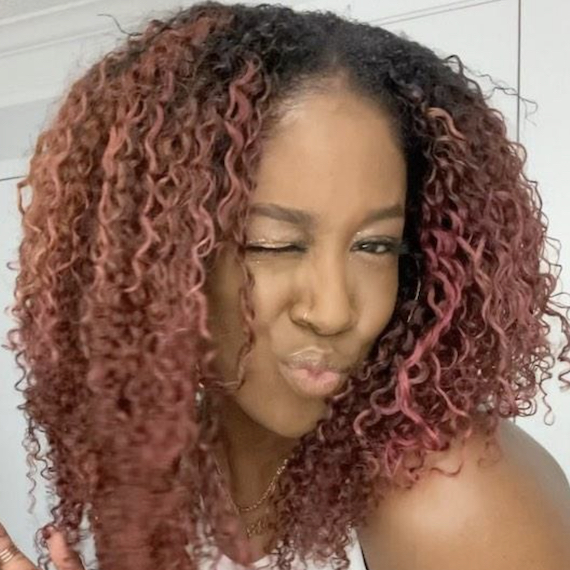 4
Raspberry Plum Hair Colour
Image Credit: @edgybgirl
For a pop of colour through brown hair, try a raspberry plum balayage. This show-stopping injection of fun colour comes courtesy of the Color Fresh Mask in Rose Blaze. Applied over an existing balayage, the light rosy hue blends with the warm base to give a raspberry plum glow. Plus, because it's a colour-depositing conditioner, the touch of plum tint is damage free and washes out over time. All you have to do is smooth the creamy formula over clean, damp locks, comb through to distribute evenly, then rinse off after 10 minutes to reveal rich hair colour with major shine.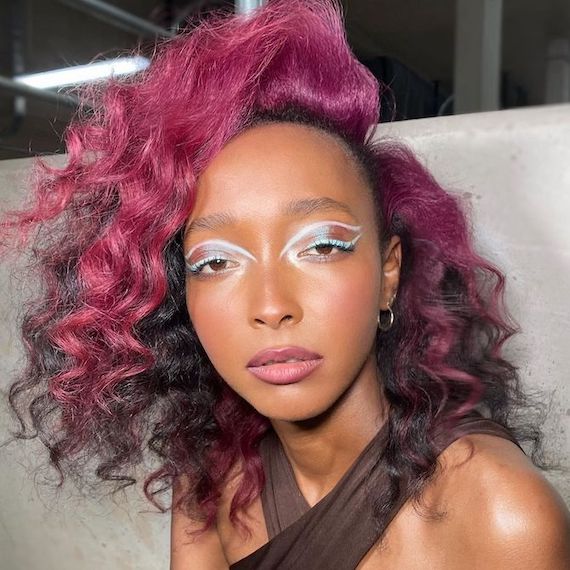 5
Magenta Plum Hair Colour
Image Credit: @jhair_stylist
Bright colour lovers will adore the vibrancy of this magenta plum hair colour. The pink undertones pack a solid punch, while the dark base lends contrast to make the highlights extra eye-catching. Create the look by lightening chunky sections of dark or black hair with BlondorPlex first, before applying Koleston Perfect 0/65 for a vibrant plum purple that's unstoppably bold. 
How to Maintain Dark Brown Hair with Shades of Plum
Maintain the beautiful depth of plum brunette locks by sharing colour care tricks with your client. If they want to keep their colour bold, these are the steps they need to follow after their colour appointment...
1. Use Colour Care Shampoos and Conditioners
Your client should be sticking to their 6-week upkeep appointments to maintain plum hair, as well as washing with colour-safe shampoos and conditioners to care for their shade in the meantime. Recommend they use ColorMotion+ Color Protection Shampoo, which is formulated with unique technology to keep damaging metals and brassy tones at bay. They should follow their wash with the Moisturizing Color Reflection Conditioner. Not only does it keep hair soft, but it also detangles locks for effortless styling. 
2. Protect Deep Plum Hair Colour From Heat
Protective hair products are key to locking in the perfect colour – especially if your client likes to blow-dry, curl or straighten their hair. Help them find the right heat protectant for their hair type. We reach for EIMI Thermal Image for normal or fine/thin hair, and EIMI Flowing Form for damaged hair that needs shielding from heat-induced dehydration. Simple.
3. Enhance Shine With Nourishing Hair Oils
No matter how your client styles their hair – straight, wavy, curly or coily – suggest they complete their look with an extra injection of shine. EIMI Glam Mist is ideal for a weightless veil of humidity-defying radiance that helps plum brown hair glow. 
Don't forget to share your plum-tinted brunette creations with us on Instagram by tagging @WellaHairUKI. We can't wait to see your artistry shine.