How to Get Purple Hair, Plus 5 Pro Formulas
It's official: dark purple is the go-to hair hue for adventurous clients this autumn, teaming bold colour with a not-too-vivid dose of depth for a seriously Insta-ready look. Providing the perfect balance of statement-making and understated, get ready for dark purple to reign once again. Here's everything you need to know about the trend…
Who Suits Dark Purple Hair?
Everyone suits dark purple hair. Because the colour can be mixed up in both cool and warm tones, it's easy to find a shade that flatters your client's complexion. Try everything from midnight magentas to vampy violets, considering whether a little extra warm red or cool blue would suit them best. This is where your creativity can shine.
In particular, clients who have deep skin with cool undertones look ultra-glowy with dark purple hair – especially when they go for blackberry or raisin shades with a high-shine finish. Just be sure that, if any of your clients are talking about trying the trend for themselves, you book in time for a consultation first. Ask them to bring photos, too – this will help you fine-tune their shade.
How to Create Deep Purple Hair
1. Shade the Roots
If you're applying dark purple hair with an ombre or balayage technique, you'll need to mix up a complementing shade for your client's roots. Typically, dark hues – such as deep brunette or jet black – work best for this look. Steer clear of lighter shades (like light browns and blondes), as they'll appear patchy against the depth of the purple.
There are a range of Wella Professionals colour products you can use for the root shadow, depending on the type of finish and level of commitment your client wants. For a demi-permanent that's packed with shine, opt for the Color Touch collection. Or, for a similarly light-reflective look that's permanent, try Illumina Color. You can also apply Koleston Perfect if they crave permanent colour that's rich and intense. Bonus: both Illumina and Koleston offer up to 100% gray coverage, too.
2. Pre-Lighten Sections of Hair
While you might want to shade the roots dark, the base for violet hair is a different story. In order for dark purple ombre or highlights to show up, the color needs to be applied to strands that are naturally light blonde or have been pre-lightened.
Try the Blondor range of hair lighteners, reaching for Freelights if you're creating dark purple balayage or Soft Blonde Cream for lifting that's gentle on the scalp – ideal for all-over colour or root-to-tip highlights. After rinsing and neutralising with Blondor Seal & Care, you'll have the perfect canvas for dark purple locks that pack a pigmented punch. Now to choose that dreamy dark violet hair hue…
3. Pick the Purple
When create bolder looks – think mermaid, rainbow or peacock hair – semi-permanent, ammonia free hair colour Color Fresh CREATE offers a rainbow of intermixable, statement hues. There are 12 to choose from, plus three additives that allow you to personalize the colour, offering you and your client unlimited potential.
Both Pure Violet and Ultra Purple are staples for punchy dark purple hair, but you can add a few drops of other shades to precisely tune and tweak the tone. For example, dropping in some New Blue will give the purple a cooler feel, while mixing in Next Red can take the shade more magenta. The control is in your hands.
We also recommend adding the Tonight Dusk additive to any dark purple hair creations, which will #MakeItDeeper using only a trace of product. Trust us – less is more. Mix it 20:1, meaning 20 parts Color Fresh CREATE to just one part Tonight Dusk, and you'll have more than enough to take your violet formulas ultra-deep.
4. Tailor Development Time
After applying dark purple hair colour, tailor the development time to your client's desired look. The minimum is 20 minutes, but 30 minutes will increase the intensity. Our advice? Suggest your clients go for maximum impact with the full 30 minutes. The colour will fade true to tone over 24 washes, so the vibrancy will gradually dial down as weeks go by.
What Happens if You Use Purple Shampoo on Dark Purple Hair?
Typically, purple shampoo – like INVIGO Blonde Recharge Cool Blonde Color Refreshing Shampoo – is recommended to cool down brassy tones, making it a popular pick for blondes who want a fresh, icy sheen. So, what happens when you use it on purple hair? First up, it won't turn your client's hair purple, so they shouldn't rely on it to inject an extra shot of colour. However – as is the case for any client who wants to keep overly-warm tones at bay – it can be used to neutralise dark purple hair that's starting to go a little brassy.
How Do You Stop Dark Violet Hair From Fading?
Clients trying dark purple hair should be willing to go for regular touch-ups. This is the most reliable, foolproof way of preventing colour fade. However, there are other tricks that will help them lock down a purple look for longer, so make sure they leave the salon with this easy-to-follow advice…
1. Curate a Caring Routine
We know it, you know it – but does your client know that a colour-kind routine is essential post-appointment? They need to switch up their shampoo and conditioner to maintain dark purple hair. Order the ColorMotion+ collection from the WellaStore and sell it in-salon. It holds everything they need to maintain purple locks for longer, from a gentle shampoo to a hydrating hair mask.
2. Protect Purple from Heat
Those with dark purple hair should be toning down the heat – and we mean all the heat. That includes turning the tap to a cooler setting, so the water clients wash their hair with isn't too hot. They should also be limiting blowdrying and heat styling where possible. If they can't, suggest they use EIMI Thermal Image heat protectant spray to safeguard strands from high temperatures.
3. Wash Locks Less
As well as using minimal heat, clients should be washing dark purple hair less often. This is easily done when they add a dry shampoo to their routine. Suggest EIMI Dry Me; a quick-to-spritz, matte formula that creates formula while keeping oily roots on hold. It's the perfect between-washes pick-me-up.
MULBERRY HAIR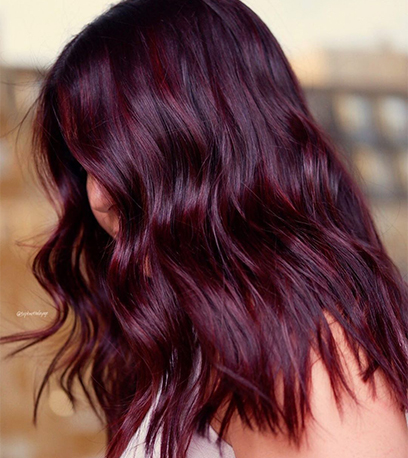 Colour Formulas:
Color Touch, Color Touch Emulsion, Koleston Perfect, Welloxon Perfect, INVIGO
Color Touch 20g 77/45 + 10g 7/4 + 20g 5/66 + 5g 0/68 + 110g 4%
Koleston Perfect Glossing 20g 0/66 + 20g 0/65 + 40ml 1.9% + 40ml Post Service Conditioner
DARK CHERRY HAIR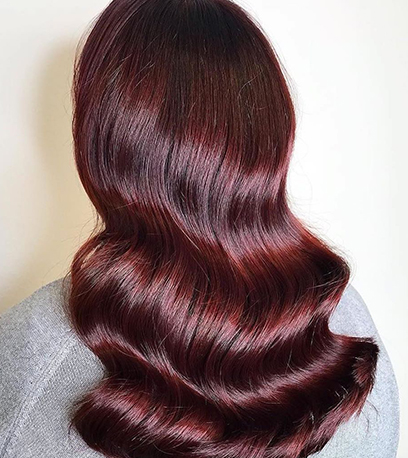 Colour Formulas:
Color Touch, Color Touch Emulsion
Roots: 20g 4/57 + 20g 5/75 + 20g 55/54 + 120g 1.9%
Lengths: 20g 55/54 + 10g 6/75 + 20g 66/45 + 50g 4%
MULLED WINE HAIR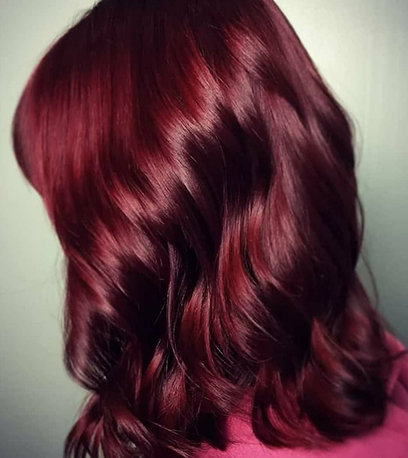 Colour Formulas:
Koleston Perfect, Welloxon Perfect
Full head color: 120g 55/66 + 120g 6%
Color Touch, Color Touch Emulsion
Toner: 30g 0/56 + 60g 1.9%
SLEEK DARK PURPLE HAIR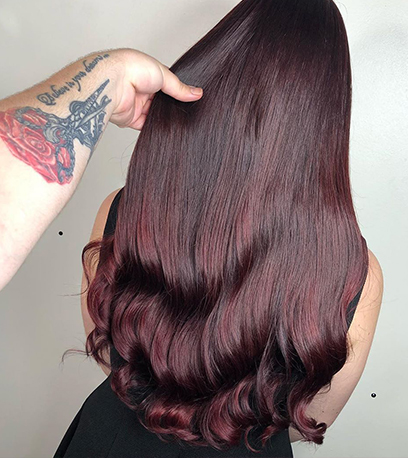 Colour Formulas:
Color Touch, Color Touch Emulsion
60g 55/65 + 60g 6/45 + 240g 4%
TWO-TONED DARK PURPLE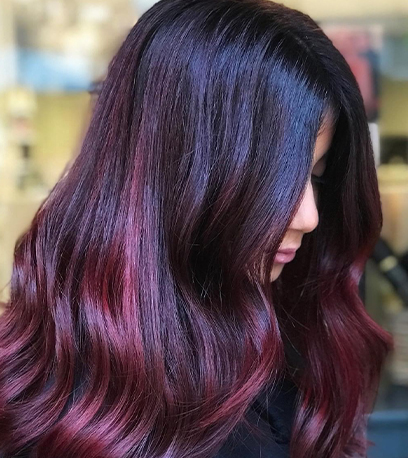 Colour Formulas:
Koleston Perfect, Welloxon Perfect
Roots: 20g 4/0 + 10g 44/44 + 60g 1.9%
Lengths: 60g 55/44 + 120g 1.9%.