12 Beautiful Burgundy Hair Ideas And Formulas
You don't have to be a connoisseur in order to appreciate the deep, vibrant colour of a glass of red wine (and the flavour, of course). And what better way to show your appreciation by colouring locks with said vibrant and rich burgundy shade?
Burgundy hair is a great colour for giving the hair more depth and add a certain "je ne sais quoi" to a look. It's great for brunettes that want to spice up their colour, but also for blondes looking for a dramatic change.
At its base, burgundy hair is a reddish brown colour, but because of its versatility, there are many burgundy shades to suit everyone. Just as a red wine comes in different tones, so does burgundy: from the bold, vibrant purple burgundy, or the chestnut undertones of maroon to the subtle burgundy brown.
How to choose the right burgundy shade for any skin tone
So much variety means that burgundy can easily be adapted to different skin tones. Cooler complexions will suit a burgundy that has more of a violet undertone, whereas people with warmer complexions can opt for burgundies that are more red or brown.  
How to care for burgundy hair
Burgundy hair looks best when it's vibrant, but that vibrancy requires some care and maintenance. You should recommend to your client that they use a care regimen formulated specifically for coloured hair such as the Wella Invigo Color Brilliance line of hair care products that protect your colour for up to 7 weeks, or the Wella ColorMotion+ line that prevents colour fading whilst strengthening the hair. You can also recommend a glossing treatment in-between colour touch-ups, to keep the hair radiant and shiny. Discover more tips to share with your clients on caring for coloured hair.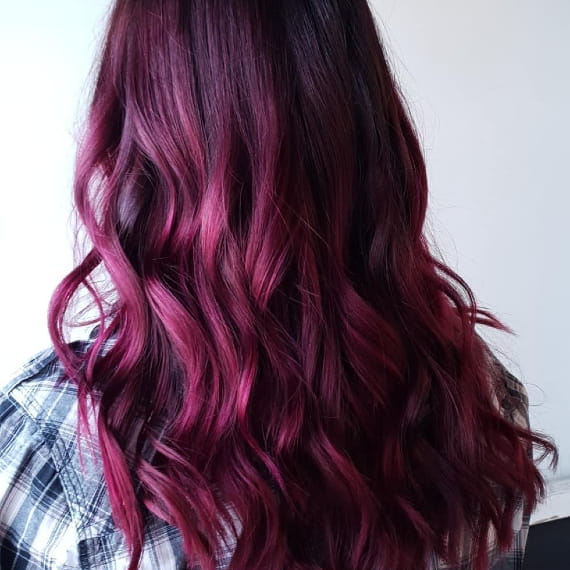 1
1. Burgundy pink hair
Image Credit: huldis.k
Turn up the volume and go even brighter with this burgundy pink look idea created by Huldis. Start with a dark burgundy base and paint in lighter locks using Blondor Freelights.Then to tone the lightened locks, mix pure vibrant shades like High Magenta, Pure Violet and Next Red from Color Fresh Create. The only thing left to do next is to share this Instagram-worthy look!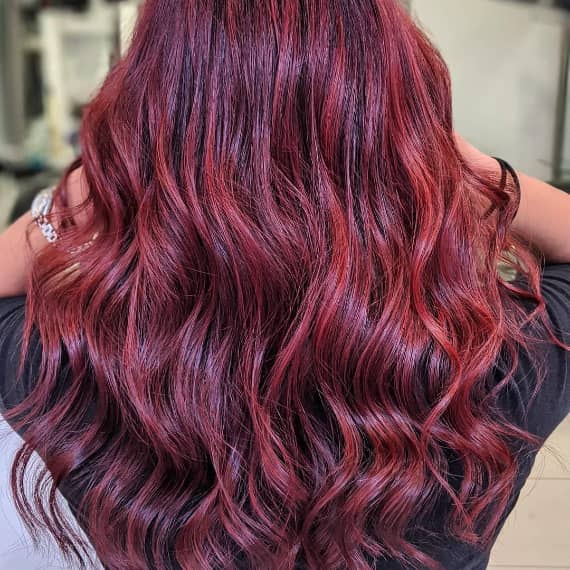 2
2. Burgundy hair with highlights
Image Credit: paolosilveri
This playful and fiery look mixes Paolo's favourite Wella reds on a burgundy base. It's great for a client who wants to turn some heads and stand out.  If you have a dark base, use the foiling technique mixing finer and larger weaves, followed by a toning service with Koleston Perfect from our permanent hair colour range. With some of the most vibrant reds out there, Koleston Perfect is the perfect choice for achieving this result. We recommend the formula: KP 55/55 with 66/46.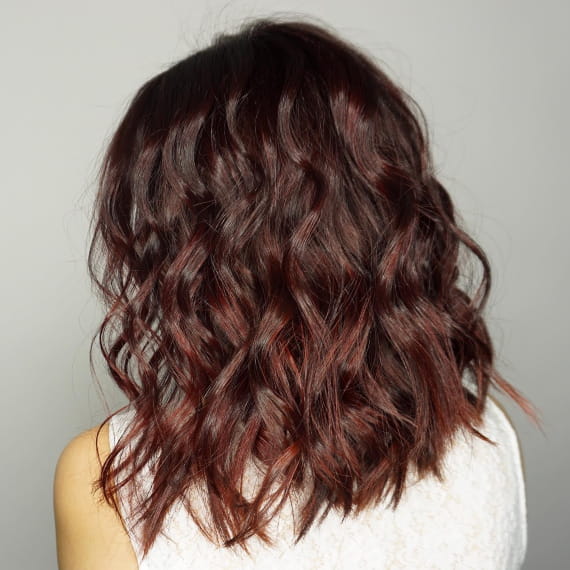 3
3. Illuminated burgundy waves
Image Credit: kai_sohn
We love seeing fresh, creative looks made by our Passionistas using the illuminage technique, like this one created by Kai Sohn. He started with a burgundy brown base then painted luminous highlights using the formula:
1) Color Touch 4/5+1,9% (1:2)
2) Color Touch 77/45+1,9% (1:2)
3) Next Red from Color Fresh Create
Style the hair with bouncy beach waves to show off all the beautiful tonalities. Use EIMI Perfect Setting as a base to provide voluminous hold, finishing with EIMI Mistify Me Strong to make sure those waves last 'til the party is over.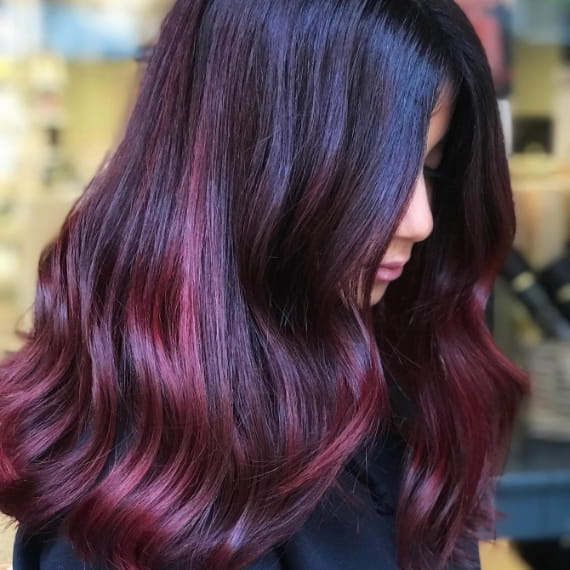 4
4. Burgundy balayage
Image Credit: feliciatisajsvensson.wella
If you're looking to spice up brunette locks, why not try this colourful, glossy burgundy balayage created by Felicia Tisaj Svensson. She started from a natural dark base 4 and free lightened to a level 6, toning with Koleston Perfect.
Formula used:
Roots: 4/0 + 44/44 + 1,9 % (1:2)
Lengths: 55/44 + 1,9 % (1:2)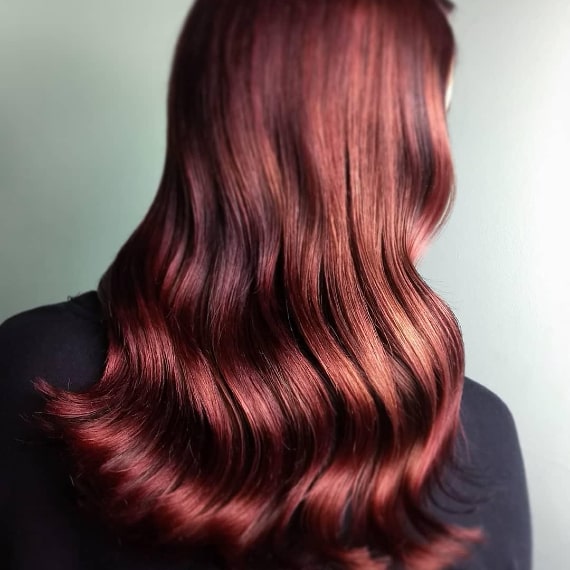 5
5. Sleek burgundy red
Image Credit: cassandra_foehr
This silky-smooth, burgundy red look created by Cassandra Foehr is really giving us Little Mermaid vibes. She used Koleston Perfect for the base to create a deep, dark red then created a balayage using the most vibrant red from Magma, followed by a gloss. Style with EIMI Flowing Form for luxurious smooth hair, while protecting it against dehydration and finish with Glam Mist shine spray.
Formula used:
Base: KP 44/65 + 55/46 + 7/18
Balayage: Magma /17+ /44 + /00
Gloss: 5/66 + 0/00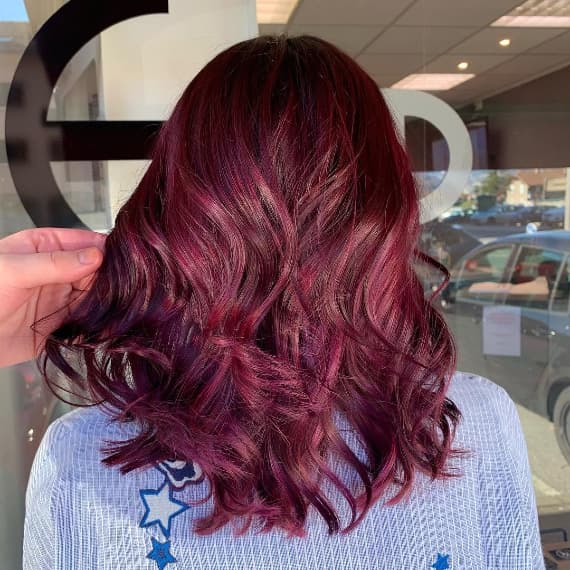 6
6. Purple burgundy
Image Credit: exphaircoiffeur
A purple burgundy is great for a client with a cooler skin complexion, looking to step out of the "safe" zone, no matter the season.For this look Exp'Hair Coiffeur mixed: 55/65 + 9% and Color Fresh Create: 30g Magenta 15g Ultrapurple 5g Next Red.
To maintain cool red tones, recommend to your client that they should use Color Recharge Red Conditioner which contains colour pigments that refresh and maintain the multi-dimensional colour of red hair tones.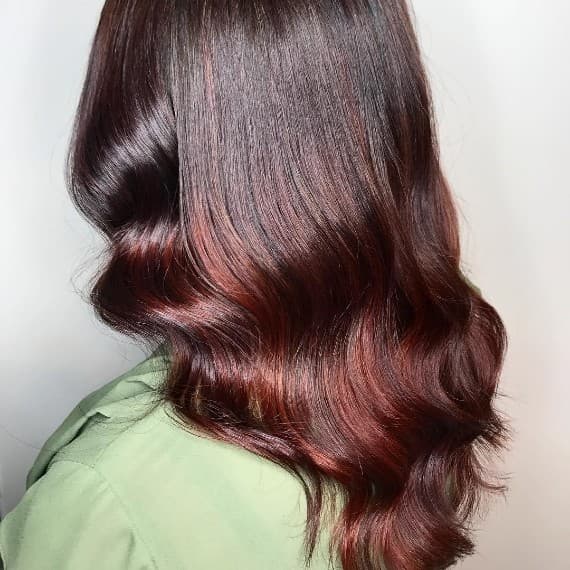 7
7. Burgundy brown
Image credit: shaunaformanhair
For a warmer result that still has some spice, a burgundy brown will work wonders. Shauna Forman added a bit more vibrancy to the ends by painting them with Magma by Blondor. Try out a mix of /44 +/75 for this elegant burgundy brown look.
CHOCOLATE CHERRY HAIR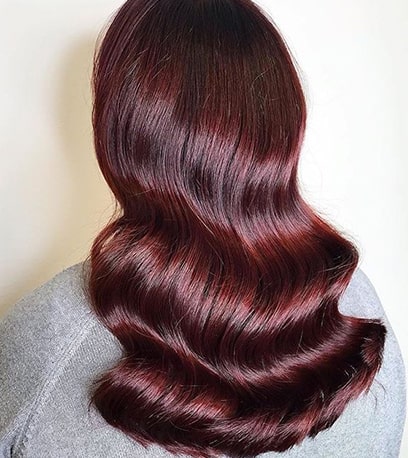 Colour Formulas:  
Color Touch, Color Touch Emulsion 
Roots: 20g 4/57 + 20g 5/75 + 20g 55/54 + 120g 1.9% 
Lengths: 20g 55/54 + 10g 6/75 + 20g 66/45 + 50g 4% 
MULLED WINE HAIR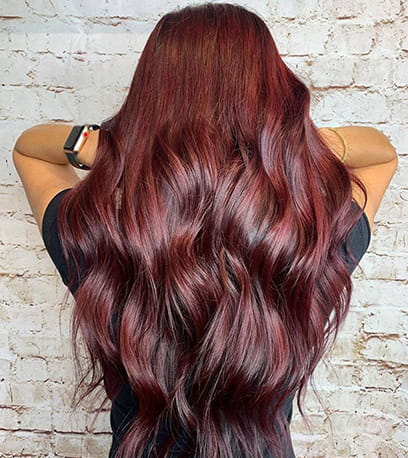 Colour Formulas:  
Color Touch, Color Touch Emulsion
Full Head: 30g 66/45 + 30g 55/54 + 10g 0/45 + 140g 4%
Lowlights: 30g 55/65 + 3g 3/66 + 66g 1.9%
Find more Mulled Wine Hair Formulas here
SLEEK BURGUNDY HAIR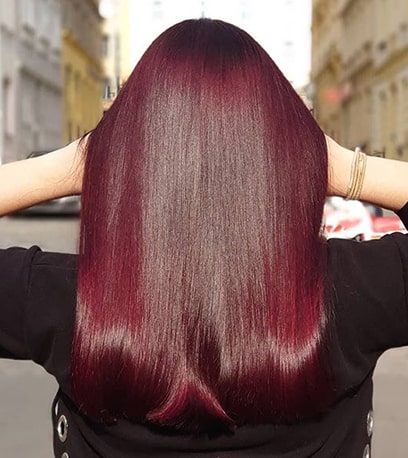 Colour Formulas:  
Koleston Perfect, Welloxon Perfect
Roots: 60g 44/66 + 60g 6%
Mid-lengths: 60g 55/65 + 60g 6%
Ends: 30g 55/65 + 30g 66/46 + 60g 6%
BERRY RICH HAIR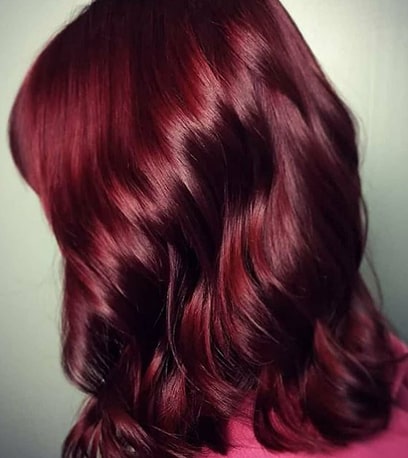 Colour Formulas:  
Koleston Perfect, Welloxon Perfect
Full head color: 120g 55/66 + 120g 6%
Color Touch, Color Touch Emulsion
Toner: 30g 0/56 + 60g 1.9%
PLUM HAIR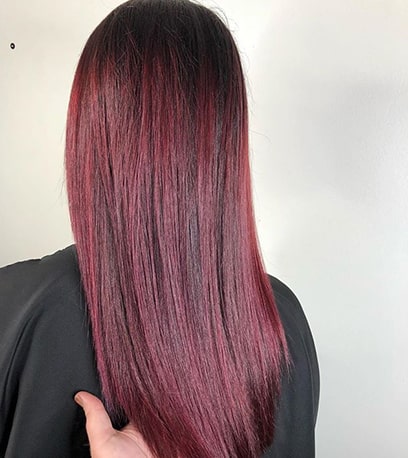 Colour Formulas:  
Koleston Perfect, Welloxon Perfect
60g 55/55 + 10g 66/46 + 70g 6%
Are you feeling inspired and ready to create some vibrant burgundy looks? Share them with on Instagram using @wellahairuk and #wellapassionista.