How to Create the Sweetest Pink & Blue Hair
Sometimes a hair colour clash just works – like when you go monochrome with black and white tones, or paint a full head of pastel hair hues that stand out side by side. And one of our all-time favorite colour clashes can be found in the pink and blue hair colour trend; a look so show-stoppingly fun and fresh, it delivers instant joy. Whether soft and pastel-toned or bold and vibrant, pinks and blues are the ultimate whimsical dream team, delivering a dose of candy sweetness every. single. time.
If clients are looking for inspiration for their next bright refresh, show them these pink and blue hair creations – and make sure to take note of the formulas below.
How to Create Pink and Blue Hair
1. Decide on a Technique
First up, pinpoint the placement of those perfect pinks and blues. Will they melt in a bright balayage? Be swept in alternating highlights? Or will you go for a blue to pink ombre? The technique you use won't just decide how you apply the pink and blue tones; it will also guide where your pre-lightener is applied to help the shades stand out. For example, if you're going for a natural root and pink-meets-blue balayage, you'll only lighten mid-lengths and ends. Meanwhile, if the whole head requires colour, root-to-tip lightening will be needed.
2. Pick the Perfect Pink
There are plenty of pink hair colours to choose from in the Wella portfolio, and our Clear toners and additives make it even easier to personalize your client's shade. Some of our go-tos include:
3. Bring on the Blue
From soft cerulean to chic navy, there are so many ways to work a blue hair colour. Take your pick from the Wella shade line-up to find a hue that your client will love. Here are some favorites
Color Fresh CREATE in bold New Blue, a striking cobalt you can pastelize with the Tomorrow Clear additive or deepen with Tonight Dusk.
Koleston Perfect or Color Touch in 0/88, a deep sapphire blue you can paint bright and bold or mix with a clear 0/00 toner to make it lighter.
Shinefinity Glaze in 08/8 Blue Pearl for a soft, pastel-toned blue, or 00/89 Blue Booster for a slightly more vivid tone that's easily mixed with other shades.
5 Pink and Blue Hair Formulas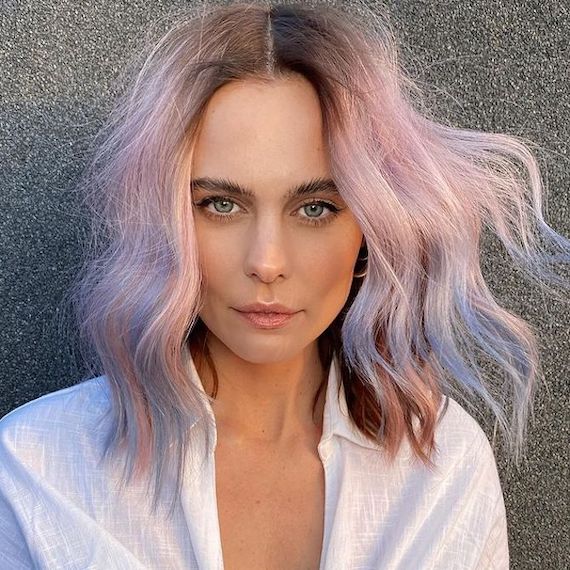 1
Pastel Pink and Blue Hair
Image Credit: @jhair_stylist
Pastel pink hair gets a surprise twist from a shot of powder blue, stroked through the mid-section of blonde lengths to lend a striking statement. Want to recreate the look? Add a root smudge with Koleston Perfect 7/18 + 6/97 + 1.9% first, then mix up 10/95 + 0/65 + 1.9% for the pink, and 10/86 + 0/88 + 1.9% for the blue.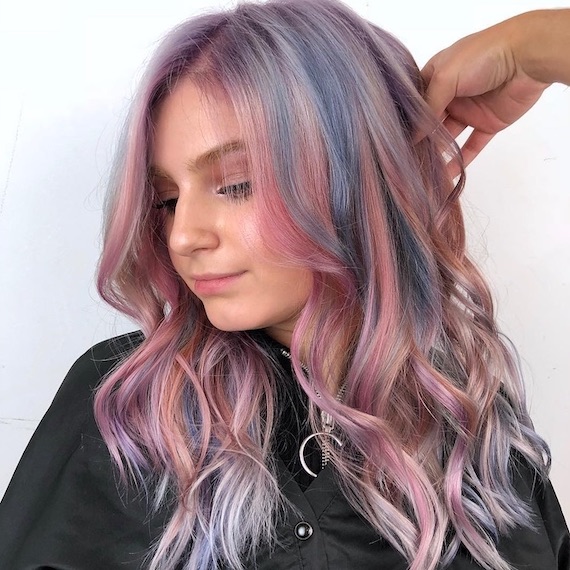 2
Pink and Blue Highlights
Image Credit: @mavisxhair
Hello, pastel balayage! These side-by-side strokes of pink and blue can be created using Instamatic by Color Touch in Pink Dream, and Color Touch 0/88 pastelized with clear 0/00. Apply to pre-lightened locks in chunky highlights for maximum impact. You could also add other pastel tones from the Instamatic palette, like Ocean Storm or Muted Mauve. We're getting mermaid hair vibes.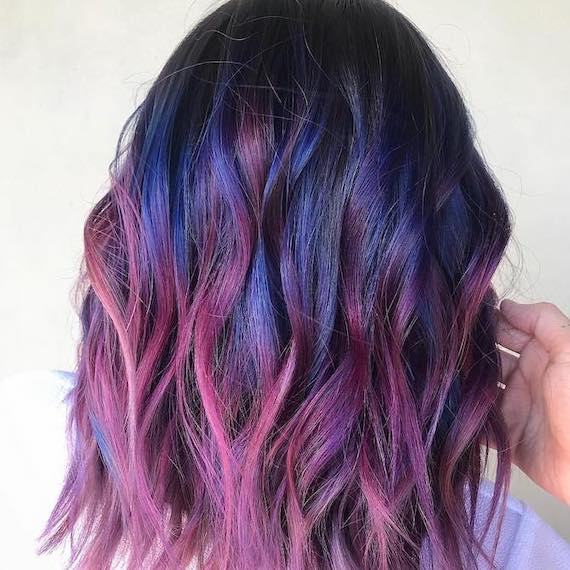 3
Hot Pink and Electric Blue Hair
Image Credit: @jamiekeikohair
Team electric blue roots with hot pink lengths for a vivid eighties look. The shades in the Color Fresh CREATE palette have you covered, with New Blue and High Magenta serving serious vibrancy. Apply the blue section first, painting from the roots down to the mid-lengths, then add the pink, brushing it upwards so it bleeds into the blue for a seamless melt.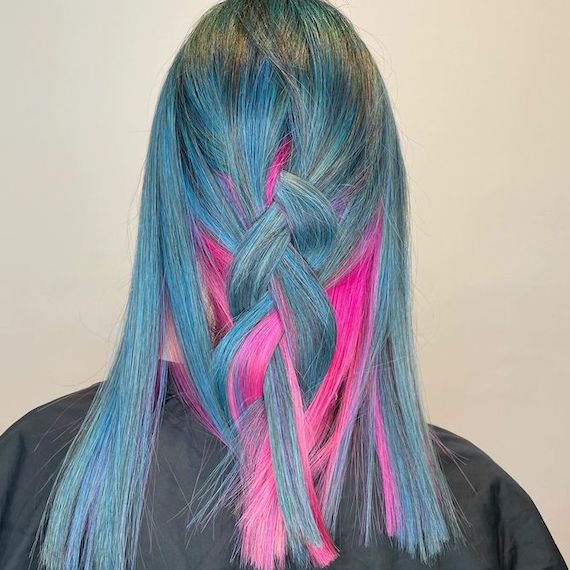 4
Blue Hair with a Hidden Pink Panel
Image Credit: @mr.mishwu
For a look with hidden depths, paint a pink panel through the lower layers of hair, then brighten up the top section with a shot of marine blue. Here, locks have been pre-lightened with BlondorPlex + 4%, before two Color Fresh CREATE formulas have been swept through for a half and half hair effect. You're seeing Super Petrol + Tomorrow Clear + Tonight Dusk (1:3:1) up top, and Tomorrow Clear + High Magenta (5:1) in the lower section.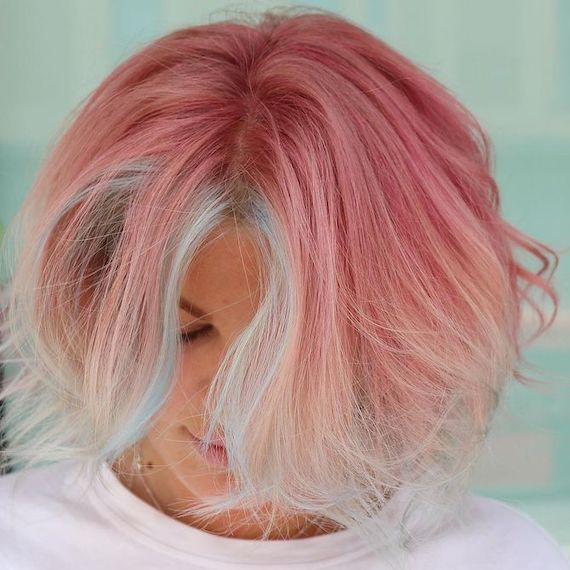 5
Pink Hair with Blue Face-Framing Highlights
Image Credit: @sanyaminette
Ice blue face-framing highlights through a candy pink bob? Where do we sign up? This sweeter-than-sugar look is punchy, pigmented and pastel fresh – perfect for a spring or summer look. The base was perfected with BlondorPlex + 6% all over, while the two tones were mixed up using Color Fresh CREATE. Try Nudist Pink + High Magenta + Vintage Blush for the pink, and New Blue + plenty of Tomorrow Clear for the cool face frame.
How to Maintain Pink and Blue Hair
1. Paint the Colours Brighter
This maintenance trick starts in the salon, before painting has even begun. If your client wants their pink and blue hair to last longer, ask if they're willing to go slightly brighter than they initially planned. Rainbow hues fade over time, so they'll soon reach the colour they were hoping for, but, the fact that they started out more pigmented means the shade will stay fresher for longer.
2. Recommend Protective Hair Care
Remind your clients how important it is to use coloured hair care products at home. One of our favorite combinations for shielding pastels and bolds is the ColorMotion+ Color Protection Shampoo and Moisturizing Color Reflection Conditioner. Together, they keep dulling aggressors at bay with a boost of antioxidants, while keeping hair softer, smoother and stronger.
3. Top Up the Tones Between Appointments
If your client's blue and pink hair is starting to fade, they can apply colour-depositing conditioners, which top up the tone at home until the next appointment rolls around. Recommend they try the Color Fresh Mask, which features both a Blue and a Pink shade. All they have to do is apply the right colour to the right section of clean, damp hair, and allow it to develop for 10 minutes. Simple.
With these tips, your clients will be working pink and blue hair that begs to be flaunted on Instagram. Create the looks yourself, share on your grid, and don't forget to tag us @WellaHairUKI.