5 Pastel Balayage Hair Ideas & Formulas
Pastel hair colours never go out of style. Whether they're icy-cool in winter or soft and sweet in summer, these light rainbow shades stand the test of time over and over (and over) again. Not only are they forever trending; they're also a great mood booster for your colour-brave clients, allowing them to swish around the happiest hues in the Wella portfolio. 
But if they're looking for a low-maintenance way to work the look, pastel balayage is the way to go, teaming eye-catching pops of pink, blue or lilac with seamless blending. Discover how to create a pastel balayage look for your clients, complete with tips, tricks and formulas, as well as maintenance advice to keep those candy hues locked down… 
How to Create Pastel Balayage
1. Sweep On Freehand Highlights
Unless your client's existing hair colour is already a very light blonde, you may need to pre-lighten the mid-lengths and ends to kick off their pastel balayage. This will act as a base for the pastel toners you apply on top, allowing them to truly pop in the most mesmerizing way. For this step use Blondor Freelights, which was specially formulated to make freehand painting quick and seamless, allowing you to comfortably do open-air developing. 
2. Apply a Pastel Toner
Once you've washed out the pre-lightener, it's time to apply the pastel tones. You could be working with one, you could be working with three – it all depends on what your client's balayage goals are. However many pastels you need, you can unlock them with the clear toners and additives found in the Wella portfolio, including Koleston Perfect 0/00, Shinefinity 00/00 and Color Fresh CREATE Tomorrow Clear. By mixing these with bolder pigments, you will be able to pastelize and personalize the final colour. You can also find ready-made pastel pinks, lilacs and peaches in the Opal-Essence by Illumina Color collection. 
3. Finish with a Clear Glaze
One of our favourite ways to complete a pastel balayage service is with a clear Shinefinity glaze. This creates a translucent topcoat over the colour, lending a boost of shine. All you have to do is mix the 00/00 gel creme with the Brush & Bowl or Bottle Activator first, then apply the formula to just-washed hair and allow it to develop for up to 20 minutes. If you wanted to, you could also mix a sheer shot of colour with a Shinefinity booster. Simply add a small amount of 00/89 or 00/66 to the clear glaze.
5 Pastel Balayage Formulas to Try
Every pastel balayage you paint will be unique to your client, but we've rounded up five professional formulas to give you all the inspiration you need…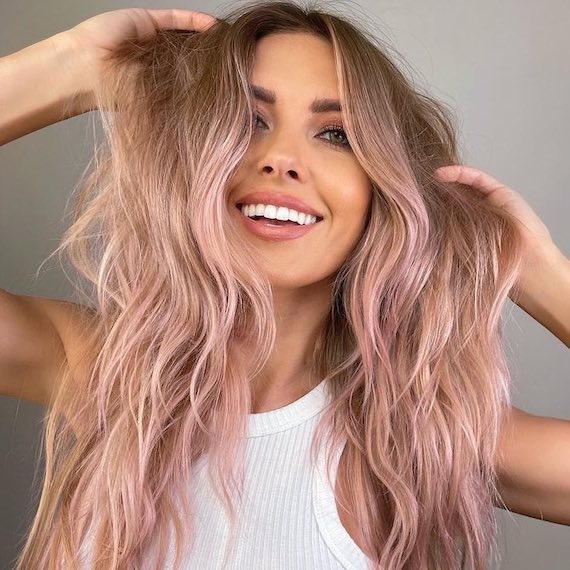 1
Pastel Pink Balayage
Image Credit: @brianacisneros
Who knew pastel pink hair could look so beachy? This ultra-tousled mane sees expensive blonde hair given a fun refresh with rosy strokes through the mid-lengths and ends. The summer-ready colour comes courtesy of Koleston Perfect, featuring 88/02 + 7/01 + 1.9% for the base, and 10/95 + 1.9% on mid-lengths and ends.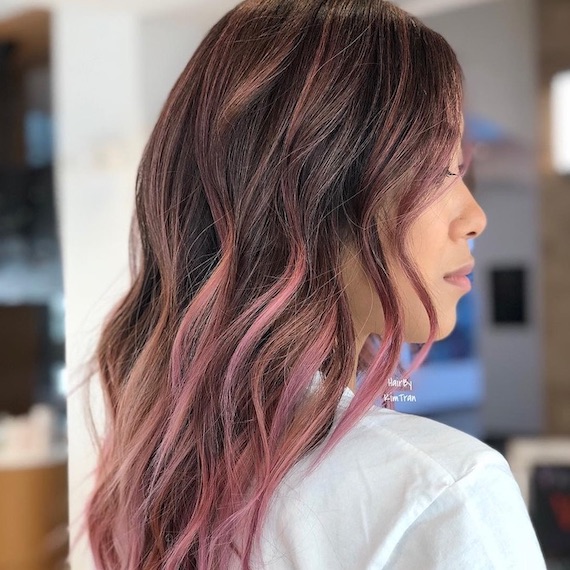 2
Pastel Pink Balayage on Brown Hair
Image Credit: @hairbykimtran
Making pastel pink pop on brown hair will require a pre-lightened canvas, so make sure you lift your client's hair with Blondor Freelights first. Then, to recreate this look, apply Color Touch 5/1 for the root melt, and Instamatic by Color Touch in Pink Dream for a dose of rosy pink. You could also work with Color Fresh CREATE in Nu-Dist Pink, swept over lightened mid-lengths and ends.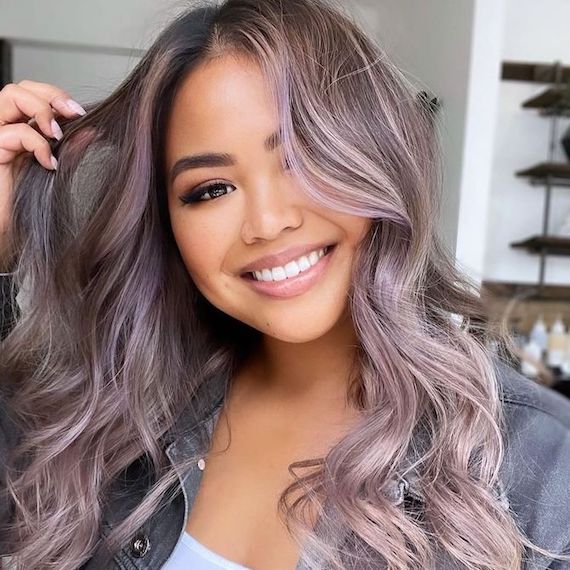 3
Pastel Purple Balayage
Image Credit: @e_medz
Would you believe this pastel purple balayage was crafted with a colour-depositing conditioner? The Color Fresh Mask in Lilac Frost is responsible for this dreamy mermaid-inspired mane. Layered over the top of pre-lightened hair, the mask creates a hazy purple that works from summer through to winter. All you have to do is apply it to damp, just-shampooed locks, leave it on for 10 minutes, then rinse to reveal refreshed colour.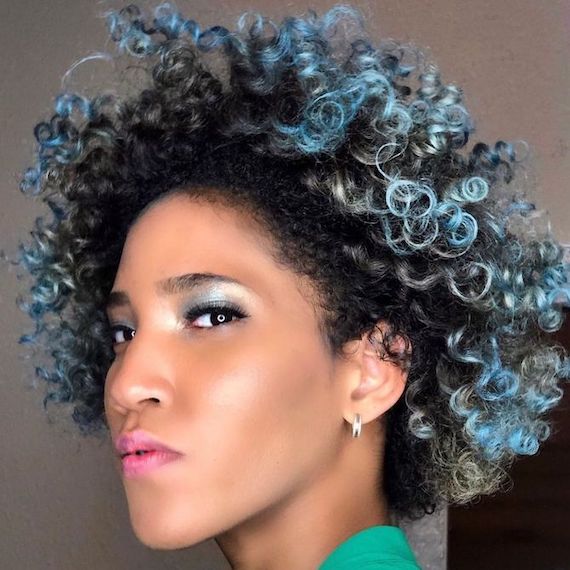 4
Pastel Blue Balayage
Image Credit: @miguel_estelrich
Curly balayage goes to the next level with a shot of pastel blue, as shown in this marine dream mane, featuring Color Fresh CREATE. Strands were lifted first with Blondor + WellaPlex on the mid-lengths and ends, before CFC New Blue + Tomorrow Clear was applied on top for a show-stopping finish like no other. Want to make it even more pastel? The more Tomorrow Clear you add, the softer the shade becomes.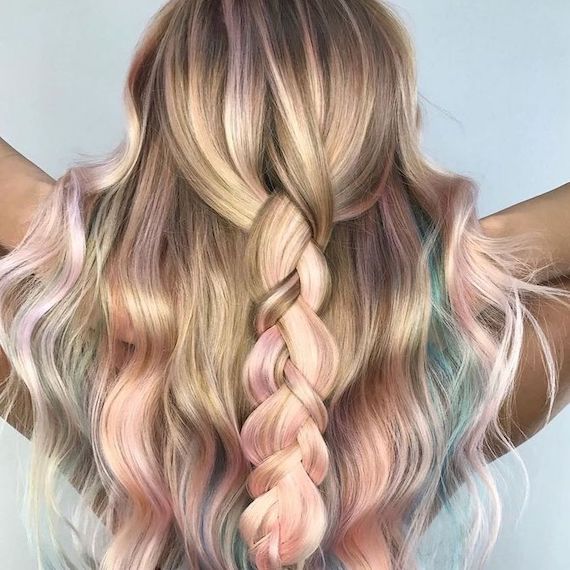 5
Pastel Rainbow Balayage
Image Credit: @sweetmelissagrace
This look has 'mermaid hair' written all over it. In this pastel rainbow balayage, you're seeing soft, whimsical sweeps of baby pink, mint green and frosted lilac over a sun-kissed blonde base. Try recreating the look with chunky highlights and strokes of Instamatic by Color Touch in the shades Pink Dream, Ocean Storm and Muted Mauve. 
How to Maintain Pastel Balayage
Because they're soft and subtle by nature, pastel colours have a tendency to fade out fast. That's why it's crucial your clients know all the right tips and tricks to lock their pigment down for longer. Here's the advice you should be sharing with them before they go…
1. Protect Pastel Hues with the Right Shampoo and Conditioner
Colour care starts in the shower. Your client needs a shade-saving shampoo and a hydrating conditioner, so point them in the direction of ColorMotion+ Color Protection Shampoo and Moisturizing Color Reflection Conditioner. The shampoo rinses out aggressors that are prone to fading out pigment, while the conditioner moisturizes the mid-lengths and ends, giving pastel hues a dose of shine. 
2. Top Up the Tone with a Colour-Depositing Hair Mask
With the Color Fresh Mask, your client can inject a fresh dose of pastel colour at home, using a mask that matches the shade of their candy balayage. In this collection of colour-depositing conditioners, they'll find Lilac Frost, Pink, Blue and Mint – meaning a range of rainbow and pastel shades are covered. Tell them to use it when colour needs refreshing, in place of their usual conditioner. All they have to do is apply it to wet hair, over pastel colour only, let it develop for 10 minutes, then rinse thoroughly. 
3. Mist on a Heat Protection Spray Every Time Hair is Styled
This is key: if your client doesn't want heat damage to fade their pastel colour, they should use a heat protection spray every time they start styling. EIMI Thermal Image is a shine-boosting staple, designed to veil hair in a weightless shield. Recommend they mist it on before blow-drying, straightening or curling, on top of any other styling creams, mousses or oils. Simple.