5 Men's Hair Care Routines for Every Style
Looking for a hair care routine to get your style under control? Check out men's hair tips for every type, from short and tidy to long and undone…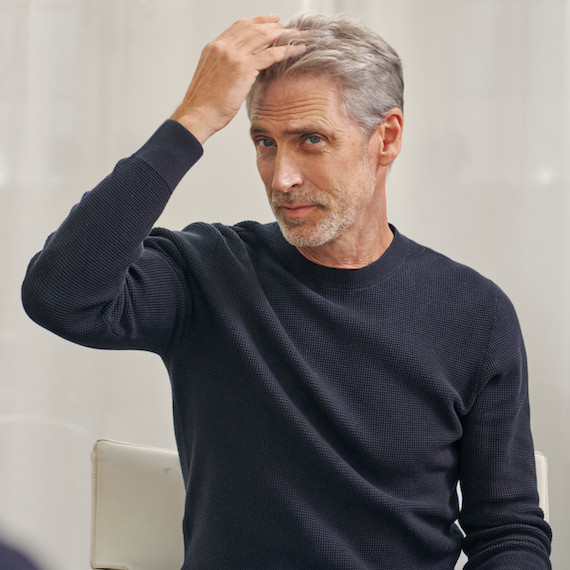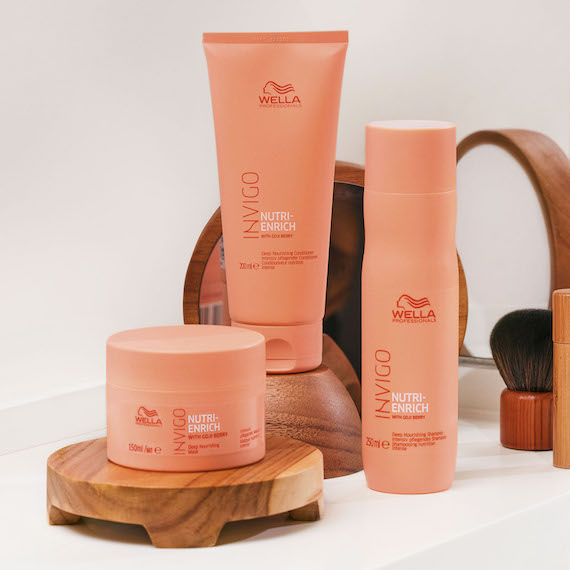 Men's Hair Care Routine for Short Hair
1. Keep Hair Hydrated
When hair is short, even the smallest trim can have a big impact on your overall style. That's why it's important to prevent split ends; to avoid the need for an even shorter cut. Nourishment is key to keeping ends healthy, so swap that 2-in-1 shampoo and conditioner for INVIGO Nutri-Enrich Deep Nourishing Shampoo and use it to lather up every few days, when hair needs a quick refresh. Follow with INVIGO Nutri-Enrich Deep Nourishing Conditioner to further protect the tips from damage.
2. Wash Out Product Build-Up
If you tend to use a lot of waxes, gels or putties to style your short hair, you'll also need a clarifying shampoo to 'detox'. We reach for INVIGO Aqua Pure Purifying Shampoo whenever hair is asking for a deeper cleanse. Use it weekly to remove product build-up and leave your hair and scalp feeling ultra-fresh. It's also good if you often struggle with oiliness, as it renews and rebalances right at the root with lotus extract. 
3. Mask the Ends Only
Are you missing a mask? Just because your hair is short doesn't mean the ends don't need extra care; especially if you find they go a bit 'fluffy' after you've washed and dried. Use a mask to calm frizz down, like INVIGO Nutri-Enrich Deep Nourishing Mask. Apply it to the tips only, leave on for 10 minutes, then rinse thoroughly for hair that's more manageable. 
Men's Hair Care Routine for Long Hair
1. Wash with Bodifying Shampoos
If you've got long hair, work the undone, effortless trend by keeping heat styling to a minimum. Instead, upgrade your routine with shampoos that offer natural-looking lift and body, like INVIGO Volume Boost Bodifying Shampoo. Lather up, rinse, then follow with the lightweight INVIGO Volume Boost Crystal Mask. It's a lightweight frizz fighter that makes hair easier to style without adding weight. 
2. Apply a Heat Protection Spray
If you are using heat to style your hair (and gain more control over your finished look), don't forget to use a heat protection spray like EIMI Thermal Image. Whether you're rough-drying with a hairdryer or straightening out unruly sections, you'll need to apply it from roots to ends first to create a hard-working shield.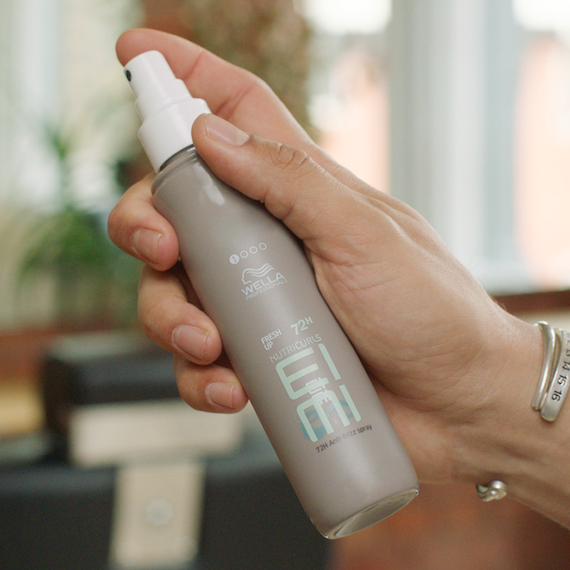 Men's Hair Care Routine for Curly Hair
1. Try the Co-Washing Technique
Curly hair is the ultimate candidate for the co-washing technique; a trick that swaps shampoo and conditioner for a one-step cleansing conditioner that makes curls look healthy and defined. Try it with the NutriCurls Cleansing Conditioner by working through wet roots, lengths and ends. It won't foam up like your usual shampoo, but it still leaves hair feeling clean and fresh.
2. Pat Your Hair Dry
Do you always rub your hair dry when you get out of the shower? Stop, and start lightly blotting it with a towel instead. You should gently press curls to absorb moisture without causing damage or frizz. Better yet, use an old t-shirt to carefully dry your hair. The cotton will be softer than a towel, which means less friction.
3. Spray with a Leave-In Conditioner
It doesn't matter if you air-dry your hair or diffuse it with a dryer attachment; you should be using a leave-in conditioner in between washes. Spray damp hair with EIMI Fresh Up before you style, then top up whenever your texture needs reactivating.
Men's Hair Care Routine for Grey Hair
1. Neutralize Yellow Tones
It's not uncommon to see yellow tinges crop up through grey hair, so get a purple shampoo in your kit. The violet tint of INVIGO Cool Blonde Color Refreshing Shampoo helps to instantly neutralize unwanted tones, while retaining that silvery sheen. All you have to do is massage it into wet hair when yellow hues appear, leave it on for 3-5 minutes, then rinse it out thoroughly. Follow with your usual conditioner. 
2. Revive Dry Hair
Grey hair can turn dry over time, so when you're not using purple shampoo, go for a hydrating formula like Oil Reflections Luminous Smoothing Shampoo. It's a shine booster that will moisturize while making your greys look bright and healthy – never dull nor flat. The Luminous Reboost Mask is a great add-on treatment if your grey hair is coarse and unruly, as it tames and smooths. 
3. Try a True Grey Toner
If you want to enhance your grey hair by adding shadows or turning up shine, you can continue your hair care routine in the salon with a Men's Silver Glow by True Grey service. It's a damage-free way of getting that 'silver fox' effect, using toners to add deeper flecks of colour, while brightening lighter pieces for a more dimensional look.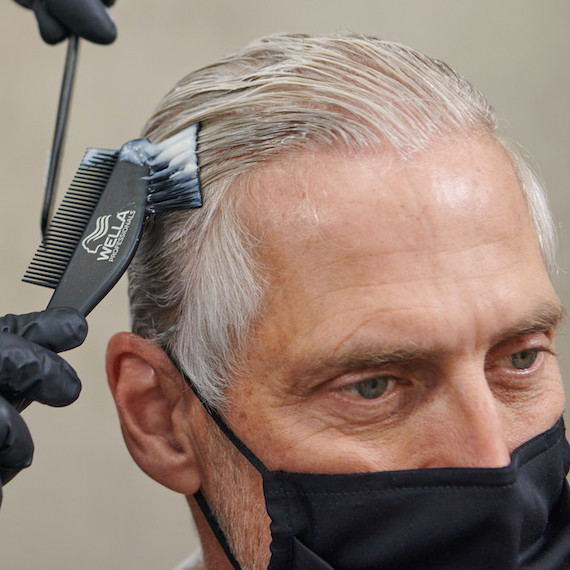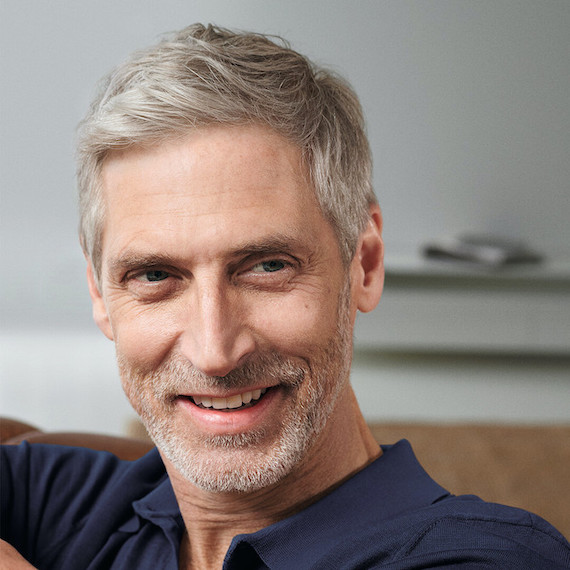 Men's Hair Care Routine for a Sensitive Scalp
1. Work in a Soothing Shampoo
You'll know you've got a sensitive scalp if it feels tight, dry and after washing your hair. It's usually a sign that you need to use a gentler shampoo, like INVIGO Senso Calm Sensitive Shampoo. We've packed it with allantoin, which moisturizes to soothe sensitivities, while still keeping your hair ultra-fresh and clean. 
2. Or Use a Dandruff-Fighting Wash
If it's dandruff you're dealing with, you'll want a shampoo that removes and prevents flakiness. That's why we've formulated INVIGO Clean Scalp Anti-Dandruff Shampoo with a compound called zinc pyrithione. It's antifungal, antibacterial, and antimicrobial, meaning it targets any bacteria that might contribute to a flaky scalp. Apply it as you would your usual shampoo for an improvement in dandruff over time.  
3. Apply a Hydrating Scalp Mask
Masks aren't just for your hair. Some, like INVIGO Senso Calm Sensitive Mask, can be used on your scalp too, for an added boost of itch-relieving hydration. Use it after shampooing, massaging it into the roots and through to the ends of your hair. Leave it on for five minutes, then rinse and style. Your scalp should feel calmer already.