How to Prevent, Hide and Fix Split Ends
'How do I fix split ends?' It's a question every hairdresser gets asked, and if we're honest, there's only one true solution to ditching the splits (you'll find it below!). But fixing split ends doesn't just mean getting rid of them. To truly tidy up the tips of your hair, you need a routine that also prevents further hair breakage, while disguising any splits between trims.
So, here's your complete guide on how to get rid of split ends from every angle, whether you're treating your own or helping a breakage-prone client…
How to Prevent Split Ends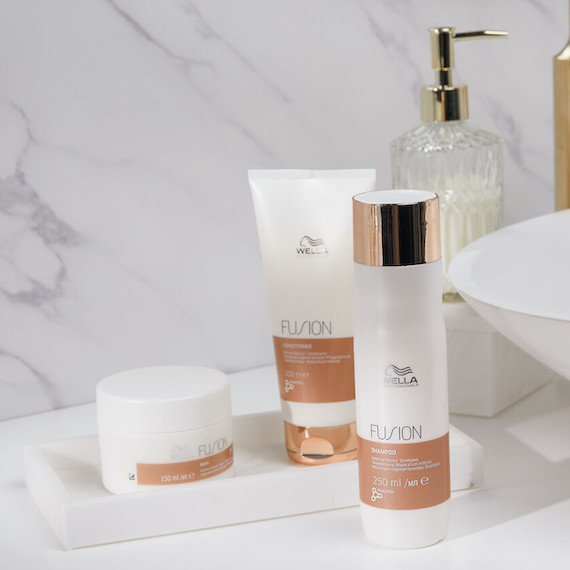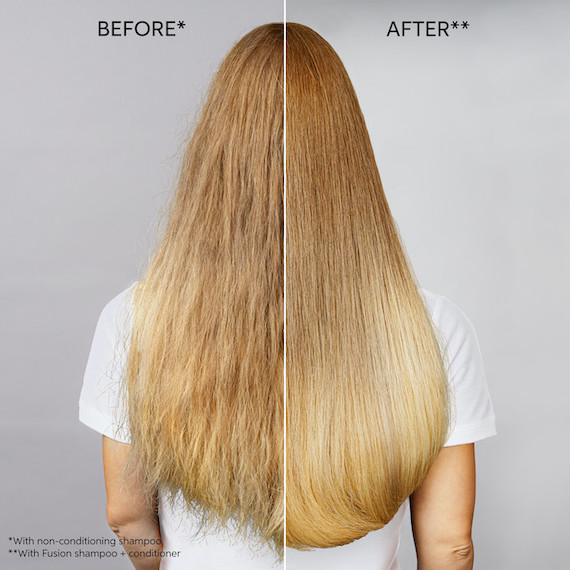 1. Condition Your Hair Regularly
It's crucial you apply a hydrating treatment every time you wash your hair. The more nourished your strands are, the more they are protected in the face of aggressors. Try products from the Fusion collection, which give you up to 95% more resilience against breakage* by harnessing a formula inspired by spider silk. The Intense Repair Shampoo gently whisks away impurities while nourishing strands, while the follow-up Intense Repair Mask, packed with amino acids, helps to repair even the most damaged hair. Just check out the 'before and after' above for proof.
2. Brush Your Hair From Tip to Root
Yes, you read that correctly. Dragging your hairbrush from root to tip doesn't only put you at risk of hair breakage; it can also split the shaft, leading to a stressed-out, ragged look. The right way to brush your hair sees you start at the tips, gently teasing knots away. Gradually, you can start brushing higher and higher, until you've detangled every strand. Try this technique when distributing hair conditioner or hair masks evenly too. Apply the treatment to wet hair first, then use a wide-toothed comb to delicately work through knots from the bottom to the top.
3. Avoid Tight Ponytails with Elastics
The ponytail might be one of the most effortless and easy-to-wear hairstyles around, but beware: tight elastic can put stress on fine strands, resulting in splits and breakage. Wear locks loose when you can, and when you can't, stick to clips or soft, silky scrunchies. Over time, you'll notice fewer split ends, and that scrunchie will keep your look on trend, too.
4. Safeguard Your Strands From Heat
Split ends are a symptom of damage, which means if you shield your hair from harming aggressors, you'll see less breakage. And one of the key culprits? Heat styling, every time. By exposing fragile hair to unseemly temperatures that strip out natural oils, you're leaving it at risk of splitting and snapping. Cue frizz and flyaways. That's why it's important that you always use heat protection, whether you're blow-drying, straightening or curling hair. Try EIMI Thermal Image, which injects a dose of shine while warding off damage.
How to Disguise Split Ends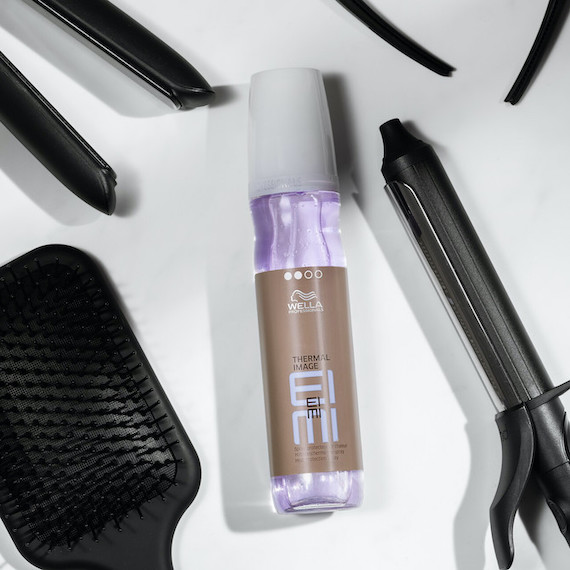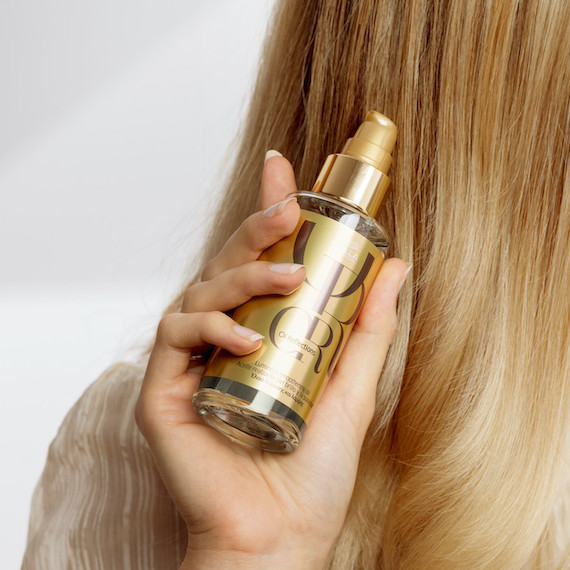 1. Apply a Styling Cream to Damp Hair
A hydrating styling cream or balm acts like a temporary 'glue' to smooth split ends. Apply it to just-washed, damp locks before air-drying or blow-drying, and enjoy a silky glow. If you're using heated tools, make sure you spritz through your EIMI Thermal Image heat protection as a base (thinnest products go first), then smooth EIMI Flowing Form just through the mid-lengths and ends, focusing on the most split sections.
2. Use a Hair Oil to Smooth the Splits
Once hair is dry, use an oil to nourish ends and further disguise pesky splits. This should be used after your tong or straightening iron, so you don't end up sizzling strands. Our go-to hair oil for coarse or ultra-dry hair is Oil Reflections Luminous Smoothing Oil, which features a blend of macadamia seed and avocado oils. You only need the tiniest amount to give those tired ends a touch of gloss. Squeeze it into the palms of hands, then gently massage it through just-styled locks. Meanwhile, if hair is thin or fine, opt for EIMI Oil Spritz; an ultra-lightweight oil that smooths and softens hair without weighing it down.
3. Tame Flyaways with Hairspray
When hair splits, flyaways can happen. They'll mess up even the most groomed 'do, but a simple trick with hairspray and your brush or a spoolie will tease them back into place. All you have to do is mist a light hairspray, like EIMI Flexible Finish, onto the brush or spoolie, then sweep and tame the flyaways into place. Make sure you do it while the spray is still tacky. Simple.
How to Get Rid of Split Ends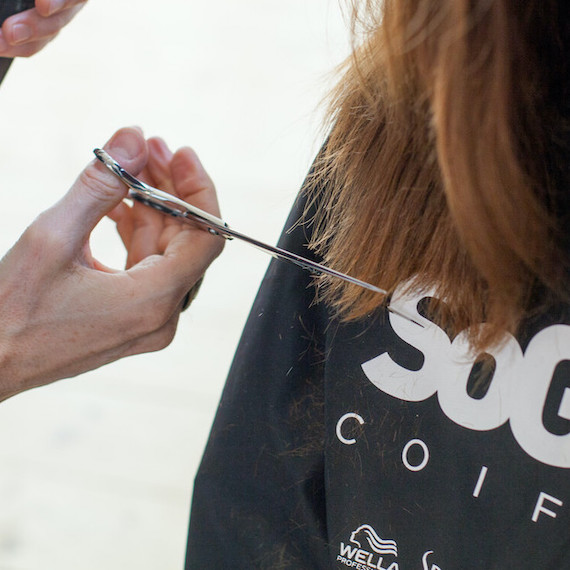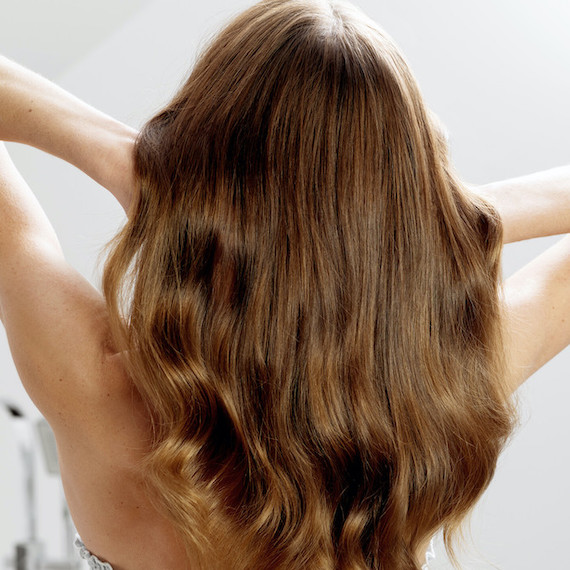 There's only one way to really get rid of split ends, and that's by cutting them off. No matter if they're inches long or found just through the tips, a thorough trim is needed to restore a tidy shape. When the splits go far up the hair shaft, consider shorter cuts, like a pixie crop or modern bob. The latter can even be worn long (heard of 'the lob'?) if you're worried about losing too much length.
But if it's just the ends that need a snip, consider a technique called 'dusting'. It's like an invisible cut, which simply targets the splits and takes off as little length as possible. By 'dusting' regularly, you can keep on top of split ends as and when they happen, allowing you to keep them at bay while maintaining your chosen style from season to season. Just make sure you book in for that subtle trim every four to six weeks. Goodbye, split ends.
* Vs. non conditioning shampoo.