6 Grey Brown Hair Ideas For Your Coolest Clients
Grey brown hair is fast becoming one of 2021's hottest hair colour trends – thanks in part to its startling similarity with last year's lust-have hue, ash brown. But there's another reason grey brown is making waves in salon chairs right now: it's the perfect shade for brunette clients who want to transition to grey hair.
Nobody needs an excuse to work grey brown hair from root to tip. The cool-toned shade is as covetable as a mushroom blonde or a silky silver 'do. However, for your brunette clients, it's also a great way of introducing hints of grey which, over time, you can build up to help them work the shade all over.
So, let's explore the benefits of nailing a multi-purpose grey brown transformation – plus six ideas you can try on your brunette clients…
How to Blend Greys On Dark Brown Hair
The trick here isn't to camouflage greys (you are creating a grey brown look, after all), but to blend them in with the base so you get a more seamless-looking finish. This can be done in one of two ways: either you sweep over a few with a brunette colour, or you bump up the number of greys with highlights to make them look evenly scattered.
If you're merely covering a few greys up, do so with demi-permanent Color Touch, which will tone silver strays and soften regrowth for a beautifully blended look. A permanent colour, like Koleston Perfect, will give you up to 100% coverage, but this will block out silver strands (al-most) entirely, so you won't get a grey brown shade. For this reason, Color Touch is your go-to, applied in a cool hue to match the undertone of the grey.
Meanwhile, blending grey hair with highlights is perfect for brunette clients who choose to embrace their regrowth. By adding root-to-tip ribbons, the grey appears more even and eye-catching. Lighten locks with BlondorPlex first, applying it over and adjacent to grey hairs. Then tone with a silvery hue, like Color Touch 7/89 or Illumina Color 8/69.
6 Grey Brown Hair Ideas
Let's talk inspiration. Some of these looks are designed to embrace natural greys, while others are all about tapping into a trend – no regrowth necessary. However, they all have one thing in common: they're beyond mesmerizing.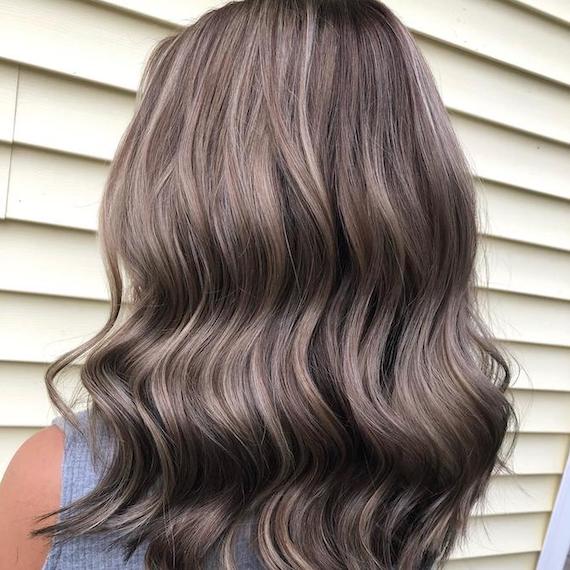 1
Grey Brown Hair with Lowlights
Image Credit: @jessdoesyourhair
This was a big transformation. Jessica's client started with an all-over blonde, but they wanted to switch it up for a smokey grey brown with chunky highlights. So, to create the look, lowlights were applied with Color Touch 7/1 + 8/03 + 7/0. The same formula was then smudged into the root, rinsed from the hair and neutralized. Afterwards, the existing blonde pieces were toned down using Illumina Color 8/69 + 9/60 + 9/0 + 6%. Then, waves were styled in. If you're recreating the look, apply EIMI Extra Volume Mousse through damp hair before blowdrying, and the soft, smooth curves will stay in place for longer.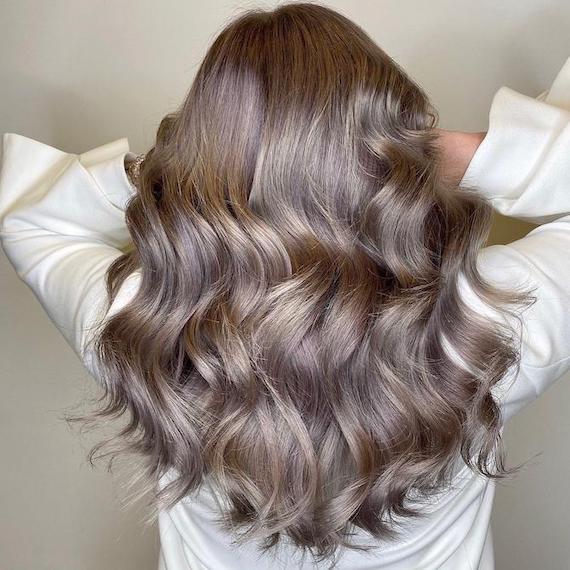 2
Light Brown and Grey Hair
Image Credit: @kai_sohn
This milky metallic mane was created on a blonde base. And, yet, the finished look is a light browny-grey that shimmers and shines with every swish. To perfect the hue, semi-permanent Color Fresh CREATE was used in Future Yellow + Pure Violet. The two shades were mixed at a 4:1 ratio, resulting in a cool mushroom bronde.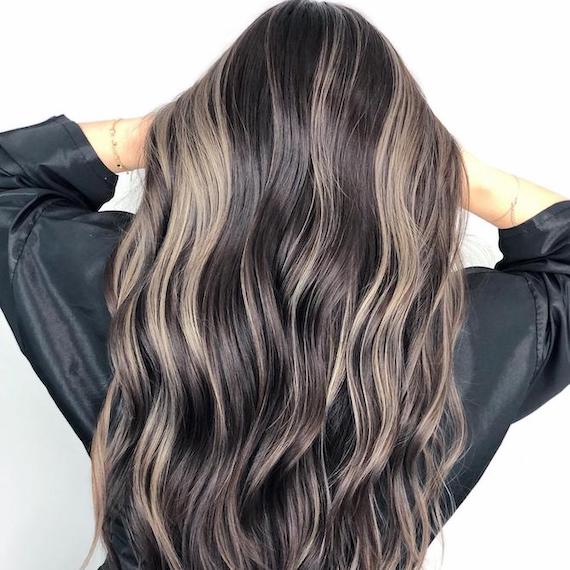 3
Grey Highlights On Dark Brown Hair
Image Credit: @jeongchen
Take a look at these chunky grey blonde highlights. Swept through a dark brown canvas, they're unashamedly bold, giving brunette hair a dimensional upgrade. Jeong has interspersed root-to-tip pieces with balayage for this look, which you can replicate using Blondor Freelights; our freehand hair lightener that stays exactly where you want it.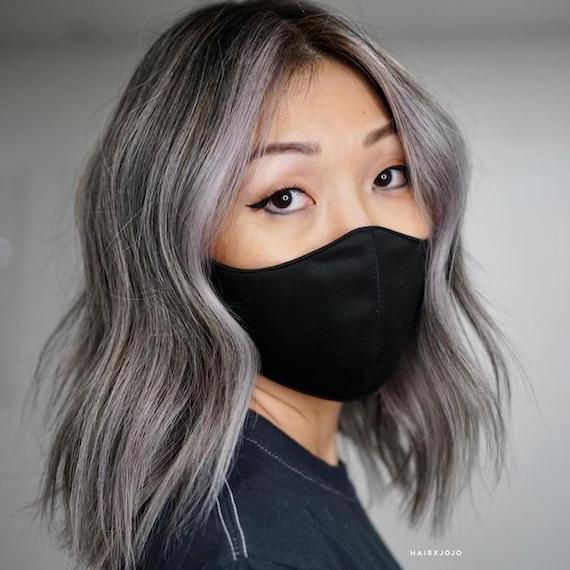 4
Grey Money-Piece On Dark Brown Hair
Image Credit: @hairxjojo
For brunette clients who have a lot of silver regrowth through the face-framing layers, consider adding one weighty money-piece alongside a scattering of gunmetal highlights. Here's a dreamy demo for you, which can be replicated with the smokey tones in our Illlumina Color portfolio. Finish by treating dried and styled lengths to a pump of Oil Reflections Luminous Smoothing Oil.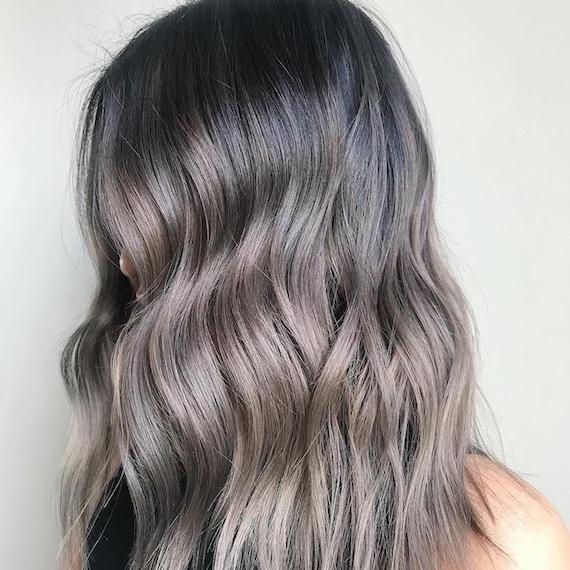 5
Brown to Grey Ombre Hair
Image Credit: @jamiekeikohair
Clients with dark brown roots will love this grey brown colour melt. Just make sure, if you're using lots of lightener through the mid-lengths and ends, your client follows up with a nourishing care routine. Recommend they pamper coloured locks with a weekly dose of the Color-Motion+ Structure+ Intensive Restructuring Mask For Colored Hair, which provides strength, shine and lasting manageability, thanks to our WellaPlex bonding agent. Then, if you're as obsessed with this beachy wave as we are, mist ombre creations with EIMI Ocean Spritz after drying and styling. Use fingertips to gently scrunch in a little extra texture.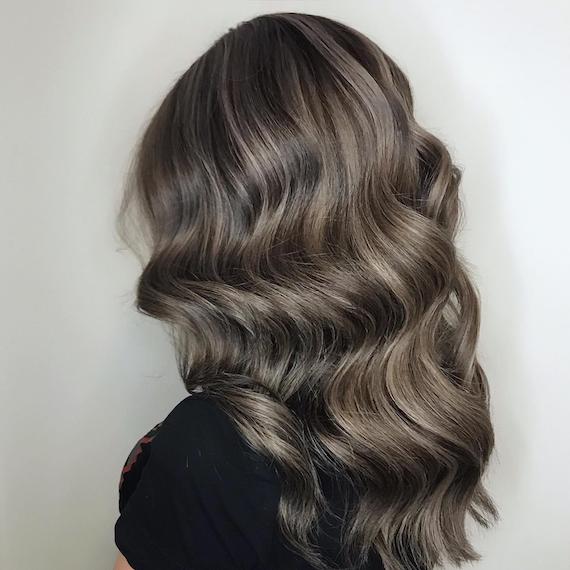 6
Smokey Grey Highlights on Brown Hair
Image Credit: @mariaalexandraceausu
This is exactly the kind of highlight pattern that helps to blend grey hair with dark brown hair. The tone is flawless and the volume of highlights means any natural regrowth will appear softer. Give the look a glossy boost by tonging grey brown hair once it's been dried, then try spritzing EIMI Glam Mist into the palms of hands and sweeping it over lengths.
How to Maintain Grey Brown Hair