How to Get the Rose Brown Hair Look
If you thought rose gold hair was mesmerizing, just wait until you see this season's rose brown hair; a darker take on the metallic hair trend that brunettes are going to love. It's one of Google's top-searched hair colors of 2021, and now rose brown is hitting fever pitch, with a deluge of punchy, pink-tinted manes popping up all over Instagram. So, how do you get the look? Keep scrolling for everything you could possibly need to know about rose brown hair, from what gives it that rosy glow to how you can lock the trend down for longer…
It's simple, really. Rose brown hair is what you'd call brunette locks that have been enhanced with a subtle dose of pink. It's a little like rose gold, except it relies on a deep base color, rather than a blonde or red. Above, you can see a clear difference between the two trends, with rose gold (on the left) offering a lighter pink finish, while rose brown (right) is all about a softer kiss of color in a berry, raspberry or pastel tone. In fact, the rose brown trend plays perfectly into this season's Insta-Vintage movement, which is all about giving your favorite hair colors (whether that's blonde, red or, indeed, pink) a lived-in makeover for an ultra-wearable look.
How Do You Get Rose Brown Hair?
1. Create A Brown Base
If your client's base color isn't already brown, first tone locks using a permanent formula, like Illumina Color, which veils hair in a light-reflective sheen to ensure newly-darkened locks never look flat. Any shade of mid brown or dark brunette will work, as rose brown is suited to all undertones. This means you can take the trend warm or cool, depending on what suits your client's skin tone best.
2. Pre-Lighten Sections
Achieving rose brown hair comes down to a combination of color and technique, and a freehand, painterly approach, like balayage, often lends the dreamiest effect. Use our high-precision pre-lightener, Blondor Freelights, to lighten the sections where you want the rosy hues to appear. Opt for a lower level of lift, as the final look should have a muted finish.
3. Pick Your Rosy Hue
Next, mix up a rosy shade with semi-permanent formula, Color Fresh CREATE, which comes in two pink shades: soft, subtle Nu-Dist Pink and vibrant High Magenta. The two can be custom-blended to appear as intense or subtle as you'd like, but the most unique looks happen when you add in one of our three shade-shifting additives. Try Tomorrow Clear for a pastel finish, Tonight Dusk to take the tone deep and moody, or Vintage Blush if your client likes a pretty, powdery, filtered effect. Anything's possible.
Rose Brown Hair Ideas to Get You Inspired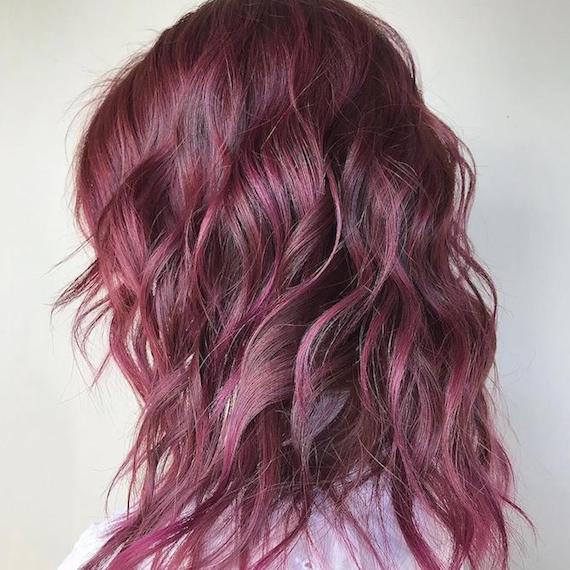 1
Raspberry Chocolate
Image Credit: @jamiekeikohair
Just look at this raspberry chocolate mane. For true pink hair lovers, this rose-to-brown ratio will fit the bill, as it features only hints of brunette peeking out through boldly-colored waves. If you create this kind of look for your clients, make sure you add a salt spray, like EIMI Ocean Spritz, for texture when you style.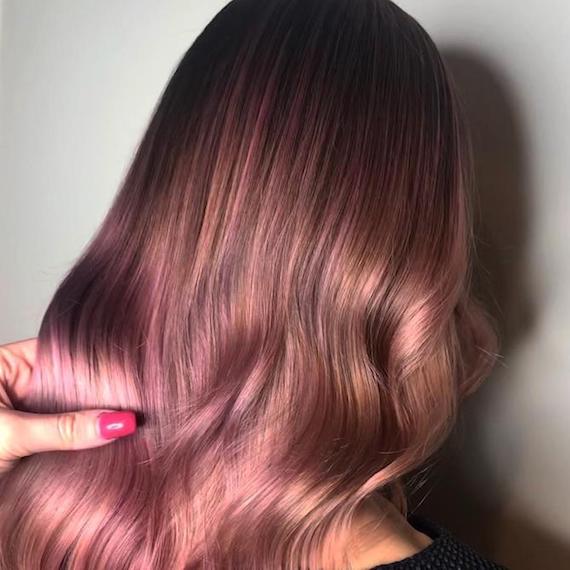 2
Rosy Glow
Image Credit: @shaunaformanhair
That glow, though. Shauna Forman created this luminous look using Color Touch, starting with a root blend of 15g 6/0 + 5g 6/75 mixed in a 1:2 ratio with 1.9%. Through the ends, Blondor Freelights 6% was applied to prep for rosy color, before the mid band was toned using Color Touch 10g 7/75 + 3g 9/36 mixed in a 1:2 ratio with 1.9 %. Mid-lengths then melted into ends thanks to a combination of 10g 10/0 + 1g 55/65 + Special Mix 5g /56 + 1g /68 1:2 with the pastel developer. Dreamy.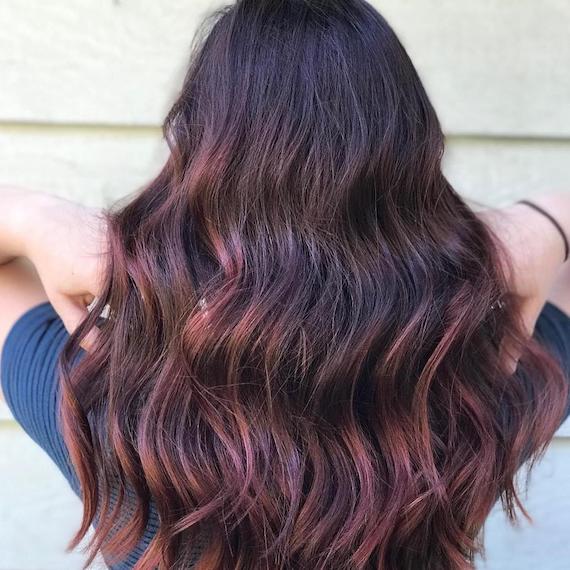 3
Hint of Pink
Image Credit: @hairby_torik
If soft and subtle is the goal of your rose brown 'do, look to Tori Kring for inspiration. The Wella Passionista added just a touch of rosy color to the ends of her client's dark brown hair. This look is perfect for clients who want a lower-commitment take on the trend, as you still get a hint of pink, but it will gradually fade to brunette over time.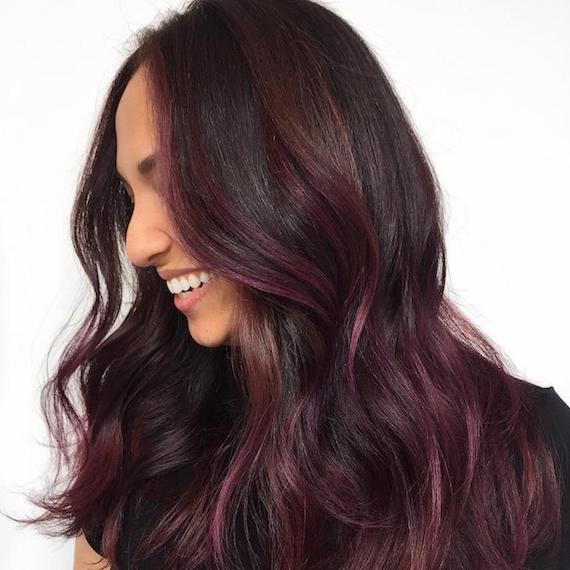 4
Radiant Rose
Image Credit: @prettylittleombre
Dark and vibrant all at once, this pinky-purple, rose brown look demonstrates the trend's shine-boosting abilities. For extra gloss, mist EIMI Oil Spritz into the palms of your hands and press over the surface of loose waves.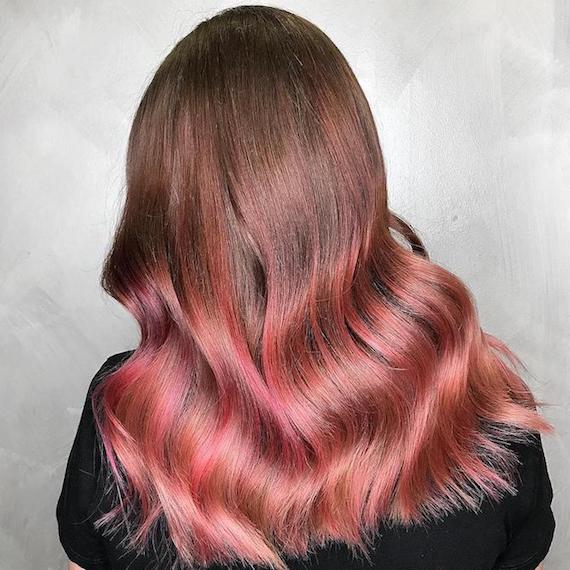 5
Pinky Punch
Image Credit: @kthrnaprg
From the mid-lengths to ends, Katharina Pfrang has gone heavy on the pink tones using Color Fresh CREATE. After lightening with Blondor Freelights + 4% and toning highlights with Color Touch 7/75 + 1.9%, she applied Hyper Coral + Infinite Orange + Tomorrow Clear 2. 1. with Color Touch 6/45 + 1.9% to get this rosy color melt.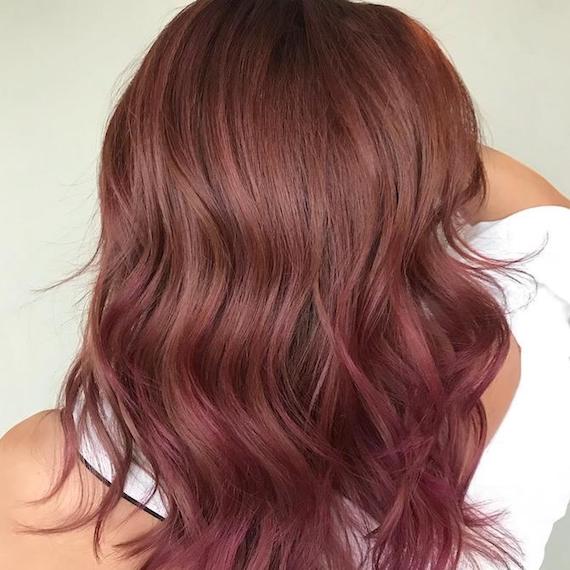 6
Dusky Rose
Image Credit: @jamiekeikohair
Another rosy creation from Wella Passionista Jamie Keiko, this lived-in 'do features a little bit of red through the roots, then seamlessly melts into a deep magenta. We love the almost-matte finish, which can be recreated by adding the Color Fresh CREATE Tonight Dusk additive to any pinky blend you mix up.
ROSY BROWN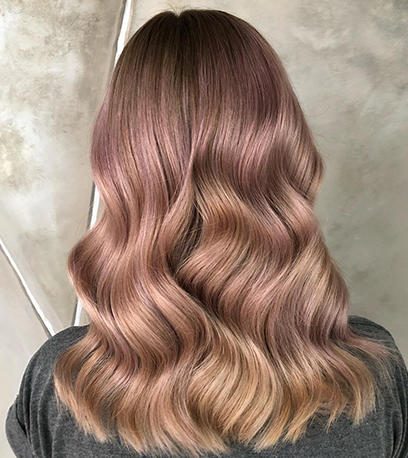 Color Formula:
Pure Glossing Service using Koleston Perfect: 30g 10/96 + 3g 33/66 + 33g Pastel 1.9% + 33g Service Color Post Treatment
ROSE BROWN BALAYAGE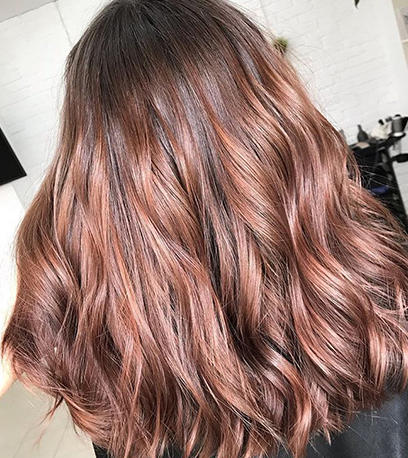 Color Formula:
Roots, Mid-lengths and Ends: Color Touch 0/68 + 7/75 (1:1) +1.9% (1:2)
Apply on dry hair for 20 minutes.
LILAC ROSE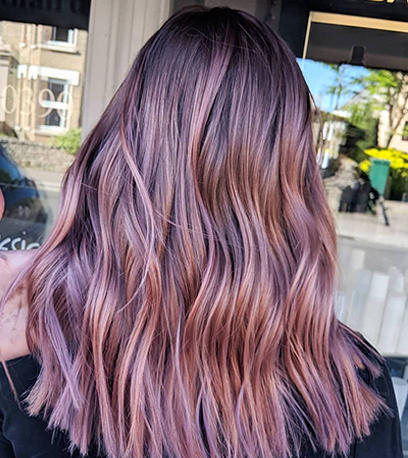 Color Formula:
Color Fresh Create: Nudist Pink + Tomorrow Clear + a hint of Hype Coral and Infinite Orange Perfecton: /6 + /8 + /4
FUSCHIA OMBRE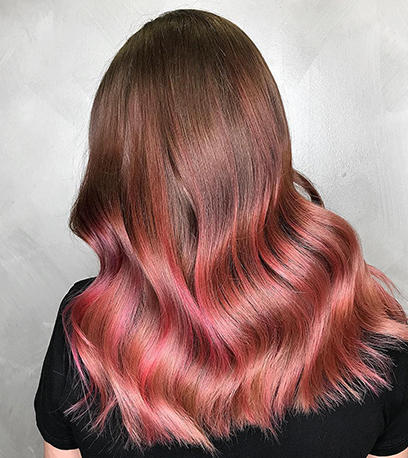 Color Formula:
Highlights: Freelights Blondor + 6%
Roots: Color Touch 7/75 + 1.9%
Ends 1: Hyper Coral + Infinite Orange + Tomorrow Clear
Ends 2: Color Touch 6/45 + 1.9% 6vol
BLUSH BROWN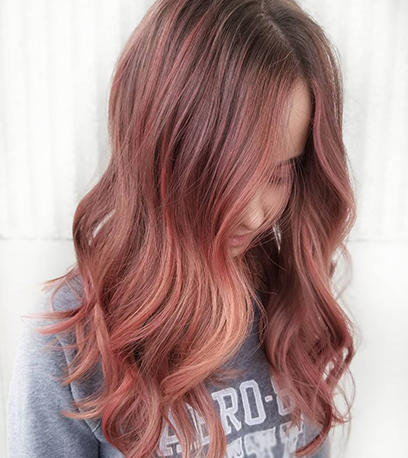 Color Formula:
Color Fresh Create: Hyper Coral diluted and Nudist Pink alternated with Pink Dream on a full head of foils.
How to Maintain Rose Brown Hair
You know the drill. When it comes to care for colored hair, it's always best to swap traditional shampoos for color-specific care products, like the INVIGO Color Brilliance Color Protection Shampoo and the INVIGO Color Brilliance Vibrant Color Conditioner. Recommend this duo, alongside the Color Fresh Mask in Rose Blaze to your pink-haired clients. The mask veils rose brown locks in a hint of a tint and a raft of nourishing oils. All they have to do is shampoo, smooth the mask through in place of their usual conditioner, then comb to evenly distribute the rich cream. After leaving it on for 10 minutes, they can rinse and style their hair as usual. Not only will this supercharged treatment make their strands more manageable, but it will keep color fresh until they're next in the chair.
Recommend they follow with products for shiny hair that make rose brown hair look extra glowy. Our picks? EIMI Thermal Image for heat protection when hair's damp, and EIMI Glam Mist to boost radiance when it's dry. If they want to team their color with a 'Grammable wave, introduce them to EIMI Sugar Lift , which adds long-lasting grippy texture to each tousled curve. Those waves will last longer than ever.
Looking for more hair inspiration? You'll find endless hair ideas on the Wella Hair Pinterest board, and @WellaHair Instagram. Make sure to tag us in your photos with #WellaHair #AskForWella to show off your latest styles and be in with the chance to get featured on our social channels.
SHOPWELLA STORE
SHOP NOW
Products are only available to professionals.