7 of the Best Colours to Cover Grey Hair
When it comes to grey hair, there's no wrong or right; you can embrace those silver strands with a shimmering silver hair colour or seamlessly blend your roots away with the help of a colourist. If you're going for the latter option, your go-to salon pro will have the technique down, leaving you with only one thing to consider: what are the best colours to cover grey hair?
Now, you may want to just go with your natural hue, asking your colourist to match it through the roots to get greys under wraps – all without undergoing a major transformation. However, if you're looking for a fresh, new shade that comes with the bonus of covering greys, keep scrolling for the very best camouflaging colours, from platinum to golden brown hair…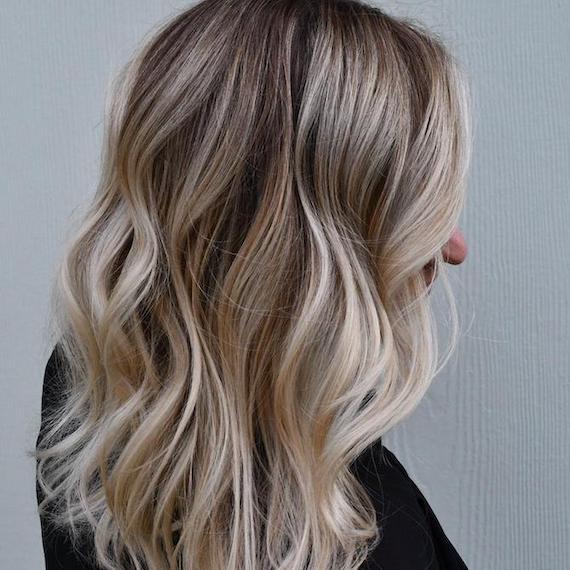 1
1. Blonde Highlights
Image Credit: @hair_business_family
There are three reasons we recommend blonde highlights when covering greys. First up, the difference between blonde and silver shades is subtle, so grey roots won't appear as visible - even if it's been six to eight weeks since you last went to the salon. The second reason is because highlights and babylights allow your colourist to tactically target grey patches, meaning they're able to home in on and treat the most stubborn stray strands. Finally, highlights (and lowlights, too) soften the root area, reducing the demarcation line you might get with an all-over dye. That said, bright blonde highlights on dark hair can emphasise the look of greys, which is why the next technique may be a better option for brunettes…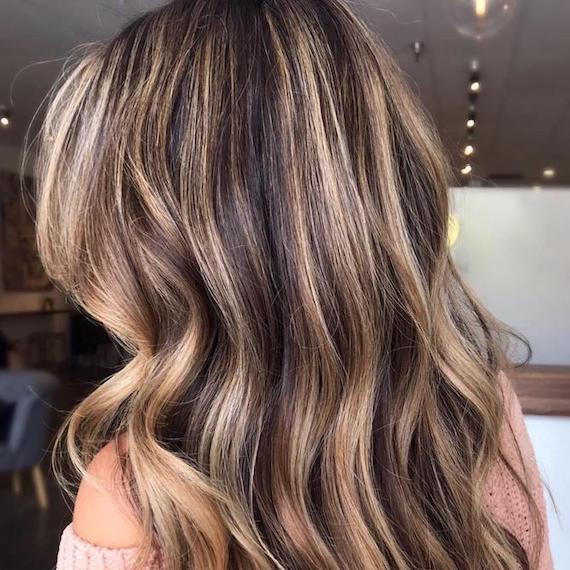 2
2. Subtle Lowlights
Image Credit: @kellynaso
If you aren't looking for an all-over colour switch and you don't want to take locks lighter, adding a few subtle lowlights can disguise low-level graying while lending a volume boost. It all comes down to clever placement, with your colourist carefully picking out grey strands, then painting them in a shade that's two or three levels deeper than the base. Just be aware that grey regrowth contrasts against brown lowlights, which means you should ask your colourist to feather toner at the roots. This will create a softer baseline.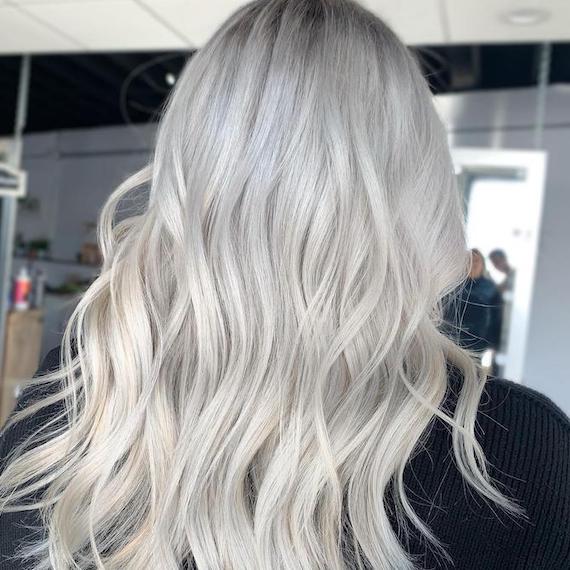 3
3. Silver Hair
Image Credit: @joffrey_jara
You're ticking two boxes here; you're covering grays by getting them blended away, but you're also leaning into the natural graying process by working a silver hair. The result? If your roots are coming in entirely grey, you'll get the subtlest regrowth going. Plus, silver shades are hugely on trend for 2021, so you're nailing one of this year's hottest looks. If you go down this route, ask your colourist to take a peek at your natural grey pattern first, so they can figure out a shade of silver and an application technique that works for you. For example, if you have a mix of icy white and charcoal strands through the temples, they can ensure they match this multi-tonal effect through the lengths.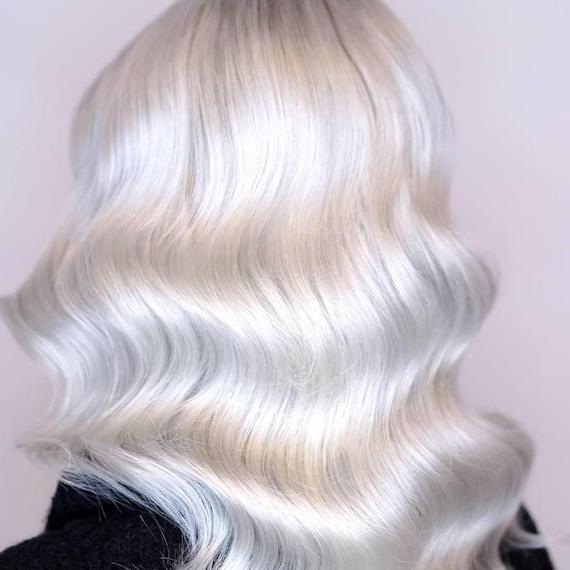 4
4. Ice Blonde
Image Credit: @mr.mishwu
For greys that are on the lighter side (think white or pale silver), an icy blonde hair transformation guarantees stray roots are virtually undetectable. Best for those with existing cool undertones, this shade will create a seamless blend – though it may take a couple of lifting sessions to reach the perfect hue. Always work with a pro and expect to book in for two or three lifting sessions to reach a frosty sheen. It'll be worth it when your hair shimmers and your grey roots can only be spotted with a magnifying glass.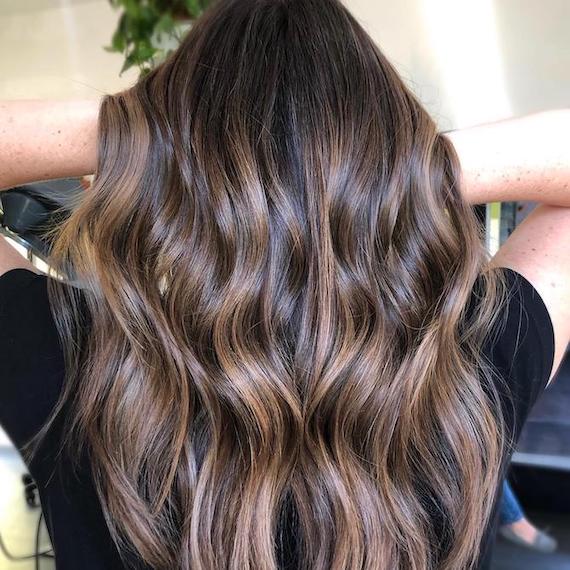 5
5. Warm Brown
Image Credit: @jt_hairandmakeup
Real talk: only around 2% of us are truly natural blondes, while black or dark brown hair makes up over 75% of the world's population. That means, for the majority, greys create a clear contrast against our natural colour, with silvers sparkling brighter on a brunette base versus a blonde. However, that doesn't mean you should be ditching browns and reaching for the the bleach; if you're a die-hard dark brunette, all you need to do is opt for a warmer undertone. Ash brown or cool black shades can make us look a little more tired as we get older, while golden brown or chocolate brown hues help your complexion glow. What more could you ask for from a hair colour?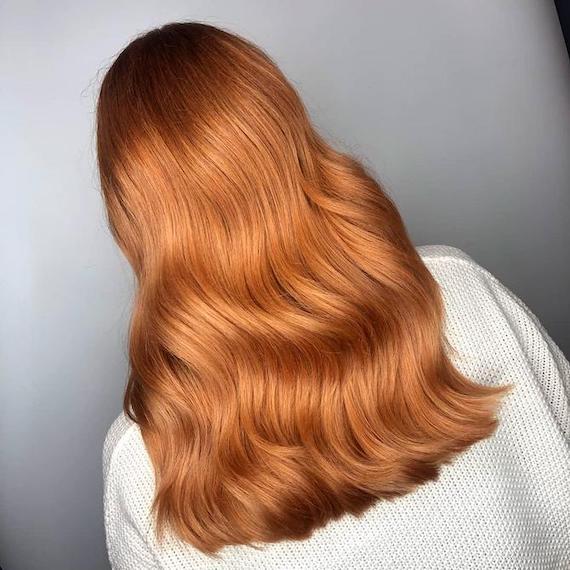 6
6. Radiant Red
Image Credit: @thecolourbarwirral
It's a myth that redheads don't go grey. Red hair often fades lighter as it loses its pigment over time, so if you want to get it back to its brightest and boldest, a mahogany or cool copper shade could be your new go-to. If you opt for mahogany, ask your colourist to apply it all-over, which will ensure you catch every last gray and get hair looking ultra-radiant. To work with your greys, request copper highlights, which can be applied over the top of white pieces or intertwined in between them.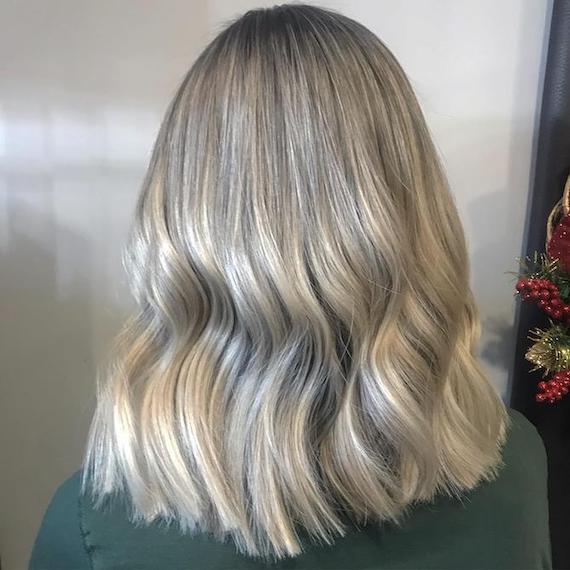 7
7. Gloss in Any Shade
Image Credit: @shaunaformanhair
It's true that grey hair can feel a little wiry. This is because, as we age, the oil glands in our scalp produce less sebum, causing strands to become coarser and drier. For this reason, gray hair tends to look slightly dull, which means – even if you're sticking with a natural salt 'n' pepper look – a Pure Glossing Service can be the perfect pick-me-up to help you get that glow back. Unlike your usual colour appointment, it uses just a small level of toner to enhance your existing shade, mimicking the effect of a shiny topcoat. Best of all, it's a quick fix that can be completed in the space of a lunchbreak, so you can be in and out of the salon in under an hour when lackluster locks need a boost.
Ready to embrace a new colour to cover gray hair? Use our salon finder to find your nearest Wella Professionals salon, kick-starting your transformation.
How to Make Color Last Longer on Gray Hair
No matter what shade you've chosen to cover gray hair, it's important you maintain it at home with the correct care for colored hair. Step one is finding a shampoo that protects your locks from the fading effects of everyday life; namely pollutant particles, which cause color to look dull and brassy over time. Try lathering up with ColorMotion+ Color Protection Shampoo, which is boosted with antioxidants. These shield your strands from the often-damaging effects of the air around us. By following up with the ColorMotion+ Color Reflection Conditioner, your dream shade will always look fresh and shiny – until your next salon appointment, that is.
The right styling products are key, too. If you use heated tools to coif their locks, a heat protection spray is a must. Try EIMI Thermal Image. Perfect for bumping up shine, smoothing frizz and safeguarding hair from scorching temperatures, it's designed to be spritzed from root to tip before blow-drying or tonging. Cocktail it with EIMI Perfect Me styling lotion if hair is particularly dry, then finish your look with a light layer of EIMI Glam Mist .
SHOPWELLA STORE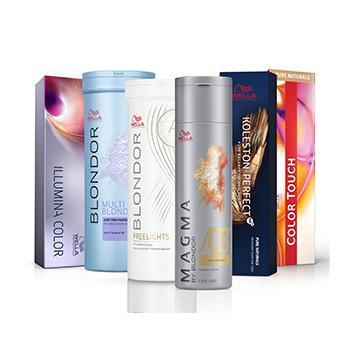 SHOP NOW
Products are only available to professionals.