5 of the Most Tempting Toffee Brown Hair Formulas
Give us all the gourmand-inspired trends; we can't get enough of them. The latest – toffee brown hair – sees brunette locks given a glow-up with bronde (brown-blonde) highlights that embody summer vibes. When you hear 'sun-kissed brunette', this is exactly the dreamy shade that comes to mind. But how do you perfect your own toffee-colored hair creations? These are the tips and formulas you need to know…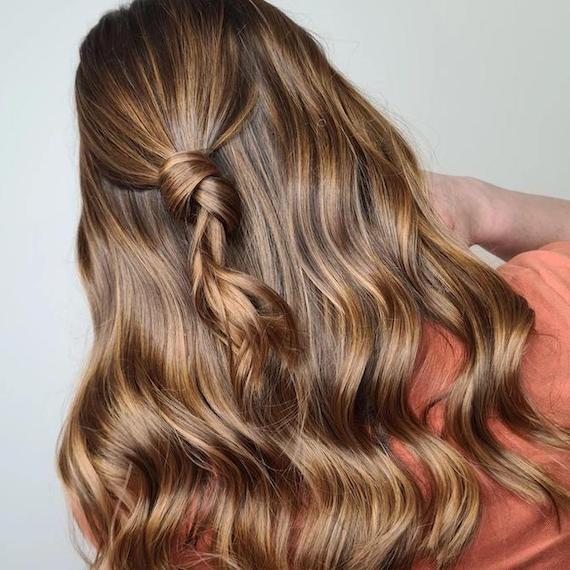 @terricolours_bloominhair
How to Create Toffee Brown Hair Color
1. Pick a Pre-Lightener
Highlights are key to a toffee brown look. Designed to boost radiance for your brunette clients, this trend sees a swirl of golden toffee tones layered through dark locks to create a luminous finish. Choose a pre-lightener that matches the technique you're following with this easy guide:
For highlights, ombre or balayage in foils (foilyage): Use BlondorPlex, which we've infused with the Plex ingredient from the WellaPlex range, so your client gets a strengthening boost as their hair is lifted to the perfect shade.
For freehand highlights, such as balayage: Opt for Blondor Freelights. It's formulated with activated polymers that link with each other to form a flexible and adhesive network. In short: this means it doesn't bleed or smudge during open-air development.
2. Tone with Soft Toffee Hues
After hair has lifted to the correct underlying tone, apply a toner (or two) for a touch of toffee goodness. What you want is a warm, golden brown for the base, and a light toffee brown or blonde for the highlights. Some of our go-to toffee tones include Koleston Perfect 8/03 and 9/3, Color Touch 8/35 and 8/73, and Illumina Color 8/37. You could also give your client a zero damage, zero lift Shinefinity Glaze with 06/73 or 05/37 for a high-shine, translucent finish.
3. Wash, Style and Glow, Glow Glow
When your client's toffee hue has developed, rinse it out, then shampoo with INVIGO Brilliance Color Protection Shampoo to remove the formula. Unless you've applied Shinefinity, make sure to neutralize with the Post Color Treatment, then take your client back to the chair. Their toffee brown hair is ready to be styled.
6 Toffee Brown Hair Formulas to Try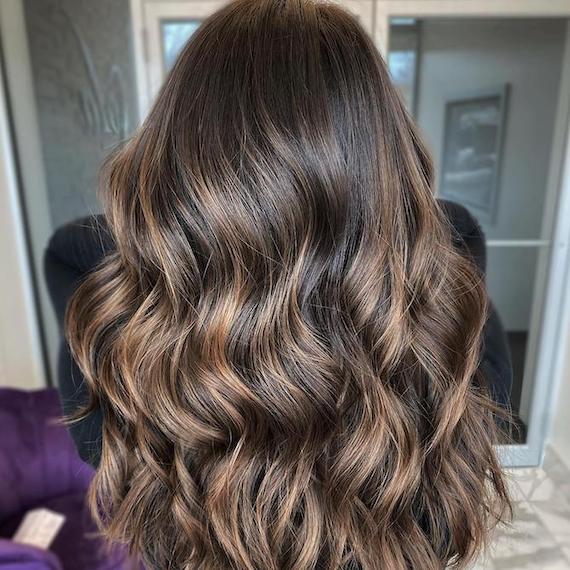 1
Toffee Highlights on Dark Brown Hair
Image Credit: @hairbytiffanyobert
Touches of toffee are intertwined through this dark espresso brown mane, giving Tiffany's brunette client a glow that catches the light with every swish. On balayaged pieces, a Color Touch toning formula was applied, featuring 8/0 + 8/3 + 7/71 + 1.9% for creamy, dreamy radiance.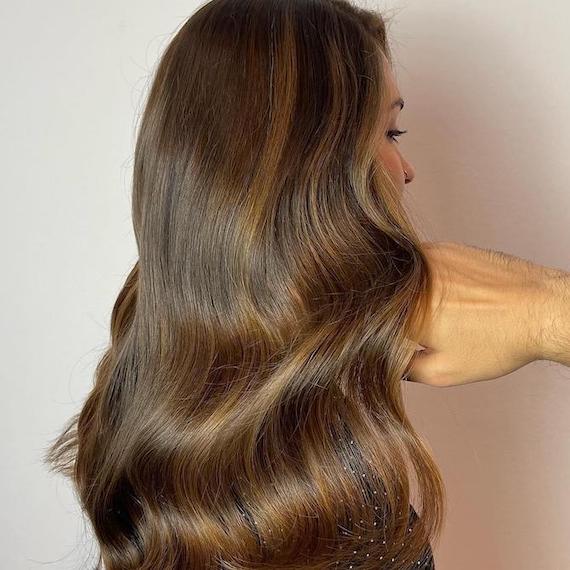 2
Chocolate Toffee Hair Color
Image Credit: @hairbynikolavukovic
Chocolate and toffee – what more could you want? This brunette look is gourmand perfection, crafted with a Koleston Perfect Shadow Lights technique for an update on monochromatic highlights. Just look at that toffee brown pop through Nikola's client's brunette base. They kept the roots cool with KP 6/97, then took it warm with 7/7 + 9% on the mid-lengths and 8/41 + 12% on the ends. The result? A stunning cool-to-warm contrast.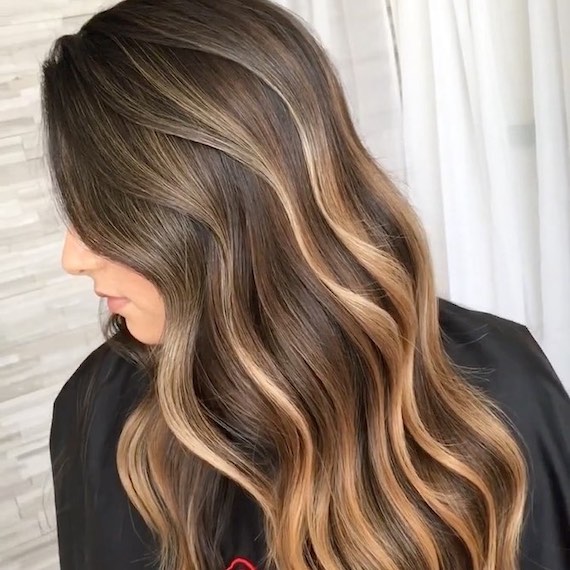 3
Toffee Brown Hair Glaze
Image Credit: @paintedhair
Just look at these foilyage highlights. Swept through a dark brown base, they're high on contrast and shine, lending a beautifully beachy effect to the client's hair. Patricia Nikole created the look by first sweeping on highlights with BlondorPlex + 6%, then glazing with Shinefinity 08/38 for a translucent touch of toffee. A drop of EIMI Perfect Me then prepped strands for the smoothest, silkiest waves.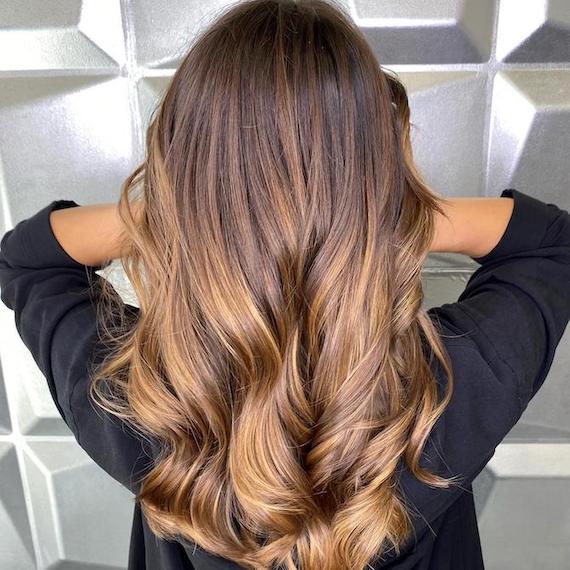 4
Toffee Highlights on Brown Hair
Image Credit: @janina_ehrenberg
For clients with an already-perfect base, Blondor Magma is the ideal lightener. It lifts and tones in a single step, so you can reach a flawless toffee hue much faster. Here, /07+ + 9% has been applied with a balayage technique, lending luminosity through the mid-lengths and ends of a natural brunette.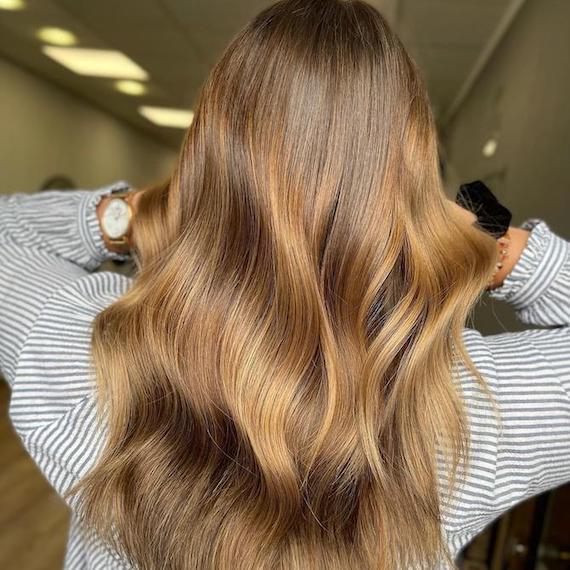 5
Light Toffee Brown Hair Color
Image Credit: @loickdambrine_hair
Shades of toffee work on light brown and blonde hair too. Serving up bronde beauty from root to tip, this masterpiece was created with strokes of Blondor Freelights in weighty slices. Then, lifted sections were toned using Color Touch 8/0 + 9/97 + 8/3 for a golden toffee finish that brings new meaning to 'delicious'.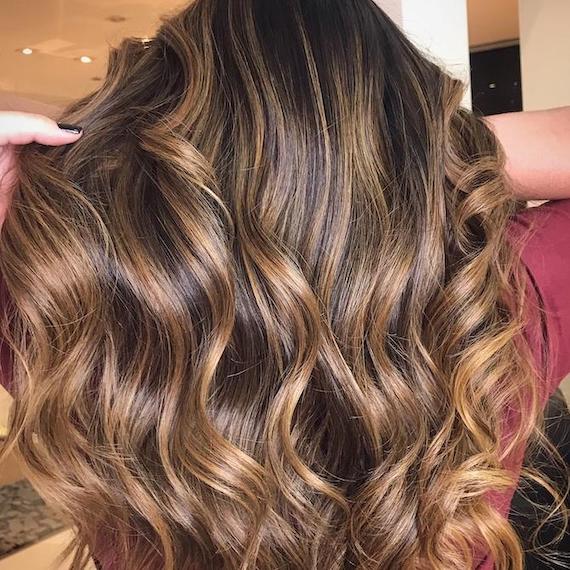 6
Toffee Caramel Brown Hair
Image Credit: @leticiahelenaoficial
Toffee brown and caramel blonde tones come together in this multi-tonal 'do, resulting in light-reflective ribbons that shimmer from root to tip. In proof that chunky highlights are officially a modern vibe once more, this creation has us completely hooked. A toning mix of Koleston Perfect 8/3 + 7/7 simply seals the deal.
How to Maintain a Toffee Brown Hair Color
Once you've reached the sweetest, smoothest toffee brown color, it's down to your client to maintain the shade at home, until their next salon appointment. Pass on these color care tips to ensure their hue stays fresher for longer…
1. Use a Color-Kind Shampoo and Conditioner
Colored hair deserves the care of a specialized shampoo and conditioner. Our go-to duo for long-lasting vibrancy is INVIGO Brilliance Color Protection Shampoo and Vibrant Color Conditioner. Not only do they shield your client's locks from fading aggressors, but they also enhance shine so their dream shade glows. Let them choose between the Fine/Normal and Coarse/Thick formulas.
2. Apply a Color-Depositing Mask
For when their tone needs a top-up, the Color Fresh Mask is here to help. The Golden Gloss and Caramel Glaze formulas are perfect for lending a subtle tint that refreshes their salon color. Recommend they use it once per week, in place of their usual conditioner. All they have to do is apply it to clean, damp hair, distribute with a wide-toothed comb, then leave to develop for 10 minutes.
3. Mist On a Heat Protection Spray Before Styling
Excess heat styling is one of the main reasons hair turns brassy, so it's important your client uses a heat protection spray before they blow-dry, straighten or curl hair. Our pick is EIMI Thermal Image; a lightweight mist that shields from heat up to 220 degrees celsius, while also boosting shine from root to tip. Toffee tones have never been more tempting.