How to Maintain Pink Hair in *Any* Shade
We've already told you that pink hair is trending for 2022. Next up: we're here to show you how to maintain the shade, so your blush or fuchsia hues look fresher for longer. No matter if your pink is bold and bright, or pretty and pastel, these tips have got you covered. And, best of all, they're easy to follow, so your daily routine will stay simple. Going pink just got easier…
1. Start with Healthy Hair
If, by chance, you haven't yet gone pink but you're wondering what the maintenance will look like, know that it's going to be much easier if you start with healthy hair. Locks that are less porous are able to hold onto color (any color) for longer, so keep hair strong and hydrated in the weeks leading up to your pink hair transformation. You can do this by treating strands to a nourishing routine, using the INVIGO Nutri Enrich Shampoo and Mask for a boost of nutrients.
2. Opt for a Brighter Pink
We're not saying you can't go for pastel pink hair, but rather that you should opt for a slightly brighter hue than your target shade in the salon, as it tends to 'settle' after the first few washes. That doesn't mean requesting a neon shade and hoping it fades out fast. Instead, ask your colorist to go just one shade bolder than your dream hue, then enjoy the extra mileage your color gains.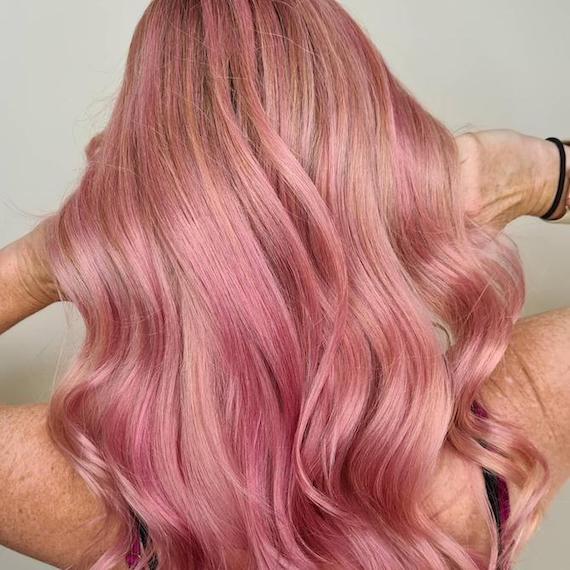 Image Credit: @terricolours_bloominhair
3. Wash with a Color Protecting Duo
Once your pink hair color is on, it's time to switch up your at-home hair care. Opt for a color-kind shampoo and conditioner, and never stray from these protective formulas. Your (pink) hair will thank you later. For radiance, INVIGO Color Brilliance Color Protecting Shampoo and INVIGO Color Brilliance Vibrant Color Conditioner are your go-tos, and they even come in two formulas: one for fine and thin hair, and one for normal or thick hair.
If your locks need a little extra moisture, the antioxidant powered ColorMotion+ Color Protecting Shampoo is great for gentle cleansing, while the Moisturizing Color Reflection Conditioner helps to improve hydration wash after wash. Make sure, before you apply the conditioner, you squeeze out excess water, so strands can absorb as much of that hydrating goodness as possible.
4. Use a Color-Depositing Conditioner
Good news for those with brighter pink hair: you can refresh that fuchsia tone at home, while treating colored locks to a blend of hydrating oils. The Color Fresh Mask in Pink revives salon color between appointments by veiling strands in a hint of a tint over the course of just 10 minutes. All you have to do is smooth it from root to tip on damp, just-washed hair, comb it through to distribute evenly, then rinse out when the mask has developed. Once per week, use this home glossing treatment in place of your usual conditioner. It will revolutionize the way you maintain pink hair at home.
5. Book in for a Lunch Break Hair Gloss
If you prefer to leave hair glossing to a professional, consider booking a speedy Koleston Perfect Pure Glossing service in between longer color appointments. It's a quick way to give your pink hair a rejuvenating boost. Your colorist will be able to mix up a pink hue bespoke to you – a perfect match for your dream tone – then smooth it over colored locks for a fresh injection of pastel or rainbow tones. Because it's so quick, you can even be in and out the door in the space of a lunch break.
6. Dial Down the Temperature
Heat is known for skewing the color of your hair – no matter what shade you've gone for. Limiting your use of heated tools will help you avoid shade fade for longer, but that's not always possible. (Sometimes, a glossy curl through macaron pink hair is just too tempting.) So, make sure you use a heat protection spray on those days when you're curling or straightening your hair. EIMI Thermal Image will keep locks protected, while adding a dose of glossy shine to any style.
7. Keep Hair Covered in the Sun
Like the heat from your straighteners, the sun's UV rays can also alter hair color. These rays wash out baby pinks, fade bold magentas, and turn peachy tones too warm and brassy. You may not want to cover your hair up every time you step outside, but on days when it's particularly warm and sunny, consider wearing a hat or tying on a hair scarf. If you're beach-bound, at least one of these accessories – plus shade from an umbrella – will be a must.
8. Leave Your Regrowth Alone
We understand the urge to fix regrowth when dark roots start coming through, but don't be tempted to take matters into your own hands. Dyeing hair pink is a complex challenge that's best left to the pros. Instead of reaching for a home hair color, make sure you've always got your next touch-up appointment booked in. You should also consult your hairdresser to come up with a lightening technique that fits your lifestyle and maintenance plan. For example, pink balayage wouldn't require as much maintenance as a full head of bleach, so it may be your best option for a hue that's easy to care for.