Gemini Hair is HERE – Try These 5 Color Formulas
Gemini hair is blowing up all over TikTok right now; a two-tone hair trend that reflects the creative, impulsive and fun-loving nature of geminis. But your client doesn't have to be a gemini to wear the look – they simply need to be ready to take on the boldest color combos, whether they love a red and black mane or a pink and purple pairing.
So, let's explore the gemini hair trend with tips, tricks and formulas you can try right now. Get your most vivid colors at the ready and follow this guide…
3 Top Techniques For Gemini Hair
1. Chunky Highlights in Vibrant Colors
One of the most popular coloring techniques for this trend involves highlighting the hair. And, often, when you want creative colors to pop, a light base is needed to boost intensity. So, try a foiling technique on large sections of hair with BlondorPlex, taking chunky slices and pre-lightening them before those bright colors are applied. Why BlondorPlex? Because not only does it give you up to nine levels of lift, but it also strengthens the internal hair bonds through the lightening process, while offering up to 97% less hair breakage*. You can scatter the highlights throughout the hair, or even try bold face-framing highlights. Talk your client through their gemini hair options, then get foiling.
2. Dip-Dye with Bright Fashion Colors
A bold dip-dye – as seen in this look by Wella Professionals Global Ambassador James Earnshaw – is another great option. Paint one shade through the roots to mid-lengths, then go for an even bolder hue on the mid-lengths and ends. If the shade you're aiming for is lighter or brighter than the base, again you'll need to pre-lighten locks to help the color stand out. Then apply your client's chosen gemini hair hues, taking care not to blend them together if you want a stronger dip-dye line.
3. Half and Half Blocks of Color
For the biggest, boldest gemini-inspired color blocks, try a half and half hair creation. Choose one bright shade for the left side of the head and another vivid hue for the right side of the head. This trend works best with a center parting, so take the time to split the sections evenly before you paint. Then, for maximum impact, choose two dramatically different bold colors, like a jet black with a yellow.
5 Gemini Hair Formulas to Try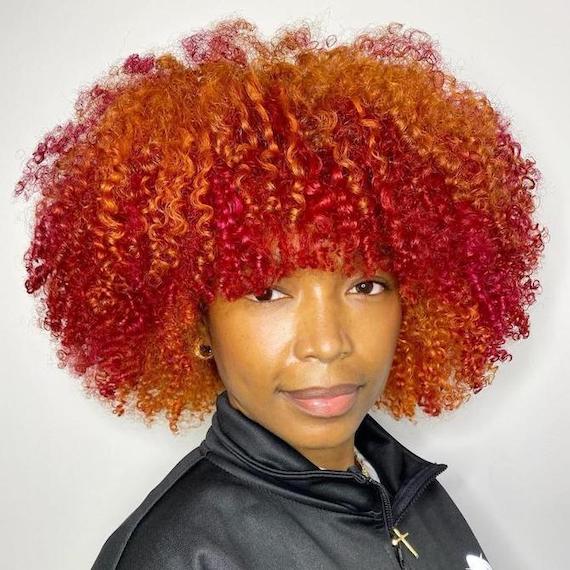 1
1. Two-Tone Orange and Red Hair
Image Credit: @bella.mani
A two-tone approach is perfect for coloring curly hair, as you can use the dual shades to give your client's beautiful texture some extra shape-enhancing dimension. We love this vibrant combo, which sees sweeps of scarlet contrast against pops of orange, resulting in a fiery mane that goes big on drama. Create the look on pre-lightened hair with semi-permanent Color Fresh CREATE, using Next Red for the red sections, and Infinite Orange for the orange.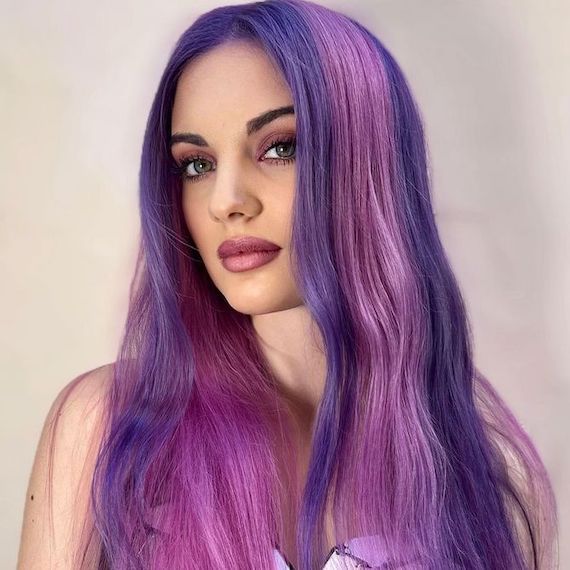 2
2. Mystic Purple and Pink Highlights
Image Credit: @kennyhairartist
Give the two-tone hair color trend a mystic twist with shades of pink and purple. These vibrant panels of galactic hues are beyond mesmerizing. To recreate the look, you'll need to lift locks to a light color first, which you can do with BlondorPlex. Then tone wide sections of hair with Koleston Perfect 0/65 + 9/81 + 55/65 for that vibrant pink. Once the shade has developed, rinse it out and neutralize, then create the purple sweeps with Shinefinity Color Glaze 00/89. Make sure you saturate strands for full, even coverage and an 'out of this world' finish.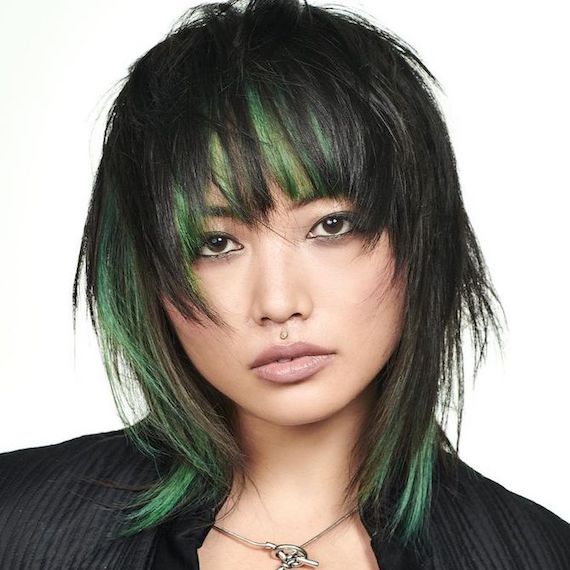 3
3. Peekaboo Color Block Panel
Image Credit: @matthew.wella
How cool is this green and black color combo? A choppy haircut meets peekaboo panels for a face-framing halo of emerald hues, made all the more striking by those blunt bangs. Try recreating the look with Koleston Perfect, using 4/82 + 1.9% for the brunette base color, then apply BlondorPlex + 4% to the lower layers of the face frame until locks have lifted to a level 9. Once you've reached the correct underlying level, apply Koleston Perfect Special Mix shades /30 + /33 + /28 + 1.9% – a green dream of a color formula that looks extra vibrant against those brunette tones.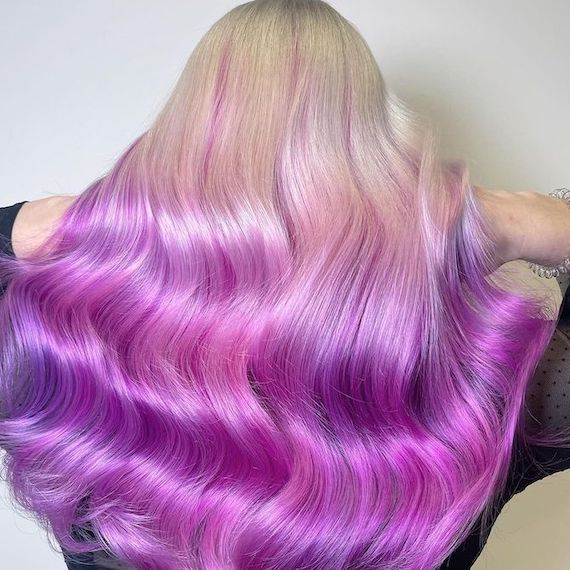 4
4. Blonde to Violet Dip-Dye
Image Credit: @nikkiclifford_hair
Blonde hair is the ideal base for a gemini-inspired dip-dye, as it's light and bright enough to give bold fashion colors some extra vibrancy. So, if you're working with a light shade, try this half and half creation, which kickstarted with BlondorPlex + 6% to lighten, and Illumina Color 8/69 + 1.9% to tone a platinum hue. Once the Illumina Color formula had been completely rinsed out, a Color Fresh CREATE blend of shades was applied to the full width of mid-lengths and ends. You're seeing Pure Violet + High Magenta + Tomorrow Clear; a mix of purples and pinks with a pastelizing additive that screams mermaid hair.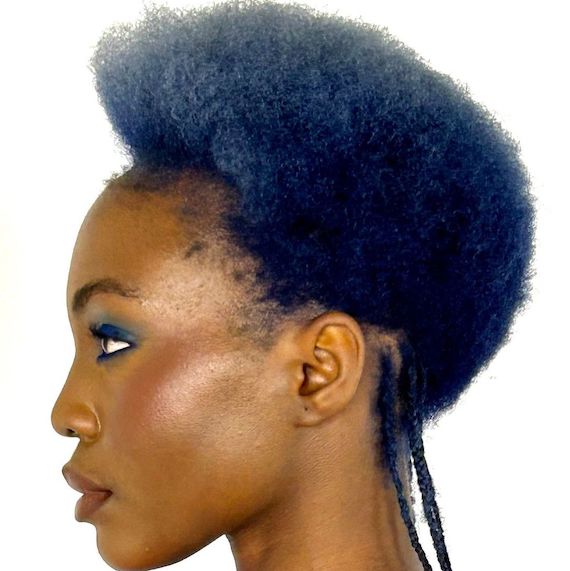 5
5. Blue on Blue Gemini Hair
Image Credit: @anthonycolesebastian
Take the trend tonal by creating blocks in different shades of the same color. These denim blues complement one another flawlessly, yet they still make an impact thanks to style and placement. The light, stonewash hue up top segues into a classic navy on the bottom, helping to enhance the model's curl pattern with shades that work through all seasons. To recreate the look, lighten hair with BlondorPlex + 4% first. Then tone the roots with demi-permanent Color Touch 10/81 + 0/88 + 1.9% and the lengths with 10/0 + 10/81 + 0/88 + 1.9%.
How to Maintain Gemini Hair
1. Make Pastels Pop
If you're creating gemini hair with pastel tones, maintenance begins before you even start toning your client's hair. To help the pastels last longer, ask your client if they're happy to start with shades that are a touch bolder. The brighter they are to begin with, the less noticeable fading will be over time. This lets your pastel-loving client get a little extra mileage out of their favorite shades.
2. Top Up Vibrant Colors
Depending on the gemini hair shades your client has chosen, they might be able to refresh their hues at home with the Color Fresh Mask. This pigmented treatment comes in 13 shades – including vivid brights and soft pastels – and revives locks in just 10 minutes. All they have to do is choose their perfect shade, apply it to clean, damp hair on the correct section, leave it on for 10 minutes, then rinse out. It's the easiest DIY way to keep color vibrant in between salon appointments.
3. Use the Right Care Formulas
Two must-haves in every color maintenance plan are color-friendly shampoo and conditioner. Your client needs salon-approved formulas they can use to keep their colored hair healthy and vibrant at home. That's why we often recommend our clients use INVIGO Brilliance Color Protection Shampoo and Vibrant Color Conditioner; a dynamic duo packed with antioxidants to ward off fading aggressors. Together, they enhance shine and hair smoothness so gemini hair always looks its best. Plus, they suit all hair types, with separate formulas for fine/normal hair or coarse hair.
Now you have plenty of inspiration to create your own gemini hair masterpieces, make sure you share them with us on Instagram by tagging @WellaHairUSA. We can't wait to see them.
*When using BlondorPlex N°2 with BlondorPlex, versus BlondorPlex alone.