Hair Color Ideas to Make Your Client Look Younger
For years, skincare has been tipped as the go-to for an anti-ageing effect, with toners, creams and serums taking credit for a glowy complexion or tighter-looking skin. However, beauty experts are starting to take notice of the youth-boosting effects of hair color too, and the results are startling. Think, added healthy radiance that instantly takes years off your face.
We're firm believers in celebrating the beauty of hair at every age, whether you choose to embrace your natural shade, subtly enhance your color or transform your hue completely. This guide is for those clients who want the best hair colors to make them look younger, so when they ask for your advice, you will have these tips, tricks and looks at the ready. But, first up…
What Hair Colors Make You Look Older?
Before we cover the hair colors to make you look younger, let's explore the hair tweaks that can actually cause clients to appear older.
1. Going Too Light or Too Dark
Taking the hair too light can result in an unflattering clash with your client's skin tone, while going too dark may accentuate fine lines and cause gray regrowth to stand out more. If your client wants to go lighter or darker, recommend they choose a color no more than two shades away from their natural hue, so the final effect has a born-with-it quality.
2. Upping the Ashiness
While ash blonde and ash brown hair colors are ultra-sophisticated, taking locks too cool can make the color look smokey, and project that muted effect onto skin. This doesn't mean you have to steer away from ashy shades altogether; just make sure there's a balance of richness in there, too, whether by mixing warmth into the formula or adding a few lowlights.
3. Making Hair Overly-Warm
You might be noticing a pattern: 'too much' tends to have an ageing effect, whether you go too light, too dark, too cool or too warm. The latter can give locks a brassy feel that leaves skin looking pale and tired. So, while golden tones are good, color that veers yellow or orange puts clients at risk of a sallow complexion.
Best Hair Colors and Techniques to Look Younger
Now for the important part; the hair colors and techniques that make your client look glowy and refreshed. From sun-kissed babylights to chocolatey highlights, get these tips on your radar...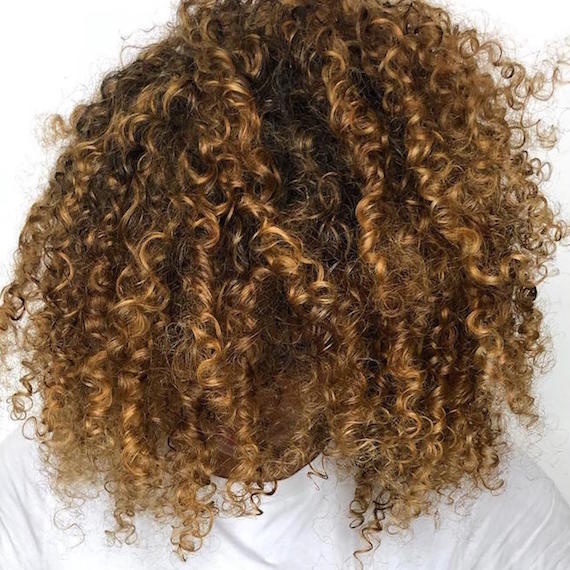 1. Golden Hues
Image Credit: @bradthomashair
The Formula: No lightener – just Koleston Perfect 12/1 with 30 vol.
The Look: A golden glow – on hair and skin – is eternally flattering, so try adding gilded highlights to locks for a dose of light-reflective luminosity. With babylights, foilyage, ombre, balayage or traditional highlighting techniques, we recommend introducing golden blonde or decadent caramel tones to all base colors. Just make sure your client keeps a purple shampoo in their hair care kit, so they can stop the warmth from tipping into the brassy zone.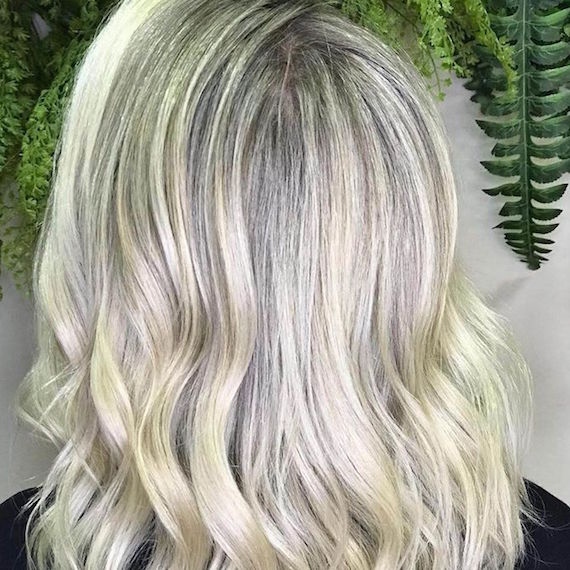 The Formula: Babylights all over with Blondor 6% Welloxon Perfect, a toning service using Illumina Color 10/ + 10/69 with 1,9% Pastel, then a smokey finish on the root area with 6/19 and 1,9% Pastel.
The Look: Everyone knows that, as we age, gray roots start to grow through. Those stray silvers are part and parcel of growing older and, put simply, they're no bad thing. However, for clients who choose to nix them, gray coverage will instantly age-proof locks, and we've created five must-read guides to help with your technique. Here's everything you need to know: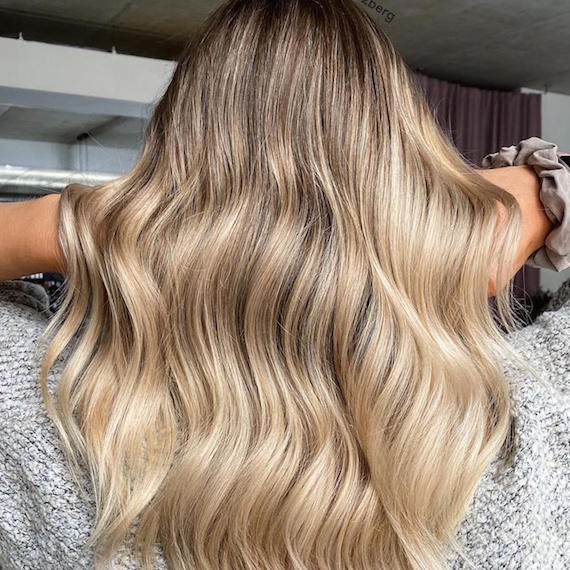 3. Luxelights
Image Credit: @matherzberg
The Formula: Teased foils were applied with Blondor Freelights + 4% 13 vol Blondor Freelights developer, followed by freehand highlights using Blondor Freelights + Freelights Developer 6% 30 vol. An Illumina Color root shadow was applied with 7/ + 7/81 + 1,9% Pastel 6 vol + Post Color Treatment, then ends were glossed in 10/38 + 1,9% Pastel 6 vol + Post Color Treatment.
The Look: Boosting dimension and contrast is the best kept secret in anti-ageing hair. The shine, the volume, the touch of brightness… Together, these benefits are unmatched. Our newest color upgrade service, Luxelights, gives your clients all this and more, teaming a root shadow (that also disguises gray regrowth) with highlights through the mid-lengths and ends. This technique can be carried out with any Wella color products, but traditionally we would use BlondorPlex in foils, Koleston Perfect on the roots and Koleston Perfect Glossing on the lengths and ends.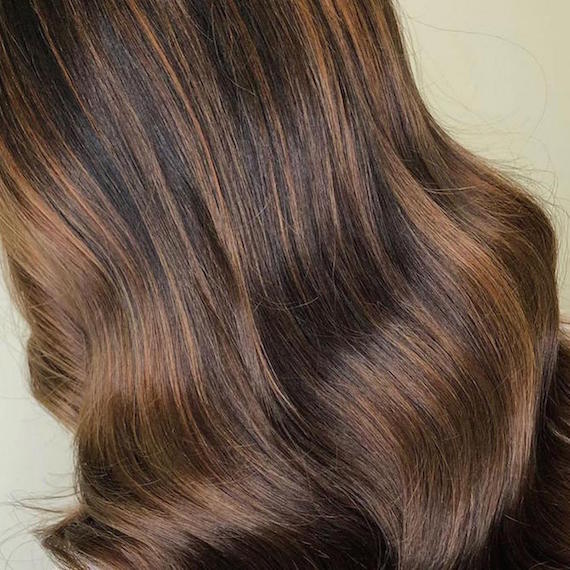 4. Brunette Balayage
Image Credit: @laila.wella and @wellanordic
The Formula: Highlights with #Magma by Blondor /89 + 9%, then Color Touch 6/77 + 1,9% applied as the toner.
The Look: Though jet black hair can start to appear a little flat as time goes on, sweeping brunette balayage through mid-lengths and ends takes the edge off, while maintaining that dreamy depth. Hints of chocolate, mahogany, mocha, and walnut will illuminate dark brown hair, lending an instant anti-ageing effect and a root-lifting body boost.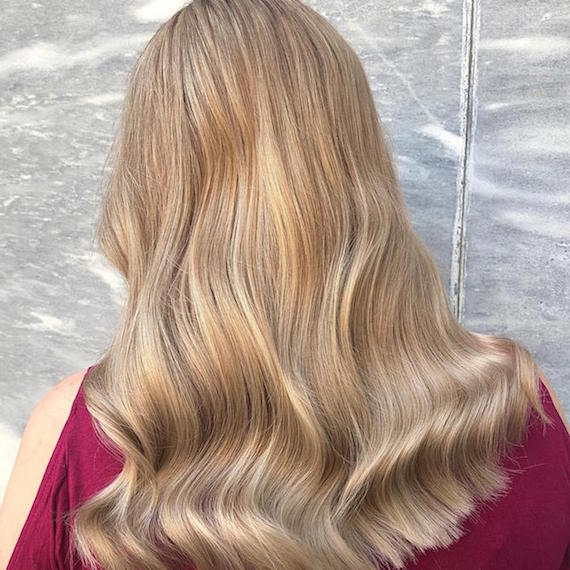 5. Creamy Blonde
Image Credit: @murribunbuns
The Formula: Blondor 1,9% + 3% for the highlights, followed by a gloss with Illumina Color 8/69 8/38.
The Look: Natural blondes will love the light-boosting power of a creamier shade. This hue creates a warm halo around the face, which helps to soften features and play up the structure of cheekbones. Aim for a level 9 or 10 with a delicate hint of buttery yellow; enough to diffuse the brightness without going overly-warm.