17 Powdered Blonde Hair Ideas and Formulas
We're celebrating the most effervescent shade of the year: powdered blonde. It's light and bright, leaving hair glowing from root to tip with an ultra-flattering, complexion-enhancing hue. Powdered blonde comes in a variety of types to suit every taste; think a subtle hint of pink, a touch of gold or a dash of ice. All you have to do is pick the perfect powdered blonde hue to lift and illuminate hair color in the sweep of a brush. Decisions, decisions…
Whether you're a stylist browsing through the latest trending shades for the new season or scrolling for some hairspiration for your next appointment, we've rounded up a selection of powdered blonde shades…
What is Powdered Blonde Hair?
Picture a cool, pale beige-y blonde hue with just a hint of shimmer. This light, creamy blonde shade works perfectly as all-over block color, scattered micro-babylights or free-hand balayage. It's cooler than a classic honey blonde, but a touch warmer than trending ice blonde, balancing somewhere in the middle of the blonde color spectrum. Add a touch of radiance to brunette clients' hair by weaving powdered blonde highlights through a light brown base, or lift a warm blonde color with a few scattered strands from mid-lengths to ends.
Powdered Blonde Hair Ideas and Formulas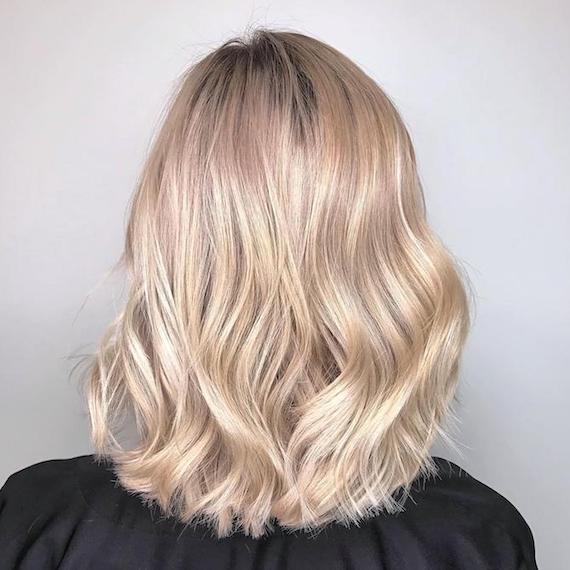 1
Creamy Powdered Blonde
Image Credit: @audreym_paris
Get a hair color that really pops. This creamy powdered blonde is perfect for giving a classic warm blonde a new-season update, featuring a cooler finish. Use Illumina Color 10/1 to lift their color all over, creating a light, bright base, then apply Blondor Freelights to a few scattered strands for a multi-tonal finish.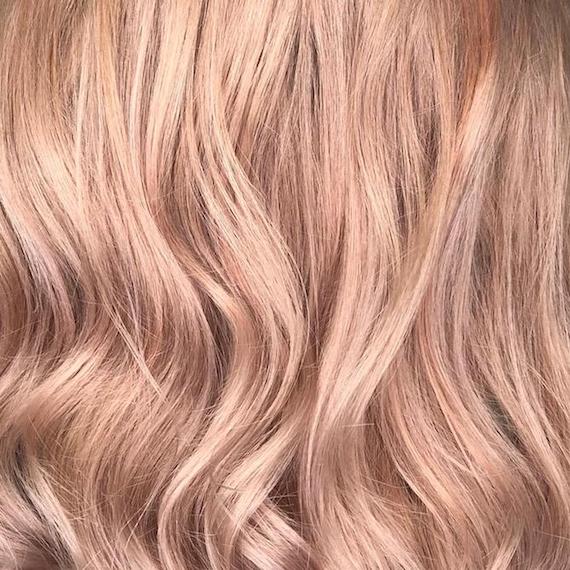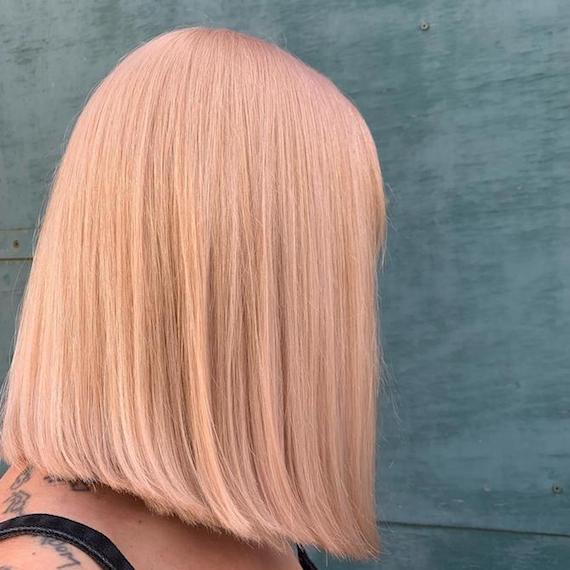 3
Peach Bellini Blonde
Image Credit: @michealhowiehair
Everything's just peachy with this sparkling shade. Treat your client to the perfect pick-me-up color; a powdered blonde with a hint of peach. To get the look, dilute one part Color Fresh CREATE in Hyper Coral with Tomorrow Clear 1:30, then apply to pre-lightened hair for a lived-in, pastel feel.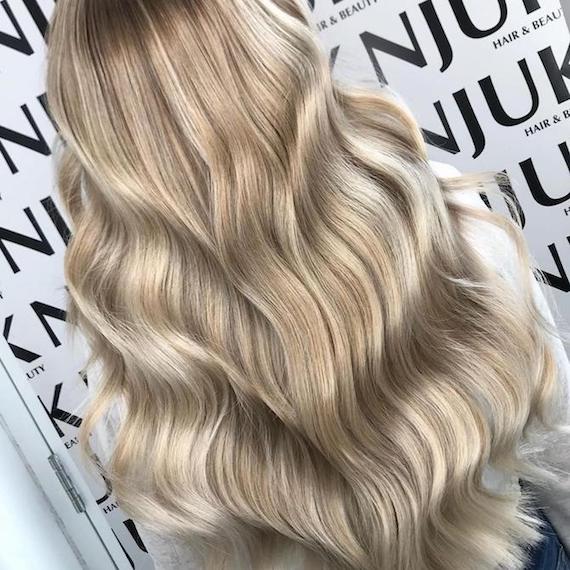 4
Pearly Powdered Blonde
Image Credit: @njuk_
Pearlescent perfection. We love this light golden blonde base with icy slices of cool powdered blonde to lift and brighten color. Show off this shade by tonging hair into loose waves, finishing with a spritz of EIMI Glam Mist to really get color glowing.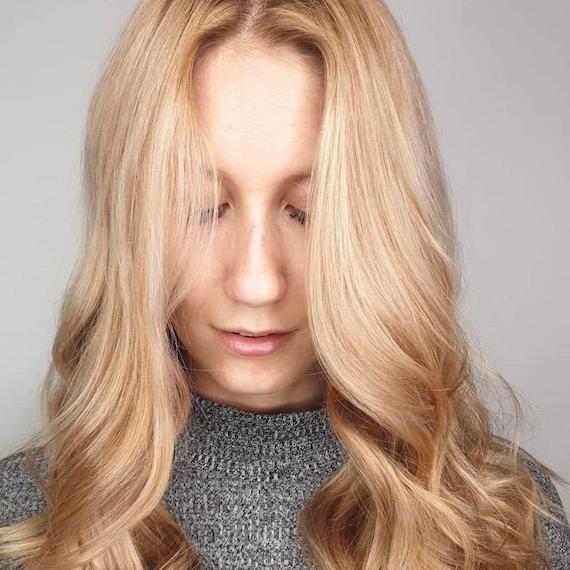 5
Vintage Powdered Blonde
Image Credit: @maximumcoiffeur68
Prefer a warm blonde color for your client? Try a golden-toned, vintage-inspired powdered blonde. Maxime Muller created this bespoke shade by mixing Opal-Essence by Illumina Color in Titanium Rose 1/4 + Copper Peach 3/4, warming up a classic light blonde base with an ever-so-slight hint of blush. Golden and gorgeous.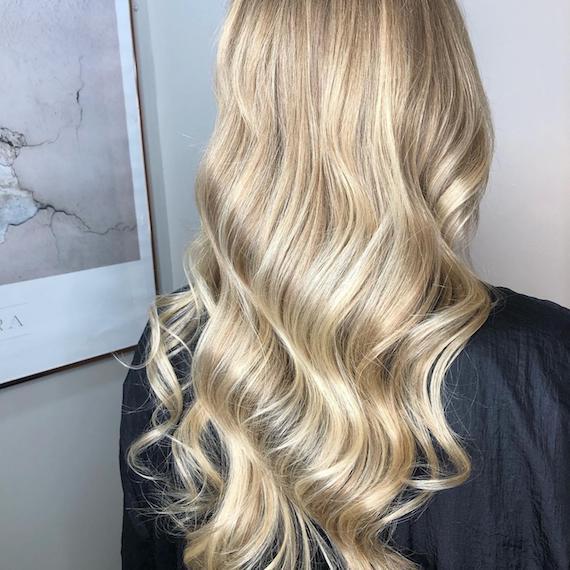 6
Powdered Blonde Balayage
Image Credit: @alexandracolhair
Refresh summer blonde balayage for fall/winter with a frosted finish. Weave slices of icy blonde powdered color through mid-lengths to ends for a subtle, face-framing balayage. Tong hair into soft waves to show off every multi-tonal hue to perfection. Then, spray EIMI Oil Spritz into palms and work through ends of hair to nourish dry strands and step up the shine factor.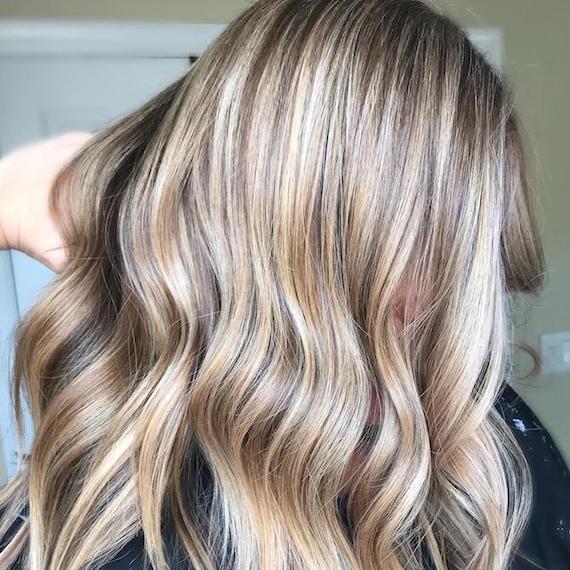 7
Powdered Blonde Babylights
Image Credit: @xobeautybynicole
Don't let blondes have all the fun. If your client is currently sporting a brunette base, powdered blonde babylights are perfect for adding a lit-from-within glow to color. Wella Passionista Nicole has taken inspiration from Chrissy Teigen with this radiant hair color, hand-painting balayage in a diagonal direction and through a V section of hair before glossing over with Illumina Color 9/16 and 9/03. Flawless.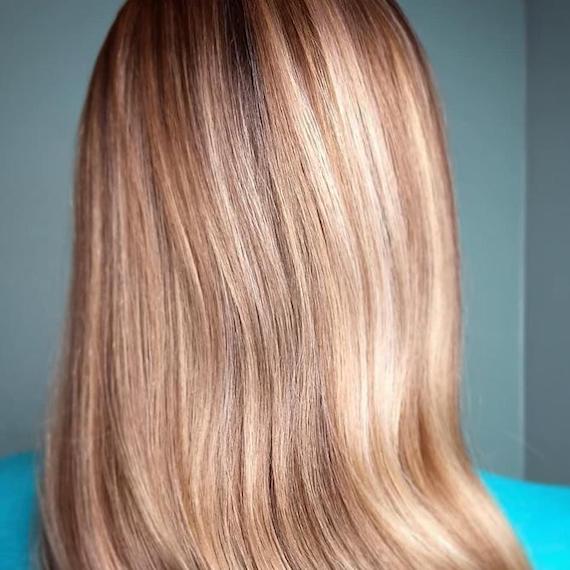 8
Powdered Blonde Highlights
Image Credit: @cassandra_foehr
Chunky blonde highlights are making a comeback. Another nineties trend having a major moment, we're loving old school highlights as a throwback color update for the new season. For a powdered blonde take on the trend, create a mix of thick and fine blonde highlights throughout your client's base shade, alternating Blondor Multi-Blonde Powder through foils to get this totally cool look.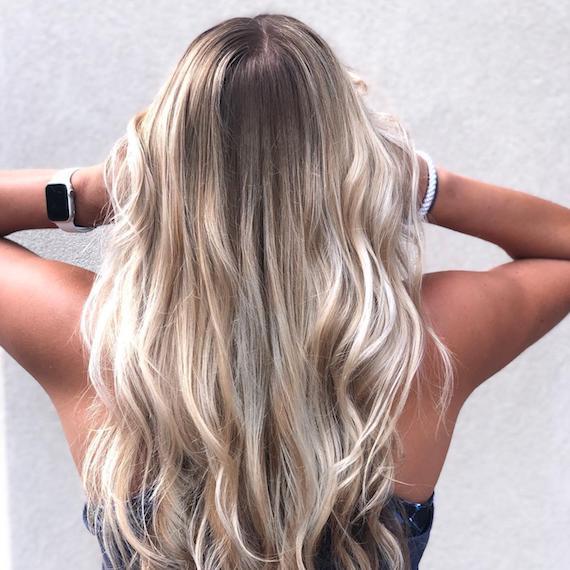 9
Powdered Blonde Ombre
Image Credit: @hairslayyer
The ultimate low maintenance look. To transition color from a brunette or dark blonde base into a powdered blonde ombre, start by backcombing from the ends of hair into the center. This helps to create a diffused transition when applying and developing color. Then, apply Blondor Freelights onto the ends of hair, feathering lightener through the backcombed area towards the root with the edge of your tint brush. For a bold contrast, apply a little extra lightener towards the tips of hair to build a stronger ombre effect. Why not finish with a glossing service to really make their new shade shine?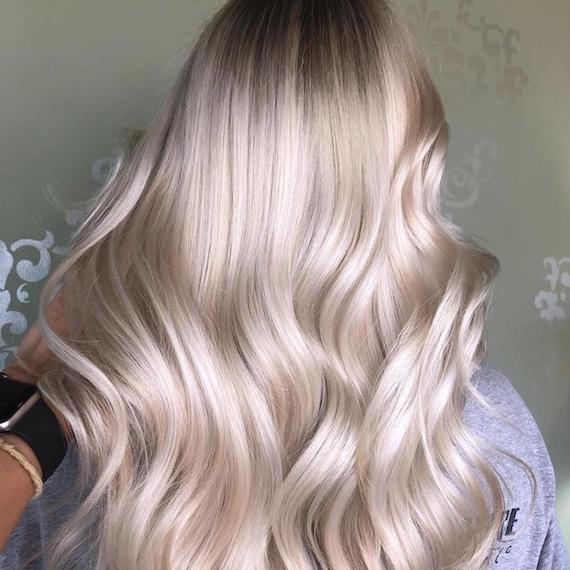 10
Platinum Powdered Blonde
Image Credit: @beautybykeshly
When powdered blonde goes even more luxe. To create this flawless hue, hairdresser Keshly Lozada lifted her client's color to a level 10 with Blondor Freelights 20 vol. Then, she toned with a root shadow of Color Touch 7/89 with 1.9% (1:2). For mid-shaft and ends, Keshly mixed Illumina Color 10/1 + 10/69 in equal parts with 1.9% (1:2), blending everything with WellaPlex for stronger, healthier-looking hair.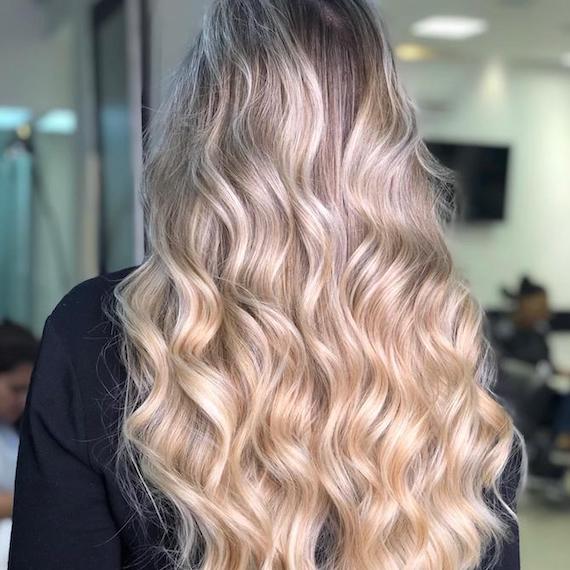 11
Warm Powdered Blonde
Image Credit: @taicoln
Add a touch of warmth by melting powdered blonde color into a warm gold-tinted hue. To keep your client's color in glossy, glowing condition long after their appointment date, recommend they use INVIGO Blonde Recharge Shampoo in Warm Blonde in between, keeping the element of warmth without leaving the color brassy over time.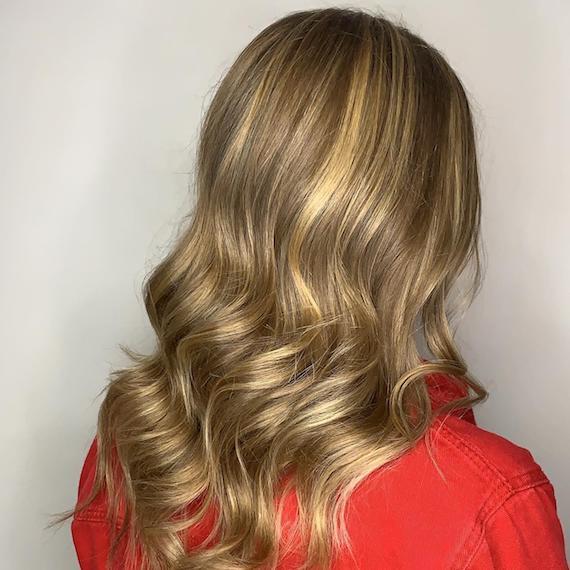 12
Powdered Bronde
Image Credit: @maximumcoiffeur68
Another look for the brunette beauties among your client list: powdered bronde. Get the look by weaving golden blonde highlights through a biscuit-y brown base. To keep powdered blonde highlights looking radiant until their next appointment, recommend using Moisturizing Color Reflection Conditioner once a week. The result? Healthier hair and light-reflective color.