Why Protecting Hair From the Sun is Important
You already know how important it is to layer SPF on your skin year-round, but it's easy to forget those UV rays can also have an impact on your hair. So, consider this your friendly reminder: sun care shouldn't just stop at your scalp, as those harmful UV rays can leave your locks dry and brittle, while causing colour to fade. Here, we reveal how you can ward off sun damage in the summer months – and beyond – to keep your shade looking fresh, and your hair perfectly nourished, no matter the weather…
Why is Sun Protection for Hair Important?
Heat damaged hair doesn't only happen when you've overdone it with the hair dryer or straighteners; the sun can also scorch your strands and leave them dry and fragile. UV rays have a myriad of negative effects on your locks, starting with dehydration. Like burnt skin, burnt hair lacks moisture, leaving it brittle and prone to breakage. Plus, if you have coloured hair, the sun can shift your shade in unexpected ways. If you're lucky, it will appear beachy and bright, but in many cases it will fade brassy and orange. Leave sun-kissed highlights to the professionals and make sure to shield your colour in between salon appointments. Otherwise, your hair may need a colour correction and a dramatic cut to trim away split ends.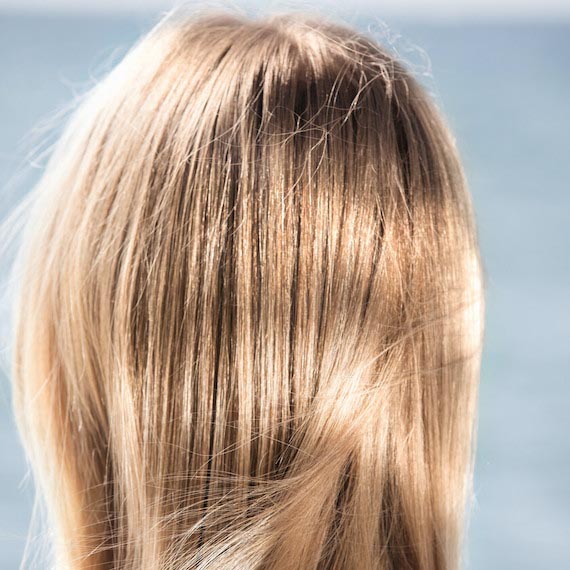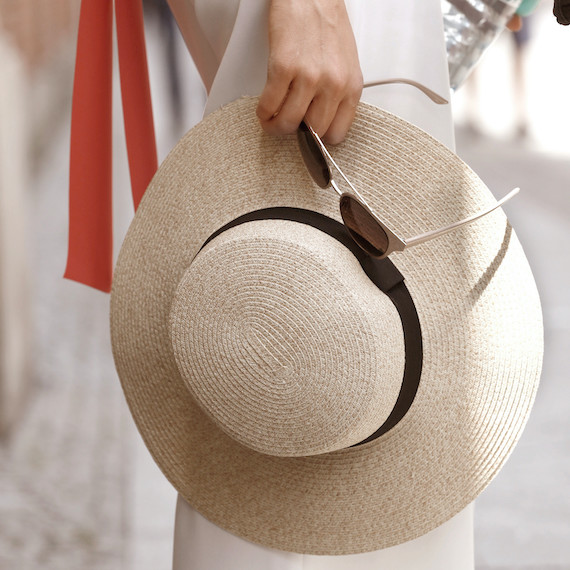 Can I Use Sunscreen on My Hair?
You can use sunscreen on your hair – but not just any SPF. The protection you use on your face is ideal for your skin, but not for your scalp or your lengths. While they may keep your parting and hairline protected, skin SPFs are often too heavy to use on your hair, resulting in greasy roots and a weighed-down style – probably not the beachy look you're going for. So, while you can and should be using sunscreen on your hair, it's best to apply specialized formulas that are designed to invisibly shield your strands. Then, if your hairline is visible or you fear your parting could get burnt, use fingertips to smooth a facial sunscreen over any exposed skin.
5 Ways to Protect Your Hair from Sun Damage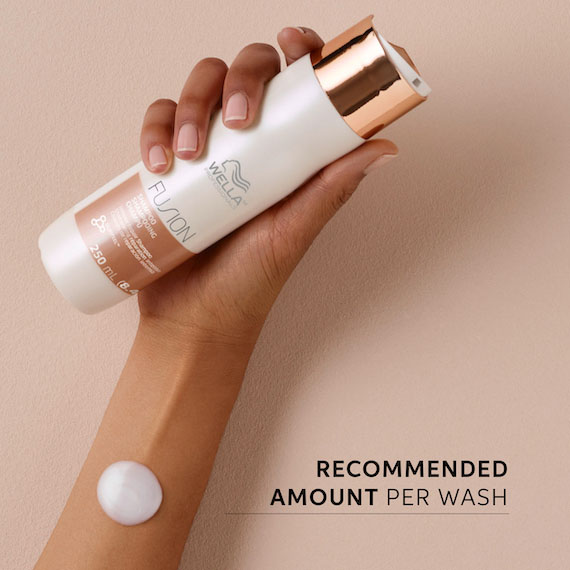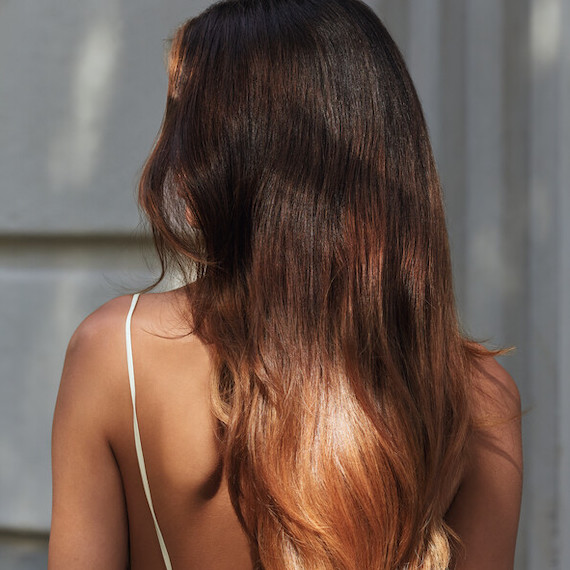 1. Wash the Summer Day Away
While no shampoo can rinse away the effects of UV rays, a nourishing formula will help to strengthen strands, so they're more resilient in the face of aggressors. Try INVIGO After Sun Cleansing Shampoo, which also rids strands of salt water, sand and chlorine, making it a vacation must-pack and a summer essential. When sand and sea aren't on the agenda, Fusion Intense Repair Shampoo is another kind-to-locks formula that works to minimize breakage and reinforce strands.
2. Apply Deeply Reparative Masks
Make a deep conditioner or hair mask part of your weekly routine. INVIGO After Sun Express Conditioner is our pick when time is of the essence, as it comforts dry, sun-beaten hair fast with a blend of apricot oil and pro-vitamin B5. Fusion Intense Repair Mask is also beautifully nurturing, with a creamy formula that works in five minutes to bolster damaged locks. Like shampoo, no conditioner or mask can protect your hair from UV rays, but that boost in nourishment will give hair added defensive strength when it needs it most.
3. Keep Hair Covered with a Hat or Scarf
The most effective way to shield hair from the sun is to keep it covered up. On days when the UV index is high, reach for a hair scarf or wide-brimmed hat to keep locks under wraps and safeguard your colour. If you're on the beach or by the pool, having hair covered also offers you a great opportunity to massage leave-in conditioners into parched mid-lengths and ends. Try combing a drop or two of Oil Reflections Luminous Smoothing Oil through the lengths of hair, then tie a silk scarf over the top, lie back, and relax.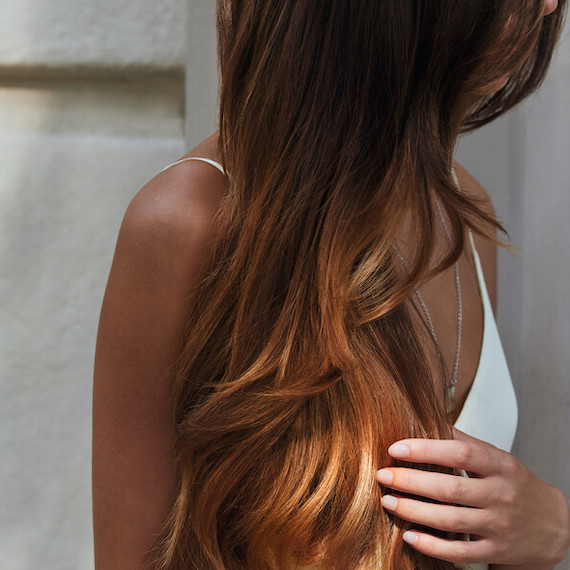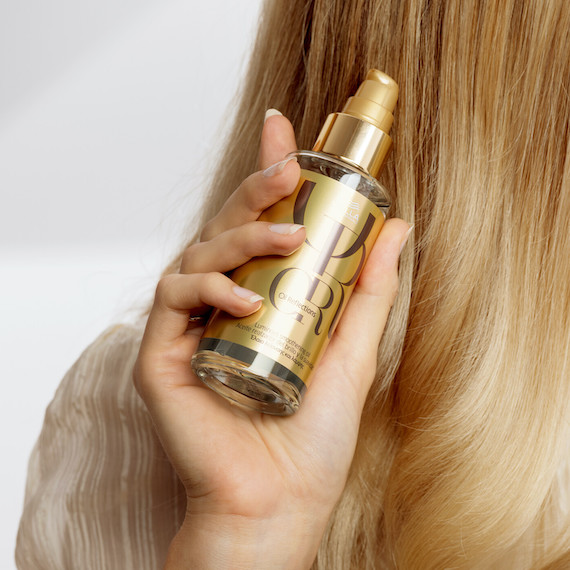 4. Try to Avoid Exposing Hair to Extra Heat
If it's been an especially hot and sunny day, avoid exposing your hair to extra heat by putting the hairdryer and straighteners down. (Our round-up of the best products for air-drying hair will help you here!) Or, if heat styling is a must for your look, make sure you safeguard first with EIMI Thermal Image, a protective spray that boosts shine while shielding hair from up to 220 degrees. Then, work with low-tension styles that won't put too much stress on your hair. Think low ponies, boho braids, or simply wearing locks loose to avoid pulling and tugging fragile strands.
5. Saturate Hair with Water Before You Go Swimming
Okay, so this tip isn't about sun protection exactly, but if you like to swim in the pool or ocean, it will be helpful on your next vacation. Before you go swimming, make sure to soak your hair with clean water (say, from the shower), so it reaches its saturation point, meaning your strands can't absorb anything else. This makes it harder for chlorine or salt water to get in and do their damage. Is soaking hair not an option? Then try to keep your hair pinned up high and out of the water so it still stays protected.
By following these protective tips, your locks will stay glossy and nourished – come rain or shine. Keeping hair safe in the sun has never been so easy.