How to Repair Damaged Hair Fast at Home
Are you in a hair SOS situation? While maintaining the condition of your hair is a long-term goal, there are ways you can get locks looking healthier and more hydrated in a hurry. So if you've got a big event coming up – one where a glossy mane is needed for extra confidence – we've got all the tips and remedies you need to dial down the damage. Here's how to repair damaged hair fast at home...
9 Quick Tips to Heal Hair Damage at Home
1. Trim Split Ends Away First
Okay, so this isn't an at-home tip; you should always leave trimming and cutting to a professional hair stylist, as it takes hard-honed skill and care to remove split ends while maintaining your perfect style. But, before you start your home hair repair journey, it's important to book in at the salon to get ends tidied up. Hair breakage is one of the key signs of damage, and trimming off split ends instantly makes locks look healthier. If you're nervous about losing length, you can ask your hairdresser to try 'dusting'. The clever technique sees only the very tips of strands neatened up, so your length and style stay the same.
2. Lather Up with a Hydrating Shampoo
Use a hard-working yet gentle shampoo to nurture dry strands; one that whisks away damaging impurities while boosting moisture and supporting internal hair bonds. Ultimate Repair Shampoo is as moisturizing as it gets, with a luxurious lather to remove all the impurities that can be harmful to hair, such as metals, pollution and product build-up. It also hydrates lengths, so hair feels softer after every wash. All you have to do is work it into wet hair (without any vigorous rubbing!), then rinse it out with warm water. Remember: hot water can have a damaging effect on dry hair strands.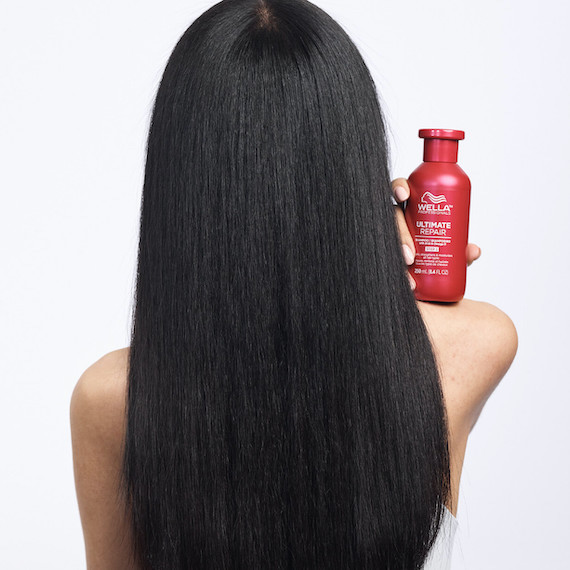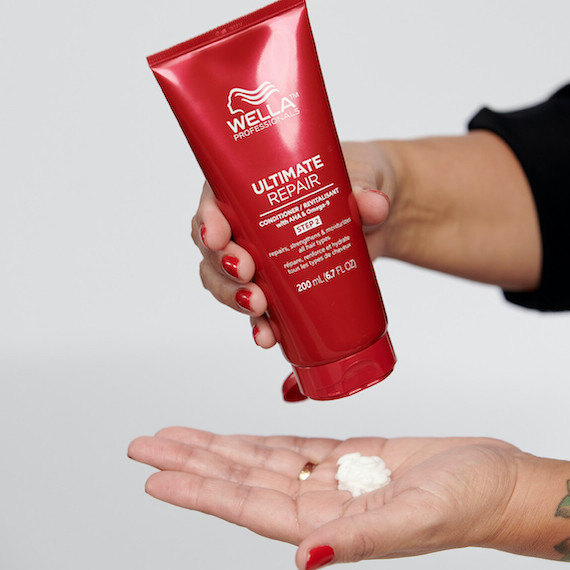 3. Treat Dry, Frizzy Hair with Deep Conditioners
Follow your moisturizing shampoo with a luxurious conditioner. Choose one with a rich, creamy yet lightweight formula to target the lack of moisture and dial down frizz for an instant transformation. We recommend Ultimate Repair Conditioner, which will reverse noticeable hair damage and make locks look healthier. Perfect for all hair types, it leaves hair soft to the touch, clean and fresh without weighing it down. To get the best results, apply the conditioner to the mid-lengths and ends of damaged hair, then use a wide tooth comb (straight hair) or fingertips (coily or curly hair) to gently smooth out knots. Leave on for up to five minutes while the conditioning ingredients absorb, then rinse thoroughly to reveal smoother strands. 
Top tip: You can wrap hair in a warm towel while the conditioner is on to turbo-boost moisture levels. 
4. Repair Hair with a Nourishing Leave-In Treatment
When it's fast results you want, nothing works quicker than Ultimate Repair Miracle Hair Rescue. The potent leave-in treatment reverses damage in just 90 seconds, with transformative results from a single use. It's packed with new generation technology inspired by your favourite skincare formulas, allowing it to strengthen fragile hair and rehydrate dry hair from the inside out. Here's how:
A supercharged dose of AHA (Alpha Hydroxy Acid) penetrates the hair fiber at the deepest level, where it rebuilds the bonds inside the hair for a stronger core.
Meanwhile, Omega-9, a nourishing fatty acid, replenishes the outer layer by coating the hair's surface and filling in the cuticle to re-create a protective barrier.
This powerful combination of reparative ingredients allows Miracle Hair Rescue to give you 12x smoother hair* with 99% less breakage* and radiant shine that lasts for up to four washes**. Simply mist it through clean, damp hair from roots to ends, let it absorb for 90 seconds, then style locks as you usually would. It's the perfect remedy for all hair types – including colour-treated hair.
5. Tame Down Frizz and Flyaways
One of the most obvious signs of damage is frizz. When locks are stressed-out and broken, flyaway hair crops up, making your style tricky to tame. Miracle Hair Rescue makes strands appear smoother, but if extra sleekness or definition is needed, try teaming the supercharged treatment with these coiffing tricks:
For Straight Hair
Apply a hair oil, like Oil Reflections Luminous Smoothing Oil, to the mid-lengths and ends of hair. This will veil locks in instant sleekness while helping to smooth and seal the hair cuticle. Then blow-dry with the nozzle of your blow-dryer pointing down the hair shaft. Finish with a light spray of EIMI Glam Mist to boost glossy shine while shielding strands from the effects of sun damage. 
For Wavy Hair
After giving hair time to absorb the Miracle Hair Rescue treatment (just 90 seconds!), mist wavy locks with NutriCurls Milky Waves Nourishing Spray. It softens unruly hair with weightless nourishment, making it the perfect leave-in product for a naturally tousled mane. Then, to boost movement, mist in a little EIMI Ocean Spritz and dry hair with a diffuser or, if you're wary of thermal damage, let locks air-dry in texture-boosting braids. 
For Curly and Coily Hair
On damp, clean hair – and after the Miracle Hair Rescue has been absorbed – apply NutriCurls Curlixir Balm, a leave-in curl cream that lends definition and bounce. Make sure you work it through evenly to nourish every curl or coil, before drying your hair with your go-to texture-boosting method. This could mean plopping hair with a microfiber towel, blow-drying with a diffuser, or finger coiling strands and letting them air-dry. 
6. Soothe a Dry Scalp with a Boost of Hydration
It's not just your hair that can become damaged; your scalp experiences dryness too. Through daily wear and tear – as well as chemical treatments – the sensitive skin on your scalp may become flaky, red and irritated. If that sounds familiar, take steps to improve scalp health with Elements Calming Serum, a lightweight spray you can mist into hair follicles to restore hydration and comfort. Use it as step one in your styling hair routine when locks are clean and damp, taking care to apply the hair serum section by section before gently massaging it in.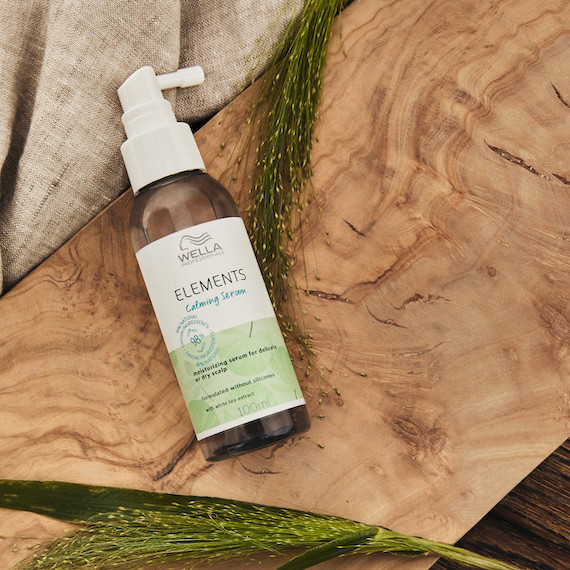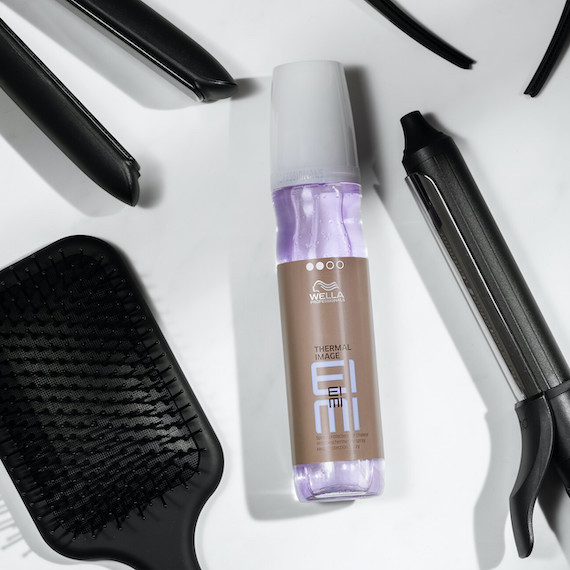 7. Reduce Your Hair's Exposure to Damaging Heat
Stop heat damage in its tracks by switching up your styling routine. First up, that means adding EIMI Thermal Image to your kit to protect strands when you're using hot tools. Apply it before blow-drying, then again before using hair straighteners or a curling iron. And remember: hair should always be 100% dry before you use hot tools to avoid singeing strands.
UV hair protection is a must too – especially in the midst of summer – so reach for a hair sunscreen to shield locks from the damaging effects of the sun. EIMI Glam Mist has UV protection built in and it gives locks a glossy shine. Spray directly onto the hair surface when your styling ritual is complete.
8. Embrace Silk Pillows and Scrunchies
Now is the time to swap elastic bands for silk scrunchies. While elastic is prone to pulling and snagging on strands, silk glides over locks and holds hair gently in place. Ideal if you suffer with brittle hair, making the switch means snags will be reduced right away, which in turn prevents breakage and hair loss through the lengths. 
Silk isn't just for your scrunchies though. You can also go to bed with silk pillowcases, which keep hair healthy by dialing down friction as you get a restful night's sleep. They're also less absorbent than cotton, so if you go to bed with a leave-in conditioner on, your pillowcase isn't going to 'steal' and soak up the nourishing goodness.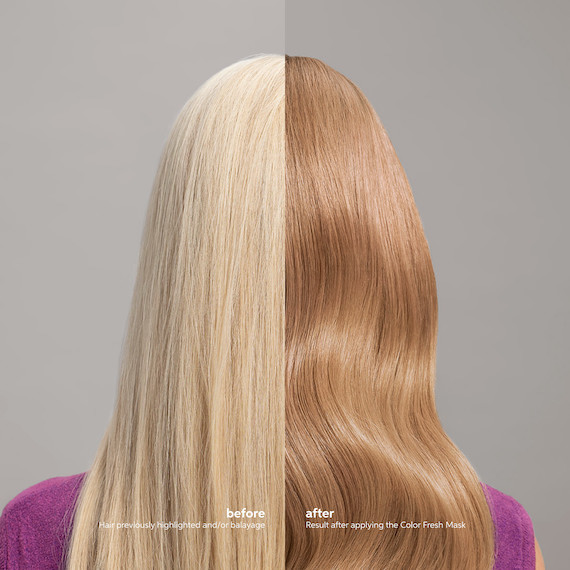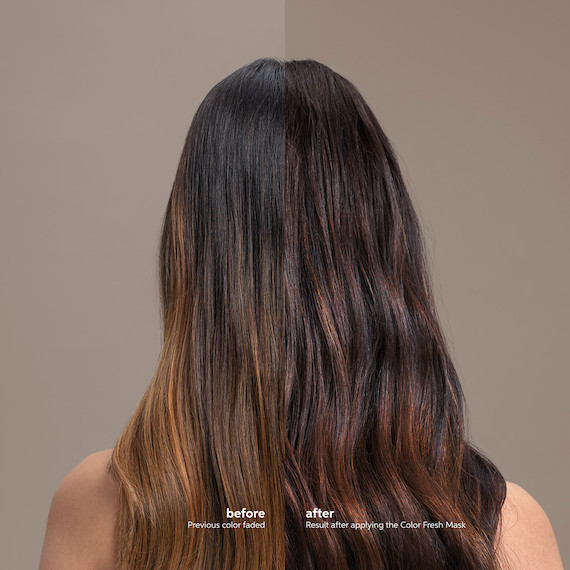 9. Brighten Dull Hair with a Colour-Depositing Mask
Damaged hair often loses its natural shine, so if your locks are looking a little lackluster, you may be in need of a dose of colour. If it's not yet time to return to your expert colourist, try giving dull hair or fading hair colour a boost at home with the Color Fresh Mask. This tinted hair mask treatment comes in a range of sheer, shade-reviving colours, so it's easy to find one that suits your existing hue. Apply it to clean, damp hair, allow it to develop for 10 minutes, then rinse out thoroughly to reveal refreshed locks with added radiance. 
Looking for more ways to repair and rehydrate damaged hair? Check out our complete collection of hair care advice, featuring salon-approved, expert tips for every hair type.