Revealed: The Best Way to Cover Grey on Dark Hair
Grey roots are no bad thing. Almost all of us will have (at least) a scattering of silver strands, and it's down to us whether we choose to embrace them or get them covered up. It's the same for your clients; there's no wrong or right way for them to treat their grey hair, but some may be keen for you to help them get white regrowth under wraps.
If that's the case, how you approach those roots comes down to the hair colour you're working on, with greys usually appearing more visible on black or brunette hair. That's why we've created this guide on how to seamlessly cover grey roots on dark hair, whether your client has just a few silvery wisps or thicker, more stubborn regrowth…
The Best Colour to Cover Grey Roots on Dark Hair
The colour you choose to cover gray hair depends on how much grey there is, and what type of result your client wants. For those who have a lower volume of greys or are looking for a more low maintenance result, consider using a demi-permanent colour, like Color Touch. This will allow you to achieve 50-70% grey coverage, and it will 'stain' salt 'n' pepper roots before gradually fading, without leaving a demarcation line.
Illumina Color is also a go-to for its light-reflective finish, as it lends hair a multi-dimensional effect that looks entirely natural. However, for a high percentage of grey and when full coverage is desired, a permanent colour is best, as it offers long-lasting, pure pigment. That's why we often turn to Koleston Perfect to swipe away silver regrowth, which gives your clients up to 100% grey coverage in a spectrum of glossy shades. Looking for ideas on which hues to choose? Discover our guide to the best colours to cover grey hair, featuring warm browns and subtle lowlights.
How to Cover Grey Roots on Dark or Brunette Hair
1. Mix the Perfect Formula
It goes without saying that every good colour creation starts with the perfect formula. How you mix it will all come down to the level of grey you're working with…
For up to 30% grey: Find a shade that matches your client's mid-lengths or the darkest part of their regrowth, and add Welloxon Perfect 6%. This should be enough to disguise wispy greys through the temples and roots.
For 30-50% grey: You'll still want to add Welloxon Perfect 6% to your client's desired Koleston Perfect hue. Try mixing in 1/3 Pure Naturals (the /0 shades) too, which will increase grey coverage.
For more than 50% grey: This is where your client might want to achieve the highest coverage. Add the Welloxon Perfect 6%, but go for 1/2 Pure Naturals whipped up with your client's shade. For dark hair with a red tinge – think mahogany or burgundy – add 1/2 Rich Naturals (the /00 shades) instead, which will help to maintain the depth and richness of a red.
2. Saturate the Roots
'Easy does it' isn't your mantra here. Don't be afraid to saturate the roots with colour, using a large tint brush to reach every layer and really cover those greys. For clients who are ultra-conscious of silver strands, you can even go back in halfway through developing, adding a little more formula to any particularly stubborn roots.
3. Check Developing Colour
While it might sound obvious, keeping an eye on developing colour is a must. The last thing you want to do is rinse out a tint before it's had the chance to work its magic. Typically, colour needs 15-25 minutes with heat and 40 minutes without, but you can extend the development if the hair is resistant, keeping in mind that the maximum development time is 40 minutes. To check how it's going, use the end of a tail comb to gently slide colour off a section of the roots, then look for any lightness peeking through. If you spot it, the colour still needs more time.
4. Get a Little Gloss
This doesn't technically cover the roots, but hair that's going grey tends to be a little drier, which can result in a dull, lackluster finish from root to tip. If your client wants to go for a glow, suggest following up root cover-up with a glossing service, which will subtly enhance their colour and give their locks a high-shine boost.
To see these tips in action, watch the below video, featuring Wella Professionals Colour Expert, Meiju Thornley. She takes you through advice on mixing your formula and ensuring colour develops flawlessly.
How to Touch Up Gray Roots on Dark Hair at Home
Hair makeup is having a moment right now. Designed to bridge the gap between salon appointments, a temporary touch-up powder can be swept on and washed out whenever DIY gray coverage is desired. We love Insta Recharge Root Concealer, which comes in a purse-friendly compact, complete with a powder pigment and handy brush to target regrowth instantly. Stock up on the WellaStore and recommend to clients who ask for an in-between solution. It comes in five adaptable shades, including Light Brown, Medium Brown and Black.
Using Highlights to Blend Grey on Dark Hair
For clients who don't want the 'get it all gone' coverage of full regrowth application, adding highlights or lowlights can be a flattering way of blending greys away. Tactically placed around the hairline, this trick can make the silvers look a little like highlights, too. Try creating the look, ensuring you add 'lights that are completely bespoke to your client's grey pattern.
For more advice on blending greys with highlights, check out this demonstration by Wella Passionista Nikki Clifford, created using Koleston Perfect:
How to Maintain Dark Hair Colour
After sweeping away those grays, recommend brunette clients adopt a colour-kind haircare routine at home; one that dials up shine and keeps their locks feeling beautifully hydrated. The INVIGO Color Brilliance Collection is their go-to for radiance and protection, allowing them to enjoy their chocolate-y tones and gray coverage for longer. Suggest they try the INVIGO Color Brilliance Color Protection Shampoo to safeguard strands from shade fade, and the INVIGO Color Brilliance Vibrant Color Conditioner to protect against dulling free radicals.
A misting of EIMI Thermal Image through damp strands will shield their colour from the fading effects of heat styling. However, the key to truly youthful-looking locks is all in the way hair shines. As well as pigment, strands gradually lose hydration over time. That's why we recommend gray coverage clients for stylers that are rich in moisture, like EIMI Glam Mist.
Meanwhile, using the Color Fresh Mask in Chocolate Touch once per week – applied in place of conditioner for 10 minutes – will refresh your client's hue in between salon appointments. Hair will shimmer and shine until they're back in your chair.
For more advice on blending gray hair, check out this tutorial by Wella Educator Christopher Rea, created using Color Touch:
SHOPWELLA STORE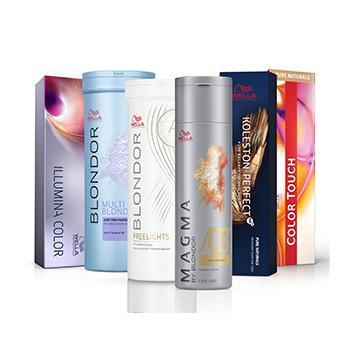 SHOP NOW
Products are only available to professionals.