These Holographic Hair Colour Ideas Have Us Mesmerized
Veiling your clients' mane in a haze of pastel rainbow hues, holographic hair colour is here – and it's every bit as magical as it sounds. Glowy, ethereal and iridescent; holo hair features a soft spectrum of tones that take mermaid hair to new heights. If you love crafting bold looks, this is one style you need to perfect.
So let's explore the tips and tricks you need to know for holographic hair, plus pro formulas for pastel-coloured inspiration. Rainbow hues, right this way…
Holographic Hair vs. Rainbow Hair: What's the Difference?
While holo hair and rainbow hair feature statement-making strokes of stand-out colours, they have two key differences:
The softness of the tones: A holographic 'do has a pastelized, iridescent edge that you don't see in rainbow locks. The colours might be the same across both locks but, for a holo mane, they're on the delicate end of the tonal spectrum. 
The placement of the shades: Often – but not always – prismatic shades are painted with a slight overlap, so the colours almost 'blur' into one another for the most seamless effect.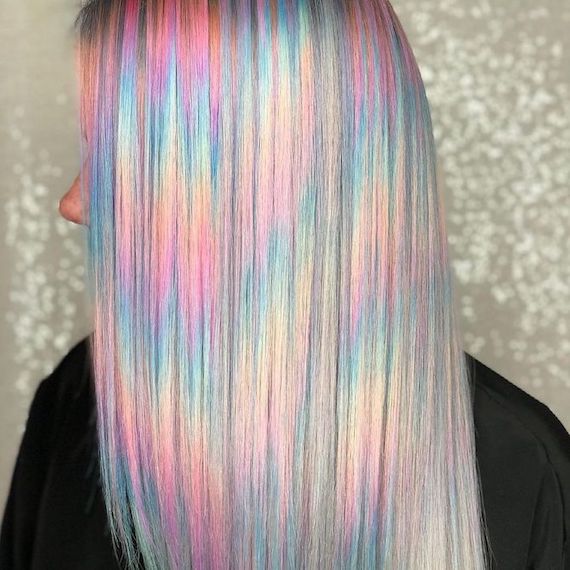 3 Top Tips for Holographic Hair
1. Don't Feel Restricted to Blonde Hair
While a lot of the holographic hair looks you'll spy might feature a light, icy blonde base colour, don't think that you can't try the trend on darker hair. As you'll see below, these shades work on dirty blonde locks too. Our key tip is to make sure, if you're working with a warmer blonde, you space highlights apart so the pastels can pop. BlondorPlex is perfect for this, as it strengthens the hair bonds in the process, while allowing you to achieve up to nine levels of lift. 
2. Choose the Perfect Colour Product
Good news: the Wella colour portfolio features a wide array of pastel shades, or bolds that you can pastelize with the right amount of clear toner. From yellow to pink to blue hair, unlock this hot hair trend with your perfect product...
Opal-Essence by Illumina Color: A permanent pastel hair pioneer, Opal-Essence by Illumina Color features soft metallic toners, including Platinum Lily and Silver Mauve. 
Koleston Perfect and Color Touch: Look to the Special Mix shades in the permanent Koleston Perfect and demi-permanent Color Touch portfolios. They feature a host of bold brights that you can pastelize with 0/00 Clear for iridescent colours that positively shine.
Color Fresh CREATE: This semi-permanent colour collection, Color Fresh CREATE, is all-out vivid, with 12 pure vibrant shades to play with, plus a Tomorrow Clear additive for beautiful pastelization. 
Shinefinity: For a holographic style that steers pink, purple and blue, there are a number of Shinefinity Color Glaze shades you can use. Some of our favourites include 00/89 Blue Booster and 00/66 Violet Booster. 
3. Create Your Own Spectrum of Shades
Holographic manes are made up of a spectrum of pastel shades, usually featuring yellow, pink, blue, green and lavender. You can use as many or as few of these as you like for your own creations. Just make sure you place the right tones side by side to deliver maximum impact. For example, pastel pink and lilac may melt into one another when they're next to each other, but with a blue or yellow in between, they make more of a statement. Plan your tone placement ahead of painting by looking at pro examples (there are plenty below) or sketching on paper to figure out what works. 
Holo Hair Formulas to Try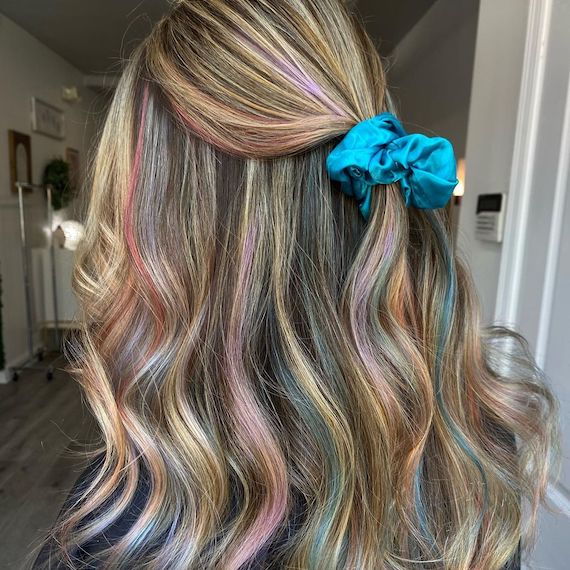 1
Pastel Highlights Through Dirty Blonde Hair
Image Credit: @effortlysshair
These sweeps of pastel colours are reminiscent of the rainbow hair trend, but the sky blue, luminous lilac and candy floss pink hues have a holographic vibe. Perfect for clients with dark blonde hair seeking low-commitment pastels, the look can be recreated with shades of Color Fresh CREATE. Apply ribbons of Nu-Dist Pink, Super Petrol + Tomorrow Clear, Pure Violet + Tomorrow Clear, plus a few strokes of Color Touch 10/01 for a boost of brighter blonde.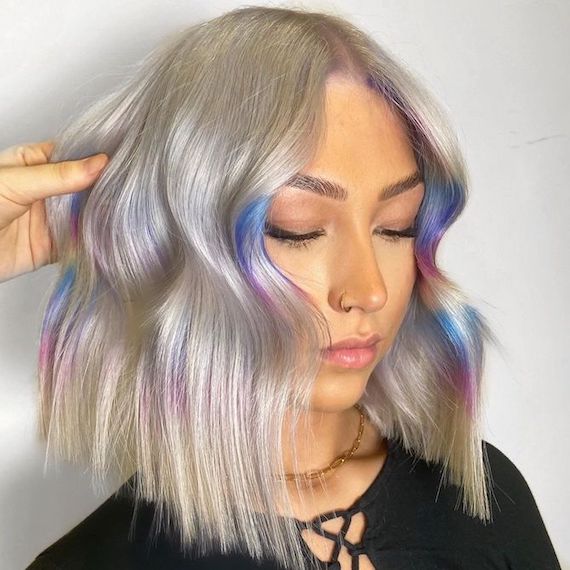 2
Face-Framing Highlights in Rainbow Holographic Shades
Image Credit: @hairbygerrileigh
Colour us obsessed with this holographic face frame. Popping up through the mid-lengths of locks, against silver blonde roots and tips, it sees a spectrum of Color Fresh CREATE tones at play. You're seeing:
Pink: High Magenta + Tomorrow Clear
Blue: New Blue + Tomorrow Clear
Purple: Ultra Purple + High Magenta + Tomorrow Clear
With a few strokes through the mid-section too, this is an all-out masterpiece. We love how Gerrileigh has mixed vivid colours (like that blue) with pastels to give the look an extra statement-making edge.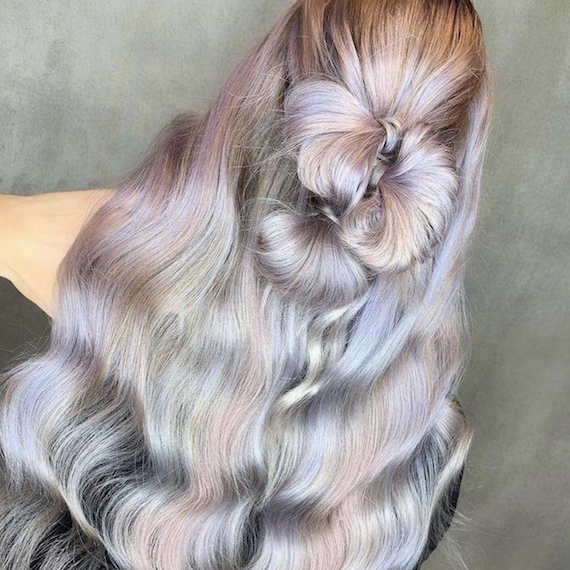 3
Opal Holographic Hair
Image Credit: @aslabreyt
Metallic pink and lavender hues intertwine in this all-over pastel-coloured mane, crafted with two shades of Opal-Essence by Illumina Color. You're seeing Platinum Lily and Silver Mauve painted in chunky highlights, which melt together seamlessly for an opal effect. Sweep through a cool, blonde base to replicate this frosted finish, and your client will be working the definition of fairy-tale locks.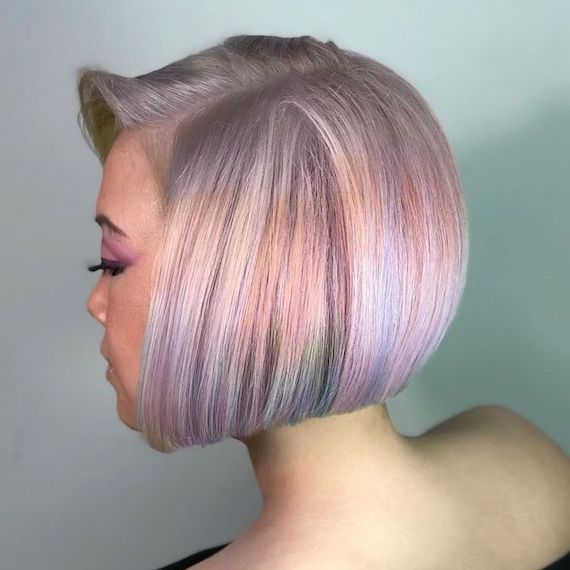 4
Opal Colours Through a Platinum Blonde Bob
Image Credit: @alejandrojimenezofficial
An entire mane of opal colours? We're officially sold. This purple-pink bob features a whisper of holo tones through the lengths and ends, which give the look added dimension. These are full-on fantasy that we can't get enough of, and you can recreate them by mixing up these Color Fresh CREATE formulas:
Purple: Pure Violet + Tomorrow Clear, 
Green: Neverseen Green + Super Petrol + Tomorrow Clear 
Pastel Pink: Nu-Dist Pink + Tomorrow Clear
Peachy Pink: Nu-Dist Pink + Hyper Coral + Tomorrow Clear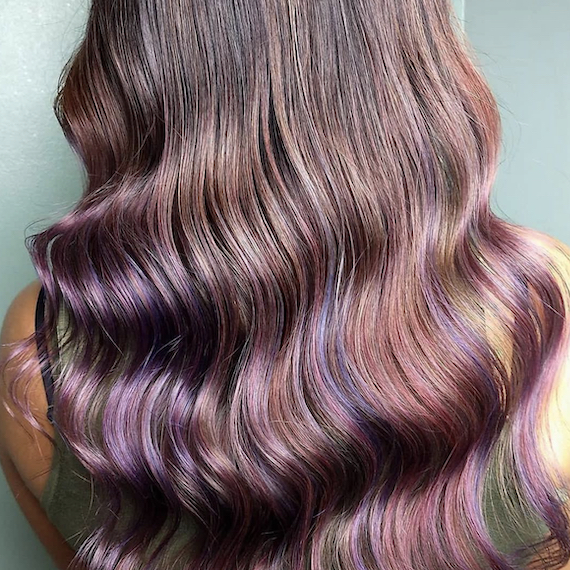 5
Holographic Colours On Dark Hair
Image Credit: @cassandra_foehr
Here's proof that dark brown hair can work a holographic vibe. This brunette mane features a prismatic balayage with an emphasis on pink and purple iridescent hair colours that stand out. Try it yourself by first lifting lengths and ends with Blondor Freelights + 9%. Then, paint alternating ribbons in these three Color Fresh CREATE formulas:
Blue Violet: Pure Violet + Tomorrow Clear
Pink Purple: High Magenta + Ultra Purple + Tomorrow Clear
Pure Purple: Ultra Purple + Tomorrow Clear.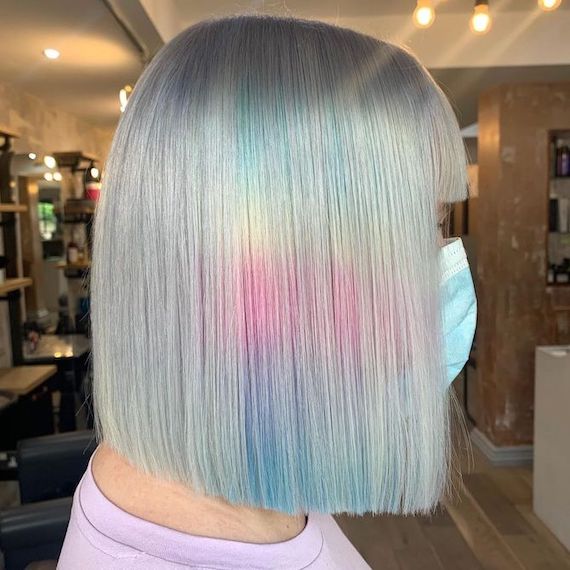 6
Futuristic Holographic Hair With a Fringe
Image Credit: @georgia_colour
If your client is working a blonde bob with a fringe, try adding prismatic through the sides, a la Georgia Withers, and tone the rest of the hair with a platinum blonde or single pastel shade. Here, Illumina Color 10/81 was used to boost the blonde shade, then rinsed out so that the following Color Fresh CREATE hues could be carefully painted on: 
Turquoise: Super Petrol + Tomorrow Clear
Yellow: Future Yellow
Pink: High Magenta + Tomorrow Clear
Lilac: Ultra Purple + Tomorrow Clear
The transition from turquoise to yellow to pink and back to turquoise again gives the hues a symbiotic feel, while the touch of grey blonde through the rest of the hair allows the pastels to pop. 
How to Maintain the Holographic Hair Trend
Give your client's holo mane some extra special care with these tips for colour-treated hair...
1. Protect Locks From Metals
Metal in hair is common. It comes from the air we breathe and the water we wash with – and it's 100% invisible, so you may not know it's lurking in locks. However, it's one of the key culprits that can speed up the fading process in your client's colour. It can also give hair strands a brassy sheen if left untreated.
That's why we recommend  an antioxidant-packed shampoo to maintain coloured hair. ColorMotion+ Color Protection Shampoo is our go-to, as it neutralizes metals in the hair to keep your shades brighter for longer. 
2. Enhance Iridescent Shades With Shine
Light, pastel hair colours reflect the light beautifully, but added shine is a must for irresistible iridescence. So, remind your client how important it is to make a glossing mist part of their daily ritual – especially one that comes with a host of other hair care benefits.
EIMI Glam Mist is the perfect finishing spray, as it's lightweight enough to suit all hair types, giving holographic hair a sheer, luminous glow. Plus, it prevents humidity-induced frizz in between styling sessions. Spray it directly onto lengths and comb through or smooth with fingertips for even distribution. Locks will feel soft and silky, with a shine like nothing else.
3. Book in For Regular Hair Tone Top-Ups
We don't recommend your client tops up their colourful hair at home, as the spectrum of tones – as well as the placement – is hard to replicate using DIY dyes. Instead, remind them how important it is to book in with a professional colourist, returning at least every six weeks to give their pastels a much-needed refresh. Nobody ever said holographic hair was low-maintenance, but it truly is worth the extra time and care involved. 
Now, go ahead and kickstart your own holographic hair creations. Make sure you share them with us on Instagram by tagging us
@WellaHairUKI - we can't wait to see them.