How to Create the Punchiest Peacock Hair
You know the saying, 'proud as a peacock'? That's exactly how we feel when we pull off yet another peacock hair creation for one of our colour-obsessed clients. It's one of the most intricate and artistic trends of the coming season, and as summer turns to fall, it's also going to be one of the most coveted.
So, brush up early. Before those peacock hair colour requests come in, get the full lowdown on the trend – inspiration and formulas included…
The Best Colour for Peacock Hair
Your secret weapon for peacock hair is Color Fresh CREATE; a collection of semi-permanent, ammonia free hair colours that are bold, bright and 100% intermixable. Blend them together to customize your colour or sweep them on solo for statement-making pigment. Here are six quick tips to achieve the dreamiest finished look…
1. Pre-Lighten Locks
To ensure bold color really pops, Color Fresh CREATE is best applied to a lighter base. However, peacock hair is usually paired with a dark brunette shade, which means you may need to pre-lighten sections of hair before you apply your blend of blues, greens and purples. Try Blondor Freelights to lift locks, which is ideal for freehand application, allowing you to perfect your balayage technique. Then, make sure you rinse 'lights thoroughly once developed, so hair is ready for the next, colourful step.
2. Choose Your Hues
Because peacock hair relies on a range of colours, the full Color Fresh CREATE portfolio of 12 shades can be used to perfect this trend. Our go-tos? New Blue, Ultra Purple, Super Petrol, Pure Violet and High Magenta are must-haves, but Uber Gold and Infinite Orange can also be used for a gilded twist. Mix them together or sweep them side-by-side – no developer required.
3. Make it Muted
Peacock hair isn't typically a muted look, but if your client does want to take the trend a little deeper, try adding the Tonight Dusk additive to your Color Fresh CREATE blends. Less is more, so mix it 20:1, meaning 20 parts the Color Fresh Create mixture to just one part Tonight Dusk. This is enough to shift the tone in a darker direction.
4. Sweep it On
With your tint brush, start sweeping on your Color Fresh CREATE shades in alternating ribbons. It's important you have at least two colours or blends to work with, but more will make the look even bolder. Try blue and green side-by-side for a two-tone effect, do balayage with a magenta and sapphire, or go all-out by swathing locks in tones of teal, turquoise, violet and fuchsia.
5. Up the Intensity
We recommend allowing your Color Fresh CREATE shades to develop for at least 20 minutes but extending to 30 minutes will give the look even more intensity. And – let's face it – peacock hair is all about wearing punchy pigments loud and proud, so adding that extra 10 minutes is going to upgrade your results.
6. Embrace the Fade
One of our favorite features of Color Fresh CREATE is its true-to-tone fading. It doesn't go brassy – the colors simply pastelise over 20 washes, while maintaining the essence of the hue. Note that, because Tonight Dusk has a hint of blue, it will typically fade in the blue direction.
Five Peacock Hair Ideas and Formulas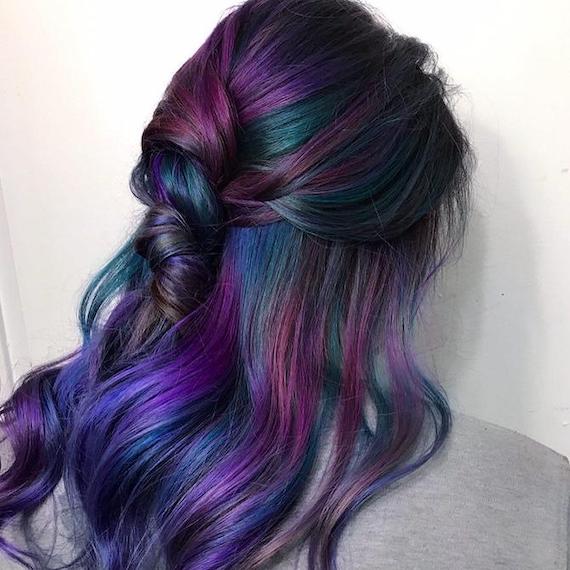 1
1. Punchy Peacock Hair
Image Credit: @daniellaviolet
Blues, purples, pinks and greens all feature in this ultra-punchy peacock look, which saw hair first pre-lightened to a pale yellow shade with Blondor + 9%. Once the lift had been achieved, locks were toned using Color Touch. Then, after rinsing, Color Fresh CREATE in Pure Violet, New Blue, High Magenta and Neverseen Green were applied with a melting technique. Flawless.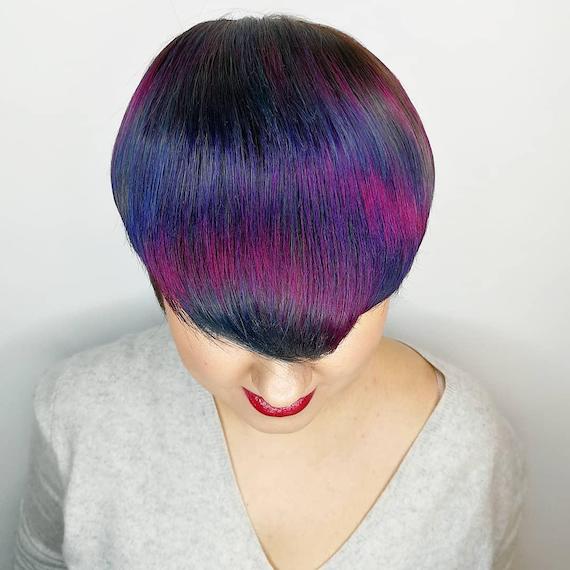 2
2. Short Peacock Hair
Image Credit: @mr.mishwu
Sometimes, when a trend means wearing a selection of bold, bright colours, it can be tricky to work on shorter locks. The limited length leaves you less room to sweep and swathe strands in a rainbow of hues. However, Mihai Badin proves a peacock pixie crop is ultra-impactful, painting three blends horizontally through the hair, so green blends into blue and blue blends into purple. The formulas? He's used Pure Violet + Tomorrow Clear (1:1), High Magenta + Tomorrow Clear (1:2) and, finally, Super Petrol on its own.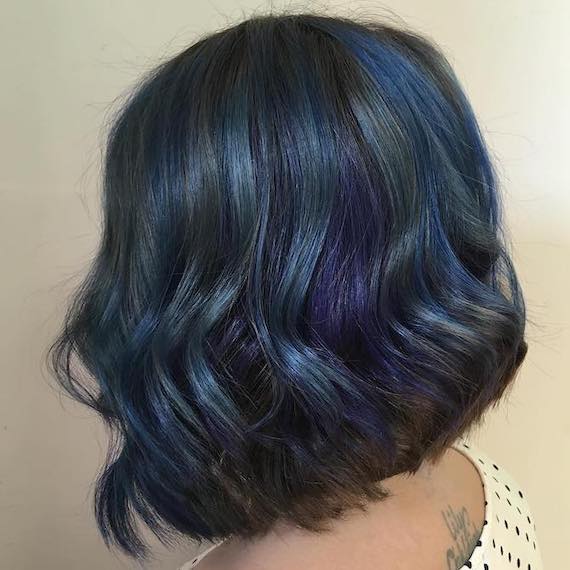 3
3. Peacock Blue Highlights
Image Credit: @fergalwella
For fans of denim blue hair, this highlighted peacock look is an easy upgrade, with a little muted teal thrown in to add more depth and dimension. Wella Passionista Fergal Doyle alternated New Blue with Super Petrol and Ultra Purple to reach this multi-tonal finish – perfect for bumping up a chin-skimming bob. Give short peacock hair an extra boost by styling in a loose wave using the Pro Curl Color Curling Iron, then finish with EIMI Glam Mist to enhance shine.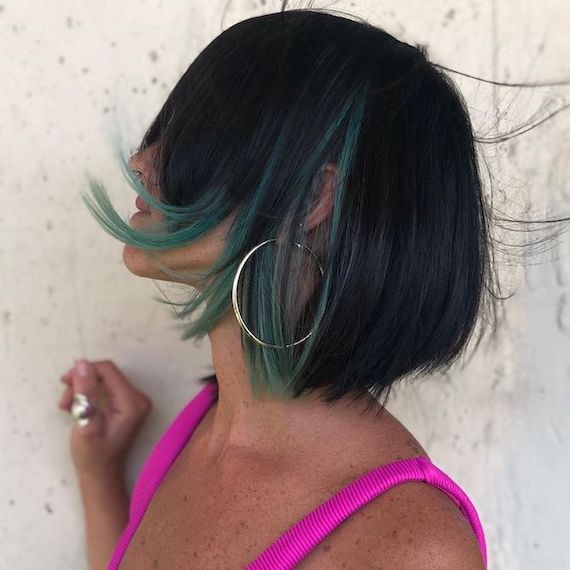 4
4. Peekaboo Peacock Hair
Image Credit: @gabi_danhirsh
Here's proof that peacock hair can be subtle; paint it 'peekaboo' style by sweeping jewel tones in the lower layers, so bold colour only appears when the hair moves. Straighten locks so they're silky and sleek, swishing on the go to reveal peacock pigments. Gabi Danhirsh has nailed it with this smooth bob. Try using Super Petrol to mimic the hue.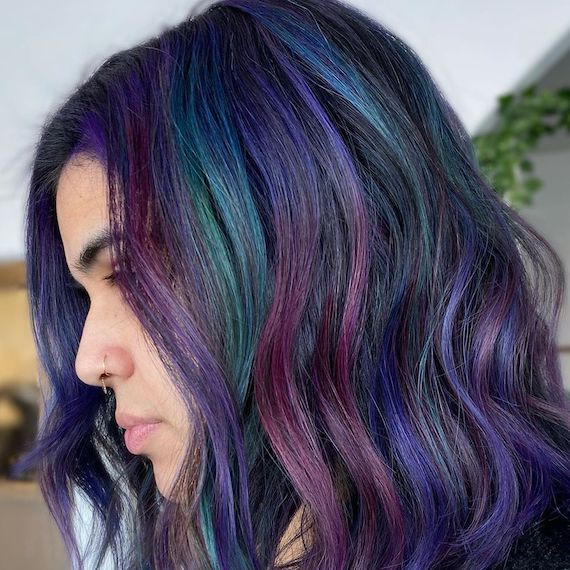 5
5. Peacock Feather Highlights
Image Credit: @janetmallon
Another Blondor meets Color Fresh CREATE 'do, Wella Passionista Janet Mallon has done some major mixing to feather violets, turquoises and cobalts through her client's bob. Not only do the shades sit next to each other; they also melt together from root to tip, so blues mingle with purples and greens mingle with teals in a soft and seamless way.