Silver Balayage How-To and Hair Ideas
What's better than nailing one hot hair trend? Nailing two in a single look, which is exactly what you get with summer's beyond 'gram-worthy silver balayage. Fusing high-shine silver hair with painterly balayage, the effect is seriously head-turning. And, while it might take a few salon sessions to achieve, it's worth every last drop of pre-lightener and toner. 
Want in? Keep scrolling for your everything guide to flawless silver balayage...
What is Silver Balayage?
You already know what silver hair is, but what about balayage? To understand this technique, you need to know how it differs from a silver ombre first. Here's the breakdown…
Silver ombre: Ombre – seen on the left - is all about a dark-to-light graduation with a smooth, even fade. The roots are usually left natural or colored darker, while the mid-lengths and ends get lighter and brighter as you reach the tips. 
Silver balayage: Instead of lightening hair evenly - as you would with a silver ombre look - balayage (right) is achieved using a freehand highlighting technique. This means pieces are hand-painted for an ultra-seamless blend, often leaving a few natural tones peeking through to break up the lightened areas. Many use balayage in tandem with blonde highlights to create a sun-kissed look, but the process is just as effective with bolder shades, like pink, blue or, well... silver.  
How to Achieve Silver Balayage
All colorists know that silver can be a tricky hair color to reach. It requires the perfect balance of cool, ashy tones to ensure the heavy metal hue is at its most luminous. Throw in a dark base color that's in need of lightening, and you're setting yourself a real challenge, which means you'll want a few extra tricks up your sleeve for a flattering end result... 
1. Pre-Lighten Dark Locks
For silver hair to shine, any base color darker than a very light blonde will need pre-lightening. Use Blondor Freelights with a higher volume to reach a very pale yellow hue before toning. As this is a balayage look, the placement of your lighter ribbons is key, so stroke through the mid-lengths, ends and face-framing layers for the most flattering finish. If the hair has previously been colored darker, it will take a few sessions in the salon to achieve this lightness. Pairing the lightener with WellaPlex can help to keep hair strong throughout the process. 
2. Try Foilyage
Adding foils to a balayage technique is ideal if you're working with darker hair, as it allows for deeper penetration of the pre-lightener and an overall brighter result. This process is known as 'foilyage', as it stills sees the color painted freehand, but with the extra lightening bonus of using foils. 
3. Find the Dream Formula
The best silver toner is light-reflective and beyond luminous. Our pick? Illumina Color; a permanent formula that elevates light to its highest spectrum. Look to the Cool Collection of shades for a kaleidoscope of silvery hues or try Opal Essence by Illumina Color in Silver Mauve for a pale metallic with a purple sheen.
For lower-commitment color, demi-permanent Color Touch offers so many shade options, with its Rich Naturals Portfolio serving up from deep, smokey tones and light almost-platinums. Try 7/86 for a inky violet grey, 9/96 for an icy rose silver-blonde or 9/86 to reach a pearlescent metallic that light-haired clients will love.  
4. Add a Bond Strengthener
The brightest of silvers require plenty of lightening. To achieve a clean and bright blonde while respecting the hair use BlondorPlex with Bond Technology. Complete the service with WellaPlex No 2 Bond Stabilizer. It's also wise to add the No3 Hair Stabilizer to your at-home routine, as it extends the shine-boosting, strengthening effects of the WellaPlex treatment. And, remember: the better the condition of your hair, the longer the silver hues will last.
Six Silver Balayage Ideas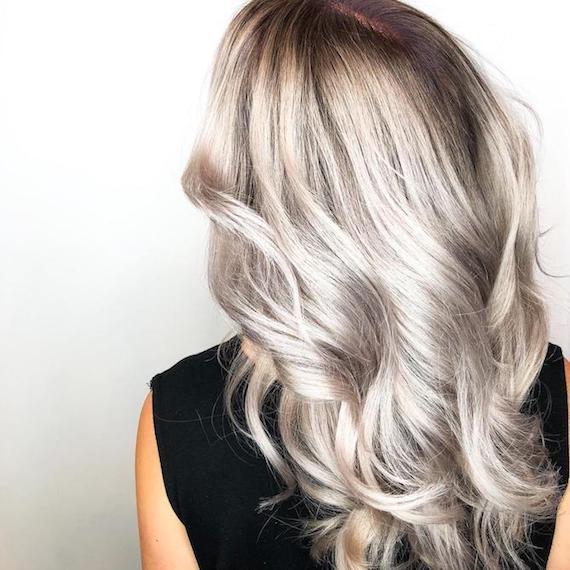 1
True Silver Balayage
Image Credit: @vivian_neske_wella
Bright-as-a-penny silvers team dreamily with shine-boosting stylers, like our light, luminous and layerable EIMI Oil Spritz. After tonging locks, lightly mist the spray into the palms of hands, then gently press through the surface of waves. Add more where needed for extra glow.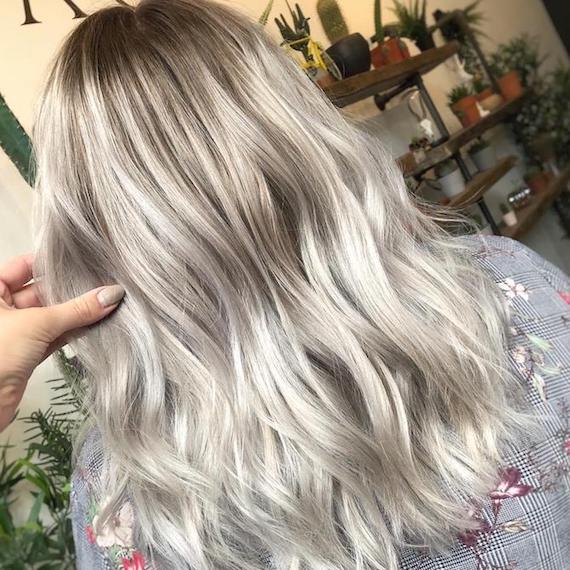 2
Silver Blonde Balayage
Image Credit: @tialambourn_hair
One-part ice blonde and one-part silver, this pale, near-platinum hue is as cool as it gets, veiling locks in a frosted sheen that looks like an Instagram dream come true. "As we know, the lighter the hair, the higher the maintenance," Tia Lambourn said on her Instagram, "but pop on a root stretch and Bob's your uncle." This is how a root smudge is done.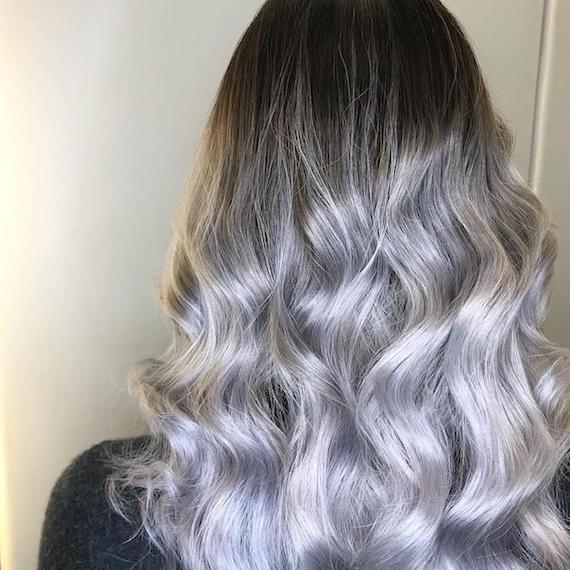 3
Silver Grey Balayage
Image Credit: @mitch_zidu
Just, wow. There's something fairytale-like about this hyper-shiny creation, expertly lightened and toned by Wella Passionista, Mitch Zidu. He used Illumina Color to create the look, but we didn't need to tell you that. The signature shine and lustre are an instant giveaway.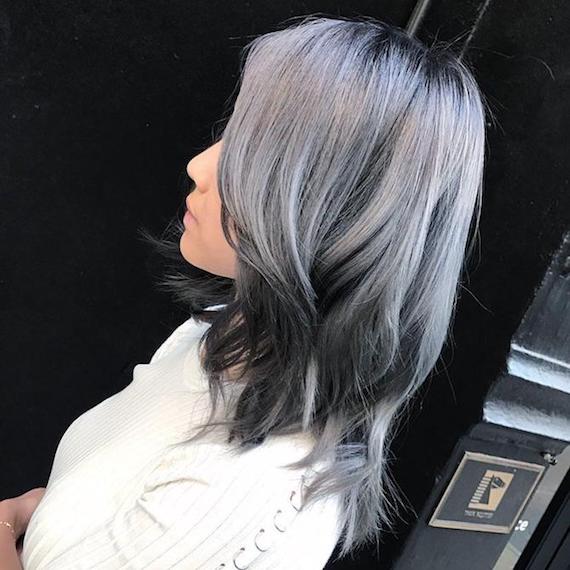 4
Reverse Silver Balayage
Image Credit: @unfade_mavis
While traditional balayage sees locks go lighter through the mid-lengths and ends, reverse balayage flips the shades on their head, so the darkest color is at the tips. We're obsessed with this take on the trend, with silver at the roots and a black shade through the lower layers. Fire.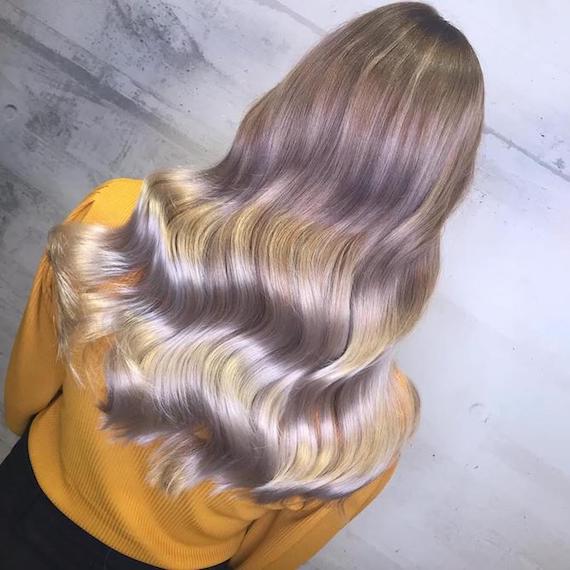 5
Pale Silver Balayage
Image Credit: @wellanordic and @hairbypiiamaaria
Pale, pearlescent perfection. That's how we'd describe this beautiful balayage look, which features dark blonde roots that melt into a silky, smokey, summery silver. Koleston Perfect 7/31 + 1.9% Welloxon Perfect (1:2) was applied to the roots, then mid-lengths and ends were pre-lightened with Blondor Freelights + 6% Freelights Developer. Finally, 9/8 + 10/95 + 1.9% Welloxon Perfect (1:2) was used to tone locks to the dreamiest silver. Bravo, Wella Master Color Expert, Piia-Maaria.
Taking Care of Silver Balayage Hair
Keeping silver locks cool is a major must – in more ways than one. First up, treat hair to INVIGO Blonde Recharge Cool Blonde Color Refreshing Shampoo and Conditioner to maintain that ashy tone, removing any brassy hues. Heat is also a big no-no, so use EIMI Thermal Image to safeguard strands from heated tools.
Hair still feeling parched? Add the WellaPlex No3 Hair Stabilizer to your weekly pamper session, smoothing the rich treatment from root to tip for instant quenching and bolstered strength. We like to wrap a warm towel around hair while this cossetting mask is on for a spa-like experience. 
If you're looking for more summer hair inspiration, we've got all the color guides you need, from 24 shades of blonde hair to rainbow looks that'll have you hooked. You can also find endless trends on the @WellaHairUSA Instagram, as well as tips and never-before-seen tricks on the Wella Hair Pinterest. Enjoy...