THE BACKSTORY
Peter's love of music was the muse for the care-free, cool-girl hair on the catwalk, culminating in a look that draws on the spirit of musical legends – and their inimitable posse.
"I've worked with Peter Dundas many times before, but to work on his first eponymous collection is a real honor," Eugene said. "His clothes are beautiful, flamboyant, with a nod to the 1970s, like the clothes the girlfriend of a really famous musician would wear."
And, so, the braid brigade was formed. Eugene and Peter decided to give models a tousled plait, adding edge to a collection of denim bustier dresses and lampshade minis.
Hair bows billowed behind them, black liner was smudged around the eyes, and everything about the style said, ''I woke up like this - and look even better than I did last night..."
THE KEY TECHNIQUE
Want to be a cooler-than-thou Dundas girl? Of course you do. To get the look, Eugene started with "a great blow-dry to smooth the cuticles down and make the quality of the hair look really incredible."
He added: "Every girl had a centre parting: sharp, clean, with a minimal kind of feeling to it. We spritzed the roots with Wella Professionals EIMI Perfect Setting and then blow-dried just the top layer of the hair. The hair underneath is barely touched, which gives a realistic volume to the hair."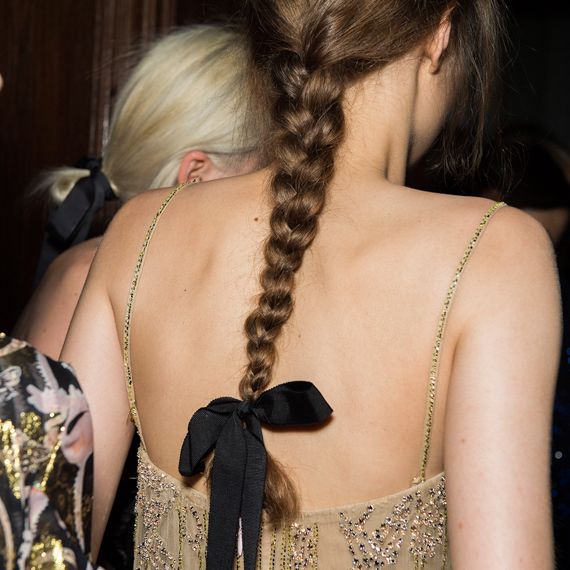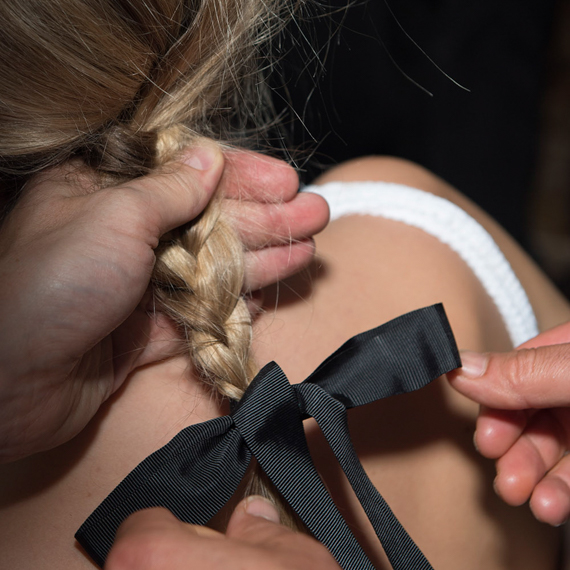 Once dried, hair was gathered into a low ponytail at the nape of the neck, with a few face-framing pieces loosened to create a raw, tousled texture. Eugene didn't tie the pony – instead, he plaited it into a classic braid, secured the look with a thin band, and finished with a matte, black grosgrain.
Then, it was time for the finishing touch. "Before the models hit the runway, we added a little bit of Wella Professionals Oil Reflections Light Luminous Reflective Oil to flatten the hair and push it into shape," Eugene explained.
"The end result is a look that moves beautifully, with good energy. It's very pretty and spontaneous, and it just looks great."
YOUR BACKSTAGE ESSENTIAL TOOLS TO RECREATE THIS ROCK 'N' ROLL LOOK
SHOPWELLA STORE
BUY NOW
Some products are available only to Wella Professionals.
Inspired by these looks? Find a Wella salon near you to get your own.