Twisted Texture at Olivier Theyskens AW18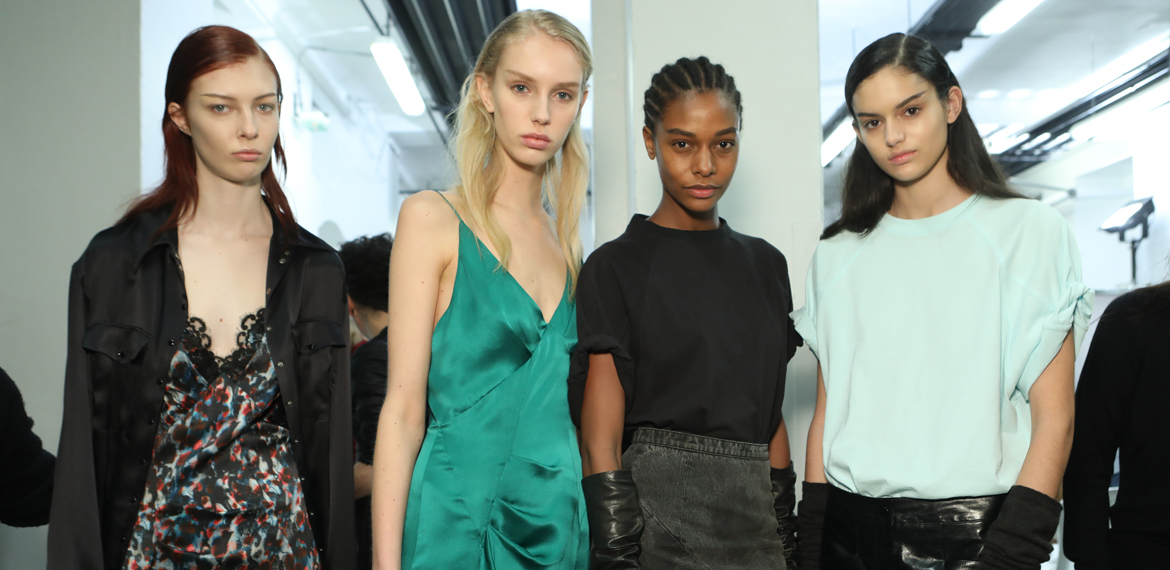 "There's a very strong concept for this show," explained Eugene Souleiman, Wella Professionals Global Creative Director and ghd Ambassador. "Olivier's clothes are exquisite but with attitude. The collection combines beautiful tailoring with heavy, tough footwear that gives the girls an attitude as they walk. I wanted to echo the spirit of that in the hair."
And echo it, he did. Just as the fragile ensembles featured hard-edged accents, each models' hairstyle was made up of varying textures, from the loose and free-flowing to the twisted and tousled.
"The key to this look is combining the girl's natural hair with dreadlocks," Eugene said. "It's all about playing with qualities of hair and textures, which are not normally associated with one another. To do something chic and beautiful but raw and tough at the same time.
"These girls are empowered, they are assertive, opinionated and confident with a strong attitude. All of the looks are tailored to suit the girls but in essence the style of it remains."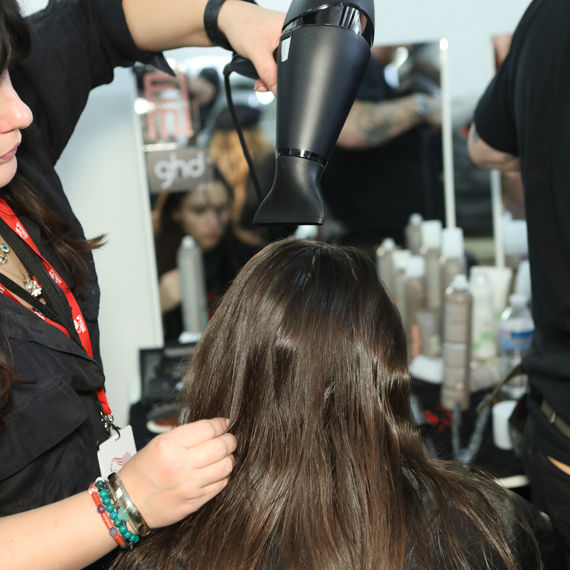 To create this raw, textured style, Eugene first brushed hair backwards, lightly shaking it out to let each model's natural parting fall into place. He tucked small sections of hair behind ears, lightly sprayed them with EIMI Mistify Me Light and ruffled lengths in between sprays for a shiny, textured finish. Tension was added by holding a hair net tightly over the top of the head and gently blasting with the ghd Air Hair Dryer.
Next, Eugene created dreadlocks in each model's hair by selecting sections at random, and applying EIMI Ocean Spritz for additional grit and hold. He then backcombed the section. "As you're backcombing, the piece of hair you're working with gets shorter and shorter. Keep adding to it by including small amounts of hair around it and continue backcombing."
"As you're working down the shaft of the hair, you're continuously picking up bits of hair to hold the dreadlock together," explains Eugene. "Some of them are going to be quite small and thin, some will be bigger and thicker…"
He finished with a spritz of EIMI Dry Me to remove any remaining shine. Then models pulled on those chunky biker boots and went stomping down the catwalk…
SHOPWELLA STORE
SHOP NOW
Some products are only available to professionals.