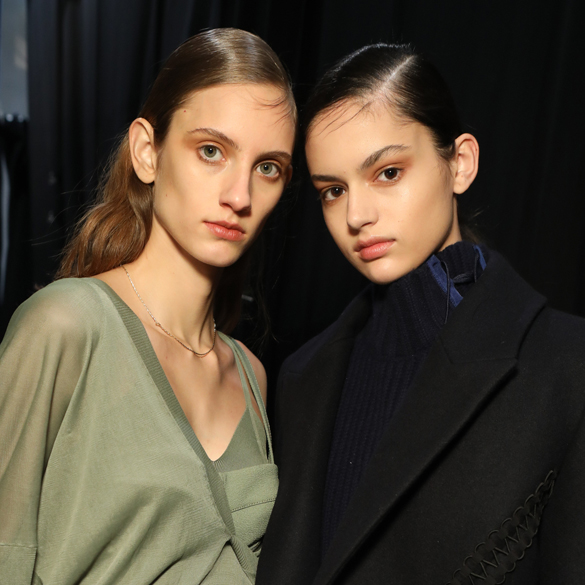 While detailed hairdos can be tricky to coif in a hectic backstage area, it was essential that the hair reflected the precise and structured aesthetic of the clothes. To do so, Eugene focused on clean, soft and tough locks that were let loose or tied into low ponytails, with products at the root creating a smoothed and 'stretched' effect.
To get the look, Eugene started by applying Elements Leave In Conditioning Spray, focusing the product toward the roots for a slightly dirty, lived-in texture. "The key to this is not spraying the roots directly," said Eugene, "But angling the nozzle of the can so that it distributes product on the roots, then filters out towards the ends. It's almost like you're airbrushing hair whilst you're applying the product".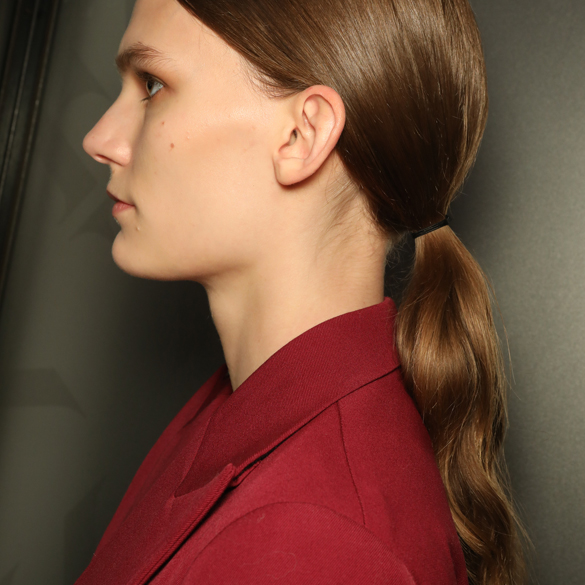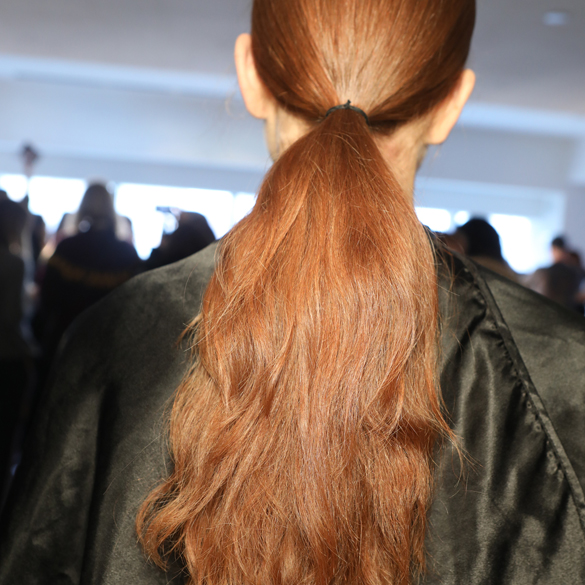 Once roots had been sprayed, hair was flattened and sectioned into a side parting, then blasted with the ghd Air Hair Dryer for up to 10 minutes. A net was placed over the top to keep the roots flat and in place while drying, then EIMI Sugar Lift was ruffled through the ends of hair to add texture and rawness.
To increase the movement, lengths were then twisted into a ponytail and blasted with the dryer again. "Because you're twisting the hair as you dry, you're using hair to create its own movement," explained Eugene. "You're using hair like you would a roller. The difference here is that you get a more natural, raw look. It's not like a round curl, it's more of a loose, soft wave."
The look was finished with a little EIMI Dry Me applied to ends, creating a natural contrast between sleek, flat top and messier mid-lengths. Now, that's the kind of tough love we can get on board with…
SHOPWELLA STORE
SHOP NOW
Some products are only available to professionals.