What is Clear Hair Gloss? Your Shine-Boosting Guide
A clear hair gloss might be one of the most underrated services on your salon's colour menu. However, this subtle yet statement-making treatment holds more benefits than almost any other product in your kit. Sure, it doesn't tint or tone, but it dials up shine to almost mirror-like levels. That's just one of many reasons clear gloss deserves more credit than it gets. Here's everything you need to know…
Hold Up – What is a Clear Gloss?
Think of it as a top coat for your hair. A clear glossing service sees a clear 'colour' mixed with a developer and post-colour treatment to create a shine-boosting solution that fills and closes the hair's cuticle. It may be colourless, but this smoothing effect allows light to bounce off the surface of strands, creating unrivalled radiance – exactly like a clear nail polish might. There are a few ways for clients to 'DIY' a clear glossing service, but – like all colour services – the best results are seen when it's carried out by a professional.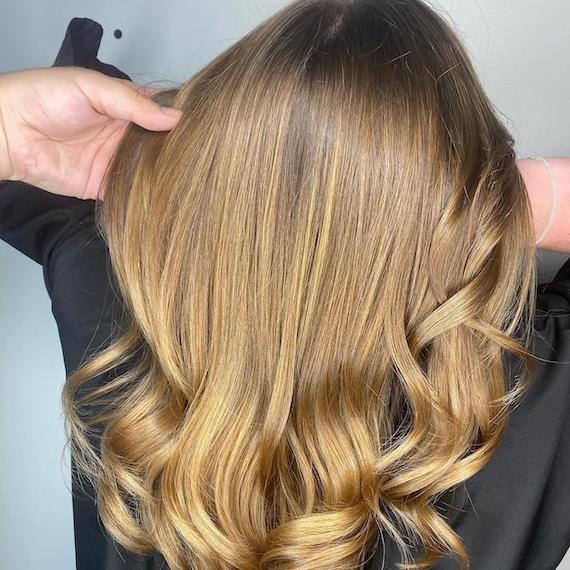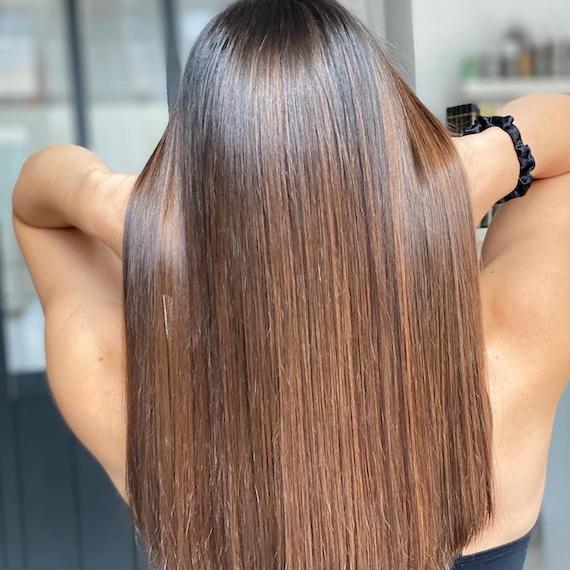 Clear Gloss vs. Colour Gloss: What is the Difference?
While a clear gloss is all about shine, a colour glossing service is used when your client wants to top up their existing tone, neutralize brassiness, or subtly shift their current shade. In place of a clear product, a colour is added to the glossing formula. This lends a gentle hint of a tint that takes just 5-10 minutes to develop. A colour gloss is ideal for clients who feel like their shade requires tweaking, but if it's simply megawatt shine they want, a clear hair gloss is the way to go.
What are the Benefits of a Clear Hair Gloss?
1. It Offers Shine Like Nothing Else
If your client's current shade needs a shine boost, a clear hair gloss will help them achieve it – and fast. It dials up luminosity, while making hair feel smoother, less frizzy and more manageable. You can use it to breathe new life into both natural or coloured hair. Plus, it achieves spell-binding results no matter when you use it; straight after colouring or in the weeks before their next colour appointment.
2. It Suits All Hair Types and Colours
Whose hair doesn't look better with added shine? Glossy locks suits everyone, and a clear hair gloss is no different; you can apply it to curly, straight, wavy, fine, coarse and afro hair. It flatters all hair colours, too, whether your client's locks are blonde, red, brunette, or pastel-toned. There are no limits when it comes to applying a clear hair gloss.
3. It Works in Just 30 Minutes
All you have to do is sweep the clear gloss on, allow it to develop, rinse thoroughly, then style hair as usual. You could have your client in and out the door in 30 minutes – great for a lunch break pick-me-up.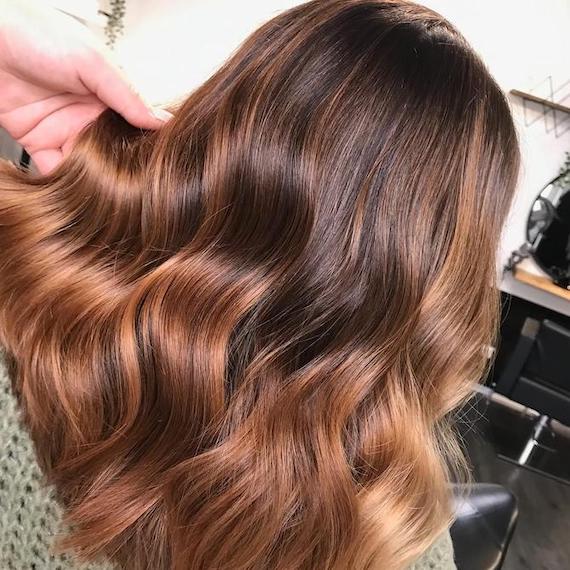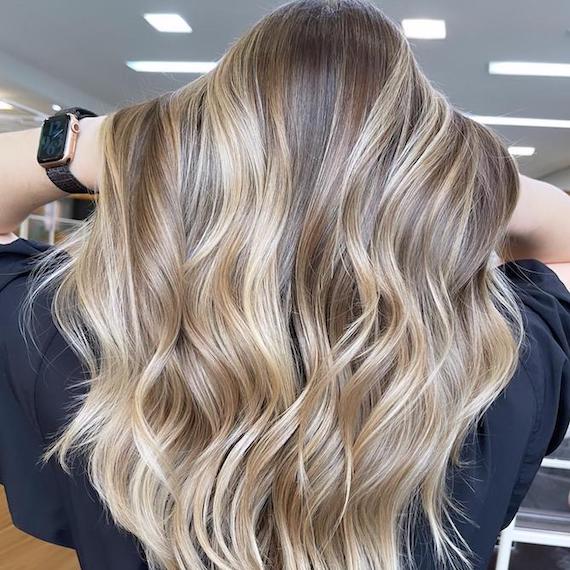 How Do You Use a Hair Gloss?
It's time to get into the process. Though quick, a clear hair glossing service requires expert care to achieve the best (read: shiniest and healthiest-looking) results. Follow these steps...
Step 1: Start with Clean Hair
In order for the glossing formula to take to your client's hair, you should start with a clean, dry base. Shampoo locks with INVIGO Aqua Pure Purifying Shampoo, then blowdry to prep their locks.
Step 2: Mix Up the Gloss
Create your client's clear glossing formula with Koleston Perfect Special Mix 0/00, Welloxon Perfect 1.9% and INVIGO Post Color Treatment. Blend the three together at a 1:1:1 ratio.
Step 3: Saturate Your Client's Strands
You're not just sweeping the clear gloss through your client's hair; you're saturating every strand. Make sure it's evenly applied from root to tip, through every layer, for all-over shine. Comb through with a wide-toothed comb for easy distribution.
Step 4: Wait for the Gloss to Develop
Once you've applied the gloss all over, allow it to develop for 5-10 minutes. Pro tip: When doing the application, start with the 'dullest' sections of hair first, as these will end up having the clear gloss formula on them for the longest.
Step 5: Rinse the Gloss Out Thoroughly
Rinse and shampoo the gloss thoroughly, ensuring every last drop is gone. If your client's hair is coloured, use the INVIGO Color Brilliance Color Protecting Shampoo. If it's not, reach for the Oil Reflections Luminous Reveal Shampoo for added radiance.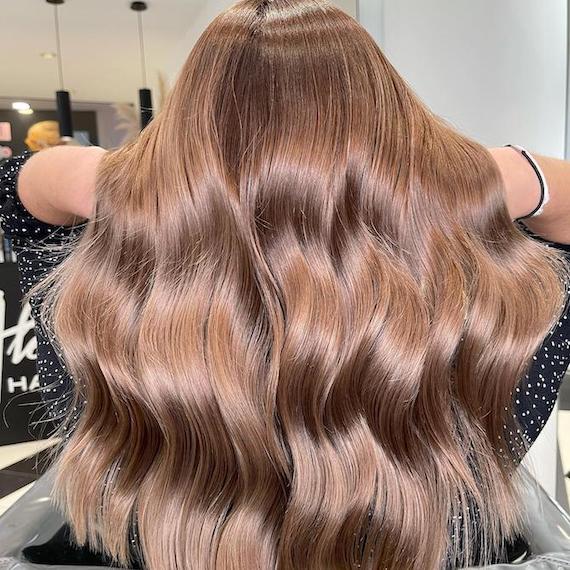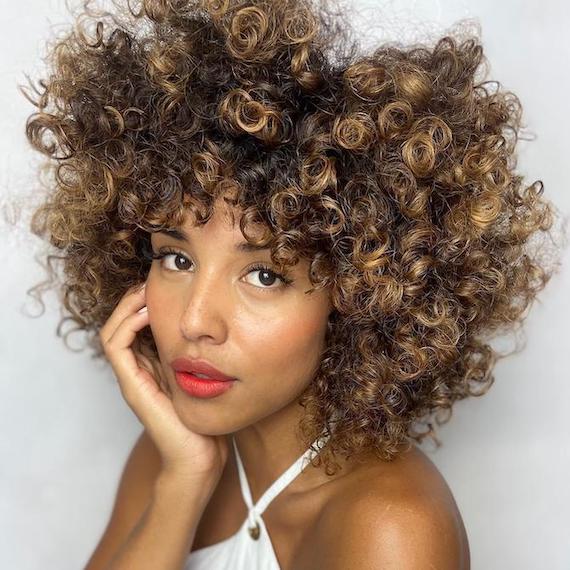 How to Maintain a Clear Hair Gloss at Home
Your client will want to hang onto that shine for as long as possible, so send them away with tips on levelling up the effects of their gloss at home.
Tip 1: Wash with the Right Shampoo
Shiny hair deserves a shine-boosting shampoo to keep the glossing going for longer. Recommend clients use ColorMotion+ Color Protection Shampoo for coloured locks or, again, Oil Reflections Luminous Reveal Shampoo.
Tip 2: Smooth on a Nourishing Mask
As well as a hair conditioner, your clients will want to add a hydrating hair mask to their at-home kit. One of our favorites for enhancing luminosity is the Oil Reflections Luminous Reboost Mask. Tell them to apply it once per week, or whenever their hair needs a little extra luster.
Tip 3: Try a Colour-Depositing Conditioner
Your client may also want to dabble with an at-home gloss, like the Color Fresh Mask. It teams a hint of a tint with rich moisture to give their hair a luminous glow. There are 11 shades they can choose from, including cool blondes, warm browns and rainbow brights. Help them find their ideal tone, so they can refresh their colour in 10 minutes at home. Looking for more glossing tips? We've rounded up all the tips and tricks you need to perfect a blonde hair glossing service for your client.
SHOPWELLA STORE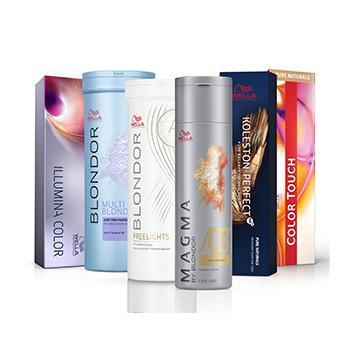 SHOP NOW
Products are only available to professionals.