How to Do a Pink Hair Gloss
Combine the head-turning power of pink hair colour with the sheer shine boost of a gloss, and you've got one of the most covetable trends to rock the festival scene – and beyond. So, when you offer up a pink hair gloss to your clients, don't be shocked if your stock flies off the shelves. After all, just the name screams soft, silky and summery hair that shimmers.
Want in? Let's take a closer look at how you can give your clients the perfect pink hair gloss, whether you're recommending at-home fixes or mixing up a shine-boosting hue in the salon…
2 Techniques for the Perfect Pink Gloss
There are two ways to give your client a pink hair gloss. Choose an in-salon service for vibrant hair colour with longer-lasting wear or a gloss-like mask for tinting so easy, they can even do it at home.
With a Koleston Perfect Pure Glossing Service:
Add this to your salon service menu: a Koleston Perfect Pure Glossing Service. It infuses locks with mirror-like shine and a sheer shot of beautiful colour that breathes new life into their hair. You can apply it to naturally very light blonde hair for a subtle boost of pink, or to up the vibrancy, you can pre-lighten locks first so your client's pink hue stands out.
Why You'll Love It:
Wide array of colours available to help you mix your client's perfect pink, plus Special Mix additives give your creations an extra tailored boost.
In the salon, you can combine it with hair lightening services to boost the vibrancy of pink shades.
The shade of pink can be tailored to your client, whether they want a dusky rose or a popping fuchsia.
You can even mix in cooler colours to eliminate any brassy shades in the hair.
It's a super-quick service – your client will be out the door in under one hour.
Follow These Steps:
A pink gloss needs a lightened base, so reach for BlondorPlex, which gives you up to nine levels of lift, and is infused with our WellaPlex ingredient to keep hair bonds stronger throughout the lightening process for up to 97% less breakage*. Sweep it on with your chosen technique, whether you're giving your client highlights, balayage or an all-over glow of the freshest pink hues.
After pre-lightening hair, shampoo is the next step. You need to cleanse hair strands of any residue, so lather up with Elements Renewing Shampoo for normal hair or Ultimate Repair Shampoo for dry hair. Skip conditioner for now and rough dry locks so they're ready for the gloss application.
Now it's time to mix up the colour. Reach for 0/65 in the Koleston Perfect portfolio, which can be mixed with other hues – like blondes, brunettes or reds – to personalize your client's shade. You can even blend it with 00/00 Clear to pastelize the pink or use it on its own for a bold magenta.
Turn the colour into a gloss by mixing your chosen pink shades at a 1:1:1 ratio with Welloxon Perfect 1.9% and INVIGO Color Service Post Hair Color Treatment. Then, apply to the sections of hair you want to turn pink. You could sweep it on in highlights, apply it root to tip, or focus on the mid-lengths and ends for pink ombre hair.
Allow the hair gloss to develop for 5-10 minutes. (We told you it was speedy!) Then rinse out with the same shampoo you used earlier, and follow with conditioner if needed. Dry and style hair to perfection, and your client's pink gloss is ready to glow.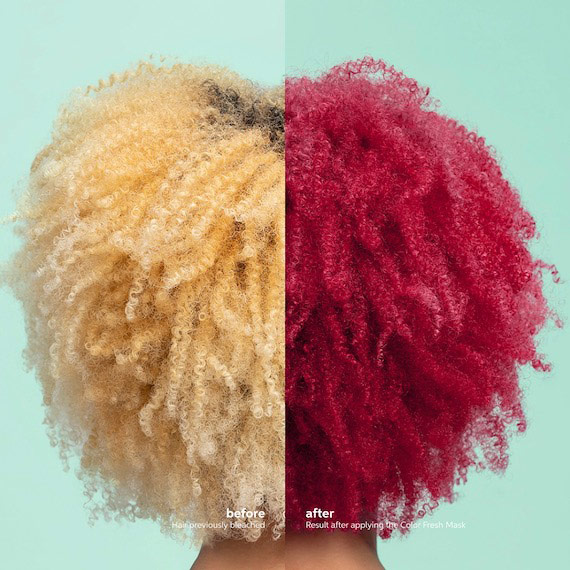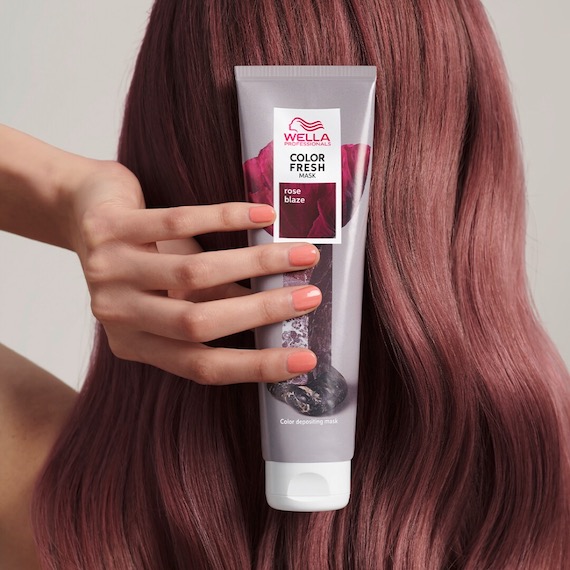 With a Colour-Depositing Color Fresh Mask:
For a nourishing hair mask and pop of pigment in one, try the semi-permanent Color Fresh Mask. While not technically a gloss, this genius semi-permanent hair colour treatment mimics the radiant effects. It can be harnessed by pros, but your clients can also take it home with them to top up their tone. Use it on virgin hair, pre-lightened hair or colour-treated hair – or even apply it in between salon appointments to refresh a Koleston Perfect Pure Glossing Service
Why You'll Love It:
Can be used in the salon and at home.
A damage-free way of enhancing or refreshing pink hair.
Perfect for enhanced tone with a super subtle finish.
Takes just 10 minutes to develop, so it fits into any hair care routine.
Suitable for pre-lightened hair and already pink coloured hair in need of a refresh.
Gives you brilliant shine while enhancing natural hair tones.
Available in three shades: Pink (for the truest hue), Rose Blaze (for rose brunette hair) and Peach Blush (for a peachy-tinted pastel).
Choose between the 150ml tubes, which are great for clients to take home, or the large 500ml pump-top bottles, which are ideal for your salon.
Follow These Steps:
Wash hair first with the perfect shampoo for your client's hair type. We love Ultimate Repair Shampoo, as it works for everyone and features a blend of skincare-inspired ingredients to keep hair healthy. There's AHA, which rebuilds bonds within the hair shaft, and Omega-9 fatty acid to replenish the outer layer. Enjoy the rich, foaming texture as you massage it into wet hair, then rinse thoroughly before moving on to the next step.
Next up, towel-dry hair until it's damp. You don't want it to be too wet, as this can dilute the finish of the Color Fresh Mask. Then, put on some rubber gloves and reach for the perfect pink shade – Pink, Rose Blaze or Peach Blush. Apply it from root to tip or directly on the sections where you want it to show up.
Evenly distribute the Color Fresh Mask through straight hair or wavy with a wide tooth comb. If you're treating curly hair or coily hair, use fingertips to gently detangle as you smooth the mask through. Then, leave it on for 10 minutes while that dream shade develops.
Finish by rinsing out the mask. Because it's a hair conditioning treatment, you don't need to follow with conditioner; simply dry and style as usual to reveal a fresh hue. Simple!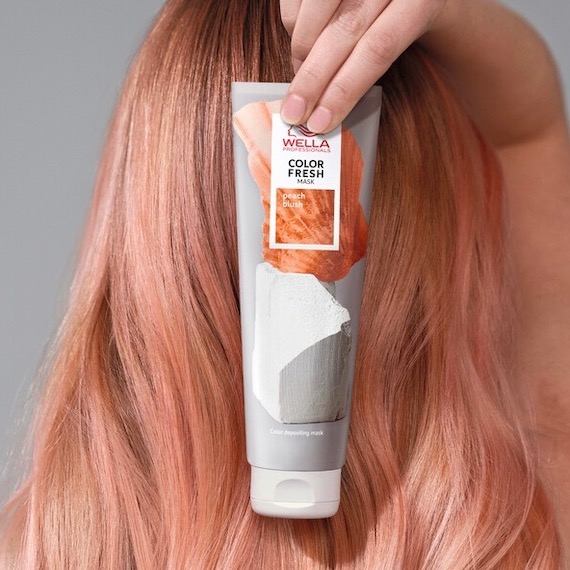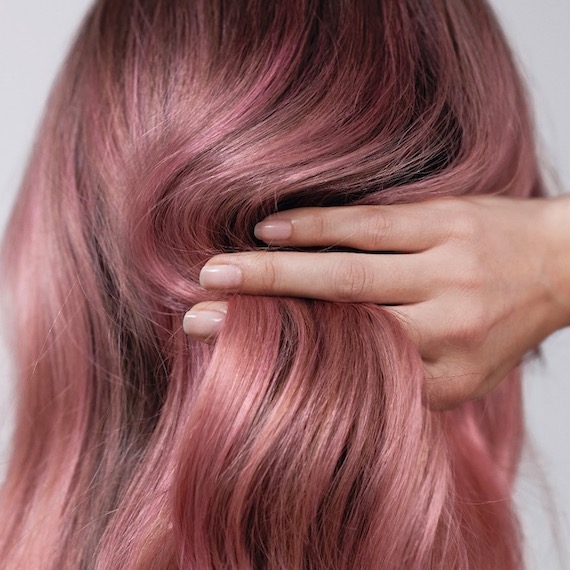 Or Try a Pink Hair Glaze
For an even sheerer finish and beautiful shine you can feel, you can also treat your client to a pink brightening hair glaze with Shinefinity. While a Koleston Perfect Pure Glossing service is carried out with permanent hair colour and can even lift the hair, Shinefinity offers zero damage, zero lift enhancement for up to six weeks. It reflects the natural highs and lows in hair strands, so locks shimmer from root to tip while maintaining their natural, multi-tonal dimension.
Why You'll Love It:
Zero damage, zero lift colour with balanced pH technology that works on all hair types – what's not to love?
Enhances natural hair, pre-lightened hair and colour-treated hair with a sheer shot of colour.
Delivers shine you can feel from root to tip.
Great for colour corrections or a delicate transformation.
Comes in a range of shades, including three pinks: 09/05 Pink Blush, 09/65 Pink Shimmer and 07/75 Raspberry Latte.
Develops fast. It takes up to 20 minutes to create the perfect pink glaze, but a speed glaze can be achieved in as little as 10 minutes.
Follow These Steps:
First up, prep your client's locks. You can apply Shinefinity to dry hair or, for a softer result, to clean, damp, towel-dried strands.
Mix up your client's Shinefinity Color Glaze by mixing their perfect pink shade at a 1:1 ratio with the Bottle Activator or Brush & Bowl Activator.
Next, apply the pink hair glaze. You can smooth it through from root to tip or paint it through strands with a highlighting or balayage technique, depending on your client's hair goals.
Leave your client's Shinefinity glaze to develop for up to 20 minutes (less for a softer result). If you want to intensify their shade, apply heat with a Climazon.
Once the pink glaze has developed, wash hair with Elements Renewing Shampoo then dry and style locks as usual. Because Shinefinity has balanced pH technology, you don't need to use a post-colour treatment to neutralize locks.
How to Maintain a Pink Hair Gloss
Now you've perfected that pink hair colour, give your client tips on maintaining their hair gloss for longer. These are the three tricks they need to add to their daily hair routine...
1. Apply an Ultra Nourishing Conditioner
After introducing your client to the Ultimate Repair Shampoo, suggest they team it with the Ultimate Repair Conditioner to keep dry, dull hair at bay. Like the Shampoo, it's packed with a blend of ingredients you'd often find in the most premium skincare, delivering a boost of hydration for the most transformative results. Plus, while it has a creamy texture, it's also wonderfully weightless, making it as ideal for fine strands as it is for coarse hair. Recommend your client lets it absorb for between 30 seconds and three minutes – the thicker their hair, the longer they can leave it on locks.
2. Reach For a Damage-Defying Leave-In Treatment
Give a pink hair gloss extra shine with Ultimate Repair Miracle Hair Rescue; a new leave-in treatment that's already stacking up rave reviews from beauty editors. It's a lightweight, liquid treatment that repairs signs of hair damage in just 90 seconds – and, used in tandem with the Shampoo and Conditioner, it delivers game-changing results on all hair types. We're talking 12x smoother hair** with 99% less breakage**, plus legendary shine that lasts for up to four washes***. Simply mist it through clean, towel-dried damp hair, let it absorb for the full 90 seconds, then style locks as usual. Straight hair will appear sleeker, and curl patterns will be beautifully defined. Say goodbye to frizzy hair!
3. Apply Hair Oil for Added Gloss in Between Washes
Hair oil is our ultimate 'bad hair day' savior; the antidote to dry lengths, frizzy curls and dullness, which also gives a pink hair gloss an added dose of radiance. So, suggest your client applies Oil Reflections Luminous Smoothing Oil when they want extra shine for their gloss. It layers perfectly with Miracle Hair Rescue to smooth the hair cuticle, boost manageability, and give all hair types some added luster. Flawless.
Now you've got all the tips you need for the perfect pink mane, which hair gloss route will you be taking: Koleston Perfect Pure Glossing Service, Shinefinity or Color Fresh Mask?
*When using Wellaplex N°2 with BlondorPlex, versus BlondorPlex alone
**Instrumental test versus non-conditioning shampoo
***When using Ultimate Repair Steps 1, 2 & 3