*This* Will Make Your Hair Smell Incredible
We talk a lot about how to make your hair look and feel good – but what about making it smell good too? Your hair routine is an act of self-care, and the scents of your favourite hair products simply add to the experience. There are few things more confidence-boosting than heading out the door with subtly scented tresses. So how do you make your hair smell good? Keep scrolling for your ultimate routine...
What Can I Do to Make Hair Smell Fresh?
First, let's talk about what you shouldn't do. As tempting as it might be, you don't want to spray regular perfume onto your hair or hair brush, unless it's specifically designed for tresses. This is because many eau de toilettes and eau de parfums have a high alcohol content, which might be fine for your skin but can actually strip away natural oils and dry out strands.
So, what should you do instead? The best way to treat your hair is with luxuriously scented hair care products. We're talking supercharged formulas that don't just nourish your locks but smell like your favourite perfume in the process. This way, you get the fresh, beautiful scent your hair deserves, and you're still using ingredients that keep hair clean, strong and feeling hydrated.
That's where the Ultimate Repair line comes in. Along with rave reviews for how healthy it makes hair look and feel, the line's signature scent has quickly become a hit.. It's a floral fruity green fragrance, featuring a delicate blend of peony and rose, which cascades into notes of sparkling bergamot and crunchy apple for a scent as fresh and clean as your hair will feel. Meanwhile, a comforting base of soft musk, warm amber and rich cashmere wood notes reflects the nourishing, caring ingredients while making your ritual feel like a true luxury.
Indulge in the scent with these three Ultimate Repair essentials:
1. Get That Clean Hair Smell With a Scented Shampoo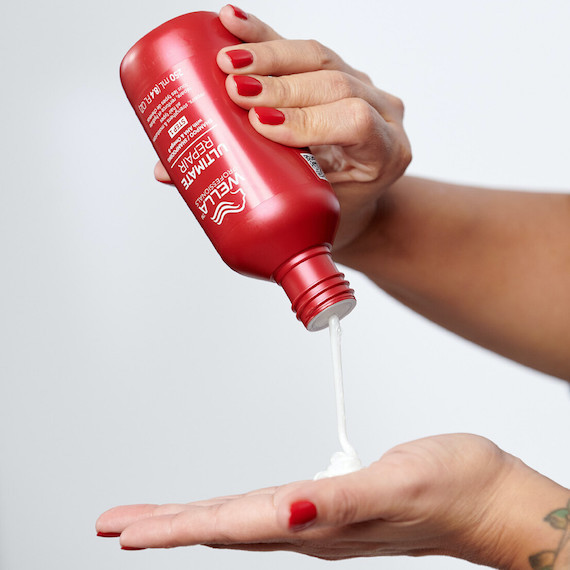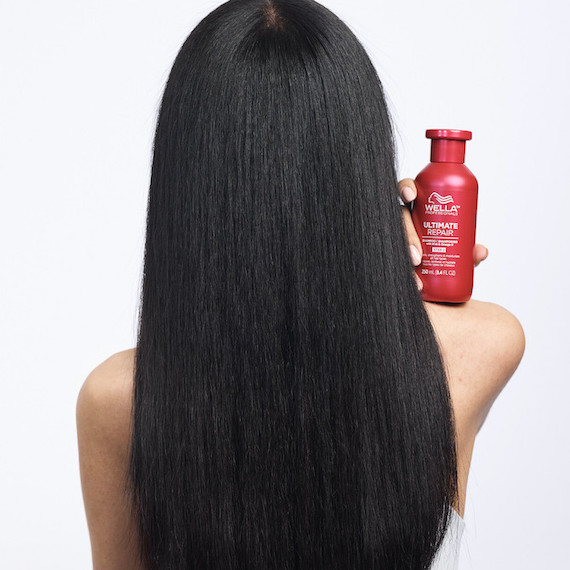 The best way to rid strands of hair odors is with a freshly-scented shampoo. This allows you to wash out whatever's causing the unpleasant odor and leave locks delicately fragrant. Ultimate Repair Shampoo is our go-to for hair wash days.Its sumptuous lather that whisks away all the impurities that attach themselves to your strands: dirt, metals, pollution and product build-up. Plus, it kick-starts the bond-rebuilding process, so you get deep cleansing, repair for damaged locks and a dreamy fragrance in one – suitable for all hair types.
On hair wash days, work it into wet hair and the luxurious lather will bathe locks in the freshest scent while treating your tresses to nourishing ingredients that care for brittle, dry hair. Rinse with warm water before moving on to the conditioner.
2. Treat Locks to a Fragrant Deep Conditioner
For freshly scented hair, we always recommend you use shampoos and conditioners within the same range so the fragrances complement one another perfectly. Infused with the comforting, clean scent of the Shampoo, the Ultimate Repair Conditioner keeps your hair soft yet strong with a skincare-inspired blend of ingredients. A boost of AHA (Alpha Hydroxy Acid) rebuilds the bonds inside the hair shaft, while Omega-9 replenishes the outer barrier, working to nourish and effectively fill in the cuticle.
By teaming this luxurious formula with the Ultimate Repair Shampoo, you get deep nourishment and a fragrant experience that smells as opulent as it feels. Smooth it through towel-dried lengths and ends, then leave it on for between 30 seconds to three minutes. The thicker and coarser your hair is, the longer you should let your hair soak up all the nourishing goodness. Then, rinse out for the ultimate clean hair sensation. This Conditioner may be rich, but it feels wonderfully weightless so it never drags strands down.
3. Finish With a Leave-In Hair Treatment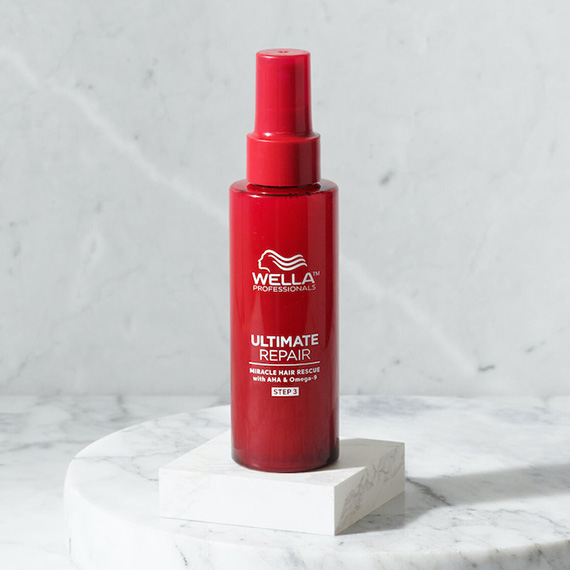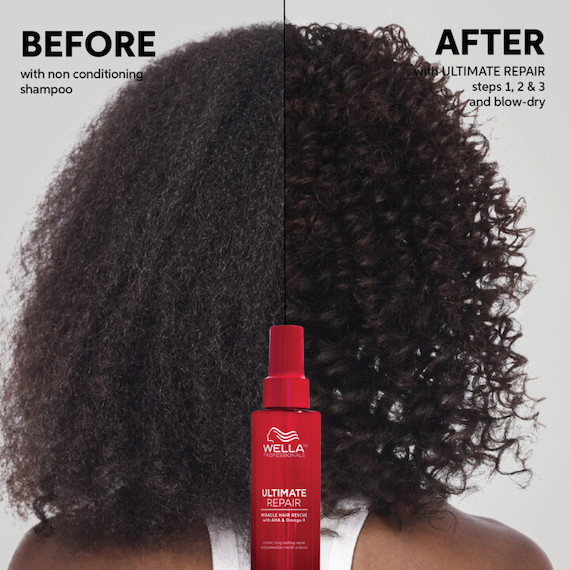 After towel-drying your just-washed hair, complete your reparative (and beautifully scented) ritual with a leave-in treatment to level up the fragrance. Ultimate Repair Miracle Hair Rescue works in harmony with the scent of the Shampoo and Conditioner, while visibly repairing hair in just 90 seconds*. That's what we call a multitasker. After just one use, it leaves tresses 12x smoother**, with 99% less breakage** and legendary shine that lasts up to four washes**. Mist it from root to tip, let it absorb for 90 seconds, then style your hair as you usually would.
More Tips For Subtly Scented Hair
1. Choose Scented Stylers
Amazing scents run through the Wella Professionals portfolio, which features a range of hair care products that guarantee fragrant tresses from one wash to the next. If you want to refresh your hair fast, reach for scented styling products that finish your look with the subtlest veil of notes. One of our go-to products is EIMI Glam Mist, a gloss-boosting hair mist with a delicate yet clean scent. It gives locks a healthy glow, while protecting hair from the damaging effects of UV rays. So you don't just get a light, mood-boosting scent; you get shine and shielding power too.
2. Balance an Oily Scalp
When sweat glands and hair follicles become clogged by excess sebum, locks can smell a little less than fragrant. That's why if you exercise a lot or you're dealing with oily hair – especially in the summer months – we recommend a bi-weekly deep treatment to rebalance your scalp. Try Elements Purifying Pre-Shampoo Clay, which harnesses Kaolin clay to absorb oil, so your hair feels deeply cleansed after just one wash. Apply it to the roots of dry hair, leave it on for five minutes, then follow up with your Ultimate Repair ritual to cleanse, strengthen and hydrate.
3. Avoid Sizzling Strands
Avoid burning your hair when you're heat styling with your hair dryer, flat iron or curling iron, as this can lead to an unpleasant smell that's tricky to mask. Keep these three rules in mind:
Hair should be protected before you apply any heat, so reach for shielding hair products such as EIMI Thermal Image ahead of styling.
When your hair tools are switched off and cool, use a clean, dry cloth to gently wipe them down so you remove any product build-up.
Make sure locks are 100% dry before you use hair straighteners or curling irons. This way you can avoid singeing strands as you style.
We hope you found this article helpful for boosting your hair's fragrance. For more tips on giving locks the TLC they deserve, check out our complete line-up of Hair Care Guides for all hair types.
*Instrumental test versus non-conditioning shampoo
**When using Ultimate Repair Steps 1, 2 & 3