How to Create Dark Ash Blonde Hair
Of all the shades of blonde out there – and, trust us, there are many – ash blonde is one of the most highly-requested hair colours in the salon. However, as the temperatures start to dip, expect dark ash blonde to be on the rise, offering an autumn-ready twist to the lust-have look.
Obsessed? Us, too. We can't get enough of next season's dark ash blonde hair, which is why we're giving you the full breakdown of the trend – including formulas to create it for your clients. Keep scrolling…
What is Dark Ash Blonde Hair?
First, let's break down what ash blonde hair is. When we say hair colour is 'ashy', we mean it's cool and smokey, with very subtle undertones of grey and olive green. Ash blonde hair veers in the silvery direction, and dark ash blonde hair takes the hue a little deeper, giving clients a fresh take on bronde – perfect for the colder months.
Who Suits Dark Ash Blonde Hair?
Typically, hair colours work best when there's a contrast against the skin tone, which is why neutral or warm undertones in the complexion are particularly flattering with this cool hue. However, if a cool-toned client is craving dark ash blonde hair, you can tailor it to suit them. Try intertwining a few richer dark blonde ribbons through the mid-lengths and ends to warm up the finished look.
How to Create Dark Ash Blonde Hair
1. Dark Ash Blonde with Highlights and Colour
You know the drill. With clients who don't have naturally blonde hair, you'll need to pre-lighten locks before you tone them with a dark ash blonde shade. It's important that you lift to an underlying pigment that matches the first number in your colour formula. For example, if you want to use Illumina Color in 5/81 – a light pearl ash brown – you'll want to lift hair to a level 5.
Choose a Blondor hair lightener to start, opting for Freelights if you're creating balayage, Soft Blonde Cream for a lift that's gentle on the scalp and BlondorPlex for a lightening powder with Bond Builder technology included. Neutralise with Blondor Blonde Seal & Care, then apply the dark ash blonde colour over the top. Some of our favourite shades in-clude: Koleston Perfect in 7/18, 6/97 or 6/71; Illumina Color in 6/16, 6/19 or 5/81 and Color Touch in 6/71 or 7/97.
2. Dark Ash Blonde with Lowlights
If your client already has ash blonde hair, you can create a little more depth by adding a scattering of lowlights in between the lighter highlights. The finished look is flawlessly multi-tonal and natural-looking, making it easier for bright blondes to subtly transition to a darker shade.
For low-commitment lowlights, opt for a demi-permanent colour. Color Touch helps you create high-shine, ashy ribbons that gradually fade, so light blonde clients can test the deeper waters. A permanent colour will give your client a longer-lasting finish, so try IIumina Color for sheer, full coverage or Koleston Perfect for a more saturated finish.
3. Dark Ash Blonde with a Glossing Service
Another technique for those who are already blonde but want to go deeper; a Pure Glossing Service is ideal for neutralising brassy tones and gently tweaking the colour. The finish is super-subtle, super-glossy and super-speedy, giving blonde clients a dark ash boost in the space of a lunch break.
To try it, start by mixing your target Koleston Perfect shade (or shades) with our hair developer Welloxon Perfect 1.9% and the INVIGO Color Service Post Hair Color Treatment, using a 1:1:1 ratio. Then, apply the blend to hair, comb through, and leave to develop for no more than 10 minutes, resulting in the softest dark ash blonde tint.
Will Dark Ash Blonde Cover Red, Orange or Brassy Hair?
Dark ash blonde doesn't cover brassy hair, per se. Instead, using those cool-toned toners can help to neutralise any overly-warm red or orange hues by effectively 'cancelling them out'. This balancing act is one of many reasons clients love ashy shades, although it does require a lot of upkeep to ensure hair doesn't shift back to brassy.
How to Maintain Dark Ash Blonde Hair
As with all blonde shades, dark ash blonde hair needs regular 'mane'-tenance. Keep the colour looking fresh from season to season with these easy-to-follow tips…
1. Shade Match the Shampoo
Not all color-kind shampoos are made the same. Tailor the formula to your client's shade by treating dark ash blonde hair to INVIGO Blonde Recharge Cool Blonde Shampoo, followed by Color Recharge Cool Brunette Conditioner. Recommend they use this pairing whenever strands need a quick brightening boost, leaving each product on for 3-5 minutes to lock that luminosity down for longer.
2. Watch the Water
Make sure clients are aware that dark ash blonde can be a tricky shade to maintain, and sometimes the minerals in water can affect how fast it fades. Recommend they try attaching a filter to their shower head, and alternate INVIGO Blonde Recharge with Color-Motion+ Color Protection Shampoo, which fights against fading free radicals.
3. Beat the Heat
Heat isn't hair colour's best friend. In fact, hairdryers, irons and even the sun can alter your client's shade, causing it to fade faster or veer a little brassy. That's why we advise clients to prep every style with EIMI Thermal Image heat protection spray, and wear INVIGO Sun UV Hair Color Protection Spray on hot days. It's like sunscreen for locks.
DARK ASHY BLONDE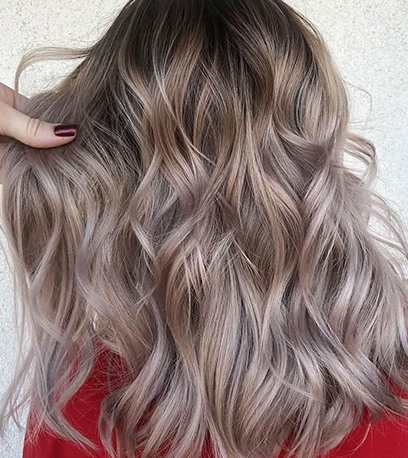 Color Formulas:
Koleston Perfect, Welloxon Perfect
Roots: 30g 7/97 + 30g 6/0 + 2g 0/88 + 2g 6/45 + 64g 4%
Lengths: 30g 9/97 + 30g 8/38 + 120g 1.9%
DEEP ASH BLONDE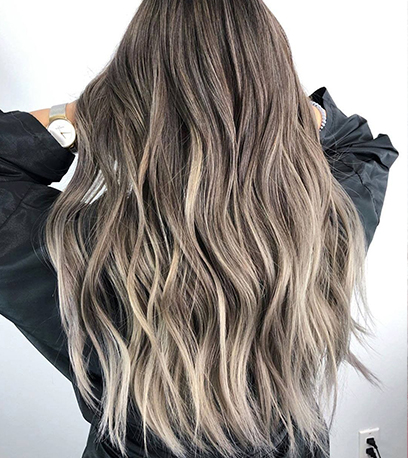 Color Formulas:
Koleston Perfect, Welloxon Perfect
30g 7/18 + 30g 8/97 + 1g 0/66 + 122g 1.9%
OPAL ASH BLONDE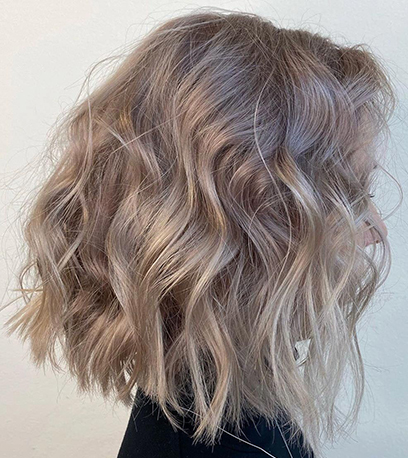 Color Formulas:
Illumina Color, Welloxon Perfect
Roots: 40g 8/05 + 20g 6/16 + 12%
Middle Ends: 20g Silver Mauve + 20g Platinum Lily + 40g 1.9%
Ends: 30g Platinum Lily with + 30g 1.9%
SATIN ASH BLONDE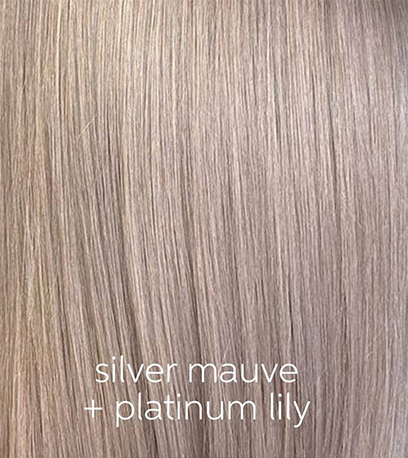 Color Formulas:
Blondor, Illumina Color, Welloxon Perfect
Pre-lighten: 60g Multi Blonde Powder + 90g 1.9%
Tone Roots: 30g 8/1 + 20g 8/69 + 100g 1.9%
Tone Ends: 20g Silver Mauve + 20g Platinum Lily + 80g 1.9%
BLENDED DARK ASH BLONDE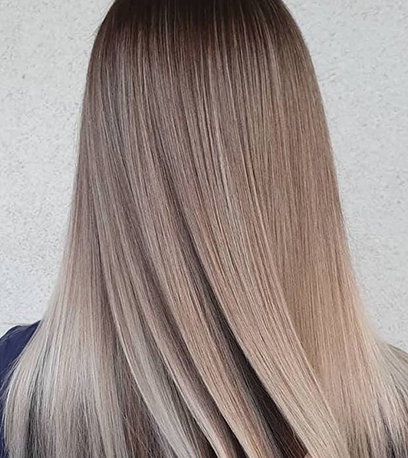 Color Formulas:
Color Touch, Color Touch Emulsion
Midlengths: 20g 9/97 + 20g 8/38 + 80g 1.9% Ends: 30g /18 + 60g 1.9%
Watch this Dark Ash Blonde Hair How-To
With tips, tricks and advice from Wella Professionals Global Color Expert, Katja Latvala, learn how to create 'tweed hair'; a dark ash blonde look that gives locks a premium high-gloss finish.