9 Balayage Ideas for Silky-Straight Hair
We so often see balayage swept through long, wavy locks and tousled bobs. But, the fact is, balayage for straight hair is just as mesmerizing as its textured counterpart. While polished curls and beachy curves bump up definition and dimension, poker-straight locks allow freehand highlights to shine in all their painterly glory.
Want proof? Here, we've rounded up nine examples of balayage for straight hair, along with their pro formulas. Because – trust us – you'll want to recreate these looks on your clients…
1. Ash Bronde Balayage for Straight Hair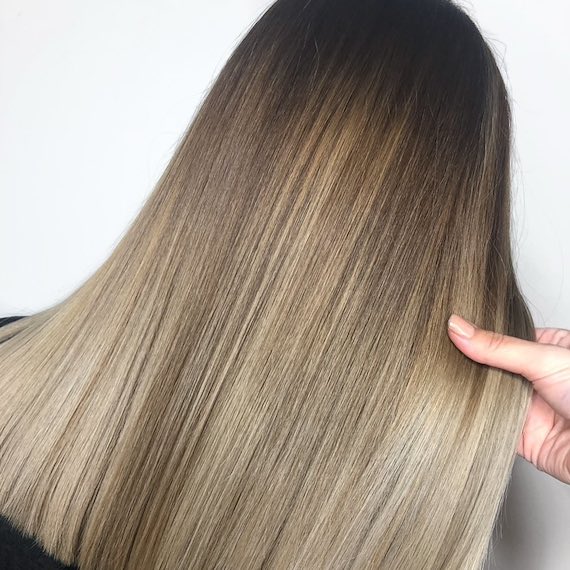 1
Image Credit: @bethoakleyhair
The perfect balance of ash brown roots and ash blonde lengths gives you an ash bronde balayage to remember. Create the look with Beth Oakley's formula, beginning with Color Touch 7/1 + 8/71 through the crown. After rinsing and neutralizing the root shadow, she switched to light-reflective Illumina Color, applying 7/81 to mid-lengths and 8/69 + 10/69 to the ends.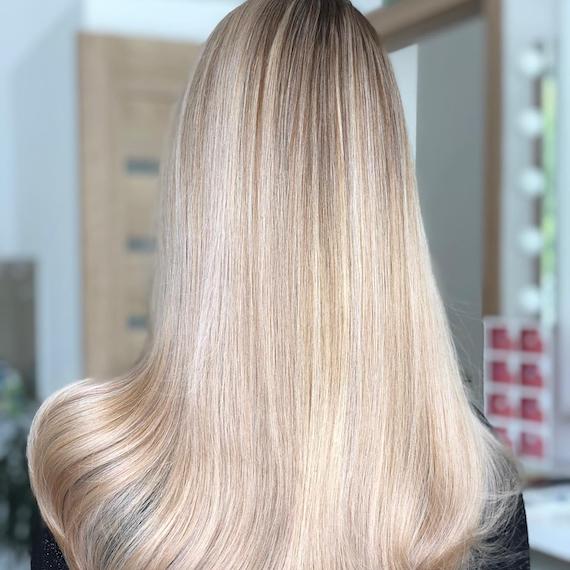 2
2. Vanilla Blonde Balayage for Straight Hair
Image Credit: @chiriac.ionela
Sweet as vanilla, this blonde balayage positively glows from root to tip. Ionela Chiriac started the look by pre-lightening locks with bond-strengthening Blondorplex + 6%. Next up, Illumina Color 7/81 + 6/16 + 4% shaded the roots, while 10/36 +10/69 + 4% gave the mid-lengths and ends a shimmering luminosity.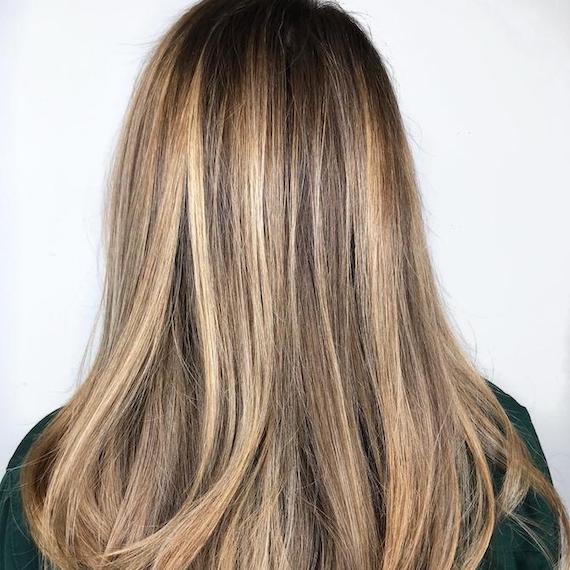 3
3. Dirty Blonde Balayage for Straight Hair
Image Credit: @laurenmacdoesmyhair
Dirty blonde is one of Google's most-searched hair colorus, so you need to get this balayage technique down. To recreate Lauren Mac's look, the trick is to team foilyage with Color Fresh; our semi-permanent toner that enhances natural or pre-lightened locks. Look to the Pure Naturals palette of shades for a dark blonde that positively glows. Our favorites include 6/0, 7/0 and 8/0.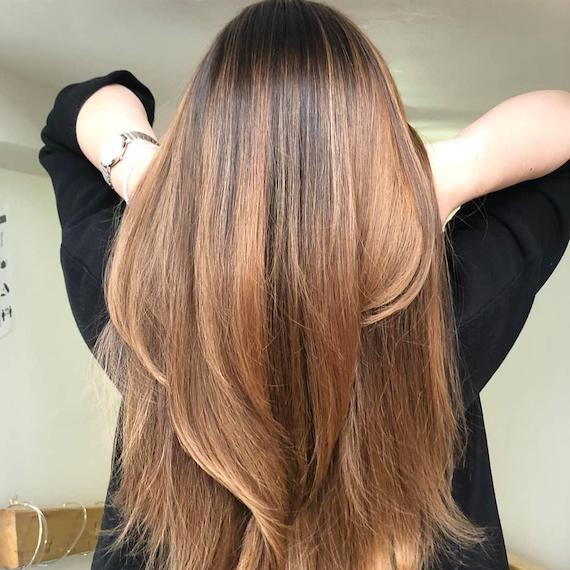 4
4. Caramel Balayage on Straight Hair
Image Credit: @salongassi
This rich, radiant golden brown is shimmering from shaded root to glossy tip. The formula? It's a pure and simple combination of Illumina Color 7/7 + Platinum Lily. The Lily gives the brunette hue a mirror-like, eye-catching sheen, which you can enhance with a misting of EIMI Oil Spritz pressed into the surface of hair.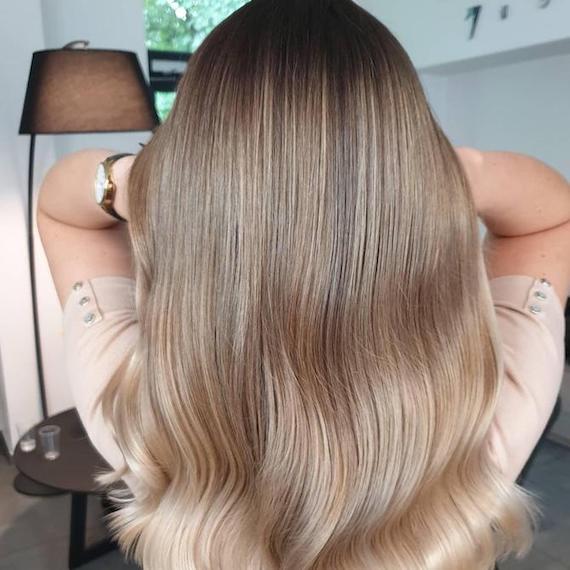 5
5. Cool Blonde Balayage on Straight Hair
Image Credit: @ingahairstyle
Cool-toned blondes and a smooth blowdry are the ultimate show-stopping match. For this glossy shade, locks were lightened with Blondorplex + 6%, starting a few inches down from the root, while roots were shaded in Illumina Color 6/16. Next, mid-lengths were brightened with a blend of 8/1 + 9/60, before ends were treated to 10/38 + 10/36 + 10/05. If clients try this shade, suggest they keep it topped up at home with the Pearl Blonde Color Fresh Mask.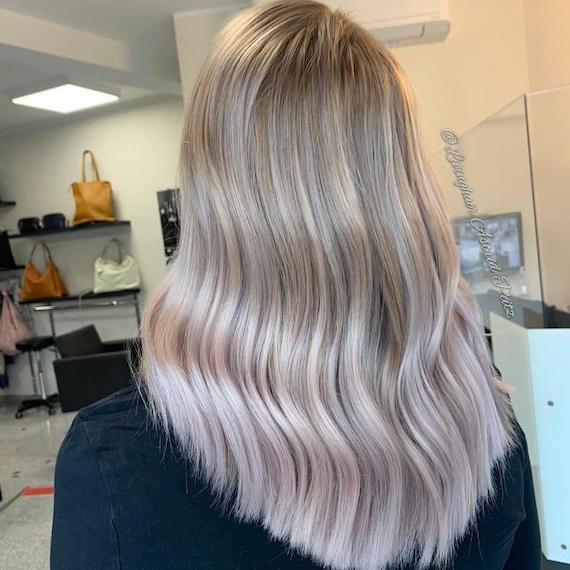 6
6. Lilac Frost Balayage on Straight Hair
Image Credit: @nadinelinden
Soft and subtle lilac frost lends a pastel gloss to this cool blonde 'do, while a slight bend through the ends gives the shine an extra boost. Master Color Expert Nadine Linden perfected the hue with Blondor Multi Blonde Powder + 6% first, followed by Illumina Color 10/69 + 10/05 + Titanium Rose + Platinum Lily + 1.9% through the tips. It's a pastel dream come true.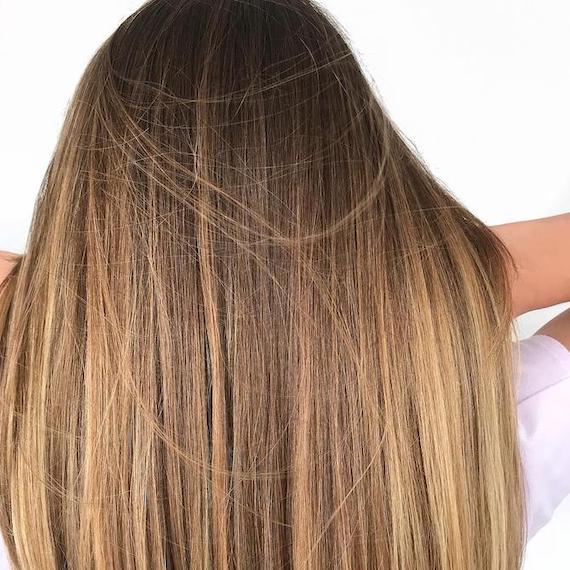 7
7. Golden Blonde Balayage on Straight Hair
Image Credit: @allyson_m_
This golden balayage was perfected with nothing but Blondor Freelights + 6%. The dreamy freehand lightener pulled out a scattering of sun-kissed tones in Allyson's client's hair. To keep those 'lights looking gilded and fresh, we recommend maintaining the shade with the Golden Gloss Color Fresh Mask. It gives blonde locks a glossy sheen and injects a dose of moisture in just 10 minutes.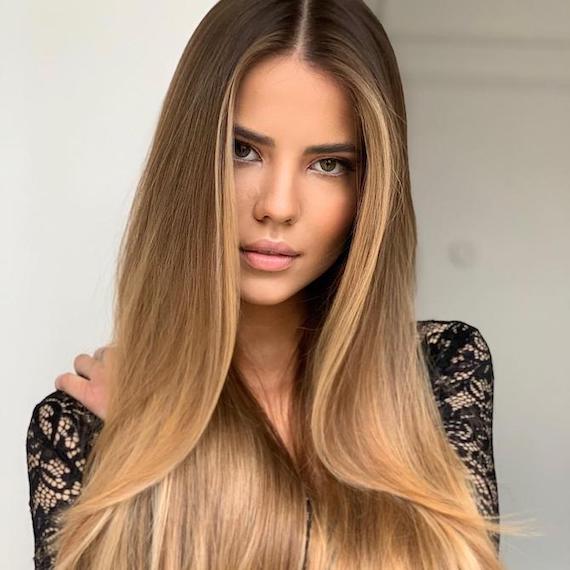 8
8. Blonde Balayage and a Money Piece on Straight Hair
Image Credit: @igorkhonin
Face-framing highlights truly pop when hair is styled smooth and straight. Combine with a soft balayage, and you've got the golden bronde colour of Instagram dreams. For this look, the base was prepped using Blondor Freelights + 12%. Then, Illumina Color 9/7 + 9/43 was applied over the top. Dreamy.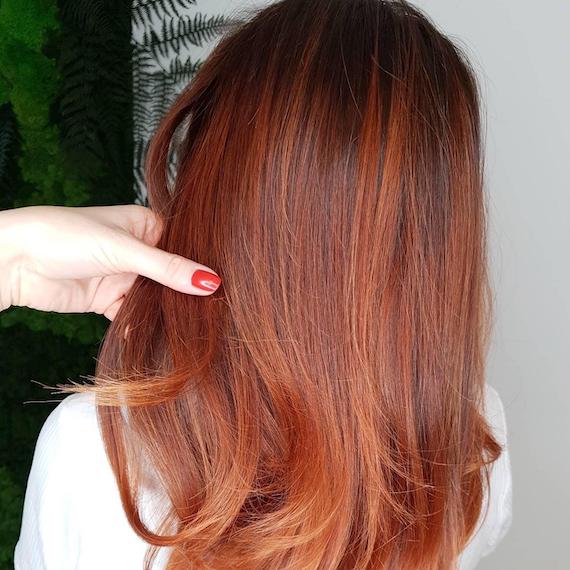 9
9. Auburn Balayage on Straight Hair
Image Credit: @aneta_stenczelova_hair
Is there any look more covetable than a smooth, auburn balayaged blowdry? The combo of sumptuous styling and soft red brown shades deserves all the 'likes' on Instagram. To achieve a similarly radiant look, mix up the golden blonde of Koleston Perfect 9/38 with the coppery glow of 66/44, plus 4% developer.