How to Create the Punchiest Plum Hair Color
Purple locks get a juicy upgrade with the plum hair color trend. If lilac frost was the shade of spring/summer, then plum is set to be huge for fall. We may not be knee-deep in those autumn leaves yet, but we're looking ahead to next season already. And if Instagram is anything to go by, more clients will be plumping for plum than ever before.
But how do you create the look? And how do you lock it down once you've achieved the hue? Here's everything you need to know about the plum hair color trend…
How to Create Plum Hair Color
When perfecting plum, you're aiming for a deep, dark purple hair color. This can range from a vibrant violet, to a lavender tint, to a burgundy red. Whatever shade you're creating on the plum hair spectrum, there are five reigning rules to follow, helping you sweep and swish your way to the most mesmerizing creations.
1. Consider Lightening Dark Hair
If your client's hair is darker than the deep plum hue they crave, layering color on top will just build up the pigment without creating a purple glow. In this case, you may want to lighten a few sections of hair before mixing up their shade. Stroke bond-strengthening BlondorPlex in ribbons, then apply a plummy formula over the top. This will create bold violet highlights that can be just as striking as an all-over tone.
2. Layer Up Through Light Locks
For blonde-haired clients, plum hair is a major transformation. That's why, if they seem unsure, we recommend they experiment with a softer purple first. If they agree, start them out on a muted mauve, then gradually build depth from one appointment to the next. If they're ready to take the plunge straight away, suggest a Color Touch Transformative Toning Service. This one-step toning technique revives dull and lifeless hair by infusing pre-lightened locks with intense color vibrancy and beautiful shine. Simply choose your perfect Color Touch shade and apply to pre-shampooed, towel-dried hair. Rinse after 20 minutes and neutralize with ColorMotion+ Post Color Treatment.
3. Keep Patchy Purple Tones at Bay
If your client's hair is looking patchy before you apply their purple tone, consider treating strands to a 'color remover', like Color Renew. Designed to gently cleanse and correct color build-up, it's like hitting the 'refresh' button on drab manes. Simply apply from root to tip, leave for up to 45 minutes, then rinse with water only, and dry hair thoroughly. You'll be left with a more even canvas; the perfect base for those punchy plum shades.
4. Pick the Perfect Plum Product
Good news: you have a multitude of options when it comes to picking a plum hair color. Here are just a few of our favorites, from pigmented permanent tones to demi-permanent tints…
Permanent Koleston Perfect: 0/66 for a cool plum, 55/65 for a red-toned plum or 0/65 for a vibrant plum.
Demi-permanent Color Touch: /57 for a mahogany plum, 5/66 for a chocolate plum or 0/68 for a punchy plum.
Semi-permanent Color Fresh CREATE: Pure Violet or Ultra Purple, mixed with the Tonight Dusk additive to make the tones deeper. Custom-blend to the level of depth your client craves.
5. Mix in WellaPlex
Every hair color service is better with WellaPlex. By adding the No1 Bond Maker to your formulas, you help to reinforce the internal bonds that make up your client's hair. Cue strong strands. Mix it into their plum hair color, then make sure you finish the treatment by treating just-rinsed hair to the No2 Bond Stabilizer, which rebalances pH levels.
5 Plum Hair Color Formulas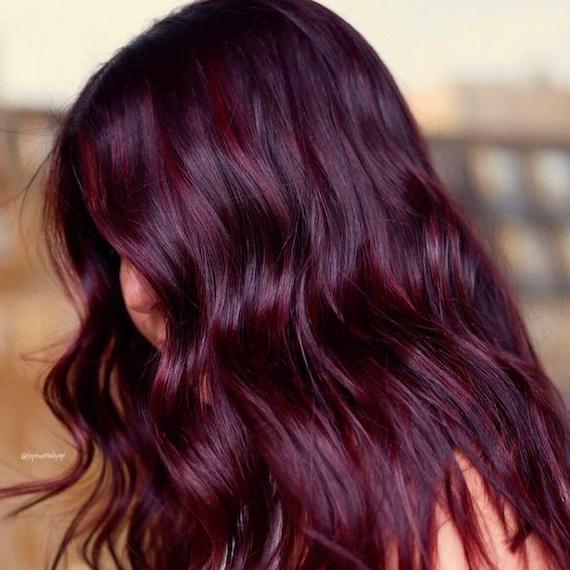 1
Plum Burgundy Hair
Image Credit: @topknotbalayage
Plum and burgundy sit in the vampy family; perfect for clients who like a little drama with their red and purple tones. Blended together and applied with Color Touch, they give your clients plenty of shine and dimension. Create the look with 77/45 + 7/4 + 5/66 + a line of /68. Then, after rinsing, apply a gloss with /66 + /65 in the formula.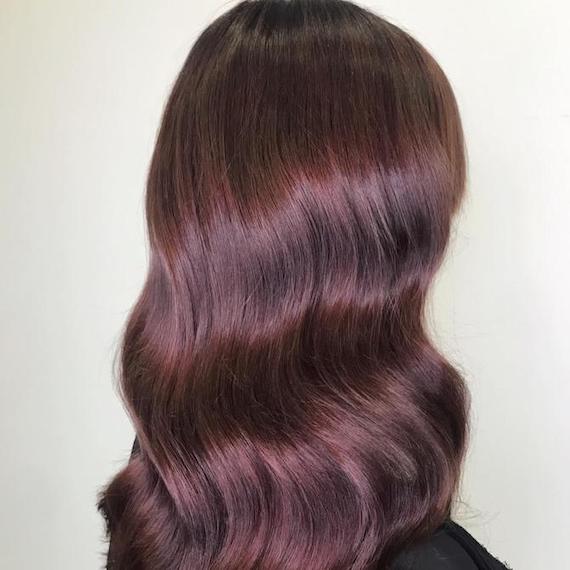 2
Plum Brown Hair
Image Credit: @laila.wella
What started as a faded pink 'do turned into this punchy plum brown mane, thanks to the color correcting expertise of Wella Educator Laila Pettersen. She applied Color Renew color remover for 45 minutes to remove pigment build-up, then rinsed with water and thoroughly dried locks, ready for the next stage. Next up came the formula: Illumina Color 6/76 + 5/43 + 4% on the roots, and 5/02 + 7/81 + Chrome Olive + 6% through mid-lengths and ends.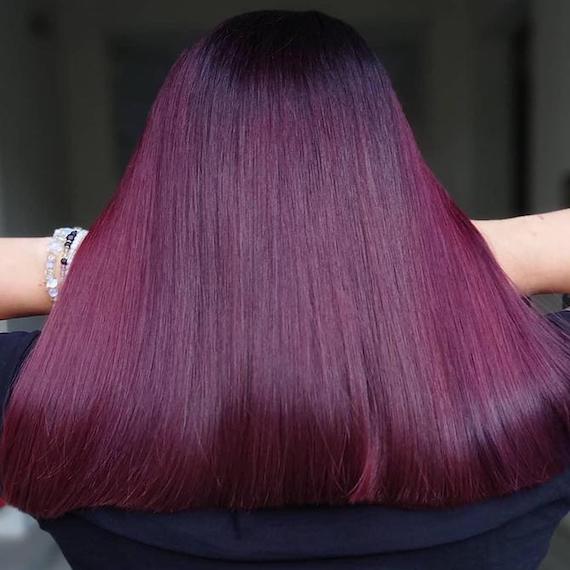 3
Dark Plum Hair
Image Credit: @mareksyriste
This is true purple plum with a deep, glossy tone, created using demi-permanent Color Touch. Hair was lightened with BlondorPlex + 4%, before a blend of 55/65 + 3/68 + 5/66 was smoothed from root to tip over the top. The result? A hue so glossy, you could almost see your reflection in it. You can bump up the shine further with a shimmery misting of EIMI Oil Spritz.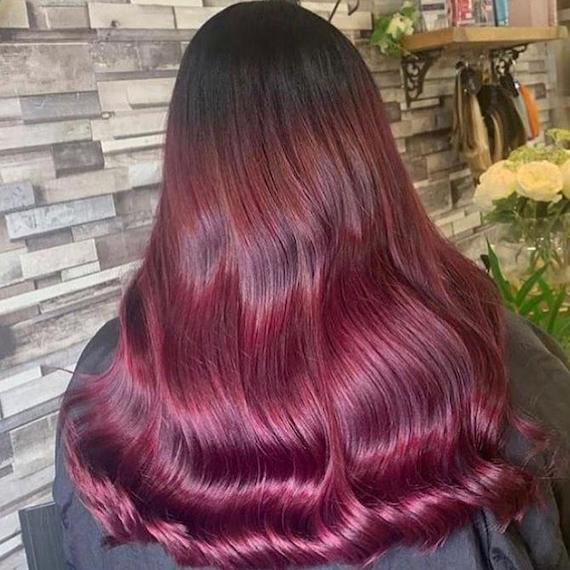 4
Raspberry Plum Hair
Image Credit: @sue_mynett_
You're seeing two juicy fruits in one with this raspberry plum hair color, which packs a pinky punch through the mid-lengths and ends. It could only be Koleston Perfect 55/65; a pure pigment, permanent color that teams shine with intensity for a striking finish. We are mesmerized.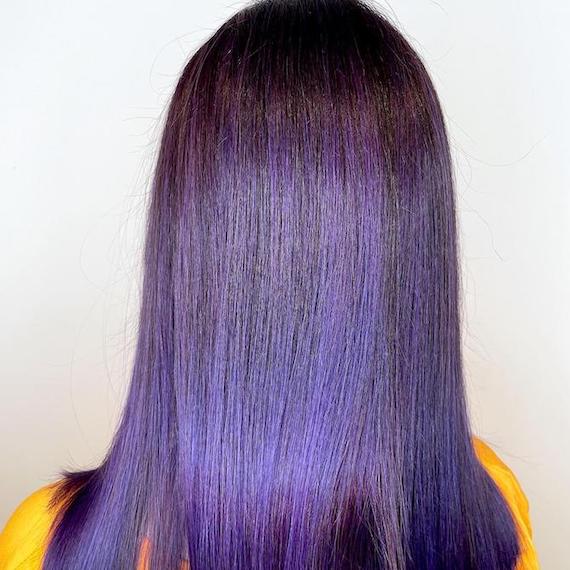 5
Plum Violet Hair
Image Credit: @mr.mishwu
Violet hair with plummy depth comes courtesy of Color Fresh CREATE; our semi-permanent color that fades true to tone, so it always looks covetable. To recreate this vibrant hue, mix 60g Tomorrow Clear + 60g Pure Violet + 10g High Magenta with 5g of our Tonight Dusk additive for a dose of depth.
How to Maintain Plum Hair Color
Keep plum hair color in place by sending clients home with glossy locks and top maintenance tricks. There are four key products they need in their kit to ensure their shade doesn't fade.
1. Color-Protecting Shampoo and Conditioner
Not just any shampoo will do. Ensure clients know the importance of color-kind care products to keep their hue looking fresh. Two of our favorite picks are the INVIGO Color Brilliance Color Protecting Shampoo, and the INVIGO Color Brilliance Vibrant Conditioner. Together, they enhance the luminosity in colored strands, so clients get to enjoy that just-left-the-salon glow for even longer.
2. A Color-Depositing Treatment
A regular injection of pigment will keep your client's salon color looking fresh, so recommend they use a color-depositing treatment at home. Applied once per week, in place of conditioner, the Color Fresh Mask bathes strands in a hint of a tint, while topping up hydration with a blend of nurturing oils. To perfect plum tones, suggest they pick up the Purple mask. All they have to do is smooth it through, leave it on for 10 minutes, then rinse thoroughly.
3. A Heat-Guarding Spray
Finally, recommend that all clients who heat style their hair (so pretty much all of them) add EIMI Thermal Image protection spray to their kit. Not only will it smooth away frizz and dial up shine, but it also protects strands from heat up to 220°C. Shade fade, be gone.
SHOPWELLA STORE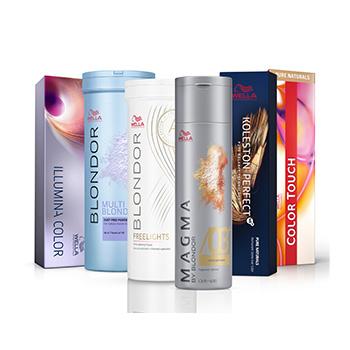 SHOP NOW
Products are only available to professionals.