How to Enhance Brown Hair With a Brunette Gloss
Blonde hair has long been known for being tricky to maintain. But, as any brunette client will tell you, locking down darker shades can be a challenge too. As prone to dullness and brassiness as a head of honey blonde hues, even the richest shades can fade over time. That's where brunette glossing comes into play.
Wait – What is Brunette Glossing?
A hair gloss treatment – known at Wella as a Koleston Perfect Pure Glossing Service – is your go-to for reviving salon colour in between appointments. It teams a hint of a tint with a radiant finish, so you can use it to neutralise brassy tones, blend regrowth, add glossy luster or create a subtle hair transformation.
But what makes it different from the usual colour process? It's all in how you mix up the formula. The trick is to blend your client's desired Koleston Perfect shade with Welloxon Perfect 1.9% and INVIGO Color Service Post Color Treatment. Mix the three together in an even 1:1:1 ratio, then apply from root to tip, before allowing the gloss to develop for 5-10 minutes. Yes, it's really that quick.
You can book clients in for a brunette gloss in between their usual colour appointments, or use it in place of traditional toner to gently shift their shade. And, because it's super-speedy, they can even fit it into a lunch break. Their brunette locks will be looking richer and more radiant in no time.
5 Brunette Glaze Formulas For Major Shine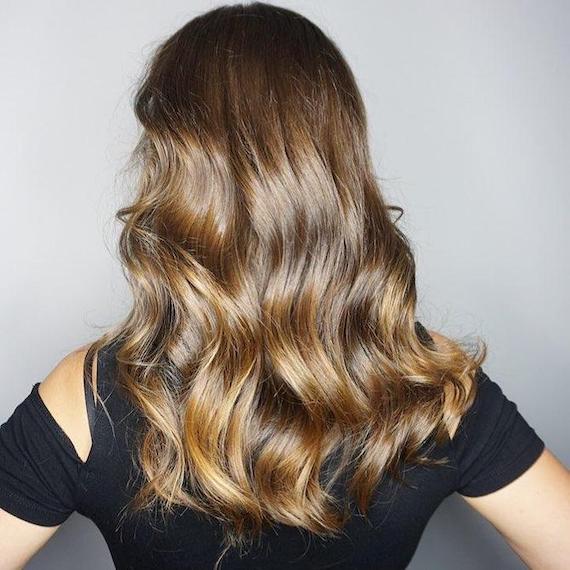 1
Milk Chocolate Brown Hair Gloss
Image Credit: @kai_sohn
Chocolate brown hair calls for deliciously rich shades, but the touch of warmth can fade a little brassy as the weeks go by. To ensure hair stays on the right side of warm – think shimmery, shiny and caramel-tinted – try adding Koleston Perfect 7/31 into their glossing formula. Et voilà, crème de chocolat locks.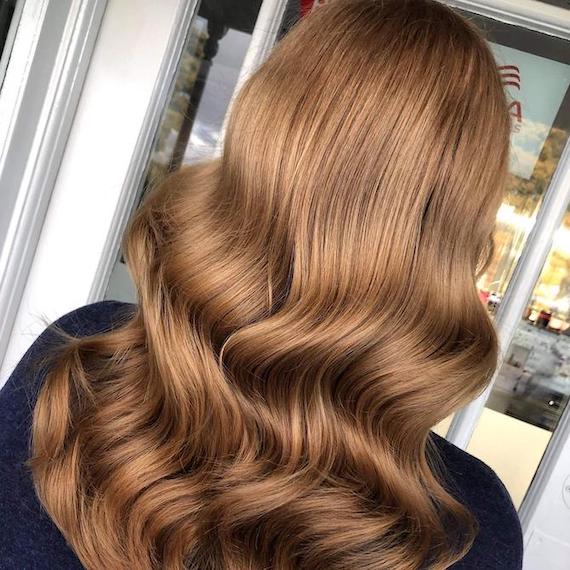 2
Chestnut Brown Hair Gloss
Image Credit: @dreamshair_colourexperts
This chestnut bronde balances warm brown and warm blonde tones to perfection, so brunette locks appear beautifully sun-kissed. No wonder it's one of our favourite hues for summer. Here, regrowth was touched-up with a Koleston Perfect 7/17 root shadow, before 9/7 was added to the glossing formula, and applied to mid-lengths and ends. Flawless.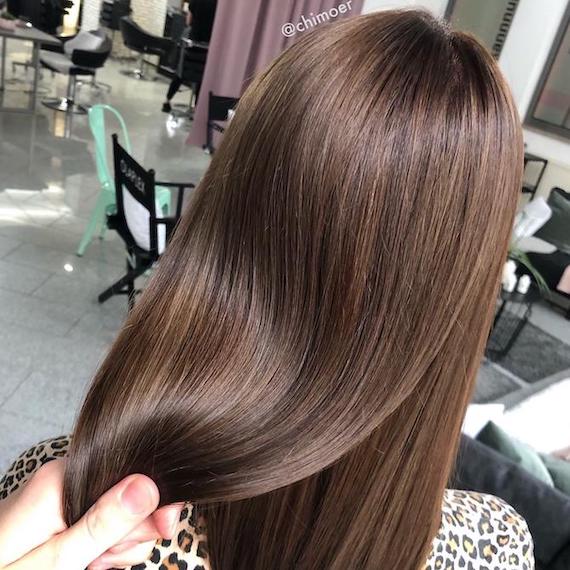 3
Deep Brunette Hair Gloss
Image Credit: @matherzberg
Dark brunette hair can succumb to fading as quickly as a lighter, warmer brown, but applying a glaze will add some much-needed dazzle. It can even enhance virgin hair. For this particular, pearlescent shade, Koleston Perfect 6/97 + 7/18 was mixed into the glossing formula, resulting in the dreamiest glow from root to very tip.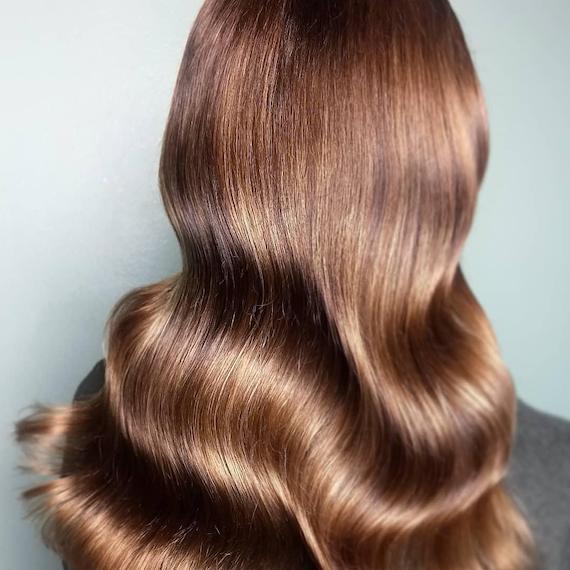 4
Caramel Brown Hair Glos
Image Credit: @cassandra_foehr
Shine, shine and more shine was on the agenda for this caramel brown creation. Over a level five base, a glossing formula featuring light, level nine Koleston Perfect tones was applied. The blend? 9/97 + 9/96 + 9/31, swept through from root to tip for a megawatt glow. This is a perfect example of just how glossy a glossing creation can get.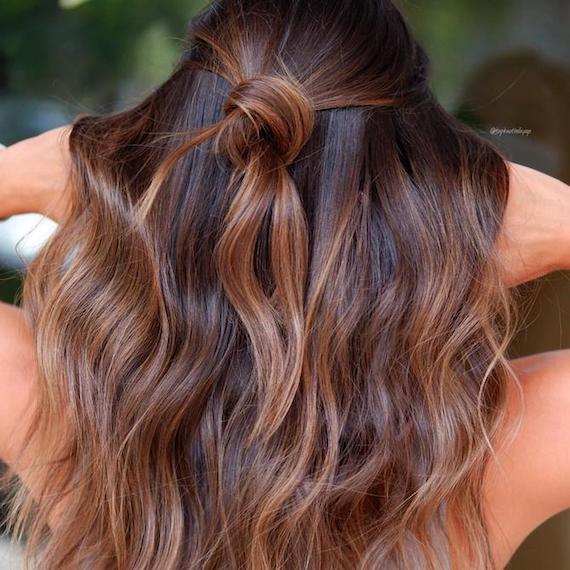 5
Toffee Balayage Hair Gloss
Image Credit: @topknotbalayage
Did we mention that a brunette glaze is the dream for blending balayage? If those lighter lengths start to turn too warm, give them a toffee-toned refresh with 7/97 + 8/0. Massage the formula from root to tip, ensuring you saturate the mid-lengths and ends. This is a must-book for balayaged clients who want to top up their tone without needing a fresh head of highlights.
Watch a Brunette Gloss Step-By-Step
How Your Clients Can Get a Brunette Gloss At Home
Did you know? Your clients can also refresh their salon shade at home. Think of our colour-depositing Color Fresh Mask as the DIY equivalent to a weekly gloss. The zero-damage, nourishing formula pampers parched ends in between trims, while a subtle tint enlivens locks with a radiant glow. It's a win-win for clients.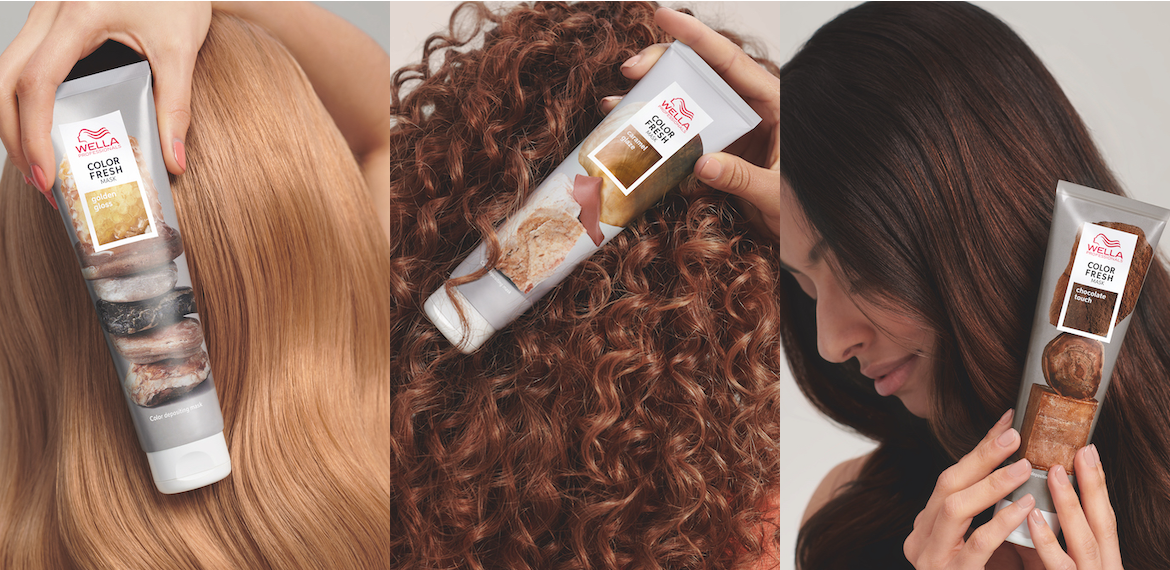 There are three masks made just for brown hair: Golden Gloss (above left), which flatters golden brown and bronde hues, Caramel Glaze (above center), which tops up caramel tones, and Chocolate Touch (above right), which enhances true brunettes.
Here's how the mask works:
Wash hair first: Clients should start by ridding their locks of residue with a shine-boosting shampoo, like the ColorMotion+ Color Protection Shampoo. Recommend they lather up and rinse thoroughly for fresh, clean hair.
Apply the mask: Help them choose between the three brunette-boosting editions of the Color Fresh Mask, then advise them to smooth the formula from root to tip, concentrating on the brassiest areas first.
Wait 10 minutes: Yes – just 10 minutes. If your clients like a low-maintenance routine, the Color Fresh Mask fits in perfectly. Once the time is up, all they need to do is rinse it out. Best of all, they don't need to apply another conditioner or treatment afterwards. The moisturizing mask replaces this step, leaving hair soft, smooth and manageable.
Glow, glow, glow: Finally, your clients can blow-dry and style their hair as they usually would. The golden, caramel or chocolate tones in their brunette hair will appear salon-fresh once more.
Want to See the Color Fresh Mask in Action?
Watch Chocolate Touch transform a brassy balayage into a velvety dream come true in this quick tutorial: