Frosted Hair is the Coolest Way to Do Highlights Right Now
It's not just the weather that's frosty right now. Frosted hair is trending this season, and if you love fresh, icy blonde highlights, you're going to be obsessed with this look. So, sit back, chill out, and learn all about the coolest colour trend taking Insta by storm...  
What is Frosted Hair?
Don't confuse frosted hair with frosted tips. The latter sees the very ends of short hair lightened, as if the tips have been dipped into hair lightener. Frosted hair, on the other hand, is a scattering of contrasting highlights on longer locks, typically in cool blonde tones, sparkling hues, like ash blonde, platinum or beige. 
Want to get the look? You can use a high volume of foils and a pre-lightener, like Blondor Multi Blonde Powder or go for freehand painting technique with Blondor Freelights. Make sure to lift strands three or more shades lighter than the base, ensuring 'lights are adjacent to natural pieces. This will help them stand out, as frosting should.
How is Frosted Hair Different to Highlights?
Hair frosting is a highlighting technique, so in some ways it's not different at all. However, where the usual goal for blonde highlights is to create a soft, seamless finish, hair frosting is all about nailing a stronger contrast between the 'lights and the base. That means upping the lift, reaching for your foils or freehand technique, and having a cool toner to hand to get the finished highlights icy.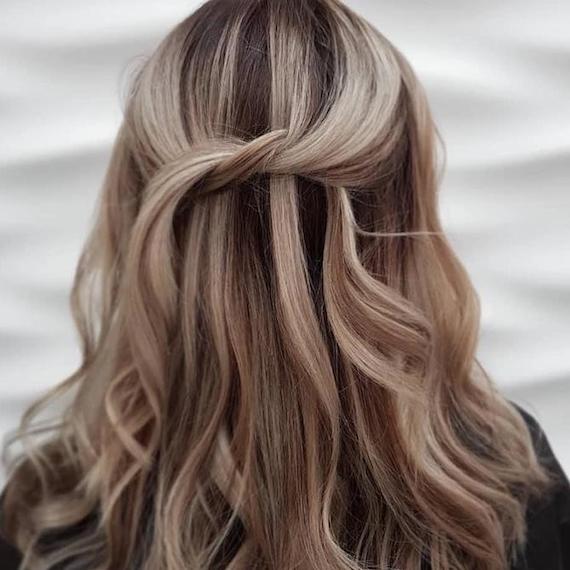 1
1. Frosted Brown Hair
Image Credit: @salonghypehallarna
Want to add some frosting to brown hair? First up, ensure the base brown hue is cool-toned, so it matches the tone of the icy blonde highlights scattered throughout. Create contrast by lifting frosted strands to a level eight or nine, leaving a gap between each foil, so hints of brunette can be seen peeking through. Then, make it shine. Use permanent hair color like Illumina Color to tone lightened sections of hair, leaving locks looking luminous, thanks to its light-reflective finish.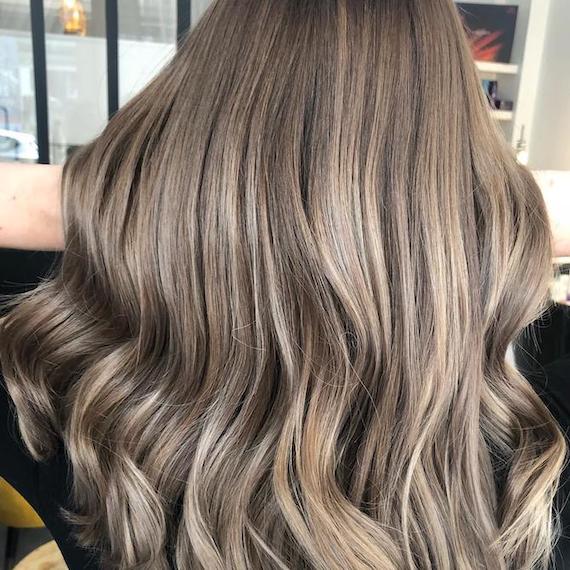 2
2. Ash Blonde Frosted Hair
Image Credit: @oz_beauties
Team an ash brown base with ash blonde frosting to perfect this ultra-dreamy look, created at the Oz Beauties salon in France. It's an intricate formula, which sees Illumina Color 6/16 +5/81 4% contrasting with 9/60 + 6/16 1,9 % and 6/19 + 6/16 1,9% for high-shine, high-sparkle, high-drama waves.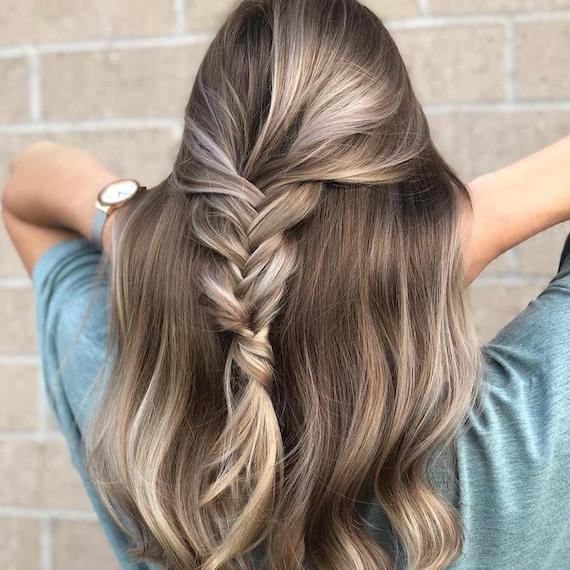 3
3. Beige Blonde Frosted Hair
Image Credit: @naomipaintshair
This is the definition of beige blonde perfection. Naomi nailed the look with three formulas, starting with demi-permanent Color Touch 7/97 + 7/0 + 1.9% at the roots. This melted down into 9/97 + 9/0 + 1.9%, before alternating ends were painted in Color Touch Relights /00 + /03 + 1.9% for almost-platinum frosting.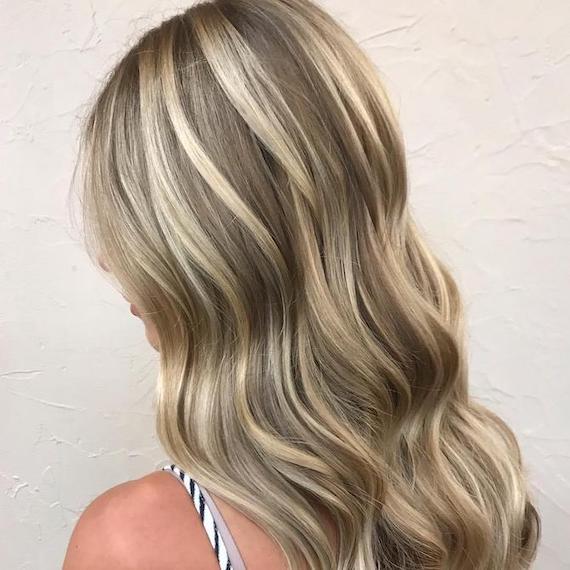 4
4. Ivory Blonde Frosted Hair
Image Credit: @schmid.hairstyle
Ivory blonde is the ideal hue for frosted hair. It's cool-toned, clean and provides all the sparkle you could possibly want. If you're as hooked on this multi-dimensional 'do as we are, combine that ivory frosting with a few spritzes of EIMI Glam Mist shine spray to up the glow.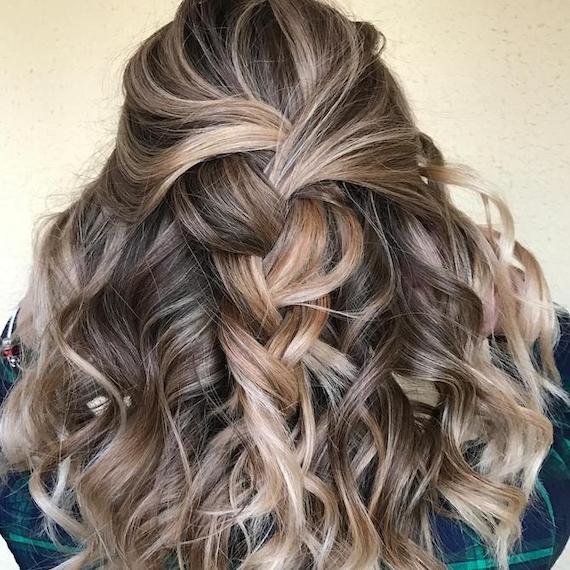 5
5. Braided Frosted Hair
Image Credit: @hanna_haircolor
For frosted hair to really make a statement, you need to up the texture. That means styling in some curls and – if you're going bold – a piece-y, tousled braid. Get the look post-frosting by teasing EIMI Ocean Spritz salt spray through damp strands from root to tip, then blowdry, tong and texturize with EIMI Dry Me dry shampoo for added grip while you braid.
How to Maintain Frosted Hair
Want to lock down that frosted hair? Whether you've tried the trend yourself or you're advising a freshly-coloured client, follow these three shade-saving rules…
1. Protect Hair from Heat
Heat styling is one of the top culprits for shade fade, so make sure hair is always protected. EIMI Thermal Image heat protectant spray is our go-to for safeguarding strands while blowdrying, straightening and tonging. The sun's rays can also cause hair colour to go brassy, so turn to the INVIGO Sun UV Hair Color Protection Spray in the summer months.
2. Switch Up Your Shampoo
Never underestimate the importance of post-color haircare. In particular, the shampoo you use after coloring has a huge impact on how long that flawless shade is going to last. That's why our colour-kind formula, ColorMotion+ Color Protection Shampoo, is a must-have, harnessing antioxidants to shield strands against dulling, damaging free radicals. INVIGO Blonde Recharge Cool Blonde Color Refreshing Shampoo is also the dream weekly treat; a violet shampoo that neutralizes warmth to ensure there's not a brassy tone in sight through those sparkling, frosted ribbons.
3. Get the Gloss
In between color appointments, it's a good idea to go for a hair gloss treatment. This is a speedy shade-refreshing service that renews shine and tone in the space of a lunch break.  It's particularly good for frosted hair, which relies on a cool, icy finish, as it offers an easy fix for highlights that are starting to look a little warm.