Wedding Hairstyles for Every Bridal Look
Whether you're coifing your own wedding hair or helping a bride get ready for her big day, one thing's for sure: this isn't your average hairstyling routine. Bridal hair requires the best of everything – products, tricks, techniques and accessories – to not only look photo-perfect, but also stay that way from 'I do' to dancefloor.
So, how do you become a wedding hair pro? Below, you'll find the ultimate need-to-know tips for every wedding belle, whether the bride's style is boho beauty or city hall chic…
Must-Have Products for Wedding Hair
The journey to wedding hair flawlessness begins with finding 'the one': the most beautiful bridal hairstyle. Practice makes perfect, so start trying out styles at least one or two months before the big day arrives. This allows enough time to order in any hair pieces or accessories the finished look might need, while important factors like location, flowers and dress style will all be locked in place.
Speaking of flowers and the dress, these are details that a hairstylist needs to know about. If that's you, ask the bride to bring photos to the test run, so you can ensure the hair will work with her full look. Then, ask questions. For example, if she's wearing a one-shouldered gown, does she want her hair to trail down one side? Is there some back detail she'd like to show off? Or would she like to tuck some of her bouquet flowers in her hair?
Even if you're doing your wedding hair yourself, these are all things you need to think about. Location also comes into play, as an outdoor wedding might mean your braids need to be plaited that little bit tighter, or a few extra spritzes of hairspray are required. As for color, book the final appointment so it falls around one week before the wedding. This way, the color will still look fresh on the day, but there's time for tweaks if necessary.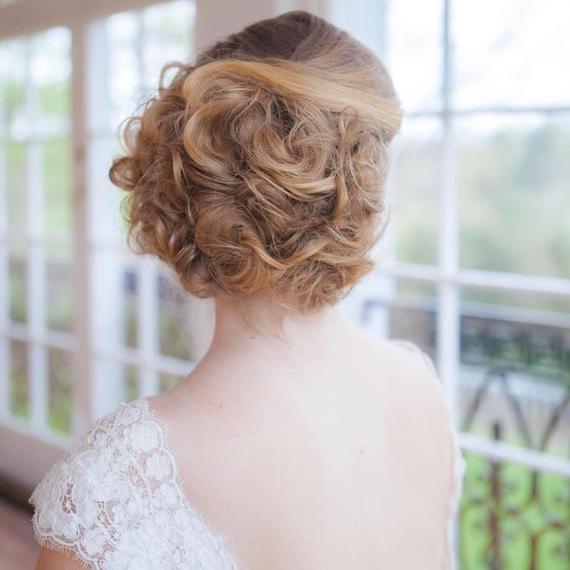 Image Credit: @alejandrojimenezofficial
A Heat Protector
Protect an 'I do' hairdo from damage by spritzing EIMI Thermal Image over hair before using heated tools. This hard-working heat protectant spray safeguards strands when you're styling with hairdryers, tongs and straightening irons.
A Long-Lasting Hairspray
A wedding isn't the time for a light-hold hairspray. Have at least a medium-hold spray at the ready, to set hair in place once you've achieved that romantic bridal style. We recommend EIMI Perfect Setting, which allows you to keep styling and shaping the hair after spritzing. Meanwhile, EIMI Stay Firm is perfect for outdoor weddings and windy days.
A Dry Shampoo
Because dry shampoo isn't just for freshening up roots, tuck EIMI Dry Me in your bag. It's great for adding texture through the crown, mid-lengths and ends or giving braids and up-do's a little extra grip.
A Shine-Booster
Everyone wants to shine on their wedding day, so radiance-boosting products are a must. Try our multi-tasking EIMI Just Brilliant; a dazzling pomade that gives good glow while instantly taming frizz and flyaways.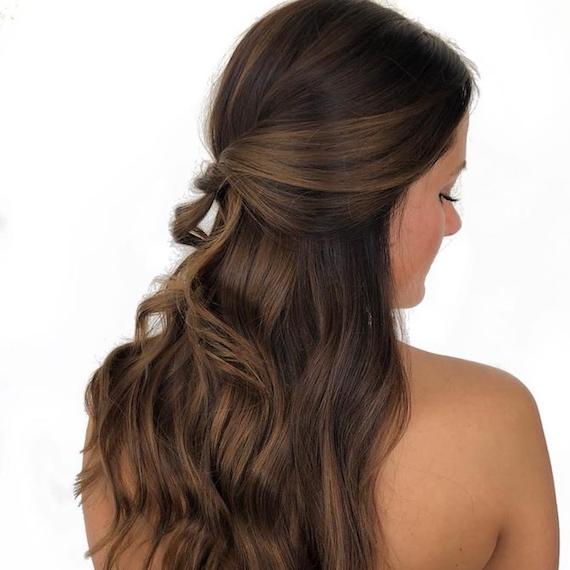 Image Credit: @gretawagner_
How to Prep Wedding Hair
When Should You Shampoo?
Clean, dry hair is the perfect canvas for every wedding hairstyle, but if you're styling it in curls or an up-do, you may want to skip washing it on the morning-of. Freshly-washed strands can be too slippery for intricate hair looks, so aim to lather up the night before the big day to achieve a little extra texture. Hairstylists: make sure you mention this to your brides so they arrive at the venue prepared.
What Kind of Haircare Should You Use?
The INVIGO Balance collection is a dream come true for brides-to-be. It purifies the scalp, rids strands of any style-ruining residue and doesn't weigh hair down. Use the Aqua Pure Purifying Shampoo to get locks feeling ultra-fresh, then apply a small amount of the Senso Calm Sensitive Mask for moisture and strength in one.
How Long Does an Up-Do Take?
Styling wedding hair could take anywhere between 30-60 minutes to do, so slot an hour into the getting-ready timeline. You don't want to feel rushed! This can come before or after makeup – it's really up to you - but always ahead of getting dressed, so there's no spillage or products touching the gown.
Can You Wear Hair Down with a Veil?
The simple answer? Yes - veils can work with wedding up-do's and down-do's. Just make sure that, if you're styling wedding hair down, you lightly backcomb the crown section where the veil comb will sit. This will help it stay in place.
Wedding Hairstyles
1. Classic Wedding Hair
The ideal match for the classic bride? An elegant chignon, also known as a low-slung formal bun or twist that you can decorate with petals from the wedding bouquet. This is one look that definitely requires EIMI Stay Firm, as well as plenty of bobby pins to keep every strand in place.
2. Country Wedding Hair
Classic bridal looks get an effortless twist in these country wedding-inspired styles, featuring nape-hugging buns, carefully-crafted waves and colorful hints of flora. Try the low bun on the left for a more sophisticated style or, if you're looking for wedding hairstyles for short hair, bring some boho to the look with a half-up bun and a twist of lavender.
3. City Hall Wedding Hair
Go low-maintenance and high-fashion with glamour waves and a deep side parting. Whether you're styling short or long hair, you'll need plenty of volume here, so prep damp locks with EIMI Root Shoot volumizing mousse to get some lift, then blow-dry with a large round brush.
4. Boho Wedding Hair
If 'princess bride' is the wedding aesthetic, look to Rapunzel-esque hair pieces, polished braids, tonged ponytails and well-defined curls that scream 'you shall go to the ball'. The perfect wedding hairstyles for long hair, these fairytale looks are particularly suited to outdoor weddings, as the tight plaiting (teamed with plenty of hairspray) makes hair wind-proof.
Looking for more wedding hair inspiration? Head to the @WellaHairUSA Instagram for endless styles, or explore the Koleston Perfect board on the Wella Pinterest page to get bridal hair color ideas.