How to Do an Online Couch Consultation for Hair Clients
In the hairdressing world, the connection between you and your clients is so important. Over time, you build up vital trust that makes your job easier – not to mention more enjoyable. So how do you keep those lines of communication open in the current climate? Many professionals are turning to online hair consultations – or what we're calling #CouchConsultations – to stay in touch while social distancing.
It's a clever solution; not only will it help you maintain relationships with your clients, but it also gives them access to professional, personalized hair advice in the comfort of their own homes. So, if you're considering kicking off online hair consultations of your own, follow these tips from Wella Professionals to get started on your #CouchConsultations…
How #CouchConsultations Help You and Your Clients
First up, let's talk about the benefits of running online hair consultations at home. Trust us – there are plenty of reasons to be logging on and chatting with your clients while social distancing.
1. Maintaining Relationships
Part of what makes our jobs so special is the relationships we have with our clients, and running couch consultations online allows you to maintain that close connection. It helps with loyalty, too, as it ensures you remain a constant source of advice; someone your clients can always rely on when they need professional hair advance.
2. Advance Payments
You can use online hair consultations as a chance to make advance bookings, ready for when salons reopen. This could help with your income, too, as you could offer priority appointments to those who pre-pay.
3. Getting Timings Right
Seeing your client's hair ahead of appointments will allow you to judge what kind of service they need. This will make it easier for you to calculate how long you'll be spending with each client.
4. Saving Time for Later
Speaking of time, you and your client are likely to have less of it when social distancing ends. Getting the consultation done now will help you save time when life starts to get busy again.
Ways to Do an Online Hair Consultation
1. Schedule Consultations
Whichever way you carry out your #CouchConsultations (email, video call, live on Instagram), be sure to schedule enough time in to answer every question they might have. It's always best to leave longer than you need, so get your schedule out and plan your days accordingly. You don't want your clients to feel like you're trying to rush them off a call.
2. Use Video Calling
The easiest and most obvious way to carry out a one-on-one online hair consultation is through a video call, using apps like FaceTime, WhatsApp or Instagram's video function. Some professionals are charging for the service and using it to offer advice on everything from maintaining color to curating an improved hair care routine – all entirely bespoke to the client.
3. Open Up Your Inbox
If you or your client prefer keeping connected over emails or text messages, ask them to send over photos of their hair (preferably taken in natural daylight), so you can give them some digital tips and tricks. You could even create a questionnaire to add some structure to the process. Keep scrolling to find some suggested questions in the sections below.
4. Run Live Masterclasses
Those of you with a large Instagram following might find it more efficient to run live-streamed masterclasses, enabling you to talk to your entire audience at once. If you go down this route, use your Stories to advertise the time you'll be going live, and ask followers to submit questions or allow them to vote using the poll feature, so you can plan which topics to cover. If you're short on inspiration, aim for broader topics – such as DIY blowdries or Zoom-ready braids – and save more specific hair advice for one-on-one consultations.
5. Stock Up on WellaStore
If you have an account on WellaStore, why not place orders for essential products that clients can use at home? Then, after each online consultation, you can send them direct to your client. If you don't yet have an account, now is the time to set one up and enjoy access to ordering online 24/7. You can easily order a small selection of home hair care products to keep your clients' hair in shape. Alternatively, you can use your existing stock of products you have at the salon.
Tips for an Online Hair Consultation
1. If You're Not Sure What to Ask…
… get those #CouchConsultations kicked off with these questions:
How do you feel about your hair? This will give you an idea of the hair's current condition.
What are your biggest hair concerns? Asking about concerns will help you formulate an easy solution.
Can you show me your color in natural light? Whether you're assessing the hair via video call or photographs, natural light will provide you with the clearest impression of the color. Try to arrange live consultations during daylight hours.
What products are you using to look after your hair? Care is key in the absence of professional treatments, so advise your clients on ways to maximize their home hair routine.
How do you want your hair to look and feel? Understanding your client's hopes for their hair will allow you to make accurate recommendations and let them know what treatments they should consider booking for their next appointment.
2. If They Want to Dye Their Own Hair...
Here's where that natural light really comes into play. If your client asks for advice on home hair dye, be sure you can clearly see their hair's current condition before you make suggestions. Advise they go for a color refresh to soften their roots and tide them over until the next salon visit. This can be achieved at home with a semi-permanent color enhancer, like Color Fresh.
This bespoke approach can be a better solution than your client reaching for the closest box dye. It offers a soft blend to their regrowth but is very gentle and fades nicely, meaning less chance of a DIY disaster. If you have their record to hand, you can recommend a Color Fresh shade that complements their usual salon hair color. Otherwise, ask your client to show you photos of their ideal hair hue (and their existing shade) before you choose a match. Make sure they do a patch test, too. They should apply a small amount of the formula to the inside of their elbow at least 48 hours before coloring, and discontinue use if irritation occurs.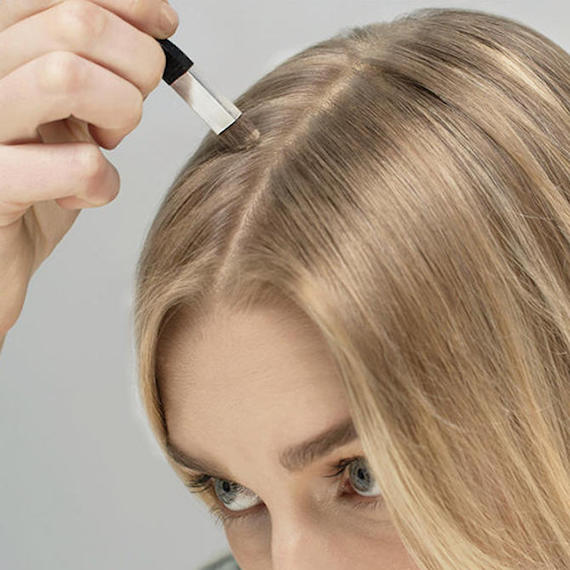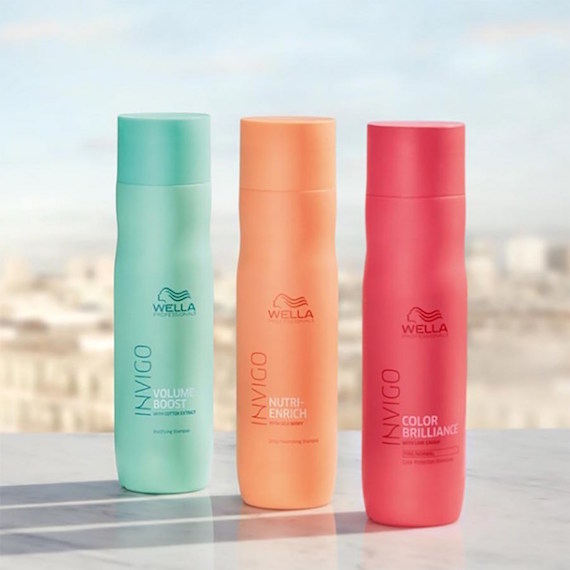 3. If They Want to Cover Roots…
For many, roots are inevitable while social distancing, which is why we're loving the #ShowYourRoots hashtag on Instagram. It's there to encourage clients to embrace their roots until their hair is back in the hands of a pro, saving them from any at-home hair faux pas. However, if they're really keen to cover roots up, you can teach them about Insta Recharge; our easy-to-apply root concealer that offers a temporary solution. During an online hair consultation, help them choose a shade and show them how to brush it through the roots. You can even buy a batch on the WellaStore and send it out to customers.
4. If They Need Hair Care Advice…
Without access to the regular trims or conditioning treatments you provide, some of your clients may be finding their hair feels drier or their color is starting to look brassy. Use an online consultation to help them nourish locks back to their brighter best, recommending at-home solutions to tide them over until their next appointment. Some of our favorites include color-kind shampoos from the INVIGO Color Brilliance and Blonde Recharge collections, plus any of the hair masks to smooth and soothe mid-lengths and ends. Oil Reflections Luminous Reboost Mask is particularly pampering for parched tips.
5. If They're Prepping for a Visit…
There will come a time when you're preparing to open up for business and book clients in again – many of whom will want to be the first names in your diary. In the weeks leading up, consider carrying out hair consultations over video calls and emails, saving precious time at each appointment and allowing you to hit the ground running.
To ensure client loyalty, you could then offer priority bookings for those who pay ahead or treat pre-payers to a complimentary conditioning treatment as an incentive. This is something you can promote via Instagram or mention when clients call to book, helping them feel more confident their hair can be fixed ASAP, and ensuring you won't get any last minute cancellations in those first weeks back. Plus, the consultations will allow you to judge how long each appointment needs to be, so you can schedule in enough time for even the most dramatic color corrections. It's a win-win.