Marketing Resources for Wella Stylists
(Pssst…did we mention it's FREE?!)
Marketing.Wella.com makes it easy to build and manage your salon appearance with easy, downloadable prints and digital media uploads. Not sure what to say to your clients? With fill-in templates and text suggestions, it has never been easier to pinpoint your exact needs, find concise examples, and reach a new spectrum of clients. Powerful imagery and eye-catching professional videos ensure your social presence and salon screens are transformed into stunning pieces of upscale branded content. We've broken it down into the crucial moments these free tools should be used. Download, print, and upload your way to a higher clientele.
BEFORE: Getting the Client
To bring in ample clientele, our marketing tools make it easy to bring awareness to your salon and expertise before booking the client.
 Advertising: Marketing.Wella.com offers customizable info and special offers perfect for social content and websites. Simply fill in the template form and post to keep your clients informed of your offerings.
 Offer Cards: Personalized discounts on specific services can add to a current client's service or bring new clients through your door. Offer cards can boost the number of services your client may buy in one visit or persuade a fresh client to try something new.
 Flyers: Flyers are a simple and cost-effective way to spread the word about your salon. Completely customizable, our flyers can be tailored by you to hand out to local businesses and share with your community.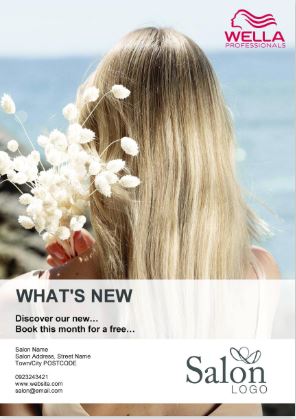 DURING: The Salon Experience
Clients should feel welcomed when entering your salon. What better way to make them comfortable and confident with transformation than beautiful imagery and easy price listings to ease them into their services? Your salon says a lot about you and the way your client will feel after the appointment. After all, the salon experience happens before and after the client sits in your chair.
• Appointment Cards: Your clients are walking advertisements. You should keep their style as up-to-date as possible. Use our chic, designed cards to guarantee they look their best and return often.
• Posters and Banners: Visual imagery is powerful. When a client sees the exceptional style on the signs of your salon, they know they can expect the same caliber when they step inside. Make sure your salon is speaking without you saying a word. These stunning visuals are perfect for adding a pop of color to vacant areas of your salon.
• Service Tent Cards: Give your clients something to read in your salon waiting area with three-sided information cards that are easy to print, fold, and display. These cards can stimulate fresh service ideas and spark conversation during the salon experience.
• Price Lists: Our price lists are easy-to-read and explain the cost of one-of-a-kind services without the need for uncomfortable conversations regarding money. You can also use price lists as a promotional piece for seasonal trends.
• Promo Days: To sway clients to occupy days that aren't as busy. Keeping your schedule more consistent while offering them the bonus of discounted services and less rush.
AFTER: Keeping the Client
Maintaining relationships is vital after the client leaves your salon. To ensure your clients know they are unique to your business, send personalized cards and posts welcoming them to loyalty discounts and services. Always showcase your salon to current and potential clients on social media.
• Referral and Loyalty Cards: Exposure creates sales. Say 'thank you' with loyalty discounts that increase your chances of repeat business, and keep a fresh stock of referral cards for your clients to distribute with every compliment they receive for their new styles. The bonus of a referral discount motivates your clients to spread the word.
• Wish Cards: Clients want to feel special. Personalized benefits for birthdays or special events establish relationships and grow your sales if a client decides that the discount is worth adding extra services.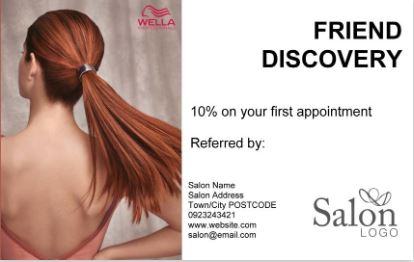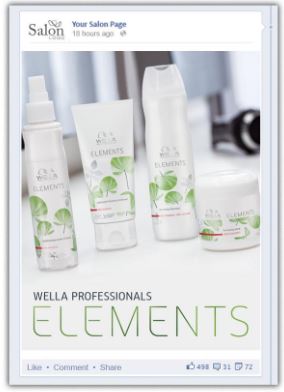 BONUS: Social Presence
Let your social audience know that you are a part of the haircare elite with pre-designed posts that elevate your platforms. These Wella-approved images and videos are sized to fit your pages.
• Banners: To keep your sites clean, consistent, and on-brand, professional-looking
• Facebook: Photos, videos, and banner to create a professional online presence.
• Instagram: Photos and videos for a professional online presence.