HAND-CRAFTED ACCESSORIES & SLICKED DOWN HAIRSTYLES FOR THOM BROWN
Eugene Souleiman threads wool into a side-part for Thom Browne's AW17 collection at NYFW.
Creating minimal and futuristic looks beautified with woollen hair accessories, Wella Professionals Creative Director Eugene Souleiman celebrated craftsmanship for Thom Browne's AW17 collection. Learn how to recreate this graphical and very modern look in our tutorial.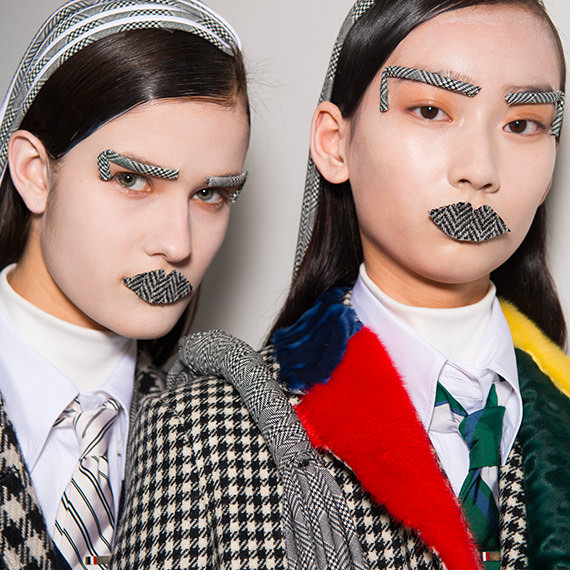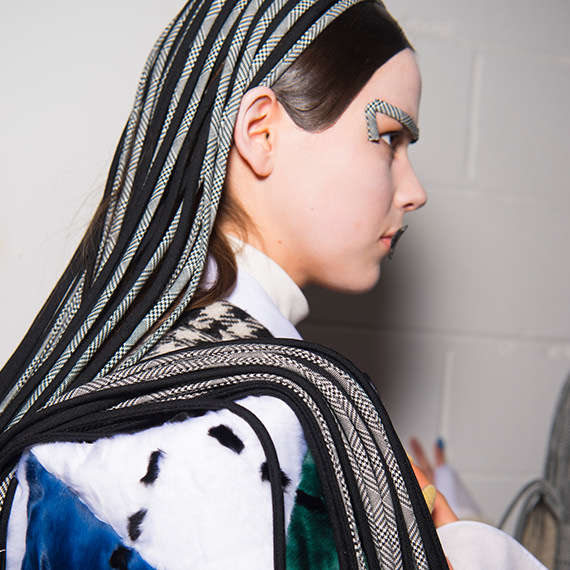 THE BACKSTORY
Working intimately on the creative direction of a show is what Eugene Souleiman loves most about session styling, and this season's collaboration with Thom Browne for AW17 was exactly that. Together they brought to life an alternate universe in Alice's Wonderland. From upholstering the entire set with nubby fabrics to releasing wool-clad gargoyles as live props, Thom tailored the show from top to toe, paying a quiet tribute to old Paris couturiers.
Over 50 models treaded delicately across the catwalk to a heady mix of Kraftwerk, Berliner Philharmoniker and Marilyn Manson pulsing from the sound system. They emerged as though hatched from a woollen undergrowth, glistening at the brow with floor-length trails of fine, tubular woollen hair, a graphite lip, felt nails, sausage-dog tote bags and ice-skate wedges.
"This was probably one of the most creative shows of the New York scene and wouldn't have looked out of place in Paris", explained Eugene. "When you go to a Thom Brown show, you need to prepare to inhabit a new world. You literally step into his imagination and he just lets you in. But there's a level to his design that is very high-end, refined and clever, even when it's full of quirky little ideas. And we tried to be clever with the hair here too. What a joy to do a show like this."
THE KEY TECHNIQUES
So what was the inspiration for the hair look?
"This is partly a nod to the nineties with its sharp side part slicked down with a lot of product for a lot of shine", revealed Eugene. "But the main concept of the show is tailoring with wool. Everything in the production is covered in it. So we brought this luxurious fabric into the hair. Literally threading it in to create a stark, minimal and futuristic hairstyle that celebrates hand-crafting but with a graphic quality."
With 50 models and a hairstyle built through two stages, Eugene knew he needed a system to prep the hair that was not only time-efficient but also created high impact sheen to meet the brief for refined rather than textured woollen hair. He used EIMI Perfect Setting and mixed EIMI Stay Essential hairspray with Sculpt Force gel to create a fast drying cast from the hair that was strong enough to carry the wool all the way through.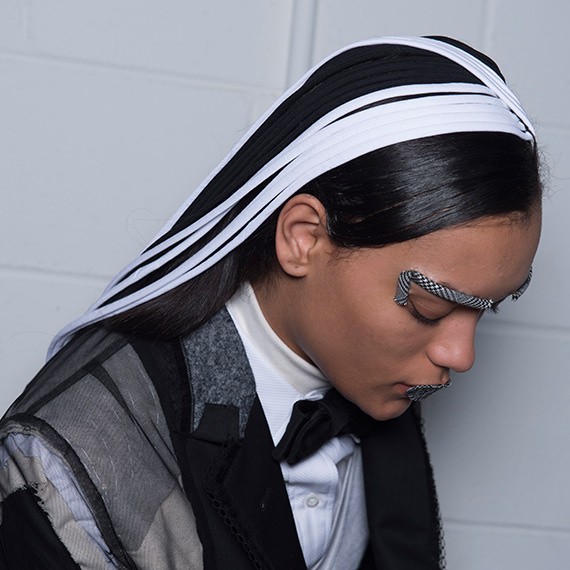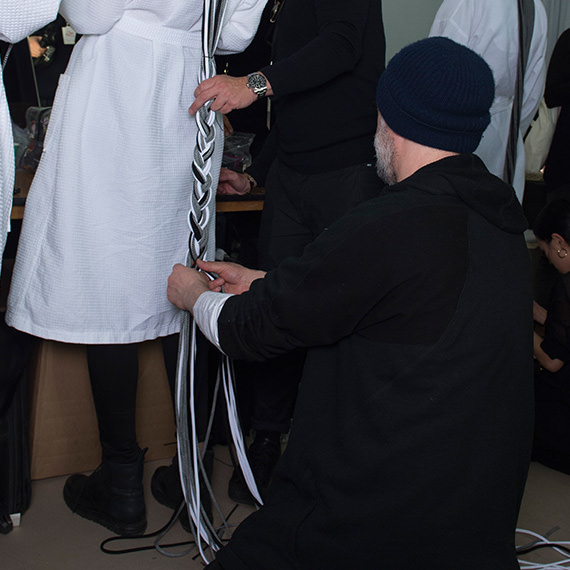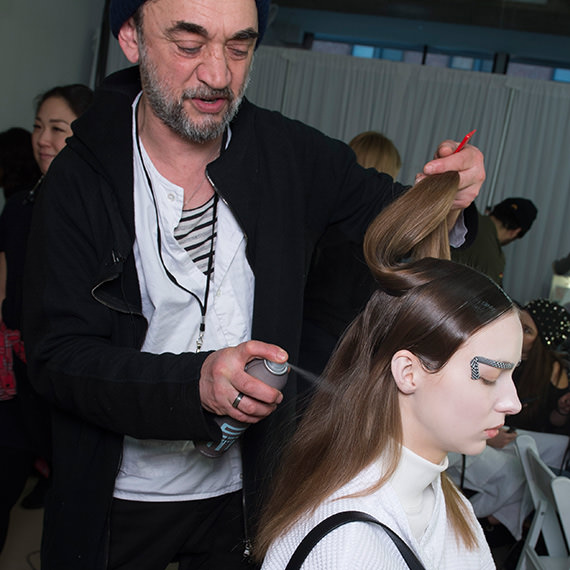 "Essentially this look is two hairstyles – a straight slicked down hairstyle with real hair, and then a braided and threaded hairstyle with wool, each with its own steps. The first step is to flatten the hair, blowing it out with Perfect Setting and running straightening irons through it."
"Next I used hair spray like you would a gel because it dries so much faster. I combed gel on top of this, painting it with brush into the front of the hairline to flatten it down to the mold and give a cast-like, almost synthetic feel to the real hair. I love this idea of mixing different fibers, embellishing a hairstyle with something imitating hair."
Then, Eugene tied the bottom of the hair down.
"I built in a braid into the side parting where we thread through all eight feet of the wool that will hit the floor as they walk. The wool comes in white, black and grey to match the three segments of the show with three different, very modern monochrome hair looks".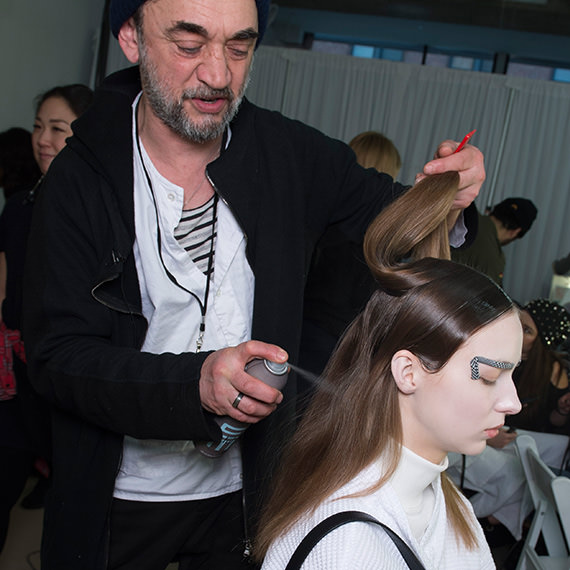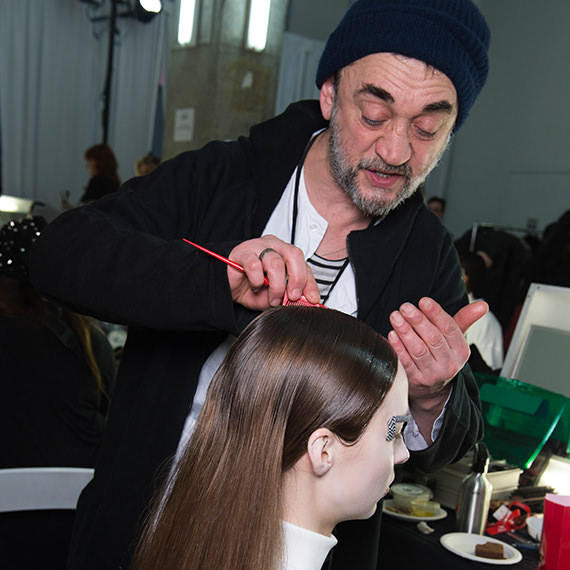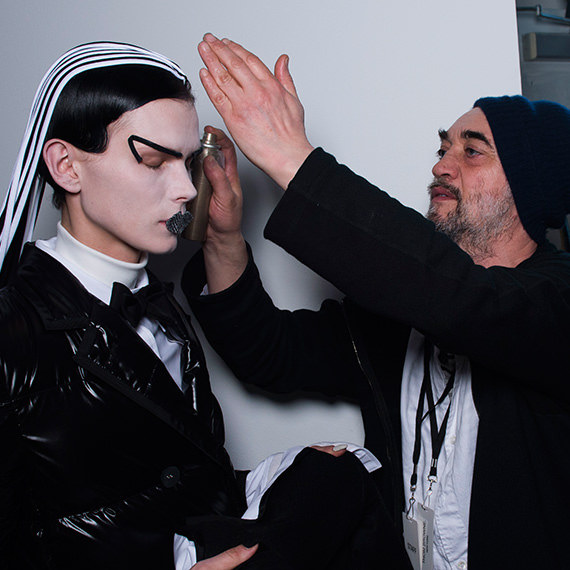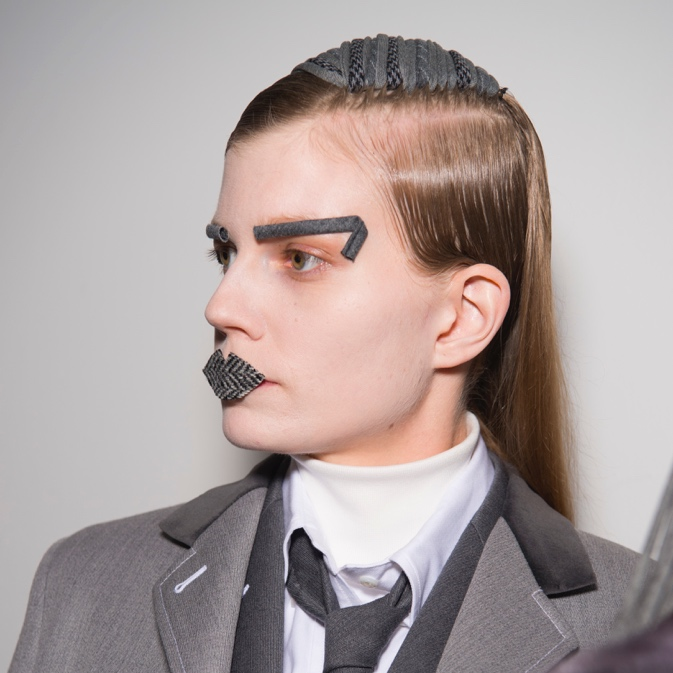 YOUR BACKSTAGE ESSENTIAL TOOLS TO RECREATE THIS POWERFUL AND MODERN LOOK