All You Need to Know About Gray Coverage
Did you know? The number one reason gen X clients go to the salon is to cover gray hair, hoping to achieve subtle, natural, flawless coverage. It's an individual choice and there's no right or wrong – in fact, more and more clients are embracing their grays – but for those who do want to blend them away, there are plenty of options to try.
Here, we explore all of the gray coverage options available, including a round-up of helpful resources to upgrade your education. Keep scrolling...
Why Does Hair Turn Gray?
Hair doesn't magically turn gray – although it can feel like it comes out of nowhere. Instead, it starts at the root, and happens when the cells responsible for color (called melanin) stop being produced. It's a normal, natural part of life and can happen at any age, with the cells producing less and less pigment as we get older.
Why Won't Gray Hair Take Color?
This isn't true for all gray hair, but some stubborn strands are resistant to color. If you're working with coarse, will-not-color locks, try the Koleston Perfect Resistant Cover shades. The original XX/0 shades were designed for gray hair that is hard to cover, while the new XX/02 Resistant Cool Cover hues offer intense cool tones for an anti-brass effect.
Why is Gray Hair Coarse and Dry?
It's important to note that not all gray hair takes on a coarse, dry texture. In fact, often, those silver strands can be very fine and a little wispy. However – coarse or not – hair tends to produce less oil over time (just as pigment decreases), which is why you might see a wiry finish. It just means the strands are parched.
The solution: while you might not be able to completely eliminate that wiry texture, encouraging your client to experiment with nourishing treatments can help. If they color their grays, we love the ColorMotion+ Structure+ Mask, which works on upping the hair's moisture levels, all while maintaining that rich, glossy hue for longer. They should also opt for styling products that give the feeling of hydration and smoothness, like Oil Reflections Luminous Smoothing Oil and EIMI Flowing Form. Creams and oils are a must for taming dehydrated strands.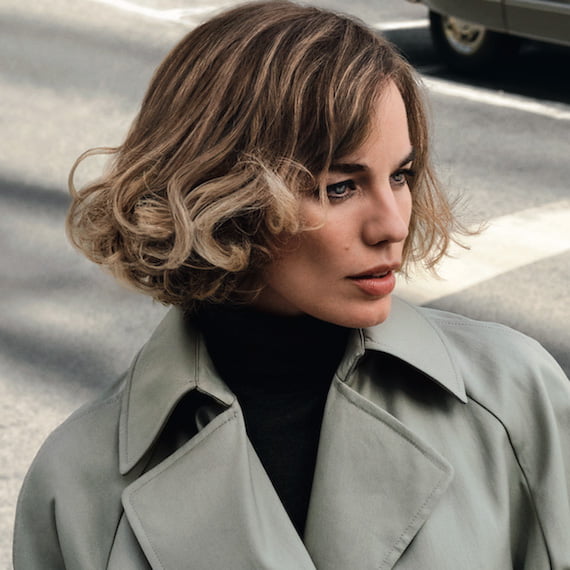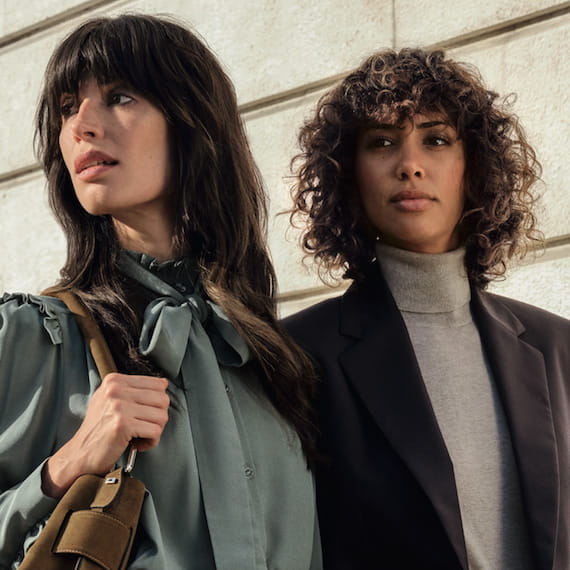 Carrying Out a Gray Coverage Consultation
When a client tells you they'd like to book in for their very first gray coverage appointment, it's always a good idea to slot in a consultation first. Why? Because doing so will help you get an idea for how much gray hair they have, plus it allows you to gauge what kind of finish they would like. Here are four consultation topics to tick off…
What type of coverage do they want? Find out if they're hoping for a soft blend or more opaque coverage. This is key before mixing up a formula, as it's essential you choose the right color product.
What is the percentage of gray? Does your client have just a small scattering of silver strays or a higher volume of white regrowth? Use the shade selector during the consultation to figure out how much gray there is, which will help you pick the perfect technique and right product choice. You can find the shade selector in the Koleston Perfect color chart.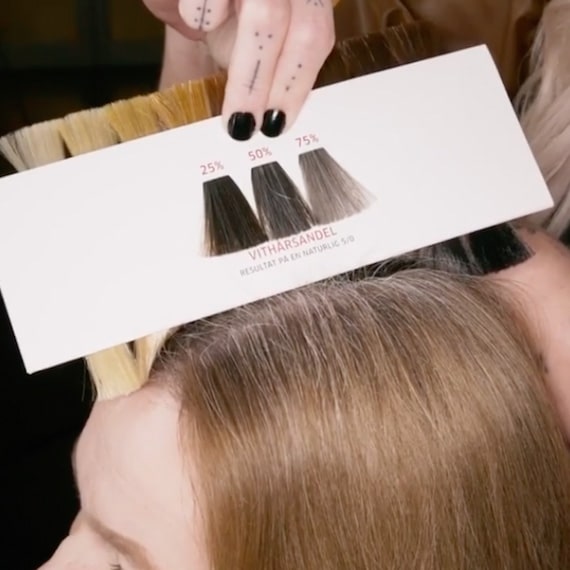 Are there clear pockets of gray or is it evenly distributed? Typically, silver strands are more concentrated through the front – especially the temples – but everyone's gray pattern is unique. You might have to adapt your technique or even use two different formulas if it's unevenly distributed.
How committed will they be to salon touch-ups? While permanent color offers complete coverage, it requires more maintenance because it creates a stronger demarcation line when it grows out. That's why clients who don't visit the salon often may prefer a demi- or semi-permanent color.
Choosing a Gray Coverage Product
1. Demi-Permanent or Semi-Permanent Color
Try: Demi-permanent Color Touch, which is ammonia-free and creates a radiant finish, or opt for Color Touch Plus to achieve up to 70% gray coverage. You can also try semi-permanent Color Fresh for up to 30% coverage.
While a demi-permanent or semi-permanent hair color can be applied to any level of gray, it's often used to camouflage early grays, giving 30-70% coverage. The benefits of going semi- or demi-permanent are threefold: it provides a rich, true-to-tone finish, it fades beautifully, and it doesn't leave a harsh demarcation line when roots grow out.
2. Permanent Color
Try: Illumina Color for a sheer result or Koleston Perfect for complete, pure-pigment coverage.
Those who want every last gray hair gone should turn to a permanent formula, as it offers complete coverage that doesn't fade away. Suggest it to clients who hope to make silver strays vanish – it covers even the stubborn strands! – and mix 1:1 with Welloxon Perfect Developer to increase the intensity.
3. Lightener
Try: Your favorite Blondor product for highlights, Blondor Freelights for balayage or Color Touch to create lowlights.
Did you know? You can actually disguise gray hair with highlights, lowlights or balayage. It all comes down to where you place the lightener or color; will you sweep it on top of salt 'n' pepper strands or apply adjacent to the grays to blend? Both options offer an ultra natural-looking, multi-dimensional effect – especially if you're camouflaging a low volume of grays.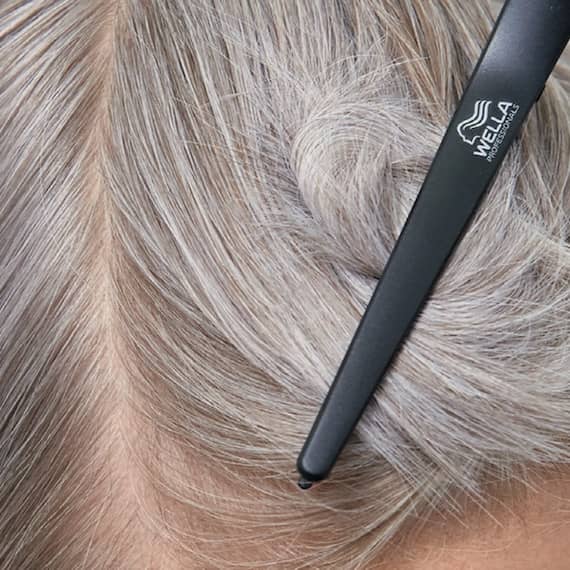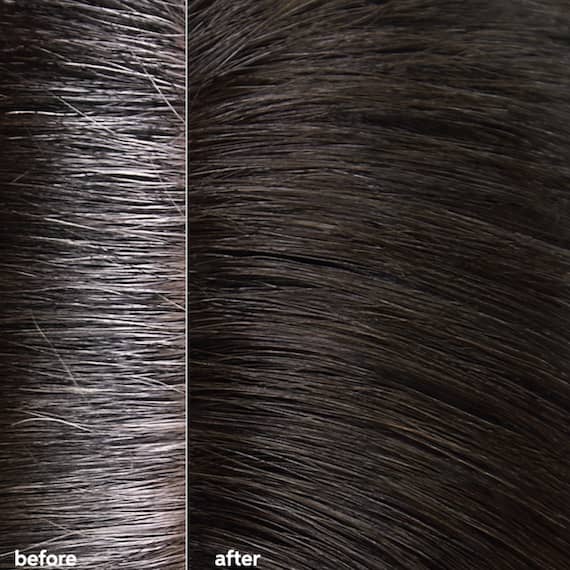 Choosing a Gray Coverage Service
As well as deciding on a color product for your client's gray coverage, consider the Wella Professionals services and techniques available. Here are our go-tos for camouflaging salt 'n' pepper strands...
1. Root Touch-Up
This is the classic root coverage, designed to disguise gray regrowth coming through. Try it with Koleston Perfect for 100% coverage, KP Resistant Cover for 100%, opaque coverage or Illumina Color to achieve 100%, sheer coverage.
2. Express Touch-Up
While traditional root touch-ups cover the entire root area, an express service uses the same products with a partial application method that focuses on the parting and hairline. The idea is to tide clients over between visits – perfect for a quick lunch appointment. Using heat will speed up development time, further reducing the length of the appointment.
3. Gray Blending
Low on commitment and high on the natural look, a little gray blending will seamlessly camouflage minimal regrowth using demi-permanent Color Touch or Color Touch Plus. This is a great option for men hoping to blur and blend their grays. Try shades like 7/89, 7/1 or 7/71.
Tips for Gray Coverage Application
1. Make Sure You Mix Enough Natural In
It's vital to add enough natural to your client's target shade. This is how you ensure the finished look appears flawlessly natural. The Koleston Perfect Pure Naturals family features a spectrum of warm and cool tones, each offering up to 100% coverage of grays. Not sure how much to use? Add in ⅓ of a Pure Naturals shade on hair that's 30%-50% gray and ½ of a Pure Naturals shade for hair that's 50%-100% gray.
2. Cover Stubborn Grays First
You should always apply color to the most stubborn gray hairs first. As they're more resistant to color, they'll benefit from the extra development time.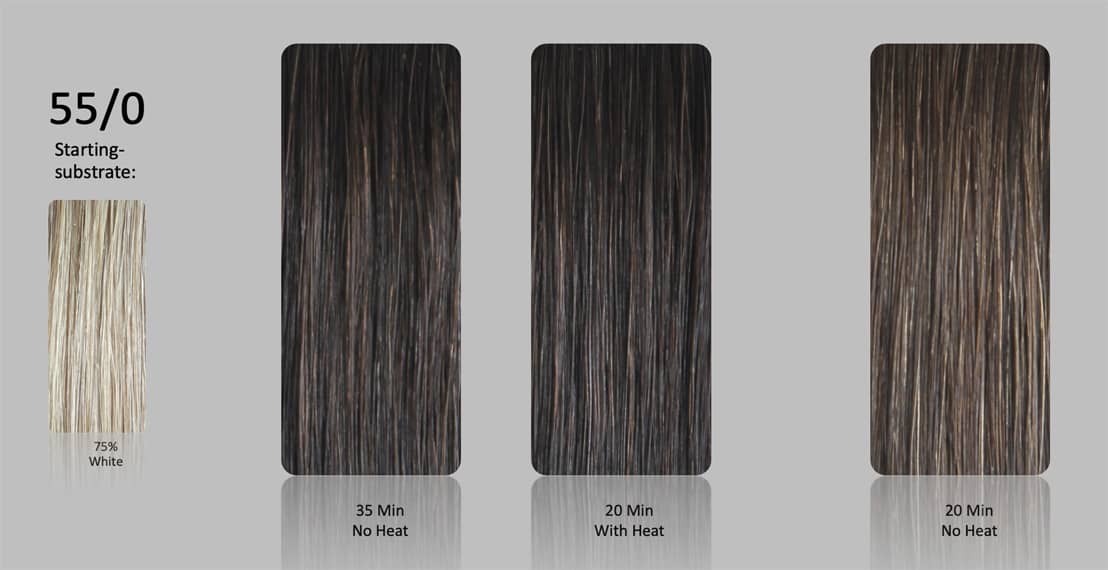 3. Use Heat to Speed Up the Process
You can reduce development time by around 50% by using a climazone. Take a look at the examples with and without heat above. Under heat, you'll need 15-25 minutes, while you should aim for 30-40 minutes without heat. Just make sure you double-check the results before you head to the backwash.
4. Protect the Hairline with Resistant Cover Shades
If you're applying Resistant Cover shades, be careful not to stain the hairline. The hair here is often finer, so the Resistant Cover shades may grab and go darker. In this case, we recommend using a lighter hue near the face, and applying it last, so it doesn't develop for too long. If there's minimal gray through the front, consider avoiding the area, or lightly feathering the color towards the front with the tip of your brush.
5. Try Brickwork Application
Perfect for an even result, the brickwork application method helps you camouflage gray hair without banding. Start by sectioning hair from ear to ear behind the crown, then apply color, working from the crown to the back in fine sections. Focus on the root area only, sweeping the formula on both sides of each strand. Continue all through the back before moving to the front of the hair.

Your Go-To Gray Coverage Guides
1. Gray Coverage on Dark Hair
Because gray hair contrasts against brown or dark brown mid-lengths, it tends to be more visible. Explore our guide on How to Cover Gray on Dark Hair, featuring pro tips and step-by-step videos.
2. Choosing Colors to Cover Gray Hair
Explore The Best Colors to Cover Gray Hair; a collection of ideas and inspiration to show to your clients during consultation, helping them pick a shade that flatters their unique features.
3. How to Cover Gray Roots
Focused entirely on roots, our breakdown of How to Cover Gray Roots takes you through the full process, including easy-to-follow formulas on an array of base colors.
4. Covering Gray Roots with Highlights