HOW TO WORK IT: WET-LOOK HAIR
Only the coolest It girls are doing wet-look hair right now, whether that's Kendall Jenner with her sleek, lacquered lengths, or Selena Gomez with a slicked-back lob. The style has transitioned from the runway to real life, but how do you pull it off? Follow these steps (and add a bold lipstick) to make wet-look totally wearable... 
WORK WITH DAMP HAIR
After washing your hair, blot it with a towel until your strands are about 70% dry. Soaked hair will be too slippery to sculpt, so slightly-damp locks are a must.
APPLY PLENTY OF GEL
Glossy is the goal, so apply plenty of Wella Professionals EIMI Pearl Styler through your roots and mid-lengths. It's a gel that adds a dose of shine, while locking your slicked-back style into place.
BRUSH IT BACK
Once you've got your gel on, use a brush to smooth hair back and remove any bumps. If you want that fresh-out-of-the-shower finish, use fingers to tease strands away from your face.
SCULPT FOR YOUR FACE SHAPE
Shape your wet-look style to fit your bone structure. For a round face, add some height at the crown by creating a quiff or gently backcombing the roots. If your face is narrow, opt for a flatter finish on the top, and create a looser feel at the sides by using less gel through the mid-lengths.
GLAM IT UP
Upgrade your sleek look for a night out by adding a side or centre parting. Then, top up the shine with a spritz of Wella Professionals EIMI Glam Mist. Tuck your hair behind your ears, wear this season's tasselled earrings, and sculpt your cheekbones with a contouring powder to go fierce, a la Kendall.
IF YOU'RE A GUY
Men can do wet-look hair, too. Follow the first three steps above, but opt for a stronger gel, like the ultra-firm Wella Professionals EIMI Sculpt Force. To style it, try Leonardo DiCaprio's side parting, or - if your hair is longer - pull it back into a casual bun like Bradley Cooper. For more tips on how guys can get a sleek style, watch our video tutorial. For more wet-look inspiration, check out our easy step-by-step, or watch this video tutorial to see how Eugene Souleiman coifs super-sleek locks at Fashion Week. Also, visit the #WellaHair Family gallery for summer style ideas, and head to the WellaStore to stock up on the wet-look hair essentials.
SHOPWELLA STORE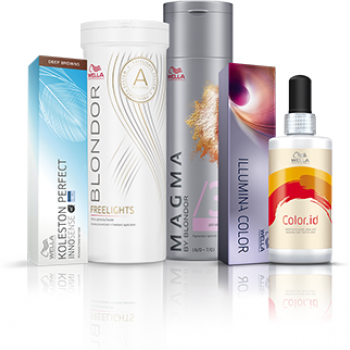 BUY NOW
Some products may only be available to professionals.