The I Dos (And Don'ts) Of Wedding Hair For Stylists
The (I) Dos...
Head Over Heels for Haircare
Start early for perfect bridal hair. Around 4-6 months before the ceremony, recommend a personalised haircare regimen for the bride-to-be. Glossy, healthy hair always looks good on camera, so point her in the direction of INVIGO's Nutri-Enrich collection, which pampers strands with a blend of high-performance vitamins and minerals. If the hair is feeling particularly dry and damaged, recommend WellaPlex services ahead of the big day to add strength to strands.
The 'Getting Hitched' Haircut
Advise your client to have a cut and colour appointment around 1-2 weeks before the wedding. This leaves enough time for the bride to get used to the colour, but too little time for roots to show. Perfect.
Say 'Yes' To The Dress
Recommend booking a hair trial around 3 months before the wedding, to ensure you're both happy with the look for the day. Ask the bride-to-be to bring photos of her dress and any accessories she'll be wearing, as these will affect the look you'll create. For example, if she's planning to wear a statement piece of jewellery, an up 'do may be best to show it off.
Finding 'The One'
Ahead of the trial, ask your client to collect photos of wedding hairstyles she likes. Visual references are helpful to really understand what the bride-to-be is looking for, and allows you to plan her next few cuts around the look. If styling for a regular client you know well, put together a mood board of hair inspiration you think will suit her style.
The Perfect Match
You should also ask for as much information as possible about the overall theme of the wedding. Is the ceremony a relaxed, informal affair, or a full-on traditional service with a sit-down dinner? Is it set in the countryside, a beach or manor house? Every detail will dictate the style that's best suited to your bride.
The Do Knots
A Lasting Love
Avoid fussy, too-trendy hairstyles when creating your client's bridal look. They won't last the test of time, while the wedding photos definitely will. Try to steer your client towards a more relaxed hair look with a classic, timeless feel; a style they will always look back on and love.
No More Drama
If your client asks for a dramatic pre-wedding makeover, advise against it, suggesting she waits until the honeymoon. The best bridal hair simply enhances their look, rather than stealing the limelight on their big day. Unless they're really unhappy with their existing cut or colour, it's a risky move. Suggest an Illumina colour glossing service before the wedding for natural-looking colour and beautiful shine, rather than a bold change. After all, if they don't like the transformation, those pictures last forever…
Bridal Shower
If the bride washes her hair on the morning of the wedding, the texture will be too silky and slippery to hold a style in place. Instead, advise her to wash her hair the night before, then blow dry or set in rollers on the day of the wedding for volume and texture. A little EIMI Shape Me will up the staying power. Make sure your bride or one of her bridesmaids has a mini EIMI Super Set hairspray in her bag to add extra hold throughout the day.
Whatever wedding hairstyles you create this season, just remember this: it's a time for you and the bride to relax, have fun and enjoy the process. After all, every day is a nice day for a white wedding...
SHOPWELLA STORE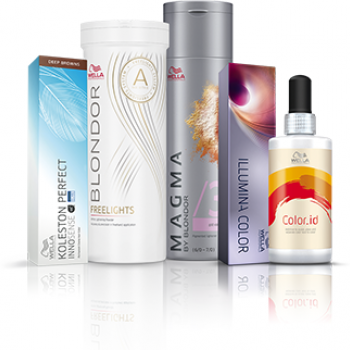 SHOP NOW
Some products are only available to professionals.