10 Tricks to Help You Color Resistant Gray Hair
Not all clients choose to cover up their gray regrowth. We're getting more and more requests for a seamless transition to gray hair, as silver locks rise in popularity. However, for those occasions when your client does want gray sections deftly disguised, you need a few tricks up your sleeve to tackle stubborn, color-resistant strands.
We've got you covered – literally – with 10 pro-approved tricks for coloring resistant gray.
1. Use a Permanent Color
If your client hopes to cover up truly stubborn, color-resistant grays, a permanent color pigment is going to offer the most concentrated result. Try Illumina Color for a sheer effect and Koleston Perfect for a pure, intense finish. They each boast a host of natural-looking hues to disguise grays on a blonde, red or brunette base.
2. Add a Dose of Pure Naturals
Take permanent Koleston Perfect to the next level by adding a Pure Naturals Resistant Cover shade to your formula. Choose shades between 2/ and 8/ in level of depth, ranging from warm golden hues to cooler tones. On hair that is especially hard to cover, choose XX/0 or the new XX/02 for a cooler result. Mix with your target color, using ⅓ Pure Naturals for hair that's 30-50% gray and ½ Pure Naturals on locks that are 50-100% gray.
3. Choose the Right Developer
When covering stubborn grays, you should mix your color 1:1 with the Welloxon Perfect developer. Just make sure you're using the correct volume, opting for 6% to cover grays or reach one level of lift, 9% for two levels of lift, and 12% for three levels of lift. If you're simply trying to make those grays blend in with your client's base color, we recommend reaching for the 6% bottle. It will be like those silver strays never happened.
4. Saturate Stubborn Silver Strays
Don't be afraid to load color onto the most stubborn gray hairs. Use your tint brush to saturate unwanted regrowth, making sure you paint sections front and back for full coverage. Try the brickwork application method for an even result, using fine sections to avoid the risk of banding. Once you've finished retouching the whole head, you can even go back to more resistant strands and add extra color. More is more when it comes to giving stubborn strays the brush-off.
5. Start With the Most Resistant Patches
Gray hair doesn't grow in one uniform pattern – that would be too easy. Often, you'll find clients have uneven distribution of grays, with some sections proving more stubborn than others. So if you know your client has resistant patches, make sure you apply color to these sections first. This will mean these hairs have color on them for longer, giving you extra pigment power.
6. Develop Color Under Heat
If your client is short on time, book them in for an Express Touch-Up service, which sees color developed under a Climazon to speed up development. Without heat, color can take 30-40 minutes to cover stubborn grays, but with higher temperatures, you're looking at 15-25 minutes. Just make sure you double-check the results before you rinse.
7. Get Inspired by Formulas
There's a breadth of gray coverage inspiration to be found on Instagram, featuring some of the most satisfying before and afters we've seen. Case in point: here are three we've uncovered that show just how pigment-packed Illumina Color and Koleston Perfect can be in the face of resistant grays.
Coloring Grown-Out Resistant Grays
Even the longest, deepest and most resistant gray roots can be tackled with Illumina Color. "The sheerness and shine [make it] my fave," says salon colorist Emma Douglas.
Coloring Grays on Dark Hair
Bye bye, regrowth. Gray hair can appear more prominent on dark brunette hair, but resistant roots are no match for Koleston Perfect 3/0 + 2/0 + 6%.
Coloring Resistant Grays on Ash Blonde Hair
From rooty and brassy to fresh and cool, this ash blonde balayage is a transformative triumph. The formula? Illumina Color 6/ + 6/19 + 6%, applied to gray roots for full coverage.
8. Blend Away Grays with Highlights
Coverage isn't the only solution for hiding stubborn silver strays. You can also blend gray hair with highlights to make natural regrowth appear less visible. Try this trick with BlondorPlex – which is infused with our WellaPlex No1 Bond Maker – and stroke it next to and on top of gray strands for some clever camouflage. Bonus: those shimmering 'lights give hair a youth-boosting, multi-tonal finish too.
9. Go Lighter Through the Ends
Speaking of multi-tonal locks; it's important to consider how porous hair is from root to tip. Usually, the root area grabs color less easily, while dry ends can really soak it up. That means, if you're using an intense pigment to cover up gray regrowth, you may want to use a lighter formula for the mid-lengths and ends, so the hair here doesn't end up darker than the roots. Adding flashes of brightness around the hairline is also ultra-flattering, helping your client's complexion positively glow. And who wouldn't want that?
10. Boost Moisture with Hair Masks
There's a reason stubborn gray strands tend to be coarser and wirier in texture. As well as losing pigment over time, hair gets a reduced supply of natural oils from the scalp. That's why, for youthful-looking hair, conditioner is just as vital as color. So, once you've tackled stubborn grays, recommend clients maintain radiant hair at home with a mask. Our go-to is the Oil Reflections Hair Mask for a weekly deep moisture boost.
SHOPWELLA STORE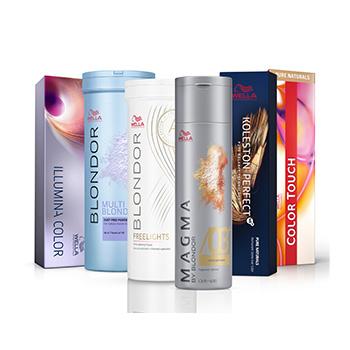 SHOP NOW
Products are only available to professionals.